loading...
Go Back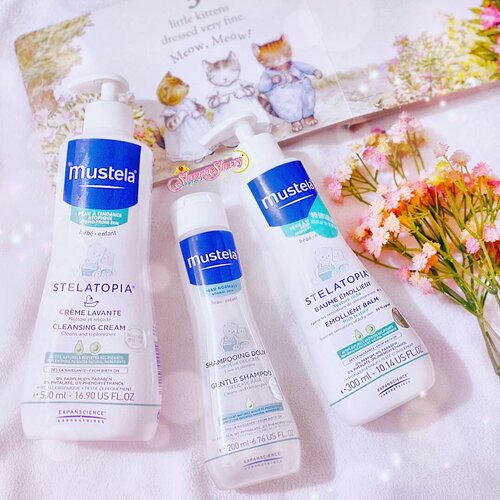 Alhamdu Lillaah for
#MustelaStelatopia!!
😆💙 — Been using these products from the Stelatopia range + the basic shampoo (because no stelatopia shampoo) since our
#ZaydenTheArchie
was 4 months old, until today (20 months).😊💙😊💙😊💙🙏🏻🙏🏻🙏🏻🙏🏻.We had been really worried about Archie's suuuuper dry and eczema-prone skin since he was born, because we didn't seem to find any product that worked for him. However!! It was a beautiful coincidence when I saw a huge poster of Mustela Stelatopia with a very promising and hope-giving tagline for us parents with eczema-prone babies, in front of a baby shop. I just knew this was the answer,I needed to try this, and never regretted it since. Alhamdulillaaah 😭💙😭🙏🏻 Yes, because even the commonly-recommended "Basic" Mustela couldn't fulfill his skin's needs yet back then. Maybe someday will, when his skin becomes more... stable? (?) 😅.We needed to apply the balm to Archie more than twice a day in drier weather, but usually twice (after each bath time) is enough..We have tried to introduce any other products to his skin. The cheaper the better, and if possible, gives a gentle scent without irritating his skin. But until today we hadn't found any other product that can fully replace them. 😮😧😧 We sometimes use Aveeno Baby Eczema Therapy cream but only for complementary. We also tried Burtsbees Baby wash & nourishing lotion (which scent made us fall in love) but too bad his skin hadn't approved yet (we actually wish his skin will approve someday, because the scent is heavenly lol! 😅 Mustela Stelatopia had no fragrance at all, and I don't really like the scent of the Basic Mustela). You know, it's normal for parents to wish their babies to smell like typical baby perfume, right? but, well, skin health first 🙃😂.For now, we're still gonna stick with these products first. The transition to other products should be very smooth. Actually I don't plan to replace them completely. I want them to be some kinda "backups" when his skin becomes very dry, while using other products with gentle baby scent for daily (the cheaper the better of course 🤪🤩🤓)..
#Mustela
#MustelaBaby
#mustelaindonesia