loading...
Go Back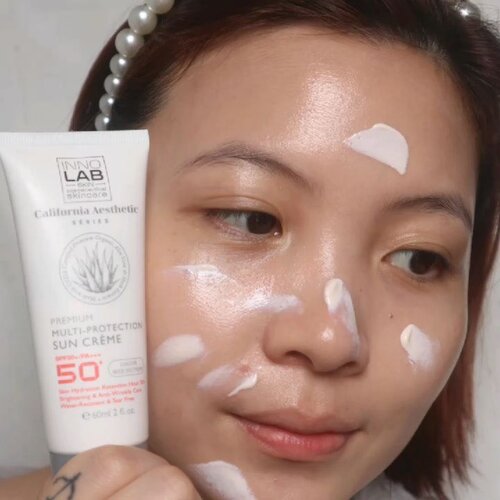 INNOLAB Multi-Protection Sun Cream SPF 50+ / PA+++
---
A mineral sunscreen that uses USDA certified organic Aloe Vera Leaf Extract as replacement of chemically purified water. Aside of protecting the skin from UVA/UVB, this product also claims giving long lasting moisturizing effect (SHRH 50+) and as a hypoallergenic sun screen, it is safe for pregnant women even babies 👌👌👌
---
Texture-wise, it comes in a soft lotion with pale pink hue to it. Which I reckon would give a tad bit of a tone-up effect.
This sunscreen is light-weight, and feels a little oily once spread on to the skin that gives me a nice glow.
This is that kind of sun lotion that needs a few seconds to be fully absorbed and spread evenly on the skin.
It uses grapefruit extract to replace chemical preservatives.
-
I am not a fan of a tone-up product, that I thought this would be my last choice of sunscreen to wear. Turns out, I barely see the tone-up effect which I really fond of (slide 2)
It has no whitecast & theres also no sunscreen smell because life is not a beach ✨
---
IF YOU'RE INTERESTED GO CHECK IT OUT
https://hicharis.net/thebeautywimp/Ik3
#INNOLAB
#MULTI-PROTECTIONSUNCREME
SPF 50+/PA+++
#suncream
#skincare
#CHARIS
#hicharis
@hicharis_official @charis_celeb