loading...
Go Back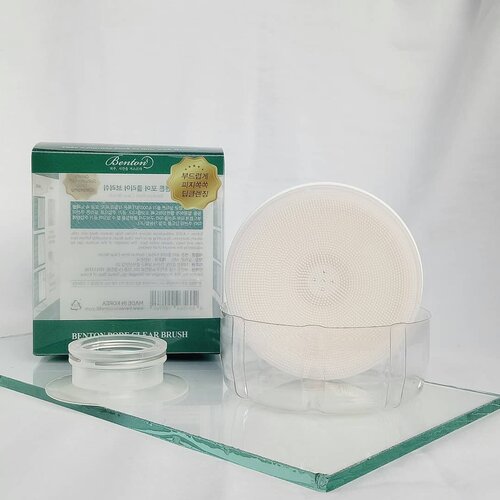 Benton Pore Clear Brush is a quick-drying antibacterial silicone brush which designed to improve the difficulties of drying and storing for old brushes. Have 0.4mm thick of 4,000 micro silicone bristles remove wastes and sebum inside pores effectively. 🌸
- 0.4mm micro silicone bristles make every pore to be deep cleansed by moving flexibly. - Cleansed thoroughly which is much meticulous than using hands, and it helps to improve skin texture. - The softness cushion feeling of brush gives comfortable feeling without giving any irritations to skin. 🌸 Packed with a plastic container that is equipped with a brush holder so that it can be stored in the bathroom safely. The packaging and shape of the brush looks elegant. 🌸 How to use it is quite unique, because we have to pump first so that the brush expands. In my opinion this is too wide in diameter, because it's a little hard to reach the edge of the nose. 🌸 I'm a little confused about the treatment of this brush so that it lasts and remains hygienic, but it is a brush which overcame the difficulties of drying and storing for old brushes, and it is safe to use with quick drying after simple washing with water.
It can be dried and stored at the same time by attaching to the holder. 🌸 I have dry skin type and have whiteheads and blackheads pretty much on the nose. I use this brush every time I wash my face at night after wearing makeup and activities all day. I really like the soft brush texture. I wear this once every 2 days, because if I use it every day my nose will get drier and there will be peeling skin. After washing my face using this product, my face feels clean even though I don't use first cleansing. I also feel the blackheads on my nose decrease.
Have you tried this product? let's share your opinion about this product.
#benton
#bentoncosmetics
#bentonporecleanbrush
#beautiesquad
#lianaekacom
#idskincarecommunity
#skincarecommunity
#skincare
#skincarelover
#skincarejunkie
#lokalskincare
#skincarelokal
#indonesiabeautyblogger
#beautybloggerindo
#clozetteid