loading...
Go Back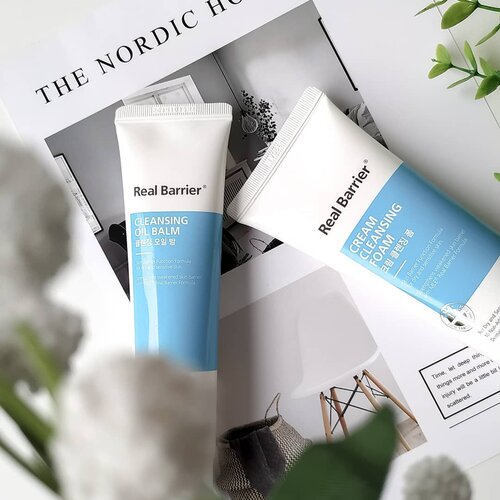 As you know, a few days ago I received @realbarrier products as @stylekorean_global Try Me Review Me program. So, I will start to review their cleansing products first.
.
💙 Cleansing Oil Balm : An easy-to-use first cleansing, the texture is similar to a melting balm, sometimes I found the hardened texture like balm. With 100% natural fragrance of bergamot, marjoram & chamomile oil, it's smell like fresh citrus. Formulated with patented ceramide complex & natural oils, leaves the skin hydrated after cleansing. The tube-shaped packaging makes it cleaner and easier to use.
.
💙 Cream Cleansing Foam : A creamy, acid balanced moisturizing cream. As its name, this product has a creamy texture that produces very soft foam. The smell is a blend of fresh citrus and lavender, you can see on the ingredients list there are Lavender Oil & Lemon peel oil. Contains wheat sprout extract & spirulina to help relax sensitive skin. I also saw Madecassoside & Centella Asiatica on the ingredients list, both are my sensitive skin fav!
.
I use both of these products in my pm routine, while for am I only use Cream Cleansing Foam. Both of these product work very well together, they clean makeup and dirt well and keep my skin hydrated after cleansing. But ... I don't know why I feel the stripping sensation every time I use Cream Cleansing foam myself in the am routine, it even tends to make my skin dry. So I decided to only use it in my pm routine along with Cleansing Oil Balm, and for am I used my old Cleansing wash. For the Cleansing Oil balm, I have no complaints, I like it! So far, these products didn't break me out so I will continue to use both the products.
.
.
You can buy these product at @stylekorean_global
.
#stylekorean
#stylekorean_global
#realbarrier
#TrymeReviewme
#skincare
#dryskin
#dehydratedskin
#kbeauty
#skincareroutine
#skincarediary
#skincarelover
#skincarecommunity
#beauty
#beautycommunity
#clozetteID
#beautyblogger
#sensitiveskin
#dryskin
#skinbarrier
#koreanbeauty
#cleansingoilbalm
#creamcleansingfoam
#hydrating
#facecleanser
#cleansingfoam
#firstcleansing