loading...
Go Back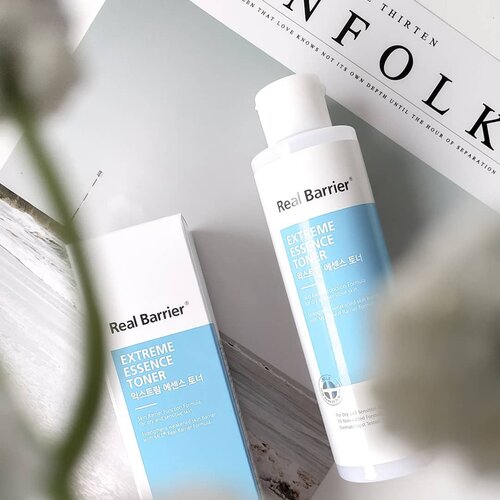 Extreme Essence Toner? What is it? Advanced replenishing toner with double benefits. I used to think it would be as extreme as its name, thick and heavy toner type, but apparently I was totally wrong! This toner feels light and provides good hydration without any stickiness or greasyness. The texture is slightly viscous with opaque white color, when spread it out, it feels watery and so refreshing because of the soft citrusy smell. Talking about the scent it's different from the 2 cleansing products that I have reviewed before, this toner smells more like orange peel.
.
Packed in plastic bottles with flip-top cap. The size is quite large 190ml and it looks like it will last a long time, because I only need 3-4 drops for my entire face.
.
Enriched with 5 kinds of hyaluronic acid, panthenol, madecassoside and allantoin, this nourishing toner effectively moisturizes and improves skin's barrier boasting long-lasting benefits.
.
I incorporate this toner on my am & pm routine, I use several layers for pm to provides good hydration overnight. While for am I only use 1 layer, it is enough to hydrate all day. I can easily say that this is my current favorite hydrating toner. The texture that feels light and sinks in quickly into my skin makes me no need to wait too long to prepared for the next skincare steps. I notice after using this toner my skin looks healthier and more resilient. I totally recommend this product for those of you who have dry dehydrated skin & looking for a hydrating toner with a light texture but have a good performance.
.
You can buy this toner and the other @realbarrier products at @stylekorean
.
.
stylekorean
#stylekorean_global
#realbarrier
#TrymeReviewme
#skincare
#dryskin
#dehydratedskin
#kbeauty
#skincareroutine
#skincarediary
#skincarelover
#skincarecommunity
#beauty
#beautycommunity
#clozetteID
#beautyblogger
#sensitiveskin
#dryskin
#skinbarrier
#koreanbeauty
#cleansingoilbalm
#creamcleansingfoam
#hydrating
#essence
#hydratingtoner
#essencetoner