loading...
Go Back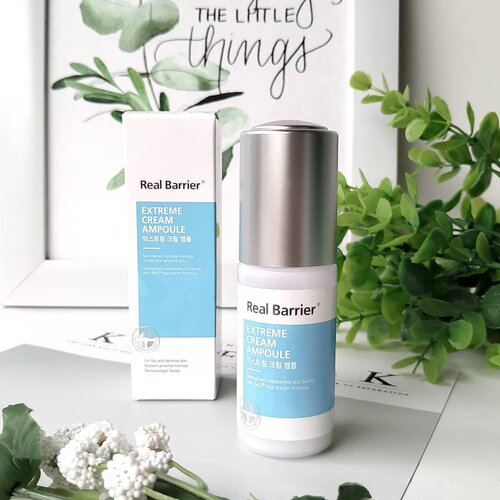 Welcome February 💙 I will start this month by continuing to review Real Barrier products, yeahh 2 products to go ...
.
Real Barrier Extreme Cream Ampoule
.
It's a deep moisturizing nourishing ampoule to relieve and improve dryness, puffiness & dullness. Reading the product's name and its claims I thought this ampoule would be very thick and heavy, but again I was wrong! this ampoule has a milky white slightly viscous & funny texture, not sticky at all and sink in pretty fast. The smell is different from the 3 previous products that I have reviewed, this product doesn't have that citrusy or fruity scent, it has a hint of refreshing soothing scents.
.
Packed in a plastic dropper bottle. The dropper is quite unique unlike most ampoule droppers, but I have had a serum with this type of dropper. With 30ml size which may be used up 1-2 months with regular use.
.
Contains triple ceramides complex (ceramide NP, ceramide-9S & aqua ceramide), panthenol, 3 calming complex provides deep within hydration & nourishment.
.
Because of the quite ligt texture, so I can use it in my am & pm routine. I'm the type of person who doesn't like heavy skincare especially during the day because my skin is a combination to oily, it will feel stuffy if I used too much moisturizing products. But, while using this product I feel totally fine, it gives great hydration throughout the day without making my skin excessively oily.
.
I think this product can be used by all types of skin, not only for dry skin, the texture is quite light seems to be acceptable for you who have oily skin.
.
.
You can buy this Ampoule and the other @realbarrier products at @stylekorean_global
.
#stylekorean
#stylekorean_global
#realbarrier
#TrymeReviewme
#skincare
#dryskin
#dehydratedskin
#kbeauty
#skincareroutine
#skincarediary
#skincarelover
#skincarecommunity
#beauty
#beautycommunity
#clozetteID
#beautyblogger
#sensitiveskin
#dryskin
#skinbarrier
#koreanbeauty
#hydrating
#hydratingampoule
#ampoule
#hydration