loading...
Go Back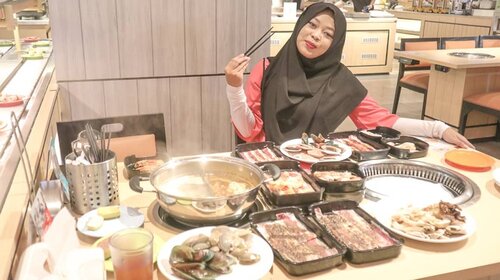 ⏰ It's A Lunch Time !!!
For us who has an active daily routinity, we need foods that full of nutritious. & mostly healthy foods are expensive, agree? We need somethings more afforadble🎉
Uwuuu~ & I found it!! All You Can Eat from Onokabe Pluit Junction 😍
What do we get?
😍 Grill (with Oil Paper) & Stew
🍲 Soup Choices: Chicken 👍🏻, Tomyum 👍🏻, Japanese Soyu, Miso, Szechuan Mala, Indian Curry, Soto, Vietnamese Beef.
🥩 Chicken, Meat, Seafood 🥦 Fruit, Vegetables
🍧 Bapao, Cake, Ice Cream, Nacos
🎂 Available request for treat you/your lover birthday
💸 Weekday 134k++/Weekend 144k++ Eat as much as you like!!! 💃
❗Oit... Remember! No leftover food or you will be charged.
My Experience:
🌼 I'm very satisfied and got treated well by the staff & of course their dishes.
🌼 𝐆𝐞𝐭 𝐯𝐨𝐮𝐜𝐡𝐞𝐫𝐬 𝐨𝐟 𝐈𝐃𝐑 𝟐𝟎𝟎𝐤 after buying IDR 600k (limited time). I ❤️ it so much! To be honest, 𝐈'𝐥𝐥 𝐜𝐨𝐦𝐞 𝐛𝐚𝐜𝐤 again someday 😘
.
#OnokabeAYCE
#SpecialSetOnokabe
#OnokabePluitJunction
#clozetteid
#lfl
#l4l
#food
#mukbang
#foodblogger
#foodphotography