loading...
Go Back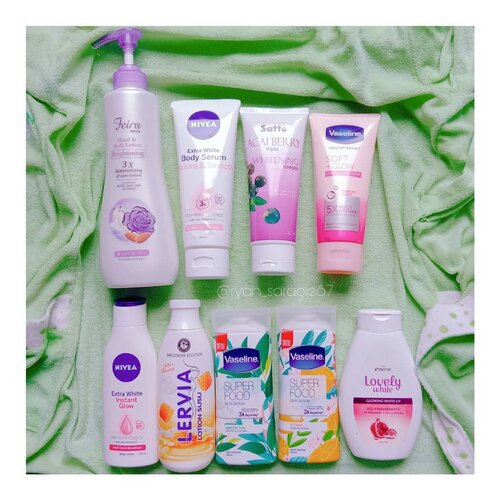 Tenang gaiz, aku gak lagi mo jualan body lotion koq tp aku mau sharing aja jajaran body lotion yang aku pake belakangan ini. Tau sendirilah yang namanya perawatan kulit tuh harus komplit selain pake body wash & body scrub, body lotion and the genk juga sangat dibutuhkam untuk ngerawat kulit agar kulit kita lebih sehat & yang pasti lebih ketjeh..Nah kebetulan aku punya 9 macam body lotion nih, yang penasaran bisa cek detailnya dibawah ya 😉.
#Feira
White Hand & Body Lotion Brightening Moisturising & Anti Oxidant..
#Emeron
Lovely White Glowing White UV varian Red Pomegranate.
#Lervia
Lotion Susu Smooting Solution.
#Vaseline
Healty Bright Soft + Glow Vit Body Serum serta Vaseline Super Food Skin Serum varian Green Tea & Citrus.
#Nivea
Extra White Body Serum Radiant & Smooth dan Nivea Extra White Instant Glow .
#Satto
Acai Berry Triple Moisture Whitening Body Cream.Kegunaan semua body lotion diatas hampir terbilang sama sih seperti menutrisi kulit, melembabkan, melindungi kulit dari paparan sinar uv, melembut dan yang pasti dapat mencerahkan kulit. Untuk body lotion yang mencantumkan kandungan SPF & PA biasanya aku pake saat siang hari untuk benar benar melindungi kulit dari sengatan matahari baik dirumah maupun saat keluar rumah. Sedangkan yang gak ada keterangannya biasanya aku gunakan untuk malam hari aja..Dan untuk isi smuanya berbeda beda ya gaiz, ada yang masih full, ada yang udah setengah bahkan ada yang udah dinafas nafas terakhir 😁😁.Btw biarpun aku punya body lotion sebanyak ini tp jujur aku masih penasaran sama 3 lotion lainnya yakni @cantikcitra Pearl White UV Tone Up Lotion, @nivea_id Hijab Cooling Body Serum & @officialhanasui Body Serum Gel Sakura Exract .FYI kalo smua produk diatas gak disponsori ya alias beli sendiri tapi....setelah postingan ini kalo ada yg niat mo kirimin ke aku, monggo...aku pasti gak nolak (tetap ya ujung ujungnya modus) hahahahaha 😀😀 Happy Weekend .
#BodyCare
#BodyLotion
#BodySerum
#BodyCream
#BodyCareRoutine
#AmRoutine
#PMRoutine
#WhiteningBodyLotion
#Moisturizer
#Nourish
#HealtySkin
#Clozetteid.
#바디로션 #바디로션추천 #화장품 #스킨케어 #데일리 #일상 #뷰티그램 #뷰티블로거 #뷰티스타그램