loading...
Go Back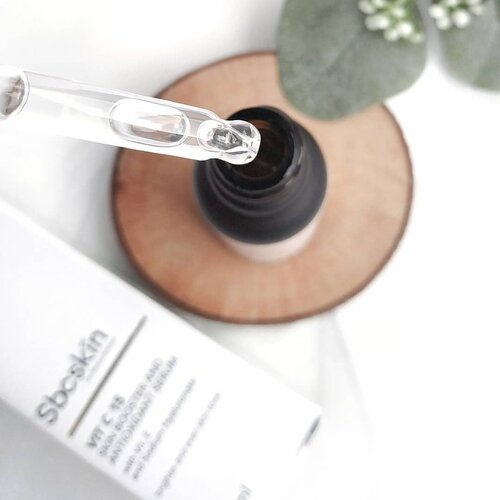 Buat kalian yang selama ini nyari serum vit C tapi belum nemu yg cocok I highly recommend this product!! Ehh apaan sih ini, kalimat pembuka aja masa langsung conclusion 😂.
.
@sbcskin.official Vit C 15 - Skin Booster & Antioxidant Serum
.
So, what is it? Serum vitamin C dengan tambahan vitamin E & Sodium Hyaluronate. Bekerja sebagai pencerah, moisturizer & antioksidan.
.
Serum ini menggunakan Ethyl Ascorbic Acid yg merupakan turunan dari Ascorbic Acid. This one sangat stabil dan larut dalam air & minyak. Aku udah buka serum ini sekitar 2 bulan, tidak menyimpannya di kulkas & sampai sekarang tidak oksidasi.
.
Dikemas dalam amber glass dropper bottle, berukuran 20ml. Permukaan botolnya doff & dengan design simple khas produk sbcskin.
.
Teksturnya agak kental, tapi mencair ketika diratakan. Mudah meresap dan tidak lengket. Warnanya bening agak sedikit keruh. Baunya mirip tinta ballpoint 😂 tapi soft & ga lingering.
.
My Experience :
Aku udah terima produk ini cukup lama, pas baru sampai pun langsung ku buka dan cobain 😂. Seminggu cobain aku breakout, tapi bukan karena serum ini yaa, aku bo karena stress, ga pernah tidur malam, & ga jaga pola makan. Bo sembuh, sisa bekasnya aja maka aku pakai serum ini lagi buat pudarin bekasnya. Fokusku mau pudarin 1 bekas yg paling gede di pipi kiri ku, bekas awalnya merah dan masih agak benjol.
.
Swipe to the last slide, hampir 1 bulan kalian bisa lihat hasilnya, slow but sure... bekas mulai memudar 😍. Bahkan bekas kecil2 ikutan pudar juga!!
.
Oh iyaa, aku pakai serum ini di am routine tepat setelah cuci muka dan selama ini tidak ada bad reaction di kulit sensitive ku.
.
Seneng banget deh, ada serum vitamin C local brand yg cocok untuk kulitku ❤.
.
Thank u so much SbcSkin for the opportunity to try your great product ☺.
.
.
.
#sbcskin
#sbcskincare
#vitaminc
#vitamincserum
#skincare
#skincarereview
#skincarelokal
#skincareindonesia
#skincareroutine
#skincarecommunity
#beauty
#beautycommunity
#clozetteid
#serumvitaminc
#brightening