loading...
Go Back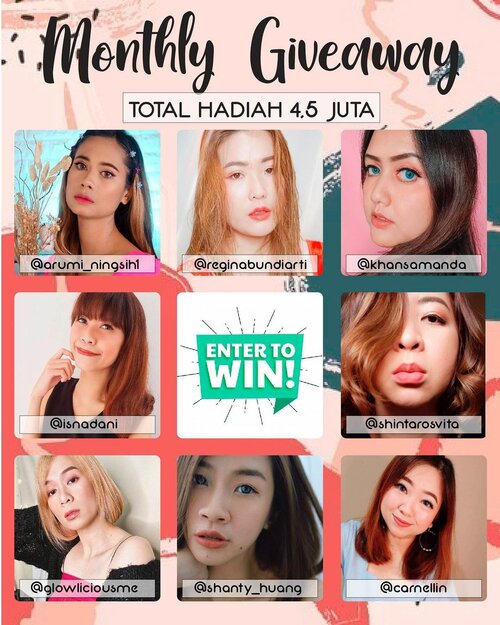 🥳 GIVEAWAY 🥳
Hello GUYSS!!
Kami mau bagi-bagi hadiah nih untuk 8 pemenang yang beruntung.
We give you 8 beauty packages.
All you have to do is:
❣️Follow
(akun kita semua, ada di tag juga)
@carnellin
@glowliciousme
@khansamanda
@shanty_huang
@shintarosvita
@reginabundiarti
@arumi_ningsih1
@isnadani
❣️ Like this post
❣️ Comment dengan beauty package mana yang mau kamu menangkan:
Contoh: aku mau paket Carnellin (ini bisa masing2 kita tulis akun kita ya).
❣️Dan tag 2 teman kamu saat regram.
❣️ Boleh di IG post, boleh di IG story (harus di highlight)
❣️Boleh support di postingan yang lain, semakin kamu aktif kamu dapat extra chance, karena pemilihan pemenang berdasarkan random.
❣️Harus real akun pribadi, tidak boleh akun brand atau tanpa postingan.
TnC
❣️ Semua akun open untuk publik
❣️ Pemenang harus bisa menunjukkan bukti follow 8 akun diatas, ss sudah share (IG post/IG story)
❣️Giveaway berlangsung selama bulan April 2021, dan pemenang akan diumumkan di masing-masing IG story sesuai dengan paket yang dipilih. Kira-kira 1-2 minggu akan pengumumannya (don't worry, pemenang di tag).
❣️Warning buat yang suka follow unfollow, akan diblokir dari next monthly giveaway
#GiveawayBeautyBloggerIndonesia
#giveaway
#kontesgiveaway
#giveawayindo
#giveawayindonesia
#giveawayhunter
#giveawaymakeup
#giveawayskincare
#makeupgiveaway
#makeup
#clozetteid