loading...
Search
11 RESULTS FOR BALANCINGEMULSION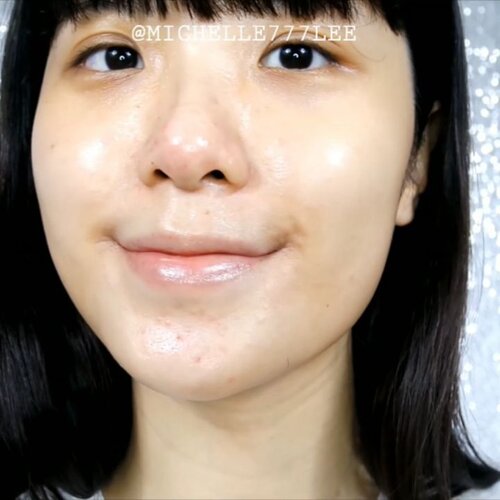 [[SKINCARE KULIT KERING & IRITASI]].Hi MiLuvs,Yes it's that time of the month when my monthly period cycle is around the corner. Biasanya selama masa PMS & period itu kulitku bakal merah2, kering ketarik, ngelupas & pedih. Kalau udah kaya gitu, semua skin care yang lagi aku cobain bakalan ku drop semua & beralih ke skincare2 penyelamat kulitku..Kapan lalu aku udah pernah share 3 skincare yang suka aku pakai kalau kulit lagi iritasi. Nah, sekarang aku tambahin 2 lagi jadi ada spraynya Avene sama Probiotics pH 5.5 Balancing Emulsion dari SOON+ (anak perusahaan Amore Pacific). Emulsionnya aku pakai setelah spray Avene & Laneige Cream Skin Refiner..Aku tambahin emulsion ini karena dia ada kandungan Probiotics water, allantoin & red berry peptide untuk melembabkan, menenangkan kulit, serta menguatkan barrier kulit. Terus pH levelnya ada di 5.5 yang merupakan ideal skin condition (weak acidic).I also love the light milky texturenya yang ngga berat, mudah dibaur & cepat menyerap..Where to buy? CLICK LINK ON BIO 💕.
#MicelReview
#CHARISSTORE
#charisAPP
#hicharis
#charisceleb
@hicharis_official @charis_celeb
#ClozetteID

+ View more details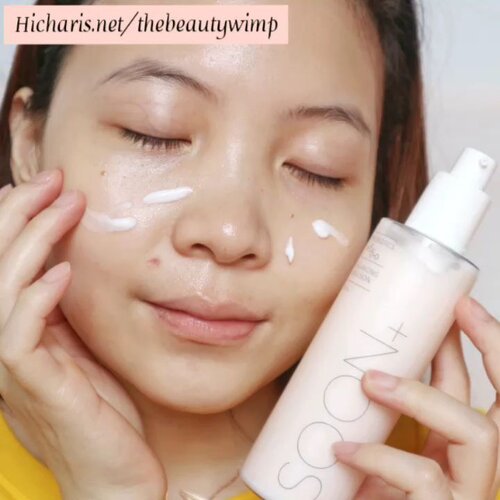 SOON+ BALANCING EMULSION
__
As usual, Soon+ always has a great and stury packaging. The applicator comes in a good quality pump, that doesnt force too much product out.
The texture is slightly thick yet it spreads like water on the face. It takes a couple of mins to be fully absorbed into the skin.
I've been using it for more than a month, until i came to this conclusion. As for the first couple weeks, i felt like this product is too light to my liking. However, as time goes by, i started to like it as I found a way to boost its hydration to the whole new level. I mixed it with my squalane and it works realyyyy good. I always get a great soothing feeling immediately after I spread thin on to the skin.
However, for oily skin fellow, you can use it alone without adding any moisturizer afterwards. It doesnt leave your skin tacky, that it's comfortable to wear even in the hot-est day.
IF YOU'RE INTERESTED :
https://hicharis.net/thebeautywimp/gq8
#5.5
BALANCING EMULSION
#5.5
#EMULSION
#SOONPLUS
#SOON+
#BALANCINGEMULSION
#SKINCARE
#KBEAUTY
#BEAUTY
#CHARIS
#CHARISSTORE
#charisAPP
@hicharis_official @charis_celeb
+ View more details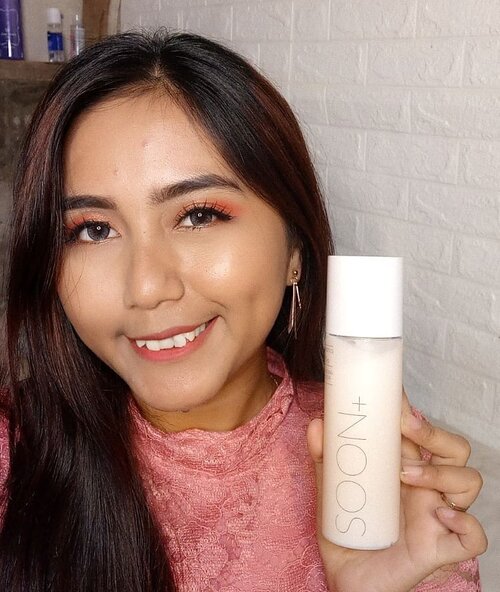 Aku mau kasih tau rahasia wajah aku yang asalnya kering ini jadi tetep lembab meskipun sering pake makeup tebel dan panas panasan di jakarta! .
Jadi ini karena aku pake Balancing Emulsion nya SOON+ yang ada di @hicharis_official Aku juga suka karena pas di aplikasiin krimnya itu mudah di ratakan dan ga nge tone up warna kulit wajahku. Terus juga langsung berasa lembab deh di wajah, Luph banget deh pokoknya. .
Kalo kalian penasaran dan mau coba, kalian bisa langsung ke link ini
hicharis.net/arvi/fQP
FREE ONGKIR dan ada diskon juga loh 💸💸💸💸 .
#arvin
#nuarviani
#playingwitharvi
#charisseleb
#soon
#balancingemulsion
#hicharis_official
#skincare
#clozetteid
+ View more details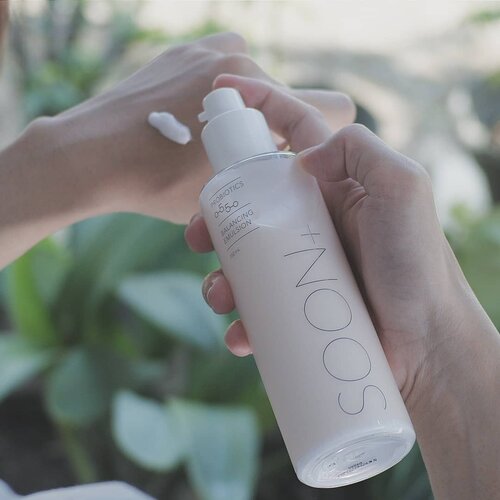 I'm so into skincare with probiotics since i've tried @soonplus_official 5.5 Cleansing Foam! So today i'll share my mini review on SOON+ 5.5 Balancing Emulsion. The key ingredients are Probiotics Water (to maintain healthy skin barrier), Allantoin (powerfully moisturizing ingredient), and Red Berry Peptide (for skin soothing).
Lets get it started!
.
PACKAGING - Thick plastic bottle with the same colour (nude beige) as the other product of SOON+. At first i thought the cap should be twisted to open but i'm wrong 🤣 it could be opened and closed very easily, but still feels tight and secure. It comes with a pump and you don't have to worry, it won't spilled easily 😆
.
TEXTURE - Since this is an emulsion, you could fit this product on your skincare regime after toner and before serums. A little bit thick, lotion-like texture but not sticky at all. It absorbs rather quick on my skin. Feels light and not greasy 👍 I love light texture like this.
.
FRAGRANCE - This is fragrance-less, which i love. Great for layering skincare because too much different fragrance could be very annoying to me.
.
AFTERMATH - It provides enough moisture for my normal to dry skin even with its light texture. Quickly absorbs & no sticky feeling after application. My skin also feels more supple & soft! I love how the weak acidic formula within this product improves my skin barrier condition so i rarely got flaky and dry patches around my jawline again.
.
SOON+ 5.5 line are amazing and do the job very well on my normal to dry skin. Wish i could try more of their products 😍
Buy this product on my Charis Shop -
https://hicharis.net/annisapertiwi/r2V
👌
.
#5.5BALANCINGEMULSION
#5.5
#EMULSION
#SOONPLUS
#SOON+
#BALANCINGEMULSION
#SKINCARE
#KBEAUTY
#BEAUTY
#CHARIS
#CHARISSTORE
#charisAPP
#charisceleb
@hicharis_official @charis_celeb
#vsco
#clozetteid
#skincarereview
#kbeauty
#kbeautyenthusiast
#kbeautyjunkie
#beautyenthusiast
#beautyenthusiastindonesia
#skincarejunkie
#skincareenthusiast

+ View more details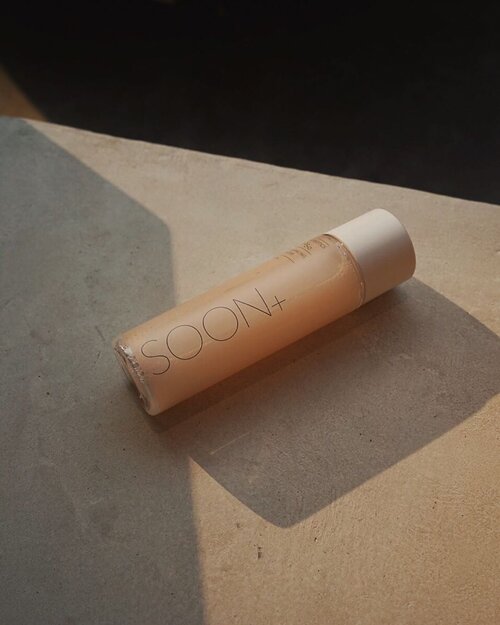 my skin care routine using balancing water from @soonplus_official , contain with 5.5 weak acidic water to building and maintain the skin barrier, the mild formula helps moisturize and soothe skin at the same time. will review it soon on my IG stories ya, so stay tuned! ♥️——i want to spread good news for you guys, buy this with special promo by using my special link
http://hicharis.net/janejaneveroo/fEK
or click link on bio! ♥️
#CHARIS
#CHARISCELEB
#BalancingEmulsion
#BalancingWater

+ View more details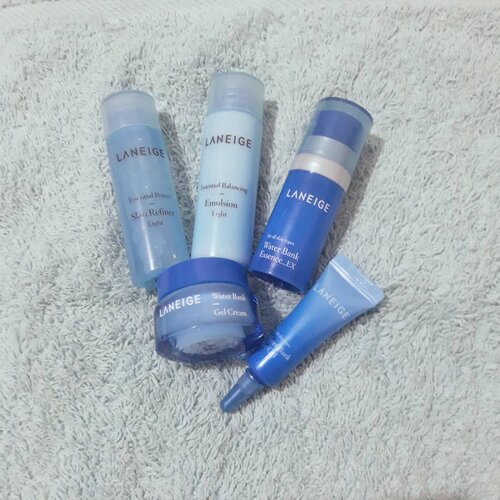 Recently since my skin feels dehydrated, I try this Water Bank Refreshig kit from @laneigeid that I got from previous event, Laneige Content Day. The kit consist of :1. Essential Power Skin Refiner Light (hydrating toner)2. Essential Balancing Emulsion Light3. Water Bank Essence_EX4. Water Bank Gel Cream5. Water Bank Eye Gel.After using the products my skin feels more hydrated and bouncy. Unfortunately this kit is not for sale. So next time I need to buy it separately in full size. ..If you had time, visit Laneige mini water bar @kotakasablanka for skin check. You will get sample after skin check and healthy drinks that suits your skin condition. Today is the last day so hurry up!
#sparklingsquad
#sparklemyway
#review
+ View more details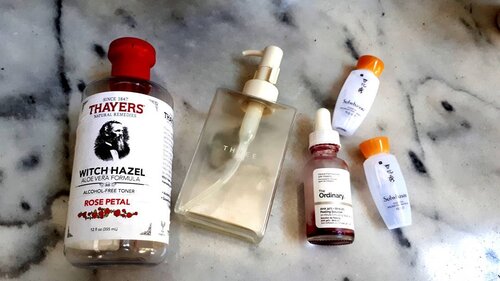 + View more details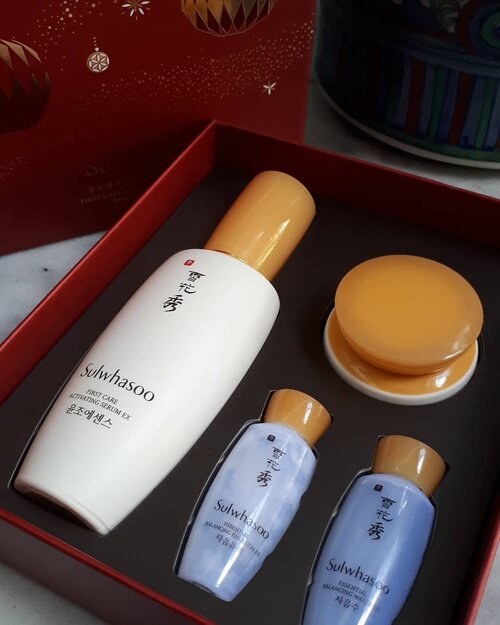 + View more details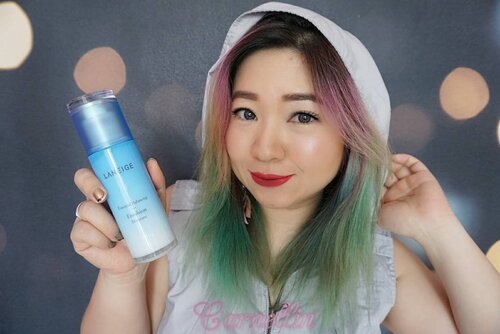 + View more details

loading ...
Back To Top