loading...
Search
803 RESULTS FOR COUPLE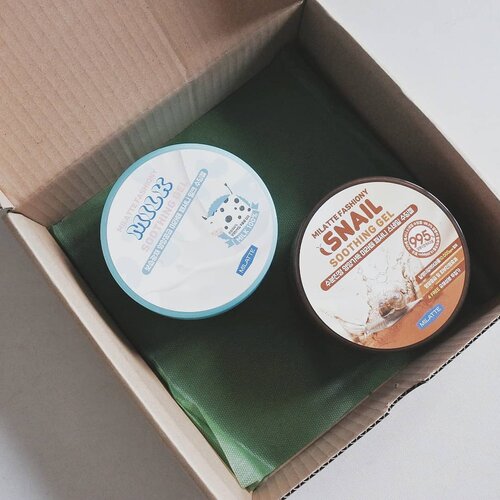 The soothing gel hype isn't over! Beside the infamous Aloe Vera Soothing Gel, @sunhyang_cos Milatte Fashiony has another variant such as Tomato, Snail, and Milk Soothing Gel.
I've tried the Milk & Snail one. Here's my quick review on them ⭐ • Packaging • They comes with a big, bulky 300gr jar packaging, enough for 3 to 4 months usage. Include a plastic separator inside but no applicator such as spatula. You can depot the inside on smaller jar for traveling. • Texture • I could say it's a gel type, but the consistency is not watery like another soothing gel. It sits perfectly on your skin and easy to spread. Swipe to see the details on the texture. • Fragrance • Not really my cup of tea. The Milk Soothing Gel smells like yoghurt, but it's pretty artificial. The smell of the Snail Soothing Gel is rather subtle. • Aftermath • After application, my skin feels a little bit tacky. The sensation disappear after a couple of minutes. There is no cooling sensation, but they could work better if stored on refrigerator before. I love using them on my body and as a hair mask rather than applied them directly to my face.
If you are looking for light moisturizer, Milatte Fashiony Soothing Gels is perfect for you. Buy them on my Charis Shop here
https://hicharis.net/annisapertiwi/JNm
😊
#milatte
#fashiony
#soothinggel
#CHARIS
#hicharis
@hicharis_official @charis_celeb
#charisceleb
#vsco
#clozetteid
#skincarereview
#skincareenthusiast
#skincarejunkie
#beautyblogger
#beautybloggerindonesia
#kbeauty
#kbeautyenthusiast

+ View more details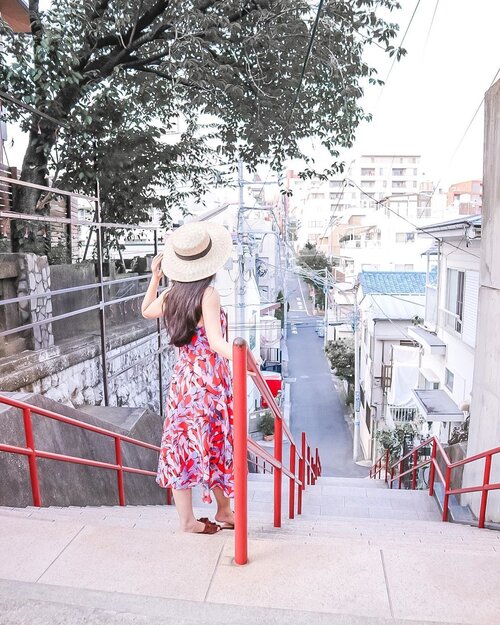 A couple days ago, I booked my tickets to Tokyo this Spring ✈️. There are so many things I'm looking forward to do in this cherry blossom season beside visiting my dear sister.
.
On the other note, I will open some collab or endorsement slot for this trip. It would be nice to shot some stuff while I am there. Send me an email at
[email protected]
if you're interested! Please do make some brief introduction though so at least i have some idea about your brands. The slot are limited, so i would carefully consider all offer. 💕
See you soon, Tokyo !
#latepost
from last summer in Tokyo.
#itselvinaaootd
#itselvinaatokyo
#theshonet
#theshonetinsiders
#clozetteid
#clozette
#shoxsquad

+ View more details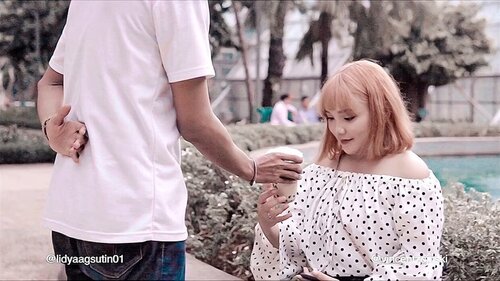 Berawal dari Sahabat. Inilah perjalanan cintaku dengan @vincentzojoski ❤️ Setelah sekian lama jalan bareng, curhat, tertawa bareng, makan bareng, dan pulang kantor bareng. Akhirnya dia menyatakan cintanya padaku. Karena aku pun merasa nyaman dan memiliki rasa yg sama maka aku terima cinta nya 🥰 dan sekarang aku sangat beruntung memilikinya 💖 .Buat kalian yg memiliki rasa cinta ke orang (siapapun itu) beranikan diri kalian untuk menyatakannya. Kita gak akan pernah tau jawabannya jika kita tidak mengutarakannya. Trik sedikit, nyatakan dengan yg manis-manis.. gak cuma bunga, coba deh
#KatakanCinta
dengan
#XibobaIndonesia
mana ada sih wanita yg nolak lezatnya fresh milk dicampur manisnya brown sugar dan kenyalnya boba. Good luck buat kalian yg mau menyatakan cinta ❤️ ...
#shortmovie
#love
#couple
#couplegoals
#bestfriend
#ootdlidya
#ootd
#outfitinspiration
#style
#outfitoftheday
#streetstyle
#explorejakarta
#clozetteid

+ View more details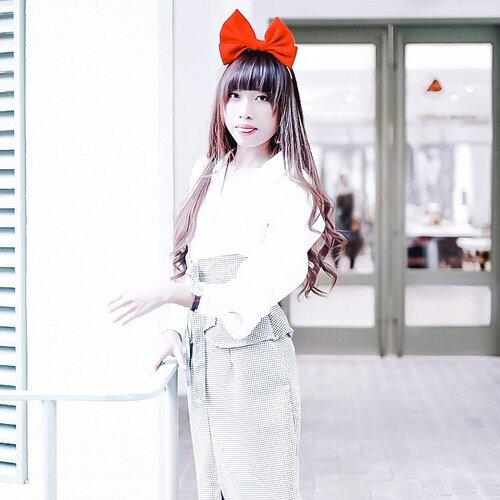 What's valentine day?
Klasik bgt kalo ngmg "hari kasih sayang" dan kayaknya momok bgt buat para zombloh ato org" yg ga bs ketemu sm pasangannya d hari ini.
-
But for me, today is not a nightmare day.
I'm totally happy. Even tho, I don't celebrate it with a romantic dinner like other couples (but, we can do it, if we want it too). No, not because we're LDR. But, we don't do it anymore for almost 4 or 5 years maybe.
-
Why I'm not sad at all?
Because I trying to reaching up the highest level of self love. Yap ! Hari ini aku merayakan dgn diriku sendiri. Sosok orang yg aku ajak capek, aku ajak kerja keras, aku ajak nangis, aku ajak ketawa, aku ajak nahan sabar, aku ajak kurang bobo, aku ajak marah", aku ajak buat fight banyak hal, aku ajak buat coba hal baru dan org yg 24/7 ada d sini setiap detik selama 27th.
-
Karena hari ini adl hari kasih sayang katanya — ku ingin mengungkap kan rasa sayang dan cintaku sm diri aku sendiri. I'm proud of myself, bis ada d sini sampe hari ini. Peluk sayang dan hangat buat diriku sendiri. We did a great job ! 👏🏻
-
I'm not trying to forgetting you @christadiputra yg dr jam 12 malem ngmg happy valentine ratusan kali dan berusaha showering me with everything hari ini. Happy valentine yah ! ☘️
.
.
.
#clozetteid
#valentines
#lettertomyself
#happyvalentinesday
❤️
#valentine2020
#loveday
#influencersurabaya
#influencerjakarta

+ View more details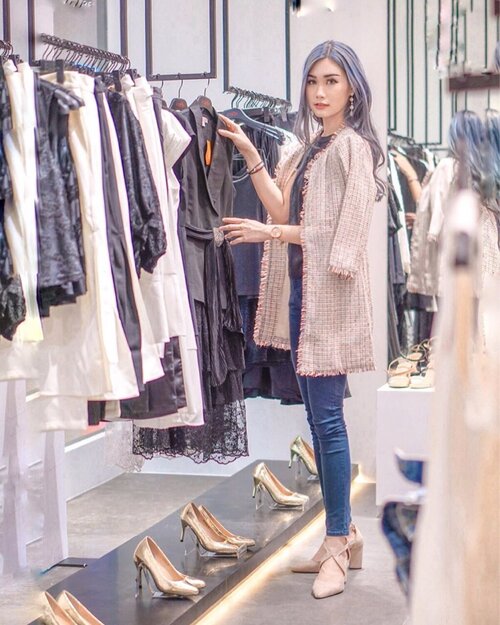 👆🏻 After took more than couple hours finally i choose this dress 🥰
Seriously @carlaclothing have plenty gorg clothes from casual till formal one and i do really confused which one to bring home with. 🙈
Searching outfit for Valentine's day?
Now @carlaclothing already open at @galaxymallsby 3 lt 1
Just go there asap👌🏻
.
.
.
#torquisewear
#clozetteid
#bloggersurabaya

+ View more details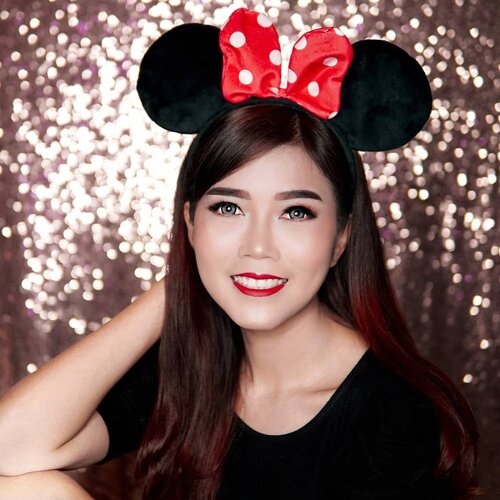 This is my valentine makeup look used @lakmemakeup x Minnie Mouse!
.
Gemes banget kan kolaborasi couple goals Minnie mouse and Mickey mouse buat jadi Valentine's day look😍
.
Koleksinya ini ada 3 Shade Limited Edition Weightless Lip Matte :
💓Smooch 💓Giggle
💓Dainty
Favorit aku adalah Smooch, warnanya bagus banget cocok dengan skintone kulit aku buat look makin freah. Selain itu ada juga Special Edition Cushion Foundation dengan stickers Minnie mouse yang bisa kamu kreasikan sesuai selera kamu.
U can get all of them at offline store and online store di Shopee, so hurry up karena ini limited edition and you can get reday for Valentine's date💋
.
#lakmemakeup
#lakmemattemehappy
#clozetteid
#makeup
#beauty
#
#indobeautysquad

+ View more details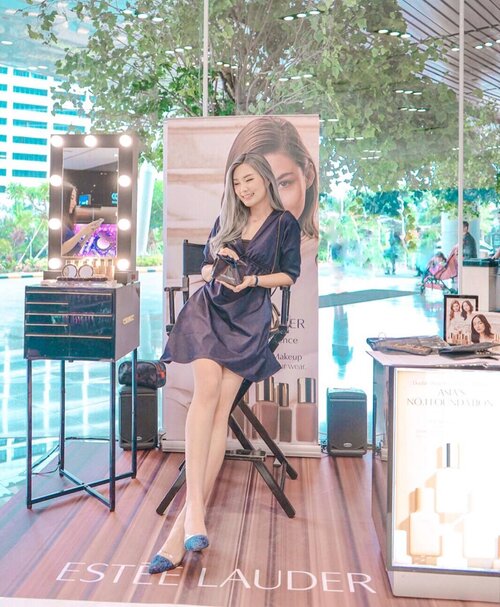 From couple days ago @esteelauderid on @sephoraidn 🥰I do really love their Double Wear Foundation and have been used it for almost 4th year~ It's stay for whole day without crack and leave smooth finish!!! 🥰They have various shade, definitely will have yours 👌🏻...
#esteeid
#workwithtorquise
#clozetteid
#bloggersurabaya

+ View more details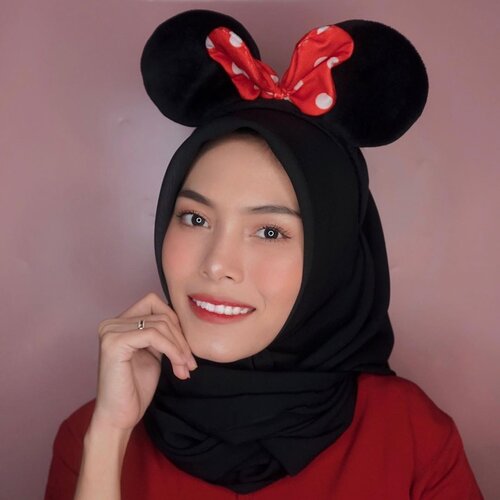 Gemes banget deh, tahun ini @LakmeMakeup lagi berkolaborasi dgn Minnie Mouse! Secara kan Minnie mouse and Mickey mouse itu couple goals banget, jadi pas nih buat Valentine's day look.Produknya itu ada 3 warna Weightless Lip Matte (Giggle, Dainty, dan Smooch) dan shade favorit aku adalah Smooch. Warna merahnya cocok banget buat look jadi lebih keliatan cerah. Anw, di look aku kali ini, aku bikin ombre lips pakai 2 shade yaitu Giggle dan Smooch.Selain itu, ada Limited Edition Cushion nya juga loh dilengkapi sticker Minnie mouse yg bisa dicustomize sendiri sesuai keinginan. Btw, produk2 ini udah ada di toko2 offline dan buat online udah ada di Shopee. Yuk buruan cobain, soalnya limited edition banget! Get ready for Valentine's date! ❤️
#lakmemattemehappy
#lakmemakeup

+ View more details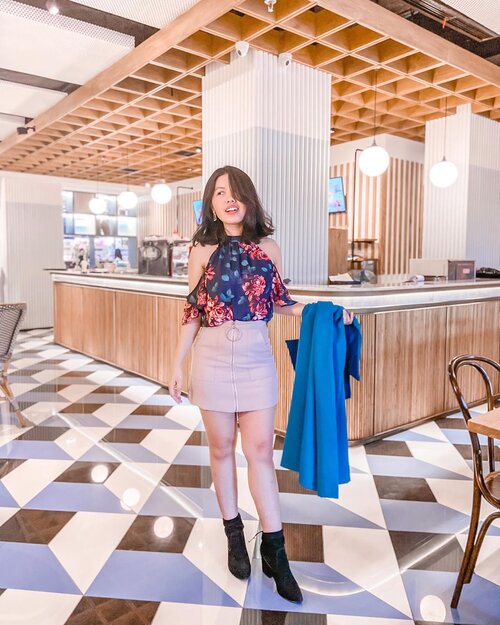 The attitude you're bringing to the outfit makes a big difference. 🥰
.
Wearing something similar to this a couple years back, but with totally different vibe. This shows how my current vibe impacted how i see myself in some of the outfit , which was huge. 😱❤️
#itselvinaaootd
#shoxsquad
#clozetteid
#clozette

+ View more details

loading ...
Back To Top