loading...
Search
90 RESULTS FOR CLEANBEAUTY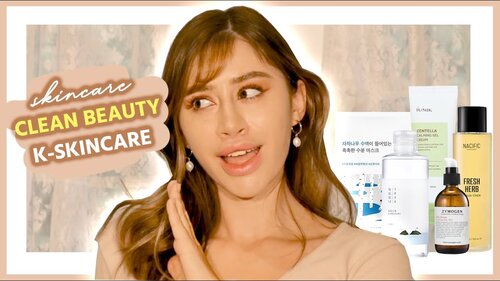 CLEAN BEAUTY KOREAN SKINCARE 🌊 | Normal oily sensitive skin types | Stylevana - YouTube

+ View more details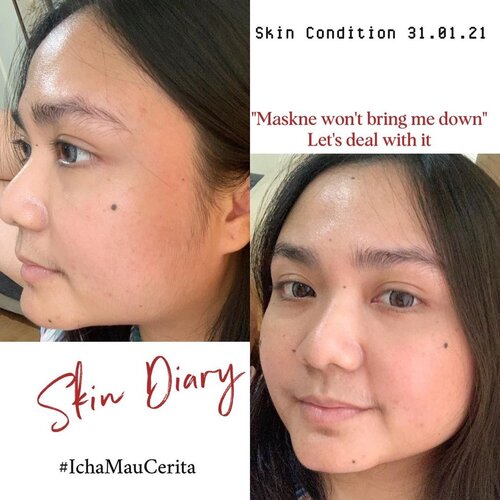 𝙈𝘼𝙎𝙆𝙉𝙀 𝙬𝙤𝙣'𝙩 𝙗𝙧𝙞𝙣𝙜 𝙢𝙚 𝙙𝙤𝙬𝙣 💛 Aktif buat
#AkuJalanPagi
dan harus menggunakan masker karena kalau ngga di denda ya babes😅. Pastinya membuat kulit aku acting out dan muncul si MASKNE💛But well it's normal. Hanya butuh lebih total lagi buat deep cleansing dan tenangin kulit.Selesai
#AkuJalanPagi
wajib banget langsung cuci muka. Jadwal maskeran sama Mugwort dan Charcoal juga 3 kali seminggu ngga boleh lupa😍 Bahkan bisa 4 kali seminggu tapi ke 4nya masker Almond✅Kalau kalian lagi struggling juga sama Maskne ngga usah stress ya babes.Makin kita stress..kulitpun stress ketemu masker jadi makin parah👻. 𝐑𝐞𝐩𝐞𝐚𝐭 𝐚𝐟𝐭𝐞𝐫 𝐦𝐞 "𝐌𝐀𝐒𝐊𝐍𝐄 𝐢𝐬 𝐍𝐨𝐫𝐦𝐚𝐥 𝐚𝐧𝐝 𝐈 𝐚𝐦 𝐛𝐞𝐚𝐮𝐭𝐢𝐟𝐮𝐥 𝐭𝐡𝐞 𝐰𝐚𝐲 𝐈 𝐀𝐦" This is my Current SkinCare line in January 2021.💕 Double Cleansing1.Chamomile Cleansing Balm @thebodyshopindo 2. Facial Cleanser Alternately in between Acne Soap BHA Tea Tree @whitelab_id and Begin @simplisticindonesia .💕Mask SquadCharcoal Mask @thebodyshopindo Mugwort Pore Clarifying @axisy.indonesia 💕 Routine StepsToner and Moisturizer @itsmybase First Serum Brightening Serum @whitelab_id Second Serum Bakuchiol @somethincofficial 💕Acne Spot TreatmentTea Tree Oil @thebodyshopindo
#IchaMauCerita
#MySkinJourney
#skincareroutine
#sensitiveskin
#bareface
#masknetreatment
#skintips
#skinjourney
#selflove
#maskne
#somethincsquad
#itsmybase
#cleanbeauty
#clozetteid

+ View more details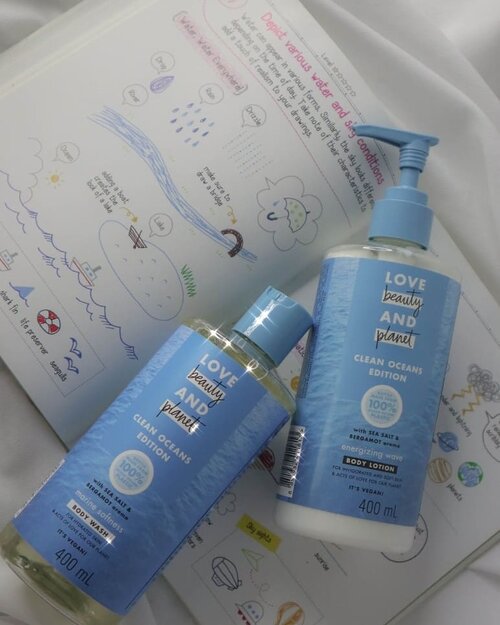 Meskipun nggak cinta-cinta amat sama alam (saya masih beli air minum botolan, masih ngirim paket pake plastik, masih beli hand sanitizer kemasan plastik, masih pakai masker sekali pakai, masih pakai pembalut pas mens), tapi saya selalu tertarik kalau ada produk yang campaign-nya bagus. Merasa senasib aja. Bikin campaign yang keren susah, Bund.Lalu suatu hari saya butuh body wash, scroling di Shopee dan tertarik lihat si LBP. Mereka emang branding-nya cinta alam gitu. Lalu saya pilih yang series Clean Oceans yang konon komponen pembuatan botolnya dari hasil daur ulang sampah plastik. Kan cakep ya. Kemudian nyoba deh body wash dan body lotion-nya. End up these two masuk ke rubrik Current Favorite di
#JurnalSaya.Kalau
mau baca reviunya ada di jurnalsaya.com artikel paling atas. Atau klik link di bio.---
#ClozetteID
#Beautiesquad
@beautiesquad
#skicareblogger
#cleanbeauty
#sustainablebeauty
#BeautyThings
+ View more details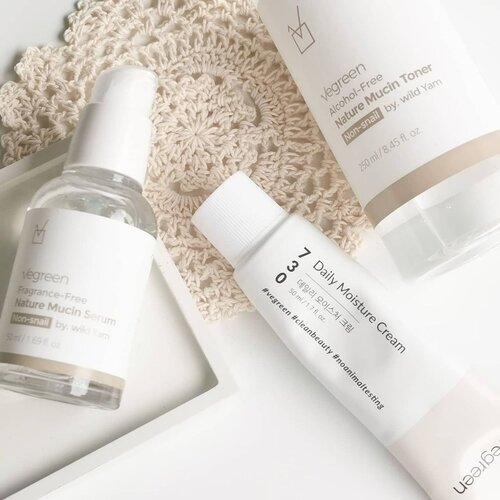 Vegreen, part 1/2 [brand & product's information]
Vegreen is a Korean vegan eco-friendly skincare brand. Their products are fragrance-free, use safety ingredients, clean beauty, vegan-friendly & cruelty free. The packaging materials are eco-friendly, all Vegreen's boxes are made of "Earth Pack" & printed with soy ink. There's also a braille on the side of the box.
Currently they have 3 products, and I got the opportunity to try them all.
🧸 Nature Mucin Toner
This is an alcohol-free nature mucin toner (non-snail) derived from wild yam 68% and Panthenol 3%. Skincare product with wild yam mucin is not something new for me, I've tried from the other brands last year and I didn't experience any bad issues with this ingredient. Also contains Sodium Hyaluronate, HA, Hydrolyzed HA, Hydrolyzed Sodium Hyaluronate & Centella Asiatica Leaf Water. It seems like this product can be used as a hydrating toner. It has a slightly thick texture but is not slimy. Packaged in a quite big plastic bottle 250ml, the bottle's material a little bit soft, so it can be squeezed.
🧸Nature Mucin Serum
Just like the toner, this serum has the same main ingredients, but different percentage, Wild Yam 63% and Panthenol 5%. Also contains Niacinamide, Centella Asiatica Leaf Water & Ceramide NP. Formulated to improves skin vitality, deep moisturizing & strengthen skin barrier. Packaged in a pump bottle with thick & transparent plastic material. The texture is not as slimy as snail mucin serum, more like gel.
🧸 730 Daily Moisture Cream
This is an intensive daily moisturizer for everyone, anywhere & anytime without skin irritation. It has minimal ingredients, only 11 including Squalane, Glycerin & Arginine as a main ingredients. Packaged in a 50ml tube. With a creamy and rich texture, it feels a little bit heavy for combination to oily skin.
Continued to the next post, tomorrow ...
@vegreen_official
#vegreen
#safeingredients
#naturalmucin
#wildyam
#skincare
#kbeauty
#vegancosmetics
#cleancosmetics
#skincareroutine
#koreanskincare
#koreanbeauty
#skincarereview
#clozetteID
#skincarelover
#beauty
#beautycommunity
#beautyblogger
#beautyreview
#kskincare
#beautytips

+ View more details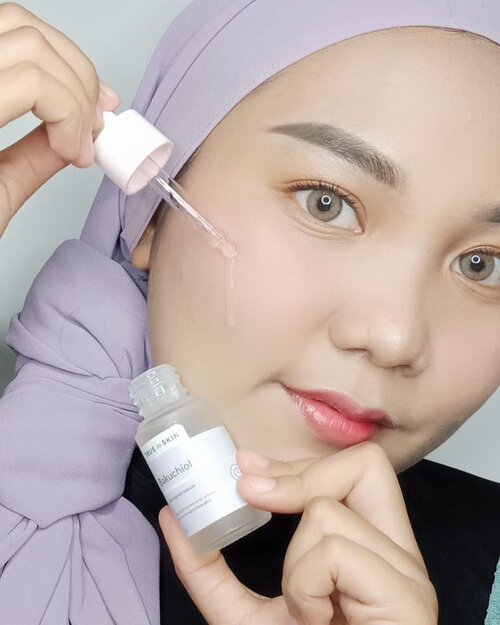 𝗧𝗵𝗲 𝟭𝘀𝘁 𝗟𝗼𝗰𝗮𝗹 𝗕𝗮𝗸𝘂𝗰𝗵𝗶𝗼𝗹 𝗦𝗲𝗿𝘂𝗺  - @truetoskinofficial Bakuchiol Anti-aging Serum 💜-𝗦𝘁𝗮𝗿 𝗜𝗻𝗴𝗿𝗲𝗱𝗶𝗲𝗻𝘁𝘀1% Bakuchiol, 2% Lactobionic Acid (PHA), Probiotics and 7 Seed Beans Complex-𝗣𝗮𝗰𝗸𝗮𝗴𝗶𝗻𝗴Untuk kemasannya cukup simple dan travel friendly, dari botol kaca doff dengan warna pastel 😍 dan sudah dilengkapi dengan aplikator pipet-𝗙𝗶𝗻𝗶𝘀𝗵 𝗮𝗻𝗱 𝗘𝗳𝗳𝗲𝗰𝘁𝗶𝘃𝗲𝗻𝗲𝘀𝘀I've only had this now for 𝟭𝟬 𝗱𝗮𝘆𝘀 and I can already see and feel the difference ~~ 𝗜𝘁'𝘀 𝘀𝗼 𝗴𝗲𝗻𝘁𝗹𝗲! sehingga aku dapat menggunakan serum ini 2x sehari tanpa iritasi💕 Teksturnya ringan, cepat meresap dan tidak meninggalkan residu lengket di kulit .. 𝗜 𝗹𝗼𝘃𝗲 𝘁𝗵𝗮𝘁 𝗶𝘁 𝗶𝘀 𝗮 𝗿𝗲𝘁𝗶𝗻𝗼𝗹 𝗮𝗹𝘁𝗲𝗿𝗻𝗮𝘁𝗶𝘃𝗲 ❤️ My fine expression lines are much less noticeable and the few dark spots I had have faded! I think that with constant use for longer period of time it might have even better anti-aging effects 😉-💜 𝗣𝗿𝗼𝘀Suitable for all skin typesHydrates skinMakes skin look suppleBalances oil production on skinLight weight textureAffordable price💔 𝗖𝗼𝗻𝘀None-𝗧𝗼𝘁𝗮𝗹𝗹𝘆 𝘄𝗼𝗿𝘁𝗵 𝘁𝗵𝗲 𝗵𝘆𝗽𝗲 !!!✨
#truetoskin
#loveyourtrueskin
#bakuchiol
#bakuchiolserum
#skincarereview
#skincareroutine
#cleanbeauty
#jakartabeautyblogger
#makassarbeautygram
#clozetteid

+ View more details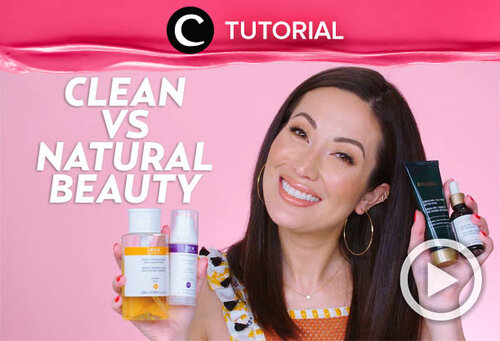 Clean beauty vs natural beauty, mana yang lebih cocok untukmu? Cek di:
http://bit.ly/3n6r670
. Video ini di-share kembali oleh Clozetter @kyriaa. Intip juga tutorial lainnya di Tutorial Section.

+ View more details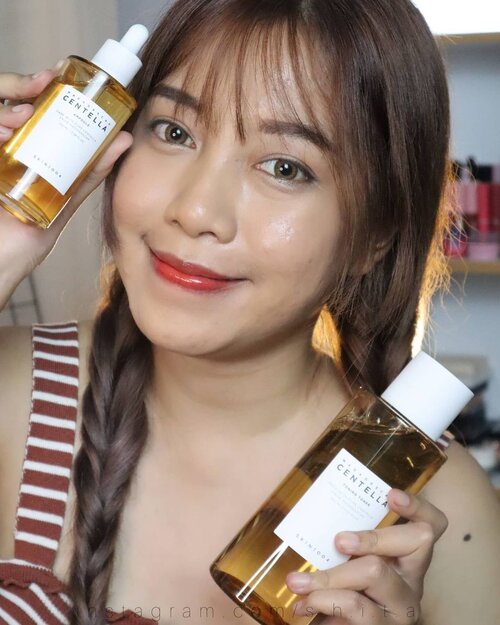 ✨𝗦𝗞𝗜𝗡𝟭𝟬𝟬𝟰 𝗖𝗲𝗻𝘁𝗲𝗹𝗹𝗮 𝗠𝗮𝗱𝗮𝗴𝗮𝘀𝗰𝗮𝗿 ✨Siapa nih yang belum kenal Skin1004 ? Kulit acne prone dan sensitif pasti udah tau brand ini dong~ SKIN1004 adalah brand perawatan kulit alami yang dpt meminimalkan iritasi kulit dengan penggunaanbahan-bahan hypoallergenic.FYI bahan utama dari Centella Line ini adalah Centella Asiatica yang paling murni yang dibudidayakan di Madagascar! Centella Line ini dibuat untuk menenangkan kulit dengan lembut. Produk ini hanya mengandung sedikit bahan yang sangat aktif. Kedua produk ini baunya samar sekali karena gak mengandung fragrance. Selain itu juga bebas alkohol dan no paraben.Nah 2 produk ini yaitu Centella Ampoule dan Toning Tonernya adalah produk best sellernya dari Skin1004 loh! Dan disini aku mau review 2 produk ini.✨𝗦𝗸𝗶𝗻𝟭𝟬𝟬𝟰 𝗖𝗲𝗻𝘁𝗲𝗹𝗹𝗮 𝗧𝗼𝗻𝗶𝗻𝗴 𝗧𝗼𝗻𝗲𝗿 𝟰𝟬𝟬𝗺𝗹Ini pertama kalinya aku coba full sizenya karena sebelumnya aku cuma pakai sampelnya aja. Untuk kesan yang aku rasain setelah pakai toner ini dibarengin dengan ampoulenya, kulitku terasa jadi lebih lembab. Aku ngerasa kalau makin kesini kulitku yang berminyak ini gak separah dahulu. ✨𝗦𝗸𝗶𝗻𝟭𝟬𝟬𝟰 𝗖𝗲𝗻𝘁𝗲𝗹𝗹𝗮 𝗔𝗺𝗽𝗼𝘂𝗹𝗲 𝟭𝟬𝟬𝗺𝗹Aku sendiri sudah pakai Centella Ampoulenya hampir setahun saat botolnya masih versi yang lama. Ampoulenya cair dan ga terasa lengket setelah diaplikasiin ke wajah. Ampoule ini bener-bener menenangkan kulit saat rewel. Di kulitku dia bukan pemeran utama buat ngilangin jerawat yang udah ada ya, kalo itu tetep perlu acne spot treatment. Ampoule ini bekerja buat merawat kulit terutama yang berjerawat dan sensitif.Selama pakai 2 produk (terutama toning tonernya yang baru aku coba rutin) ini gak ada reaksi negatif yang muncul. Dan 2 produk ini bakalan tetep ada di skincare line aku❤Kalian dapat beli produk ini
http://bit.ly/skin1004idofficial
(Link di bio) @skin1004_indonesia
#Centella
#skin1004indonesia
#skin1004korea
#cica
#centellaasiatica
#soothing
#acnetreatment
#acneproblems
#acnepronskin
#naturalskincare
#natural
#naturalskincarerproducts
#skincareviewsht
#noanimaltesting
#noparabens
#cleanskincare
#cleanskin
#cleanbeauty
#kbeauty
#koreanskincare
#koreanskincareroutine
#alcoholfree

+ View more details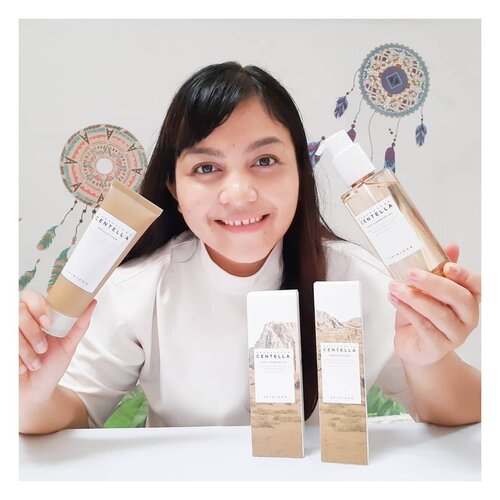 Hai! ketemu lagi denganku setelah sekian lama ku tak muncul, pernah gak ngalamin stres hingga harus ambil jarak dgn medsos/ digital detox? Nah aku kmrn lagi ngalamin itu, sampe keseimbangan hormon terganggu hingga muncullah beberapa jerawat. Untungnya ketemu produk pembersih wajah yang tepat, Centella Asiatica dari @skin1004_korea, aku lagi pakai ampoule foam yg calming & pH balancing, dan light cleansing oil untuk membersihkan make up dengan sensasi calming & deep cleansing. Dari judulnya aja udah bikin hati tenang 😊Produk ini mengandung Centella Asiatica paling murni yg dibudidayakan di Madagaskar, dan memang dirancang untuk menenangkan kulit dengan hasil akhir yg segar dan lembut. Centella tidak mengandung alkohol, paraben, pewangi buatan, dan dengan Ph 5.5 acid yang rendah, sangat cocok untuk kulit sensitif atau berjerawat, kayak aku sekarang ini ❤Aku sih suka banget dgn hasil akhirnya yang calming, lembut, bersih, tidak terasa kering / iritasi, apalagi bahan-bahannya aman dari bahan kimia yang keras, dan oh iya, proses pembuatan Centella ini tidak ada pengujian pada hewan loh 😍 kalau teman-teman mau pesan harus yang asli ya, langsung aja cek di @skin1004_Indonesia untuk masuk ke toko resmi Shopeenya 😘
#Centella
#skin1004indonesia
#skin1004korea
#cica
#centellaasiatica
#soothing
#acnetreatment
#acneproblems
#acnepronskin
#naturalskincare
#natural
#naturalskincarerproducts
#noanimaltesting
#noparabens
#cleanskincare
#cleanskin
#cleanbeauty
#kbeauty
#koreanskincare
#koreanskincareroutine
#alcoholfree
#clozetteid
+ View more details

loading ...
Back To Top