loading...
Search
50 RESULTS FOR DINSVANITYDESK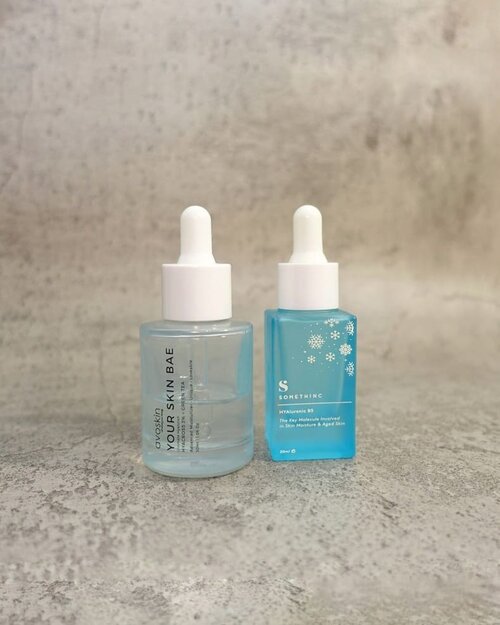 Finished with
#Somethinc
Hyaluronic Acid serum, and FINALLY trying
#AvoskinYourSkinBae
Hyacross 3% and Green Tea. I believe the Hyacross is a variation of Hyaluronic Acid for hydration, added with anti oxidant from green tea. Hydration is a wonder, not sticky like a lot of hyaluronic acid or gel-ish texture serum.
Texture wise it is very thick, gel-ish when pipette out of the bottle, in contrast with Somethinc's that very runny, but immediately become more watery when applied to the face. I only use 2 fat drops for the whole face and neck, more than that making the next serums more tricky to blend and absorb. Esp with somethinc's niacinamide that have quite similar thick gel-ish texture. One or two times, both of them together making my moisturizer pilling. So use it wisely, blend to your skin until completely absorbed and not sit on top of your skin before moving to the next serum(s).
#DinsVanityDesk
#beautyroutine
#beautygram
#beautycare
#beautyreview
#skincare
#skincareregime
#skincarejunkie
#glowingskin
#skinessentials
#healthyskincare
#Clozette
#ClozetteID
#FDLocalPower
+ View more details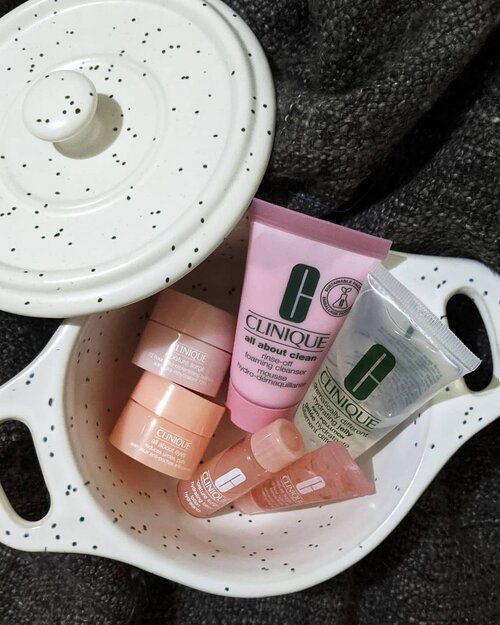 Karena travel nya masih ratusan purnama lagi, ini stock
#TravelKitSkincare
kita pake ajalah ya, masih ada punya Clinique, Sulwhasoo, cemacemlah, keburu basi yakan.
Ini
#CliniqueMoistureSurge
travel kit, yaaa udah tau I love. New discovery nya malah si Dramatically Different Hydrating Jelly Yang aku super love buat pake ulang moisturizer siang-siang pas kulit udah kayak keripik dijemur siang bolong. Ini definitely satu geng sama DDML (pernah jadi andalan sebelum ketemu yg 72hrs).
Awalnya sih skeptis bisa melembabkan atau enggak karena jelly dan super cair pun, apalagi dicobanya pas puasa pas kulit lg kering bgt. Sebagai topup moisturizer, ini oke banget teksturnya, gak piling, gampang diserap tanpa harus apply toner/essence of, cukup melembabkan walaupun ujung2nya setiap abis sholat otomatis pake lagi aja. Ini kayaknya kulit gw lagi berontak aja persediaan air dan kadar kelembabannya lagi turun drastis. I imagine, Kalo di kulit yg oily pasti suka pake ini krn cepet nyerap dan gak pake lengket.
Honestly I don't think I'd buy the full-size. I'll stick to 72hrs thou, or the DDML at least. No, I'll stick to 72hrs for sure, can't go back from that.
#DinsVanityDesk
#beautyroutine
#beautygram
#beautycare
#beautyreview
#skincare
#skincareregime
#skincarejunkie
#glowingskin
#skinessentials
#basicskincare
#ipreview
via @preview.app
#aColorStory
@acolorstory
#Clozette
#ClozetteID
#FDLocalPower
+ View more details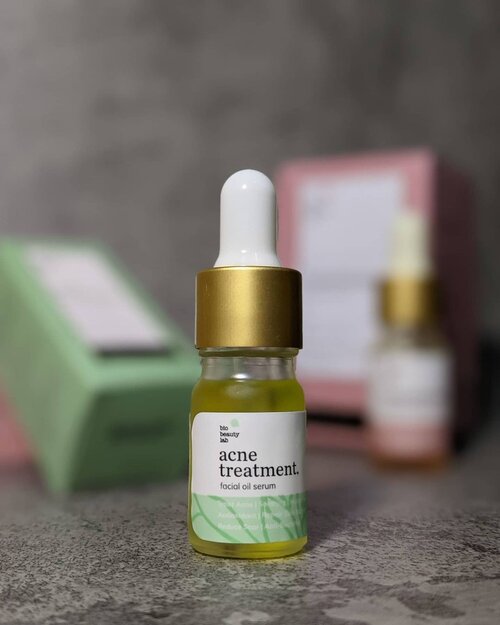 Menanti kesempatan coba acne treatment oil nya @biobeautylab akhirnya muncul juga nih...
Namanya cukup straightforward, this meant for acne treatment. Kita praktekkan langsung ke seekor jerawat yg tetiba muncul di pipi ini. Ini jerawat gara2 masker dan pms, lgsg meradang merah. Begitu muncul langsung switch si Luxurious Oil ke Acne Treatment. Dipakenya paling terakhir setelah moisturizer atau sebelum moisturizer (ya tergantung sih lg pengen pake moisturizer apa), pagi dan malam. Not really as a spot treatment, just spread it all over the face.
Cepet juga kempesnya, after 2 days, udah kempes bahkan udah mau kelar episode jerawat ini. Sekarang, di hari ke-5 (slide ke-4) udah mulai pudar juga bekasnya. Luar biyasak!
Ku pengen tepuk tangan buat si Acne Treatment oil ini.
Biasanya kalo jerawat2 andalanku pasti si Mario Badescu drying lotion, namun judulnya juga drying lotion ya, abis pake itu keringnya gak nahan sih. Ini cukup comparable performance-nya, bisa menandingi karena Bio Beauty Lab gak pake kering dan pemakaiannya lebih convenient. Emejing!
Dah mau kelar ni jerawat, muncul objek baru, bekas digigit nyamuk di pipi! Markicob lagi kalo gitulah...
#DinsVanityDesk
#beautyroutine
#beautygram
#beautyreview
#skincare
#AcneSkincare
#glowingskin
#healthyskincare
#clozetteid
#ipreview
via @preview.app
+ View more details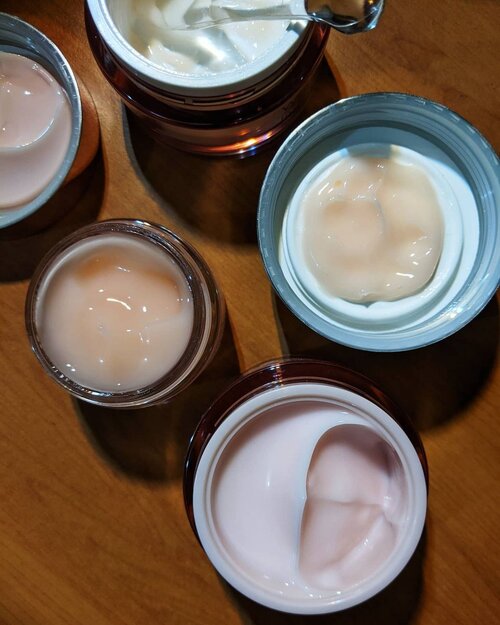 Gel Moisturizer <200rb vs 500rb-an, jadi siapa yg berprestasi gemilang bercahaya?
Aku pun masih pusing abis coba bandingin dua2nya. Harus abisin 1 jar yg <200rb dulu demi meyakinkan performance ybs. Bukan halu bukan hayalan belaka.
Clinique 72hrs nya sih ai sudah khatam lah. Dia bisa jadi pelengkap P3K mukadimah karena melembabkan (for real 72hrs) dan langsung bikin kulit adem pas pake.
New Kids on the Block nya,
#WardahHydraRose
, dua2nya yg Day dan Night version, bisa banget nih bersanding sama Clinique. Si Day nya texture persis banget 72hrs, efek adem pas pake nya juga dapet walau lembabnya masih lebih nampol 72hrs sih. Yg Day ini ku pake siang, setiap abis wudhu atau kulit udah berasa keripik, langsung pake lagi aja.
Kalo yg Night boleh bersaing lembab nya. Overnight masih sanggup nahan mukadimah enggak jd kripik. Texture wise, yg Night gel nya terasa lebih padat, gak seringan yg Day, warna pun tampak lebih padat. Itu yg lagi dibuka yg Night. Gak se-translucent 72hrs (yg di atasnya).
FYI, udah beli lagi dong Wardah buat nyetok pake daily, enggak sakit hati dipake sehari 3x.
Pas kmrn si Clinique juga promo 12.12 700rb dapet 3. Kan menurut Bapake, kalo emang lebih murah ya beli aja buat stok, toh dipake kan, ya aku nurut dong.
Dengan ini cukuplah ini persediaan skincare setahun kedepan. Nyetok lg ntaran aja pas promo Mega Days lagi.
#CuanLyfe
#BelanjaHarusCuan
#DinsVanityDesk
#GelMoisturizer
#beautyroutine
#beautygram
#beautyreview
#skincare
#skincarejunkie
#skinessentials
#ClozetteID
#Clozette
+ View more details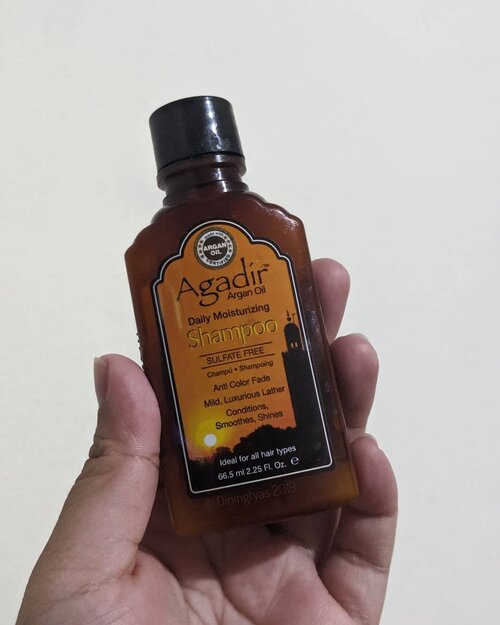 Who managed to conquer my frizzy curly hair? Argan Oil.
I think I use argan oil on so many form. Shampoo, the actual oil, hair treatment, everything.
MUST LOVE ARGAN OIL!
Like this Agadir Shampoo I randomly pick at supermarket.
So happy to found this mighty shampoo, finally I have shampoo that easily bought at supermarket or drugstore! This shampoo still lather up enough bubble (not too much), but still soft enough on hair shaft. Didn't drag down my hair and smells so good! Even better, aside from the argan oil, this shampoo is sulfate free. So I didn't have to use conditioner again to have softer hair.
It is so good I immediately buy the full-size after the first wash and pick some extras to stock.
So much love!
#DinsVanitydesk
#Shampoo
#ArganOil
#Haircare
#ClozetteID
#CurlyHair
#CurlyHairCare
+ View more details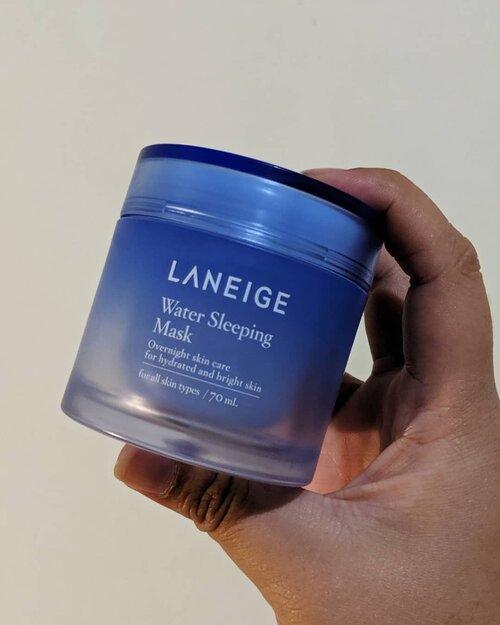 + View more details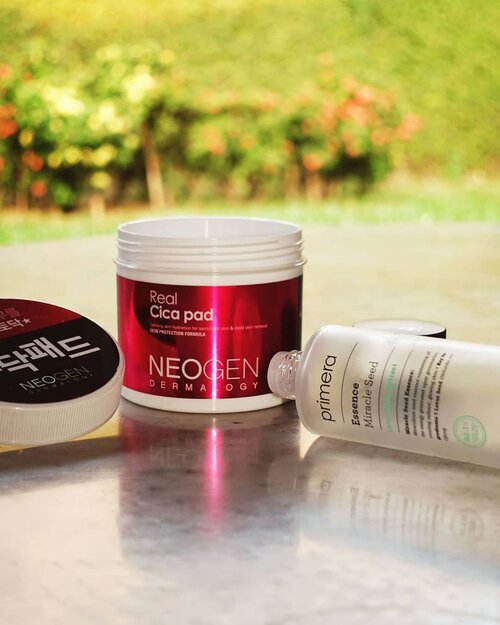 [LONG CAPTION - MINI REVIEW ALERT]
Hurrahhh for Another
#MissionEmpties
from
#DinsVanityDesk.
Thank you for took care my skin well
#alaKonMari
These two are still a new comer, I am still on the first bottle. While I use them, I don't have negative reaction, quite good actually I do add them to the list of my next beauty buys (repurchase alert!)
I notice I rarely suffer break out or pimple, very rare. I assume the regular exfoliate by
#NeogenDermalogy
really helps.
I believe is the calm siblings of the Bio-peel Siblings, way more calm, no harsh exfoliation, super mild! Sensitive skin would appreciate this version better as the exfoliation very gentle. And the
#RealCicaPower
ingredients (hello centella asiatica and madecassoside!) helps my skin barrier instead of the redness I usually have after exfoliation.
The next additional is
#Primera
Essence Lotus Seed, also a new comer, but as a first essence, I do enjoy this better than mighty Japanese brand with pitera! Works well prepared my skin for the rest of my skincare regime, building hydration layer by layer. Skin feel so good with these two 😍
So do you have any good new comer on your beauty regime too? Please do share with me!
#SkincareEmpties
#BeautyAddict
#ClozetteID
#Clozette
#BeautyGram
#InstaBeauty
#BeautyProducts
#ipreview
@preview.app
#aColorStory
#FDBeauty
+ View more details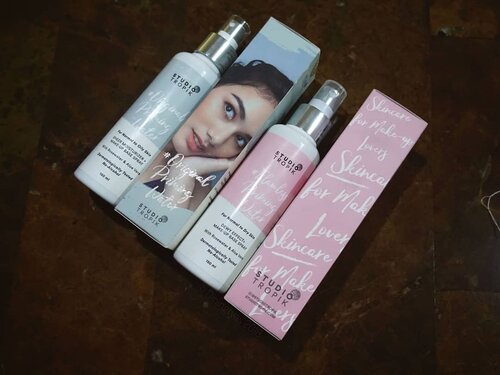 [LONG CAPTION - MINI REVIEW ALERT]
💄 @studiotropik Priming Water
#Original
&
#Flawless
🏷️ IDR 99,000 each
🛒 Studio Tropik website, Major e-commerce and retailer
I am not a believer of any kind of spray with make up properties.
While I enjoy spraying Hatomugi to my overheat facials... I don't exactly set my make up with setting spray. I just don't.
So when Studio Tropik came with the idea of priming water (spray), I don't immediately buy the idea. But the sake of supporting
#madeinindonesia
and to validate my point of view, I decided to give it the benefit of doubt. I guess it was my best decision (yet). After a week or so, I didn't have the urge to just leave it. More so I come to a verdict that this is a very thin thread between primer or hydration booster. I wouldn't compare this to any other spray make up, but I'd compare this with the ever-loved spring/thermal water spray. Studio Tropik win every round! Studio Tropik contains Rose water and aloe vera as the key ingredients (for both variant), which proven help your skin hydration. Felt more beneficial and less gimmicky than a brumisateur (try Google this 😉).
Marketed as a primer, but many use these as setting spray too. Well, other than as the hydration booster, I do love this as mid-day refresh rather than setting spray. In-fact I keep one small bottle in my purse.
I tried both version, yet I didn't see a very steep difference. I enjoy both of them, formula wise.
However...
I do find one of the variant, the Flawless ones, has lesser spray quality than the Original ones. The nozzle produce uneven spray and too wet mist. Minor problem lah.
Will this stay on
#DinsVanityDesk?
YES!
#BeautyJunkie
#Beauty
#BeautyBlogger
#BloggerBabes
#BeautyAddict
#BeautyGram
#Clozette
#ClozetteID
#InstaBeauty
#BeautyProducts
#beautycommunity
#playbeautifully
#dailymakeup
#FDBeauty
#ipreview
@preview.app
#aColorStory
@acolorstory
+ View more details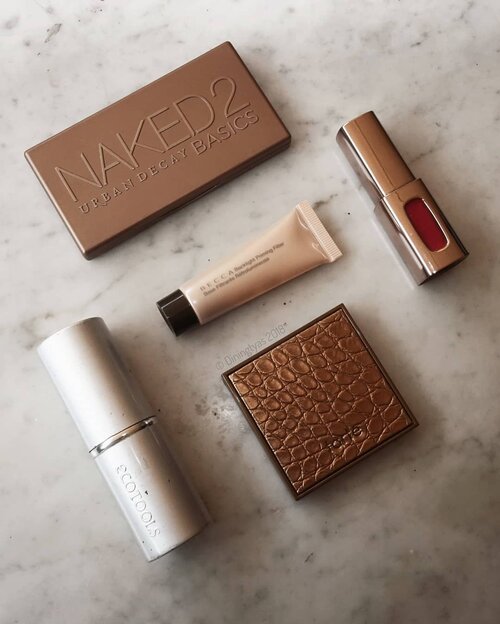 + View more details

loading ...
Back To Top