loading...
Search
1 RESULT FOR DISCOVERTRILOGY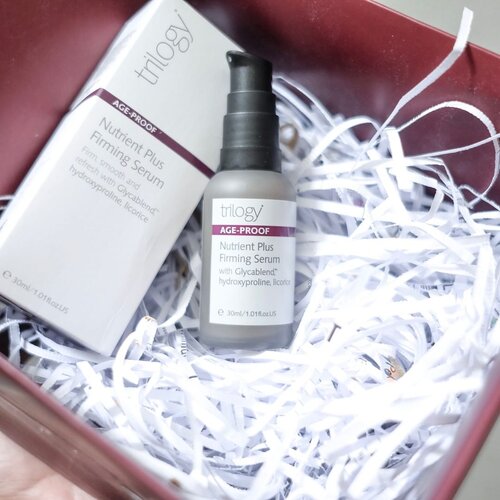 @trilogy_id Age Proof - Nutrient Plus Firming Serum ✨⠀⠀⠀⠀⠀⠀⠀⠀⠀————⠀⠀⠀⠀⠀⠀⠀⠀⠀Team pecinta
#AntiAging
mana suaranyaaa? Terharu akhirnya bisa nyobain ini serum~⠀⠀⠀⠀⠀⠀⠀⠀⠀What so special about this serum? Konon katanya serum ini tuh packed with powerful ingredients yg bagus untuk aging skin. Gue penasaran banget sih sama kandungan Glycablend yg di claim sama Trilogy kalau itu adalah salah satu breakthrough ingredient mereka. Sampe di paten-in sama mereka loh jd yg punya ya cuma Trilogy (cmiiw)⠀⠀⠀⠀⠀⠀⠀⠀⠀————⠀⠀⠀⠀⠀⠀⠀⠀⠀FIRST IMPRESSION: the serum texture is unique (or its my first time coba serum dengan texture kayak gini lol), cream-colored serum yg teksture nya kayak cream tp agak cair. Not a fan of the pump tho, agak keras buat di pencet. The scent? Nothing special. ⠀⠀⠀⠀⠀⠀⠀⠀⠀———⠀⠀⠀⠀⠀⠀⠀⠀⠀I personally LOVE IT! It makes my face glow, kayak ngebantu kinerja skincare gue yg lain gitu loh. Gue baru pake sekitar 4 hari (pagi & malam) but the glow is real. Will update later yes 🤗✨⠀⠀⠀⠀⠀⠀⠀⠀⠀
#clozetteid
#Trilogy
#TrilogyID
#TrilogyIndonesia
#AgeProofTrilogy
#DiscoverTrilogy
#mombloggerindonesia
#beautybloggerindonesia
#antiagingserum
#antiagingskincare
#indonesianblogger
+ View more details

loading ...
Back To Top