loading...
Search
32 RESULTS FOR FERRISWHEEL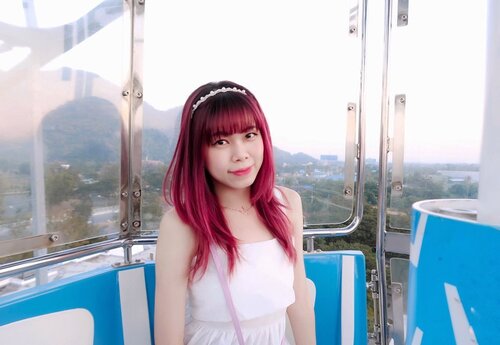 Under the same sky, dreaming the same dreams - you & i ☁️❤️.....Pgen nya sih bisa foto berdua gitu kaya orang-orang tapi apa daya harus menjaga keseimbangan. Better safe than sorry lol 🤣🤣 Btw happy birthday to this boiii!! Yg takut ketinggian tp masih mau nemenin naik ferries wheels & fotoin 😘Nanti bawa @lazy.rocket juga yg sm takut ketinggian nya lol @vickyyvendy
#ootd
#potd
#clozetteid
#traveldiaries
#travel
#bkk
#santorinipark
#ferrieswheel

+ View more details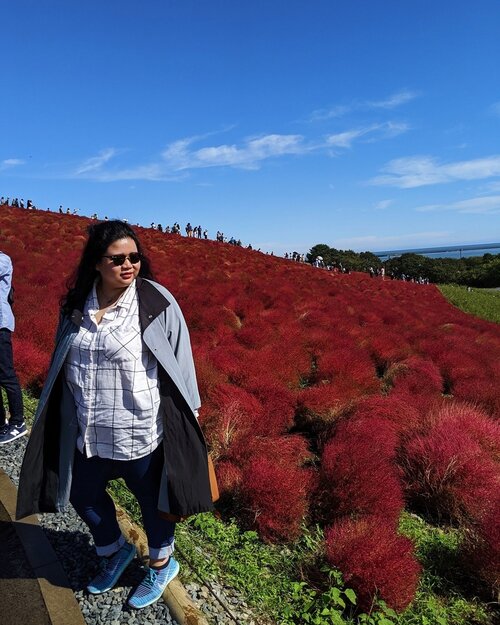 FINALLY it is sunny day again!
Perfect weather for trip to Hitachi Seaside Park ♥️
Too bad I didn't get in to that Ferris Wheel. I'd recommend to spare a whole day to enjoy Hitachi Seaside Park. To enjoy the whole park, take a bike or the train to round the whole park. Or hike all the way through. Then have a picnic lunch at the park. There were park bench you can share or borrow a picnic mat.
I only have like half a day, and I think I missed a lot, especially the Ferris Wheel, I missed the Ferris Wheel. And for some strange reason, I wish a try the choo choo train around the park. HAHAHAHA.
#DinsDayOff
#WheninJapan
#Tokyo
#TeamPixel
#RX100
#SonyforHer
#LibraSeasonTrip
#thisisjapan
#exploringjapan
#discoverjapan
#ipreview
#ClozetteID
#aColorStory

+ View more details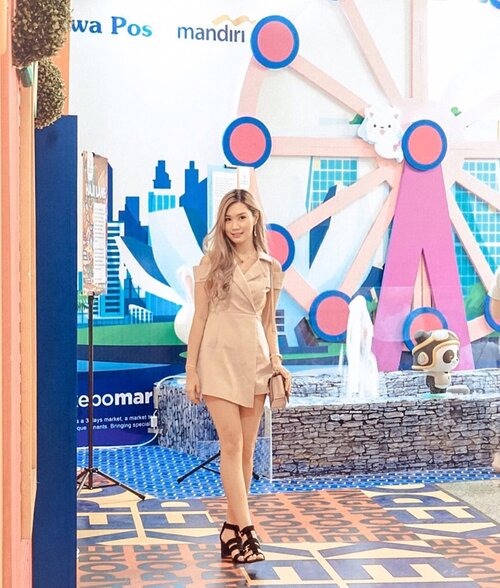 Jalan-jalan ke @ayokepo x @jawapos Kali ini mengusung tema Singapore 🦁 bisa lihat dibackground ada ferrie wheel 🥰 .
Yg special kali ini, untuk 3000 org pertama ada Free Ice cream potong ala SG! @indofood.icecream
Dan ada tenant "Candyland" dari Ausie yang ngejual berbagai macam permen👌🏻
Jangan lupa mampir rek 11-13 on @galaxymallsby 🙌🏻
.
.
.
👗 @carousellboutique
#workwithtorquise
#ayokepomarket
#clozetteid
#bloggersurabaya

+ View more details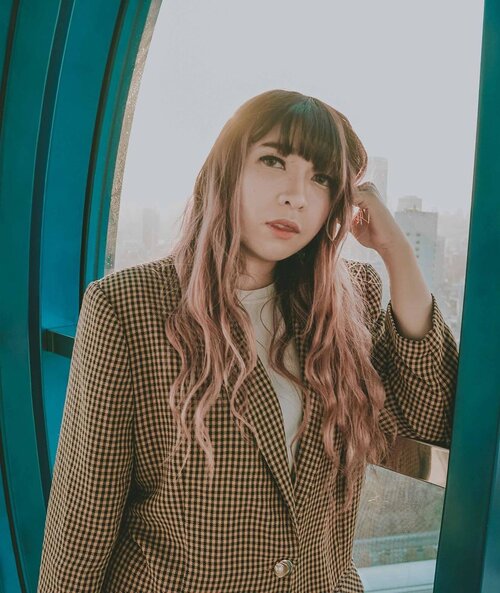 + View more details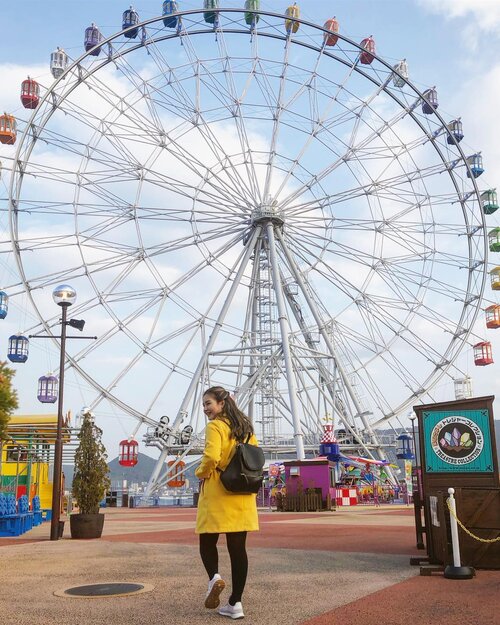 + View more details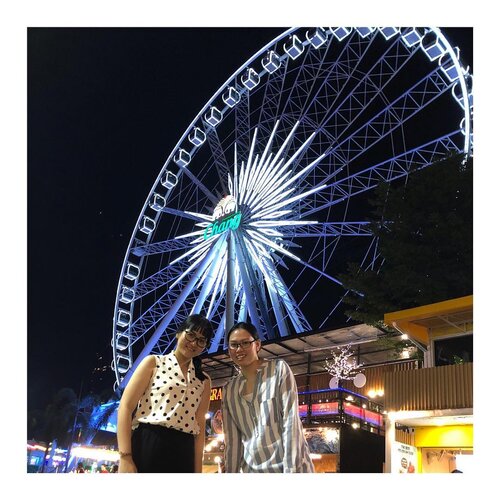 + View more details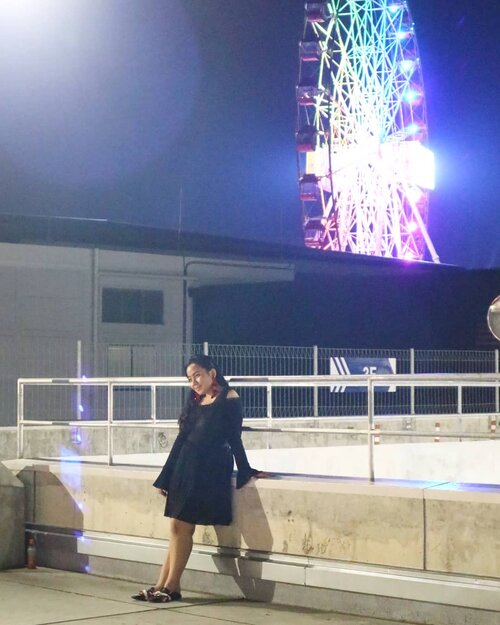 + View more details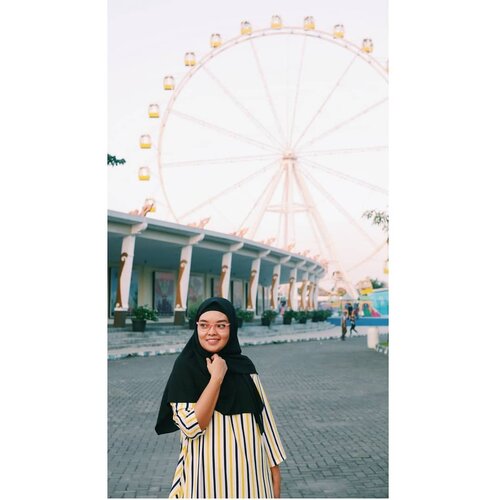 TENTANG FERRIS WHEEL
.
Tahukah kamu bahwa Ferris Wheel adalah kincir ria pertama di dunia pada tahun 1893 yang dibangun oleh George Washington Gale Ferris, Jr. .
Jadi Ferris Wheel pertama dibangun oleh Sir. George sebagai markah tanah pada pameran dunia World's Exposition tahun 1893 di Chicago. Thats why istilah Ferris Wheel (Roda Ferris) kemudian dipakai untuk menyebut semua wahana seperti ini di pekan raya bagian Amerika Serikat.
.
Tujuan dibangunnya Ferris Wheel ini untuk observasi atau hiburan.
.
.
Inilah perbandingan Ferris Wheel di beberapa negara :
.
Singapore Fyler 165 meter
Sun Wheel Vietnam 115 meter
Eye On Malaysia 88 meter
Pampanga Eye Philippines 65 meter
Asiatique Sky Thailand 60 meter
AEON J-Sky JGC 69 meter
Cakra Manggilingan Jogjakarta - Indonesia 50 meter
.
.
Ferris Wheel di Cakra Manggilingan ini cantik sekali kalau malam hari (Swipe deh). Viewnya juga sangat bagus saat kamu berada di puncak ketinggiannya. Kalau kamu sempat mengunjungi Kota Jogjakarta, jangan lupa mampir kesini ya. .
.
Kalau awal tahun ini saya berfoto di depan Ferris Wheel Singapore Flyer, pertengahan tahun ini saya berfoto di depan Cakra Manggilingan Jogjakarta..
.
.
Hmm.. akhir tahun 2018 ini dan 2019 saya ingin berfoto di depan Sun Wheel Vietnam atau Pampanga Eye Philipinnes. Aminin aja dalam hati. Siapa tahu kesampaian 😊😘💕
.
.
#ClozetteID
#FerrisWheel
#catatanoline
#Trip
#ExploreJogjakarta
+ View more details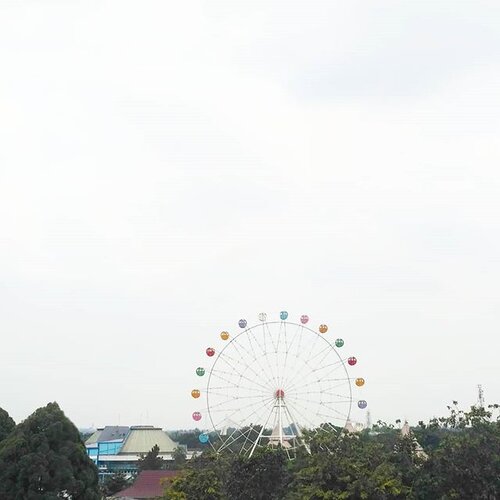 Beberapa pekan lalu sempat jalan-jalan ke
#TamanMini
karena belum kesampaian keliling seluruh anjungan dan wahana. Ternyata, banyak yang baru! Salah satunya ferriswheel yang ada di Taman Legenda ini. Difoto sambil naik gondola (ga pernah bosan naik ini) sambil ngebayangin alun-alun Batu. Ya, sepintas lalu mirip bianglala di kota dingin itu. Btw, ketan keju susu apa kabar ya?
#clozetteid
#latepost

+ View more details

loading ...
Back To Top