loading...
Search
747 RESULTS FOR NAMING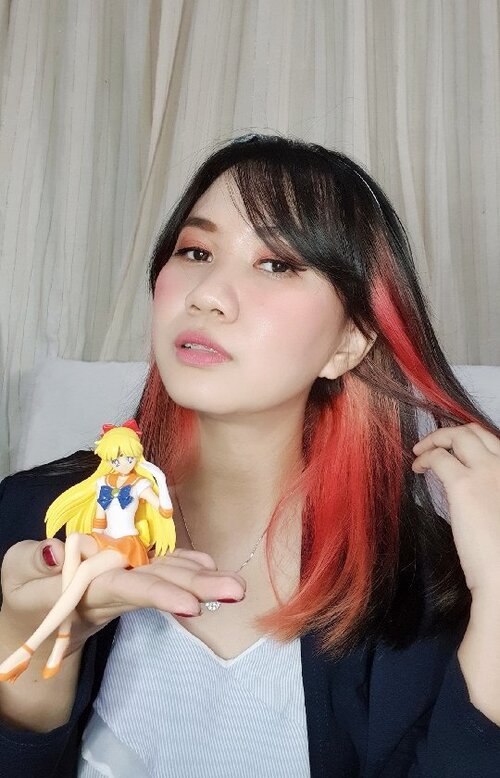 + View more details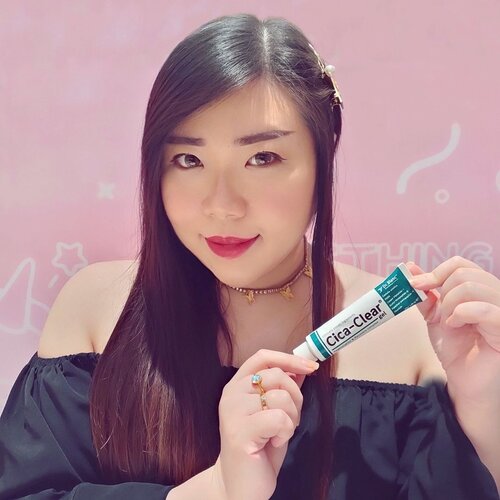 AMAZING PRODUCT ALERT!!!If you have acne (or other) scars, problem with redness, irritated skin, inflammed skin that needs to be soothed, swelling problem, maskne (to name a few), i have a product that you NEED to try!I've been loving this @dr.blanc_official Cica Clear Gel so much that i've diligently been using it (on both my face and spots on my leg!) everyday since i received it because boy, it does wonder to my skin!Like its name suggested it has a clear gel texture that is super cooling and soothing on the skin, gets absorbed real fast and leave no greasiness nor stickiness behind.I had white heads problems on my chin and it was worsened by mask wearing, they were very stubborn too (they keep on reappearing) and the only thing finally succeed in getting rid of them (plus the dark spots they leave behind) and preventing them form coming back is this Cica Clear Gel!Since it claims to help with scars too, i decided to test it on the spots (caused by ingrown hair that i poked out mercilessly 🤣) on my leg. The spots were dark and stubborn, no matter what i did they won't fade - but Cica Clear Gel managed to fade them visibly (you can see the progress on the 5th slide) and sooo it really works wonder and i am in love!I think you can also use it as a moisturizer (to prevent maskne) but i personally use it on my problematic areas, it can also be reapplied 3-4x a day as it is super light.It really is a wonderful product and i cannot recommend it enough!As usual, you can grab yours at my Charis Shop (Mgirl83) for a special price or type
https://bit.ly/CicaClearMindy83To
directly go to the product's page 😉
[email protected]
_official @charis_celeb @charis_indonesia
#drblanc
#cicacleargel
#soothingcream
#charisceleb
#charis
#hicharis
#reviewwithMindy
#beautefemmecommunity
#koreancosmetics
#clozetteid
#sbybeautyblogger
#koreanskincare
+ View more details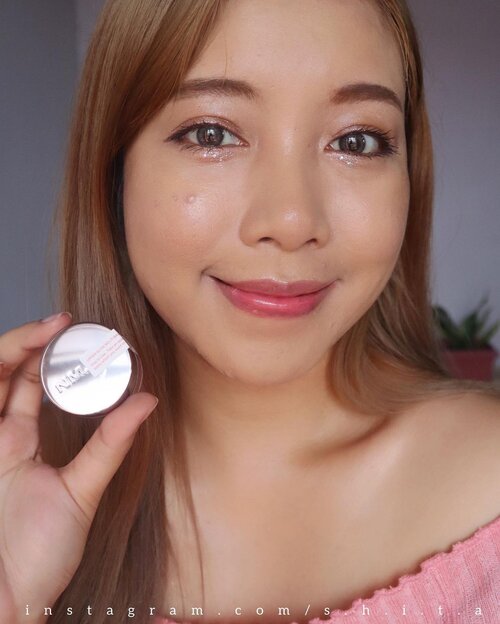 ✨𝙉𝙖𝙢𝙞𝙣𝙜 𝘽𝙤𝙡𝙙 𝙉𝙖𝙩𝙪𝙧𝙖𝙡 𝙆𝙞𝙩 ✨ ✨NAMING. Touch-up Lash Maker
#Fixer
and
#Black2
mascara ini aplikatornya slim jadi enak banget dipakai. Untuk yang
#Fixer
dia transparan dan berfungsi untuk menguatkan bulu mata kita. Sedangkan untuk yang
#Black
dia berwarna hitam dan dapat memberikan volume pada bulu mata. Kombinasi 2 mascara ini bikin bulu mata lebih lentik, bervolume dan kuat. Ga ada acara smudging dan clumpy deh!✨NAMING. Upper Glow Multi Balm
#NotRedProduk
ini unik banget karena ini balm yang teksturnya agak bouncy jelly yang dapat melts disuhu tubuh kita. Multi balm ini bisa digunakan dimana aja seperti mata, bibir, tulang selangka, dan pipi agar bikin tampilan jadi dewy skin gitu~ pokoknya kalian pecinta glowy glass dewy skin harusnya sih suka sama produk ini!✨NAMING. Sheer Tinted Lip BalmTinted Lip Balm ini ada 2 warna yautu yang pertama
#PKB01
yaitu warna beige pink. Lalu warna
#RDG01
adalah burgundy wine. Aku pribadi suka warna yang RDG01 karena lebih cocok dengan skintone aku. Lip balm ini sheer, bikin lembab bibir tanpa rasa tebal gitu.
#Whatsyourname
#NAMING
#Kbeauty
#Shopee
#Makeuptutorial
#boldnature

+ View more details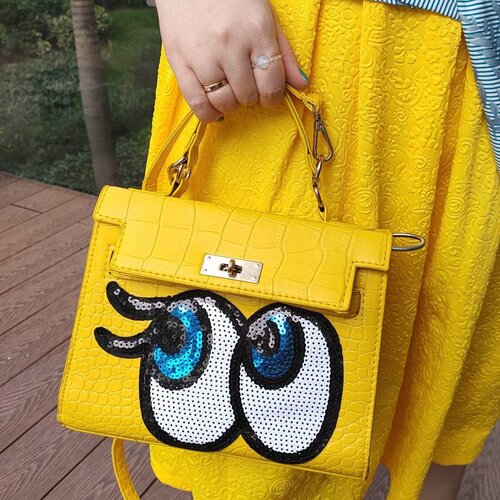 Accessories completes the look!The bag was bought years ago because i really wanted it, obviously it's a Korean brand inspired dupe (i cannot remember the actual brand's name but it was really popular a few years back) but i don't like it enough to buy the actual name brand, lucky i didn't because i ended up only using it for the first time in years after getting it - meaning i'm really not THAT into it, yea? Lol... I love me some designer bags but i have to truly love it before i invest in them, otherwise it'd just be waste of money collecting dust in my closet!I also love my earrings, they are different left and right. As an OCD and someone who really loves balanced, matchy things, i surprise myself that i enjoy wearing mis-matched earrings (or even just one side of earring)! The dangly one was a hassle tho with masks on, my mask's strap keeps on tangling on them 🤣🤣🤣.
#accessories
#fashion
#BeauteFemmeCommunity
#SbyBeautyBlogger
#clozetteid
#startwithSBN
+ View more details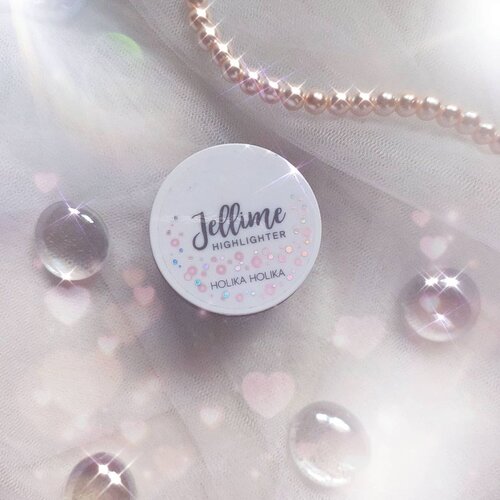 Korean highlighter's quality is below Western ones? Well, maybe you haven't try the right ones, because i have a lot of beautiful Korean highlighters that's every bit as awesome as Western branded ones!The latest one that i really like, quite unexpectedly because i never liked any wet highlighters before - is this Jellime Highlighter from @holikaholika_official . It's not super new or anything, they came out when those slime/jelly highlighter became a trend, i simply forgot that i got it 🙈.I actually only get it to get in the trend if anything, i was also a bit scared to actually use it because wet highlighters never really worked for me before, especially because i am a heavy powder user (because i have very oily skin, if i don't set my base it'd be game over for me in a matter of minutes 🙈) , wet highlighter would normally be patchy and clumpy on top of powders - and they move my base around, but not this one! It's definitely wet alright (but it's putty-like so it's not entirely liquid but a lot more solid and jiggly, like its name jellime - which supposed to be jelly/slime i guess?)It works super well on top of powder (ofc it works well on base without powder too, but avoid applying before setting your makeup if you plan on using powder), no shifting nor clumping detected!It's a bit hard to catch the full effect on camera, my shade 01 Feel So Candy (also available in 2 other shades) has pink microglitters but they are so fine when blended it actually doesn't look pink at all, just shiny and pretty - it looks pretty natural too (the glitters aren't chunky at all) as you can see from the close up pics so don't be afraid of how pink it is on the pot, it looks more light gold than anything once fully applied.If you want OTT, super blinding highlighter then this one is not your match, but if you want a unique, easy to use (it's hands down the easiest wet highlighter i've ever tried), glow from within type of highlighter then you should totally check this out.
#highlighter
#highlighterreview
#jellimehighlighter
#holikaholikajellimehighlighter
#kbeauty
#clozetteid
#sbybeautyblogger
#BeauteFemmeCommunity
#reviewwithMindy
+ View more details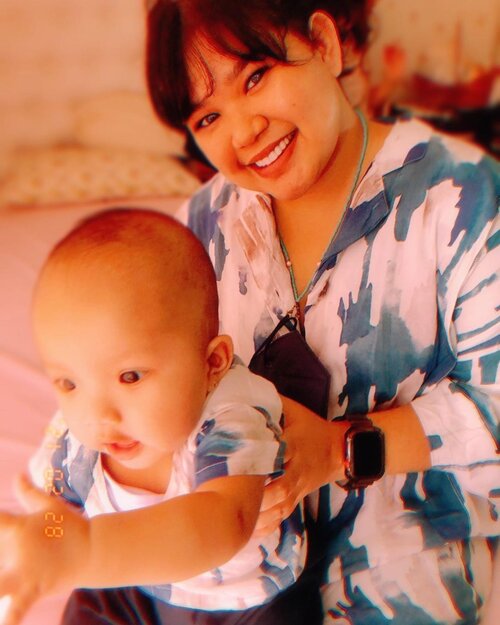 Name : AllanaAge : 6 monthHobby : asik sendiri kalo diajak mama foto 🐝🐝🐝👩🏻‍🍼👩🏻‍🍼👩🏻‍🍼
#clozetteid

+ View more details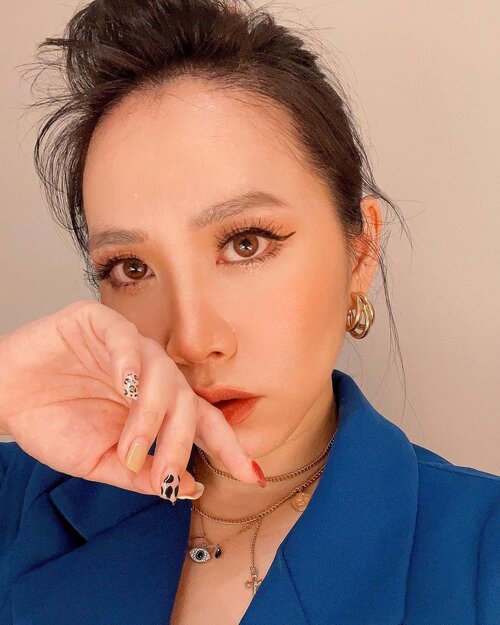 Birthday look ❤️
Products used:
@naming.cosmetic Layered Covered Foundation
@roseallday.co Lightweight Compact Powder
@esqacosmetics The Goddess Palette Athena
@rollover.reaction Halo Blush Cajun
@shuuemura Hard Formula Eyebrow Pencil
@namacosmetic Eyeliner Brown
@syca.official tint Caramel Beige
Nails : @cosmopolishstudio
#clozetteid
#fotd

+ View more details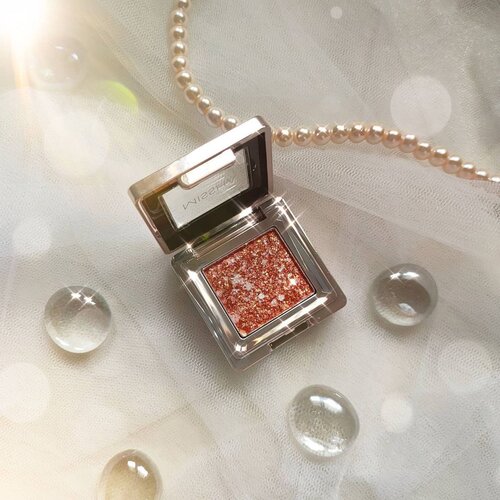 My love for shimmery Korean eyeshadow will never fade 🙈.I usually prefer eyeshadow palettes, but for micro glitter shimmery shadows, i don't mind singles - like this @misshaglobal.official Kodern Shadow Glitter Prism. Weirdly enough i cannot find the shade's name in the packaging (or it might only written in Korean, which i definitely cannot read) i thought it was Lucid but i dug up my old receipt (i got it from @altheakorea a while back) and turned out it's
#9
Dragon - which looks almost bronze-brick red in the pan but translate into a more Rose Gold shade when used.I was drawn to the unique presentation and it's actually hand made??? Which makes it all the more interesting for me. It seems like they combined and pressed several colors, shimmers and micro glitters for each shade and press them together, resulting in highly reflective, full dimensioned glittery, pigmented (the swatch only took me some light swipe okay) shadow. It's just simply beautiful, smooth (no grittiness whatsoever, the glitter particles are sooo fine) and easy to use. I am happy with the shade i chose, it's very easy to wear and pair with most shades and it's pretty enough to wear on its own (not many shades can be worn solo and not make my eyes looks smaller/weird) - but because it's soo pretty... I kinda want to collect all of the shades and there are quite a lot of them 😭. Price wise, it's not too expensive (78-120k, depending on the OS), but if you try to get them all, obviously they add up 🤣.I am obviously in love and that means i highly recommend it, even if you don't wear a lot of makeup and just want some color on your eyes and be done with it, i think you will appreciate this one. TAKE ALL MY MONEY!
#glitter
#eyes
#glittereyeshadow
#kbeauty
#clozetteid
#sbybeautyblogger
#BeauteFemmeCommunity
#shimmeryeyeshadow
#eyeglitter
#reviewwithMindy
+ View more details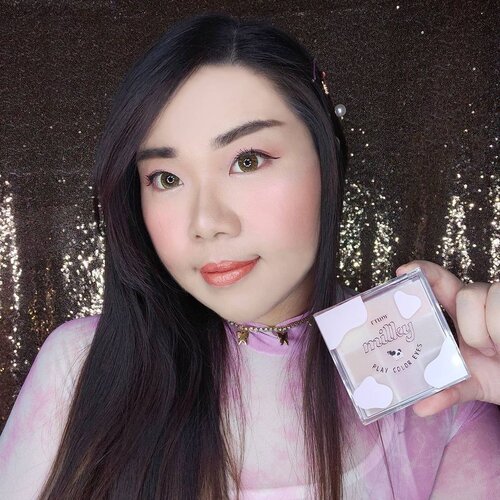 Here are three different eye looks wearing @etudeofficial Play Color Eyes in Strawberry Milk, definitely perfect for soft, everyday look with extra bling - although i think i can even create a bolder look using shades like Strong Strawberry and Strawberry Brown (now that i said that i feel like i should try soon haha).
I honestly have been reaching and using it nonstop lately, most of the sweet Valentines day looks i did used this palette, and that's how i feel for more of Etude's palettes, they make me gets carried away by how easy to use and effective they are!
Btw i think it's cute that they began naming their shades (or at least i just noticed them, did they always used to name their shades from the beginning?) like Western brands but is it just me or they seem to anyhow name the shades 🤣🤣🤣? Or is it just a Korean thing...
Anyhow, You can get yours with special price at my Charis Shop (Mindy83) or type
https://bit.ly/strawberrymilkMindy83
to get directed to the page directly.
PS : please ignore my wonky falsies in the last pic 🤣🤣🤣, sometimes when i wear them for picture takings only i don't even realize they are falling off until i see i the photo 🙈.
#etude
#playcoloreyesstrawberrymilk
#CHARIS
#hicharis
#eyeshadow
#koreancosmetics
#koreanbeauty
#reviewwithmindy
#kbeauty
#clozetteid
#sbybeautyblogger
#BeauteFemmeCommunity
@hicharis_official @charis_celeb @charis_indonesia
+ View more details

loading ...
Back To Top