loading...
Search
20 RESULTS FOR POSTPARTUM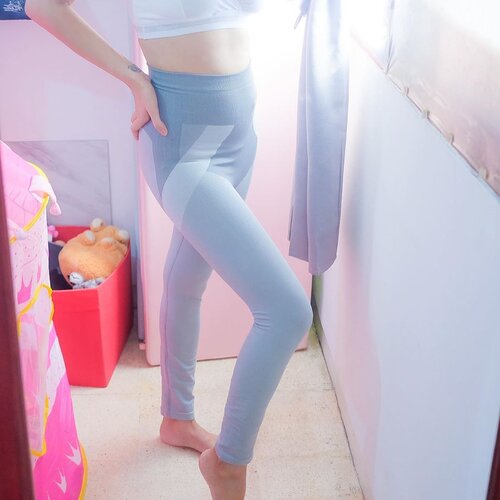 + View more details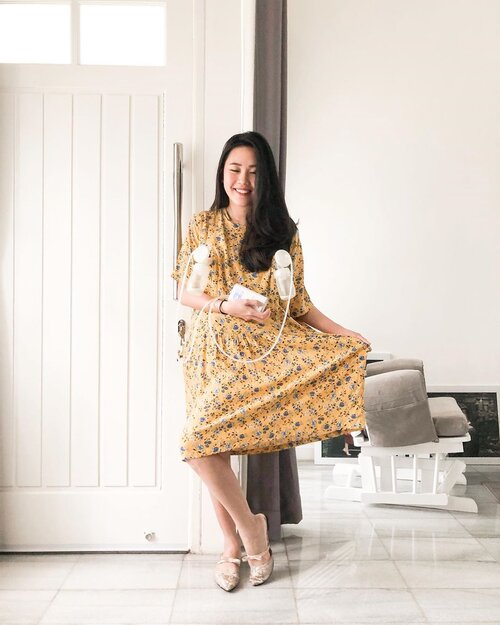 "Anybody offended by breastfeeding is staring too hard." Cannot agree more with this quote!
A little over 9 months into my breastfeeding journey (hoping to make it to at least one year), so I thought I'd dedicate a post for a photo (or three 😛) of me pumping. I've come from the fresh postpartum baby blues of dreading every nursing session to loving it so much, so much that while I can't wait til the day I officially stop breastfeeding and can't chug some 🍺 there's a part of me that wishes that day don't come too soon.
We have been trying to wean off the breasts so Owen is now mostly bottle-fed, but DBF-ing to sleep is a crutch that is much harder to break. We're taking our time but making progress.
Anyway... this breastfeeding-friendly dress I'm wearing is from @mom.bies . Highly recommended! Bahannya ringan, dipakainya adem, bukaan menyusuinya pas. Baju rumah yang nyaman buat busui. Dan style bisa juga untuk dipakai keluar rumah atau bahkan summer vacay. 💛
#clozetteid
#ootd
#ootdmommy
#pumpingmom
#busui
#momblogger
#mamadaily
#nursingfriendly
#breastfeedingmom
+ View more details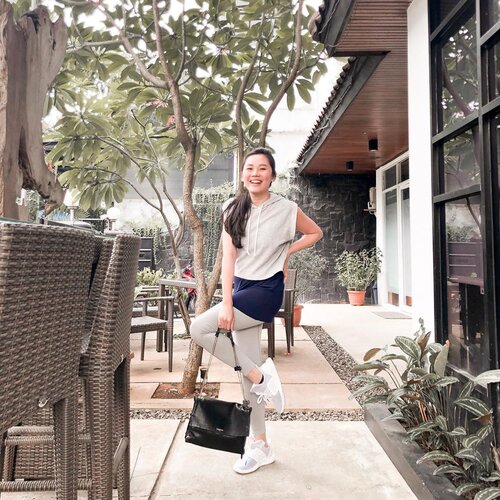 6 months postpartum, still a few kilograms left to pre-pregnancy body. I'm not putting pressure on myself to lose weight (never have, never will) because breastfeeding is my priority at the moment but I realize I need to exercise to stay fit and healthy! Jadi hari ini aku dan suami mulai nge-gym setelah sekian lama. Seger tshay! 🙌🏻
.
.
Tapi pernah gak sih mikir andai gak harus olahraga ini lemak-lemak bisa terbakar? Ini aku kenalin tourmaline legging dari @bellycare.id 🦵 Aku uda pernah bahas soal tourmaline waktu post soal bodyshaper. Ini sama tourmaline nya tapi kali ini bentuknya legging 👇🏻
.
.
Batu tourmaline nya ada di hampir seluruh sisi legging. Perut, bokong, paha, betis, semua deh. Bahan leggingnya gak kaku dan gak gerah. Bener-bener nyaman kayak legging biasa. Enaknya legging gini adalah bisa dimix-match buat jalan-jalan (swipe untuk liat pas aku pake ngemall), bisa buat olahraga juga (biar bakar lemaknya extra 😛), bahkan bisa dibawa tidur. Hari ini aku pake buat olahraga 💪🏻 .
.
Yaa tentunya jangan berharap bisa tiap hari cuma goler-goler, makan junk food, gak olahraga, tapi pake legging ini terus bisa tetep kurus ya kakinya. Tetep harus dibarengin sama pola hidup sehat dan rajin olahraga, apalagi leg day. Tourmaline ini cuma membantu aja. Tapi lumayan banget kaaan?
#tourmalinelegging
#activewear
#clozetteid
#ootd
#6monthspostpartum
+ View more details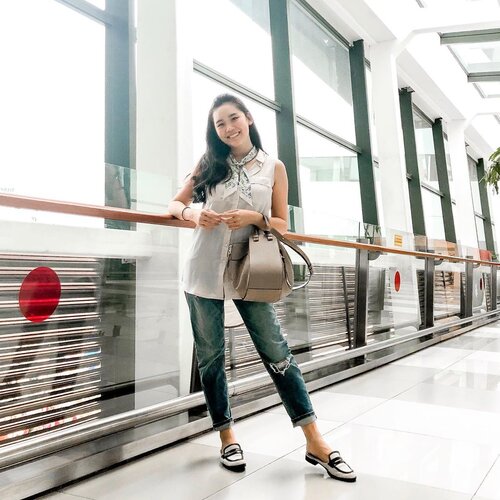 + View more details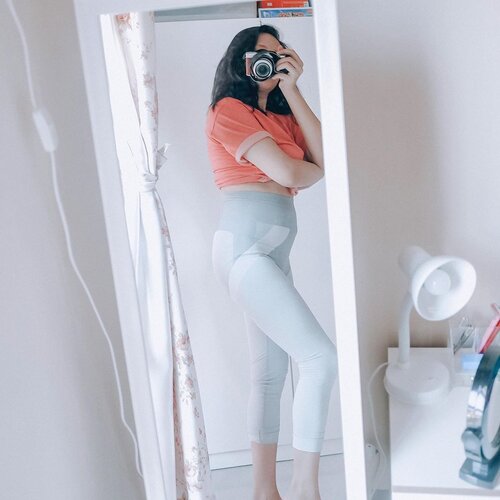 15 months postpartum body — I learn to love myself the way i love others and i embrace all my flaws. I used to hate myself and my body because i let someone make me feel i'm worthless (sampe dibilang gendut jelek malu-maluin weeeyyy hellaaww bhay), but yaaa i can't be who i am today without it LOL! So, here's me with my "mummy-belly", i gain 19kg when i was pregnant and i haven't reach my own "body-weight-goals" yet but its okay, I LOVE ME.
————
You all are beautiful, love yourself! Embrace yourself even for the flaws. You're your own home. Quoting from ci @jennyjusuf : "Berdamai dengan tubuh sendiri, belajar mencintai nya dengan utuh. Kemudian, membaginya dengan orang lain. Always go back to self-love" ————
PS: no, i don't do diet (i eat less carbo and more protein for the sake of my breast-milk) or exercise (well, if walking around in the morning while carrying two toddlers count as exercise then i did exercise lmfao). I will do heavier exercise later after twinnies 2years old tho (advice from my OBGYN and Surgeon, soalnya kemaren sotoy sit-up eh jaitan jadi cenut cenut 🤣)
#singlemom
#singlemamaoftwins
#twinmom
#twinmama
#postpartumbody
#ClozetteID
#postpartumjourney
+ View more details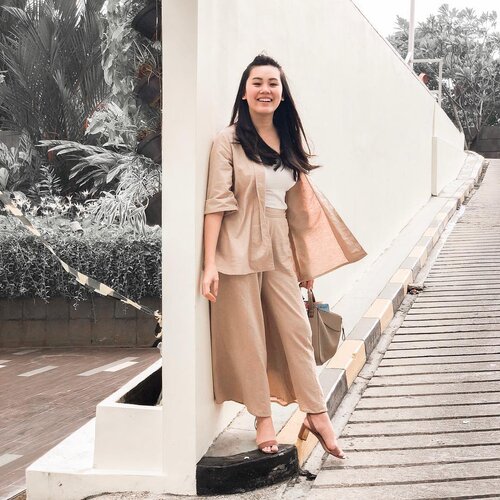 + View more details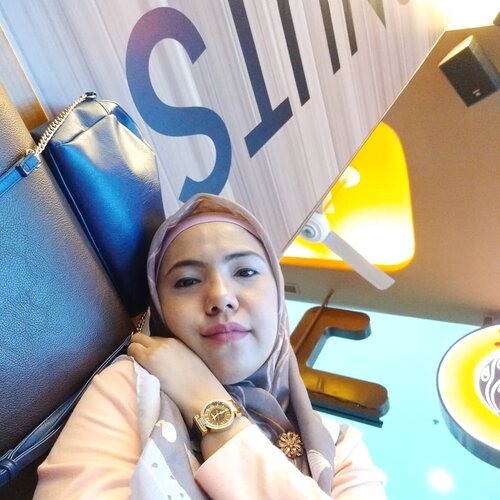 Sejak berani menuliskan uneg-uneg tentang Postpartum depression yang saya alami di blog, beban hati, sedikit berkurang, Alhamdulillah...Gara2nya, karena tulisan itu, saya mendapatkan banyaaaakkk banget 'telinga' alias sahabat2 yang bahkan sebenarnya belum pernah ketemu, tapi begitu peduli, mengirimkan saya pesan, bertanya apa ada yang bisa mereka bantu...Masha Allah..Terharu....Karenanya, saya merasa..Kalau saya tidak sendirian di dunia ini, ada begitu banyak sahabat yang peduli..Meskipun, orang yang seharusnya lebih mensupport malah telat mengertinya...Iya..Dialah sang suami...Beliau justru menambah level depresi saya semakin parah.Karena bukannya memahami, malah membentak, menampar, mengatakan gak cinta lagi oada saya karena sikap saya kayak orang gila, bahkan menawari saya pisau untuk membuktikan saya mau bunuh anak2..SADIS YA!.Tapiii..Tahan dulu pemikiran temans kalau suami saya jahat..Tidak.Beliau tidaklah jahat.Hanya saja, depresi masih sangat sulit diakui oleh orang awam dan (terlihat) sehat..Kebanyakan orang menganggap, gejala yang saya alami adalah bentuk KURANG IMAN atau KESURUPAN😂😂😂😂😂😂..Seorang suami, sejatinya menjadi sandaran utama dan pertama saat istri menderita depresi seperti PPD..Oleh karenanya, kenali apa itu PPD dan bantu istri untuk melewatinya..Caranya gimana dong???..Intip di postingan terbaru saya di
www.reyneraea.com
ya.link aktif ada di bio 😊..Semoga bermanfaat..
#PostpartumDepression
#BabyBlues
#Depresi
#Depression
#BloggerPerempuan
#BloggerIndonesia
#MomBlogger
#EmakBlogger
#PPDSurvivor
#ClozetteID
+ View more details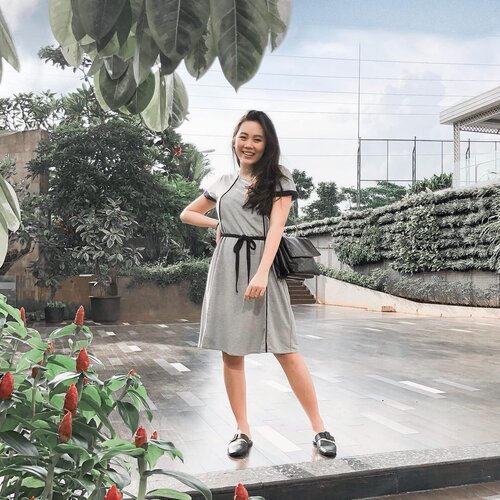 + View more details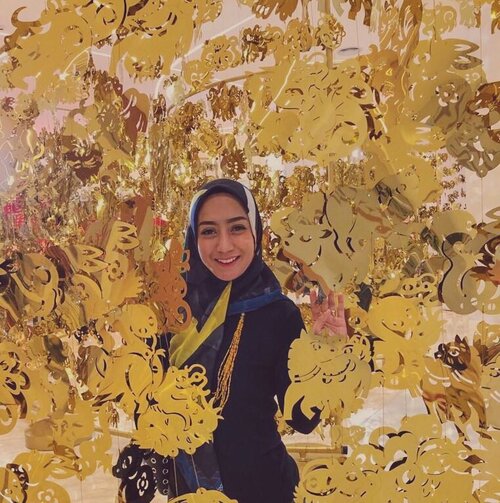 Beberapa hari lalu baca postingan di fb mengenai PPD (Post Partum Depression) yang biasanya dialmi oleh ibu yang baru saja melahirkan. Dan enggak jarang berakhir dengan menyakiti bayinya.⠀⠀Klo diingat, aku kayaknya sempat mengalami gejala-gejala itu sesaat setelah melahirkan anak kedua dimana jarak dengan anak pertama 2,5 thn dan kehamilannya gak direncanakan alias bobol alias belum siap untuk punya anak lagi.⠀⠀Kebetulan krucil kecil dulu rewel banget bayinya. Jadi klo tengah malam bangun berkali-kali, aku suka tanpa sadar bentak-bentak plus mlototin dia. Malah kadang suka dijiwil-jiwil atau dicubit karena kesel. Ini cuma berlangsung di malam hari dan saat orang-orang udah tidur semua. Mungkin karena merasa "sendiri".⠀⠀Alhamdulillah berlangsung hanya sampai ritme tidur krucil kecil teratur dan gak sering bangun malam.⠀⠀Kalian pernah enggak ngalamin begitu?⠀⠀
#ceritabundawian
#sharingbarengbundawian
#styleofbundawian
#clozetteid
#fashionstyle
#ootdindo
#postpartumdepression
+ View more details

loading ...
Back To Top