loading...
Search
135 RESULTS FOR REVIEWWITHMINDY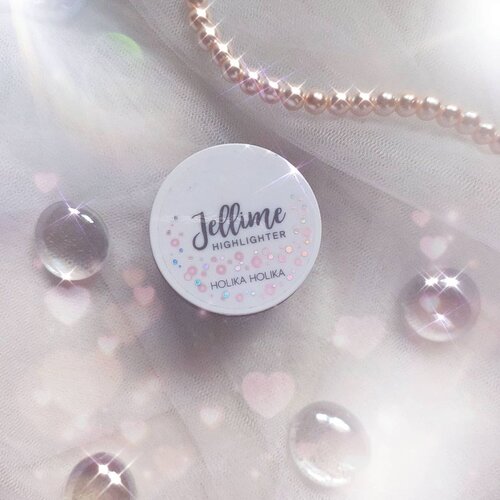 Korean highlighter's quality is below Western ones? Well, maybe you haven't try the right ones, because i have a lot of beautiful Korean highlighters that's every bit as awesome as Western branded ones!The latest one that i really like, quite unexpectedly because i never liked any wet highlighters before - is this Jellime Highlighter from @holikaholika_official . It's not super new or anything, they came out when those slime/jelly highlighter became a trend, i simply forgot that i got it 🙈.I actually only get it to get in the trend if anything, i was also a bit scared to actually use it because wet highlighters never really worked for me before, especially because i am a heavy powder user (because i have very oily skin, if i don't set my base it'd be game over for me in a matter of minutes 🙈) , wet highlighter would normally be patchy and clumpy on top of powders - and they move my base around, but not this one! It's definitely wet alright (but it's putty-like so it's not entirely liquid but a lot more solid and jiggly, like its name jellime - which supposed to be jelly/slime i guess?)It works super well on top of powder (ofc it works well on base without powder too, but avoid applying before setting your makeup if you plan on using powder), no shifting nor clumping detected!It's a bit hard to catch the full effect on camera, my shade 01 Feel So Candy (also available in 2 other shades) has pink microglitters but they are so fine when blended it actually doesn't look pink at all, just shiny and pretty - it looks pretty natural too (the glitters aren't chunky at all) as you can see from the close up pics so don't be afraid of how pink it is on the pot, it looks more light gold than anything once fully applied.If you want OTT, super blinding highlighter then this one is not your match, but if you want a unique, easy to use (it's hands down the easiest wet highlighter i've ever tried), glow from within type of highlighter then you should totally check this out.
#highlighter
#highlighterreview
#jellimehighlighter
#holikaholikajellimehighlighter
#kbeauty
#clozetteid
#sbybeautyblogger
#BeauteFemmeCommunity
#reviewwithMindy
+ View more details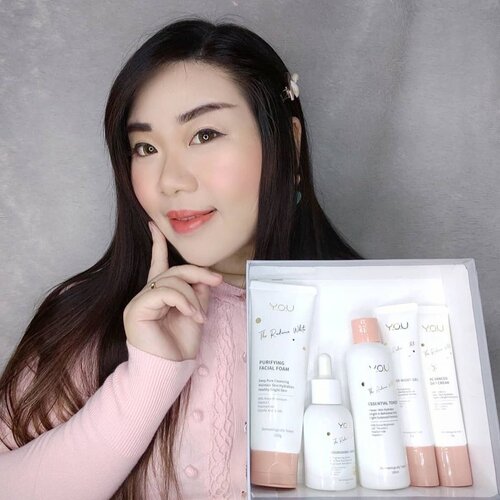 Udah lama aku kepo sama produk-produknya @youmakeups_id , kapannya akhirnya udah nyicipin makeupnya beberapa dan sekarang kesampaian nyobain skincare nya nih, asli aku penasaran banget karena banyak yang bilang bagus - dan ternyata emang bagus donkk 🙈.Jadi line Y.O.U The Radiance White Series tuh sekarang hadir dengan upgraded formula, ingredientsnya jadi makin keren-keren dan top rated seperti serumnya sekarang memiliki 50x Vit C* + Probiotics. Selain itu mereka juga mengandung ingredients seperti Snow Mushroom yang berfungsi untuk hydrating (among other cool ingredients) dan emang produk-produk di series ini deeply hydrating dan nourishing banget yang aku bisa rasakan dan notice pengaruhnya ke kulitku bahkan hanya setelah pemakaian beberapa hari.Selain memberikan deep hydration, aku juga notice banget kalau rangkaian ini bantu memudarkan bekas jerawat hormonal dan allergy attack yang sempat bikin kulit aku merah-merah di beberapa spot, kulitku jadi lebih cerah, merata dan bersih 😍😍😍. Oya, karena jenis kulit aku oily, jadi layering serum dan Day/Night Cream emang bikin lumayan terasa greasy tapi the result is worth it! Dan meskipun aku layer, kulitku ngga protes seperti biasanya, ngga ada acara breakout atau apapun hehe.Oya, The Radiance White ini memiliki
#triplebrightactivator
(makanya hasilnya cukup cepat kelihatan), dematologically tested dan juga tidak mengandung alcohol 😉.Btw aku juga suka banget sama packagingnya yang cantik especially serumnya yang botolnya aesthetic banget 😍.Buat yang pengen cobain Y.O.U The Radiance White Series bisa cuz check out di @shopee_id yah, mumpung lagi banyak voucher free ongkir ya kan 🙈
[email protected]
#youmakeups
#youtheradiancewhite
#1tetes3xlebihcerah
#BFCReview
#bfcxyou
#reviewwithMindy
#beautefemmecommunity
#clozetteid
#sbybeautyblogger
+ View more details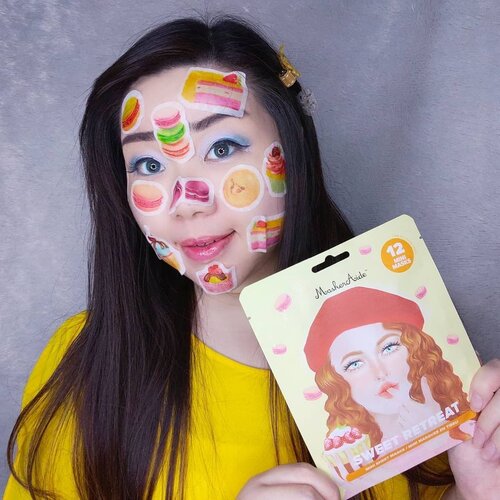 I honestly have mixed feelings about this mask set from @maskeraidebeauty - But let's start with the positives (because there are a lot of them!) :+ It's ridiculously cute!+ The concept is fun and it makes doing your mask fun, which is helping in my case because i don't particularly enjoy the hassle of applying facial mask 🤣!+ It has a sweet, tantalizing scent. I don't usually like strong scents when it comes to my skin care (esp if it smells like flower/baked goods/artificial fruit) but this one is so mouth wateringly sweet i forget to feel weird about it (but it has no negative side effect so no worries for me).+ It has thin sheet pieces and the serum is watery so the serum delivers fast to my skin and application time is shorter than regular, super wet, slimy sheet masks.+ It really works to make my skin hydrated without the overbearingly sticky and greasy effect most Korean sheet mask seems to give me.In the meantime i am concerned about :- How the sheet pieces are so thin yet there are a truckload of the watery serum left in the package, the amount of the serum (and it's really really thin and watery too, almost like water so you can totally spill it all over if you're not careful) left is really overwhelming and even though i use it all over my body+husband's i can't help to think most people would probably dump it? Seems like such a waste for me.- Since the sheets are so thin and in smaller pieces, they don't hold all that much serum (hence the leftover), i worry about how effective the mask set would be for drier skin that needs more hydration, they might not get the full potential of the mask because of the concept.However, it is still a great product that i will definitely use again, it's so much fun and you can even take selfies with them (as you can see, i got a bit carried away 🤣🤣🤣) so if you're interested you can get them at my Charis Shop (Mgirl83) for a special price or type
https://bit.ly/sweetretreatsMindy83To
directly go to the product's page 😉.
#SweetRetreatSET
#maskeraide
#CHARIS
#hicharis
#reviewwithMindy
#beautefemmecommunity
#koreancosmetics
#clozetteid
#sbybeautyblogger
#koreanskincare
@hicharis_official @charis_celeb
+ View more details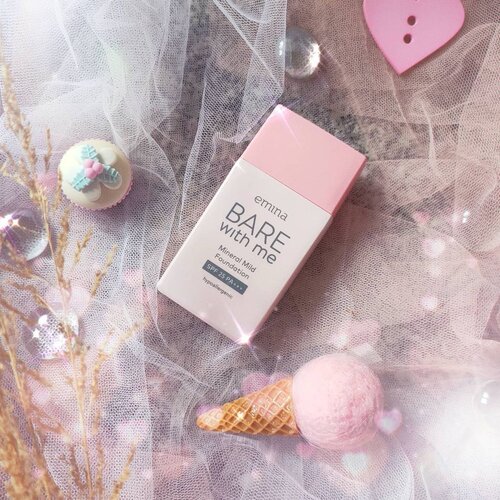 Beberapa kali posting waktu pake @eminacosmetics Bare with Me Mineral Mild Foundation banyak yang minta review dan nanya soal coveragenya... so here it is 😁.Jadi meskipun namanya foundation, dia tuh super ringan dan cair, menurutku texture dan performanya lebih mirip dengan tinted moisturizer - tapi dengan sedikittt coverage lebih. Jadi coveragenya gimana? Ya light, ngga bisa buat nyamarin jerawat atau kemerahan yang agak parah - tapi mampu meratakan warna kulit (asal ngga terlalu banyak blemishes yah). Kalian bisa lihat di slide ke 8 untuk close upnya, kelihatan dia ngga bisa menutupi kemerahan allergy attack yang ada di dagu tapi dia bisa bikin kulitku kelihatan lebih even. Waktu pertama kali buka foundation ini, aku kaget sih karena dia super cair jadi harus hati-hati, storing juga jangan miring-miring karena kalo miring pas dibuka dia akan tumpah dengan bersemangat hehehe.Menurutku foundation ini oke banget buat di pakai sehari-hari (udah ada SPF 25 PA +++ juga) atau buat remaja yang belum perlu makeup terlalu banyak, kalau mau coverage lebih tinggal pakein concealer dan compact powder - selama kulit kalian ngga terlalu banyak blemishes, the end result is very nice. Tipe-tipe my skin but better gitu, natural and skin like finish. Dia juga non-comedogenic, non-acnegenic dan hypoallergenic - all three are very important for me and berarti bisa di pakai kulit acne prone (dan teenage yang lagi hormonal abis) dan juga kulit sensitive.Aku pake shade 01 Light yang cukup match sama kulit aku dan aku suka sih pake ini karena ringan dan ga clogging my pores gitu, untuk oil controlnya so so ya.. menurutku buat kulit normal to dry masih oke banget dan buat oily skin mesti di set pake sebum controlling powder kalau mau dia stay lebih lama dan ngga geser.Aku juga pas akhir tahun di kasih versi cushionnya nih sama @eminacosmeticssurabaya , mau di review sekalian ngga nih?
#reviewwithmindy
#clozetteid
#BeauteFemmeCommunity
#SbyBeautyBlogger
#eminacosmetics
#eminabarewithmemineralfoundation
#foundationreview
+ View more details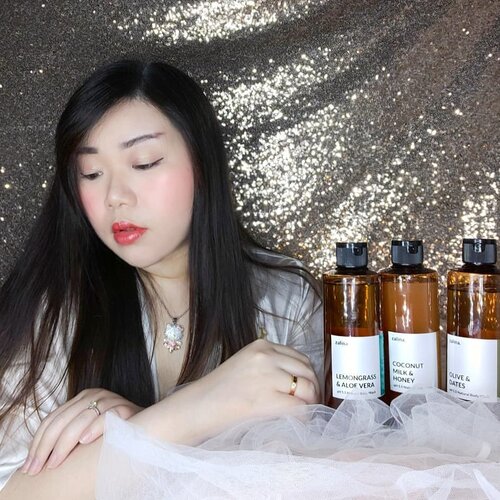 Kulit mau tonenya apapun pasti cantik kalau di rawat. Buat aku kesehatan kulit penting banget apalagi aku allergy prone dan eczema prone banget, jadi hati-hari banget kalo milih sabun mandi, salah pake sabun sekali aja masalahnya bisa berminggu-minggu 😕.Makanya aku suka banget sama sabun natural @zalinasoap ini karena dia bener-bener merawat dan bikin kulitku behave, it's super important for me because that's one less thing i need to worry about!Jangan lupa cek blog aku untuk penjelasan yang lebih detail and why you should try them too :
https://bit.ly/zalinasoap
, live link at bio!
#reviewwithmindy
#naturalsoap
#clozetteid
#sbybeautyblogger
#BeauteFemmeCommunity
#zalina
#zalinasoap
+ View more details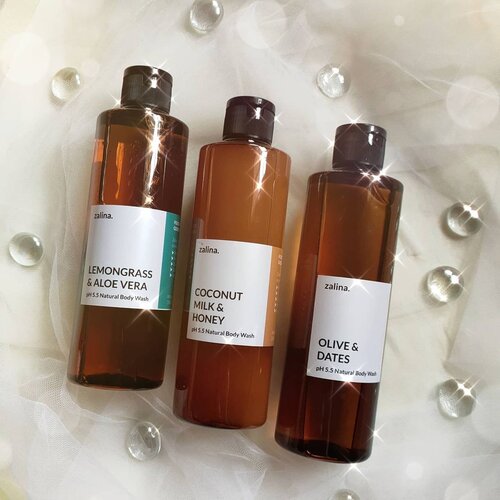 Aesthetically pleasing, smells super good, kind and gentle to the skin, if you buy them then you are contributing to a good cause, i think you cannot ask more from your body soap okay! Ini sabun yang lagi aku pake dan sukaaaa banget gaiz, dari @zalinasoap - sabun natural dengan pH 5.5, free from sulfat (SLS), paraben, deterjen dan alkohol. Dermatologist formulated and udah BPOM certified, lalu 10% profitnya tuh di donasikan untuk wakaf air pula 😍.Available in 3 variants yang tiga2nya super gentle, punya wangi yang lembut dan luxe : Lemongrass & Aloe Vera, Olive & Dates dan Coconut Milk & Honey - it's impossible for me to choose a favorite!For in depth review, check my blog yah :
https://bit.ly/zalinasoap
, live link at bio!
#reviewwithmindy
#naturalsoap
#clozetteid
#sbybeautyblogger
#BeauteFemmeCommunity
#zalina
#zalinasoap
+ View more details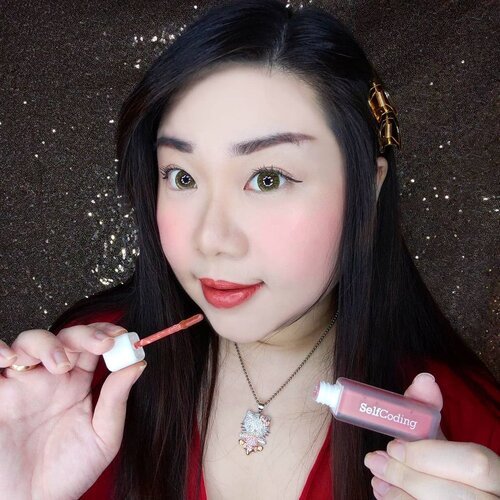 My second @selfcoding.official Code Crush Matte Liquid Lipstick, this time in shade
#Nostalgia!
Honestly i am not the best when it comes to decribing shades (nor scents 😅) but to me the shade Nostalgia is a very wearable, muted brown-red with orange undertone. I wore it on CNY and was worried it'll look pale/too nude (because it looks kinda nude in the tube) but it turned out to be bold enough to brighten my face right away, i'd say it's an alternative to red lippies if you want a lippie in the reddish color family but is intimidated with true, bright reds. It might be kinda nude for deeper skin tones, but for my fair skin it's pretty bold in an understated kind of way.
Code Crush Matte Liquid Lipstick is very pigmented, easy to apply, comfortable and light weight, also very long lasting! I wore it all day long and eat heavily - it still leaves a strong stain (the middle part gets the most hit, as usual).
Get them only at my Charis Shop (Mgirl83) for a special price or type
https://bit.ly/selfcodingMindy83
to directly go to the product's page 😉.
@hicharis_official @charis_celeb
#selfcoding
#lipstick
#CodeCrushMatteLiquidLipstick
#CHARIS
#hicharis
#charisceleb
#reviewwithMindy
#beautefemmecommunity
#koreancosmetics
#clozetteid
#SbyBeautyBlogger
+ View more details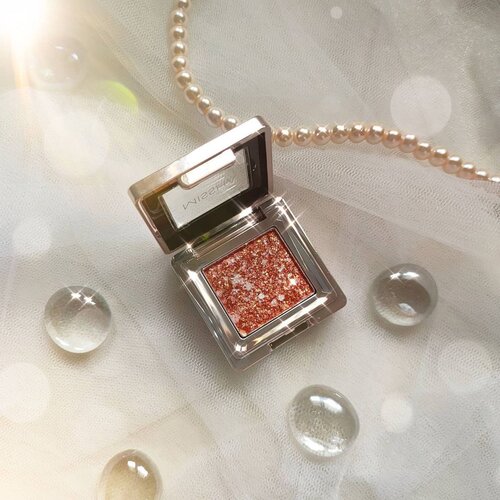 My love for shimmery Korean eyeshadow will never fade 🙈.I usually prefer eyeshadow palettes, but for micro glitter shimmery shadows, i don't mind singles - like this @misshaglobal.official Kodern Shadow Glitter Prism. Weirdly enough i cannot find the shade's name in the packaging (or it might only written in Korean, which i definitely cannot read) i thought it was Lucid but i dug up my old receipt (i got it from @altheakorea a while back) and turned out it's
#9
Dragon - which looks almost bronze-brick red in the pan but translate into a more Rose Gold shade when used.I was drawn to the unique presentation and it's actually hand made??? Which makes it all the more interesting for me. It seems like they combined and pressed several colors, shimmers and micro glitters for each shade and press them together, resulting in highly reflective, full dimensioned glittery, pigmented (the swatch only took me some light swipe okay) shadow. It's just simply beautiful, smooth (no grittiness whatsoever, the glitter particles are sooo fine) and easy to use. I am happy with the shade i chose, it's very easy to wear and pair with most shades and it's pretty enough to wear on its own (not many shades can be worn solo and not make my eyes looks smaller/weird) - but because it's soo pretty... I kinda want to collect all of the shades and there are quite a lot of them 😭. Price wise, it's not too expensive (78-120k, depending on the OS), but if you try to get them all, obviously they add up 🤣.I am obviously in love and that means i highly recommend it, even if you don't wear a lot of makeup and just want some color on your eyes and be done with it, i think you will appreciate this one. TAKE ALL MY MONEY!
#glitter
#eyes
#glittereyeshadow
#kbeauty
#clozetteid
#sbybeautyblogger
#BeauteFemmeCommunity
#shimmeryeyeshadow
#eyeglitter
#reviewwithMindy
+ View more details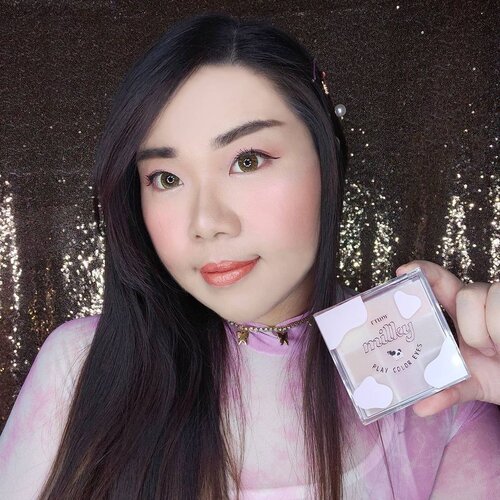 Here are three different eye looks wearing @etudeofficial Play Color Eyes in Strawberry Milk, definitely perfect for soft, everyday look with extra bling - although i think i can even create a bolder look using shades like Strong Strawberry and Strawberry Brown (now that i said that i feel like i should try soon haha).
I honestly have been reaching and using it nonstop lately, most of the sweet Valentines day looks i did used this palette, and that's how i feel for more of Etude's palettes, they make me gets carried away by how easy to use and effective they are!
Btw i think it's cute that they began naming their shades (or at least i just noticed them, did they always used to name their shades from the beginning?) like Western brands but is it just me or they seem to anyhow name the shades 🤣🤣🤣? Or is it just a Korean thing...
Anyhow, You can get yours with special price at my Charis Shop (Mindy83) or type
https://bit.ly/strawberrymilkMindy83
to get directed to the page directly.
PS : please ignore my wonky falsies in the last pic 🤣🤣🤣, sometimes when i wear them for picture takings only i don't even realize they are falling off until i see i the photo 🙈.
#etude
#playcoloreyesstrawberrymilk
#CHARIS
#hicharis
#eyeshadow
#koreancosmetics
#koreanbeauty
#reviewwithmindy
#kbeauty
#clozetteid
#sbybeautyblogger
#BeauteFemmeCommunity
@hicharis_official @charis_celeb @charis_indonesia
+ View more details

loading ...
Back To Top