loading...
Search
468 RESULTS FOR SELFLOVE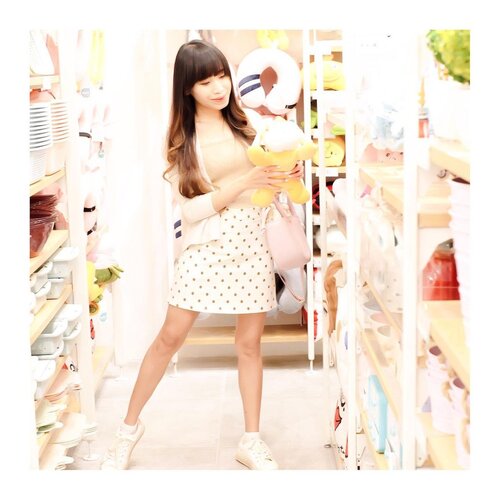 + View more details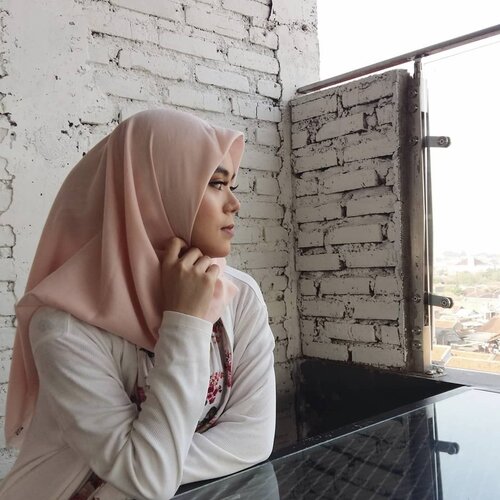 self love is a topic that means a lot to me. simple thing but has great meaning. easy to say but hard to do. self love teaches me to be grateful. Bersyukur dengan keadaan tanpa membandingkan satu sama lain, because everyone has their own self love journey. Aku jadi lebih mengenal diri sendiri. Mengetahui sampai mana batasan yang bisa aku lalui.. when i'm tired, rest. Take a little break and then go back. Aku baru mengenal diri sendiri akhir2 ini. What makes me happy? What i like? Is it too late to learn self love? I don't think so. Karena menurutku, self love akan selalu menjadi pelajaran dan perjalanan yang penting agar aku selalu bersyukur. Coz i love myself. Aku akan berusaha menjadi lebih baik. Terus belajar untuk mencintai diri sendiri dan be myself"어제의 나 오늘의 나 내일의 나(Yesterday's me, today's me, tomorrow's me)I'm learning how to love myself"-BTS,Answer:Love Myself-
#SelfLoveWithEsqa
#clozette
#clozetteid
+ View more details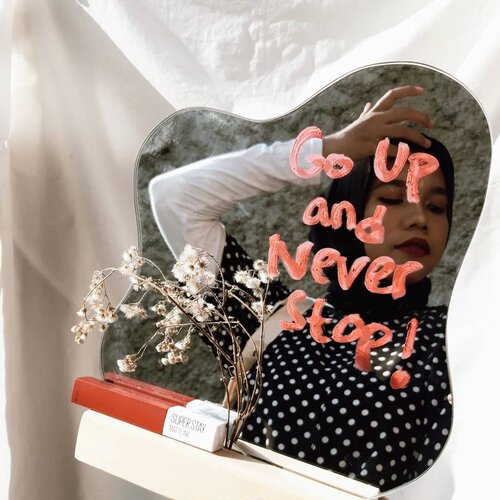 𝑺𝑬𝑳𝑭 𝑳𝑶𝑽𝑬Learning to love yourself is one of the most powerful and important things you can do in life.Self love is unconditional love for yourself. Its important for living happy and healthy life.Sometimes we still often comment on ourselves and feel that we are not enough. Everyone has their own strengths, uniqueness, and weaknesses.I began to listen that inner voice and intuition. I don't want to listen other people told me to do, which i cant and dont like to do that.Get rid of the things that make you down, feel less, and negative. Keep going up and never stop. Those who don't like it, always criticism in negative way not a constructive criticism.If you want to live a better life just love yourself first. You are enough! 🖤〰️〰️NEW Blog Post dan Swatches Maybelline Superstay Matte Ink Reds! Link ada di profil.
#SuperStayRedIsMe
#FDxMaybelline
#MaybellineIndonesia
#FDNVirtualEvent
+ View more details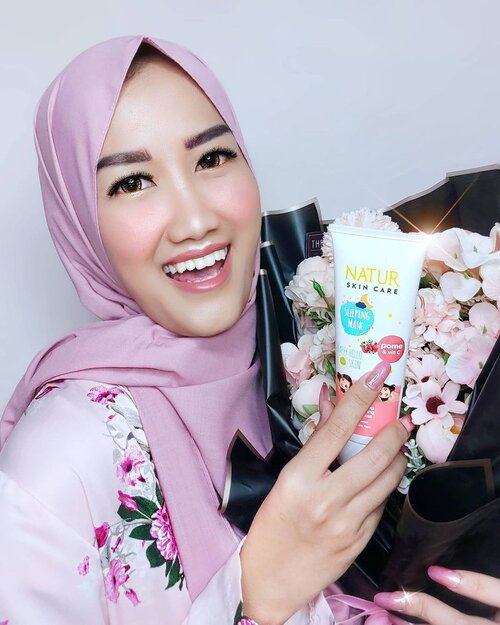 + View more details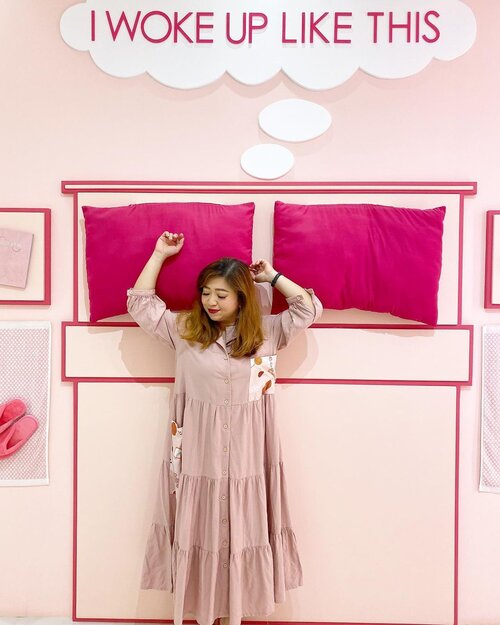 + View more details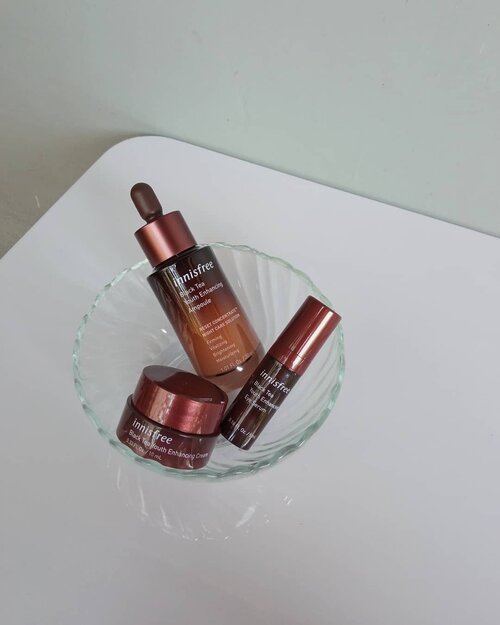 Salah satu cara
#selflove
ala aku adalah dengan merawat kulit wajah menggunakan skincare favoritku. Mengingat aktivitas sehari-hariku yang lebih banyak diluar rumah dan terkadang gaya hidup kurang seimbang bikin kulit wajahku mudah lelah. Nah, kali ini aku mau share first impression aku menggunakan produk Innisfree Black Tea Youth Enhancing Series yang diformulasikan dengan Reset Concentrate untuk perawatan intensif malam hari. Klaim rangkaian produknya dapat menjaga kekencangan kulit wajah, tampak lebih bercahaya dan segar keesokan harinya seperti terbangun dari tidur nyenyak semalaman. 🍂 Innisfree Black Tea Youth Enhancing AmpouleTeksturnya kental dan berwarna putih keruh dengan aroma black tea yang kalem banget. Produknya mudah meresap dan nggak menimbulkan iritasi sama sekali. Keesokan harinya waktu bangun tidur kulitku masih terasa lembab banget. 🍂 Innisfree Black Tea Youth Enhancing Eye SerumTeksturnya kental dan tidak berwarna dengan aroma black tea yang kalem banget. Produknya mudah meresap dikulit sekitar mataku dan nggak menimbulkan iritasi juga. Keesokan harinya waktu bangun tidur kulit sekitar mataku masih terasa lembab. 🍂 Innisfree Black Tea Youth Enhancing CreamTeksturnya cream gel dan berwarna putih keruh dengan aroma black tea yang kalem banget. Produknya mudah meresap juga dan nggak menimbulkan iritasi. Keesokan harinya waktu bangun tidur kulitku terasa lembab banget. Kandungan black tea nya merupakan hasil fermentasi dari green tea yang kemudian diekstraksi bersama air mineral bersuhu 80°C selama 12 jam. Produk ini cocok digunakan pada usia 25-35 tahun. Untuk pemilik tipe kulit kombinasi berminyak seperti aku rangkaian Innisfree Black Tea Youth Enhancing ini bisa digunakan sebagai night skincare. Aku suka ketiga produk Innisfree ini. Pokoknya selalu suka produk-produknya Innisfree karena terbuat dari tumbuh-tumbuhan dan aromanya yang kalem. Jadi udah bisa dipastiin aku bakalan terusin pemakaiannya sampai habis. @innisfreeindonesia @beautyjournal
#selflovebrationwithinnisfree

+ View more details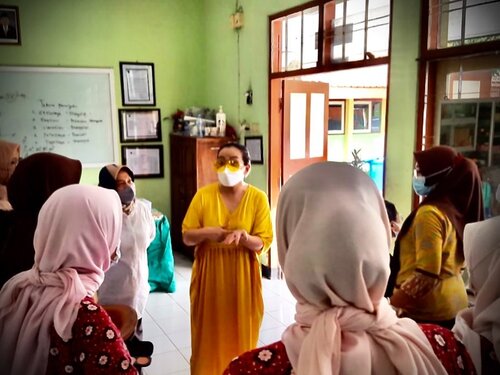 + View more details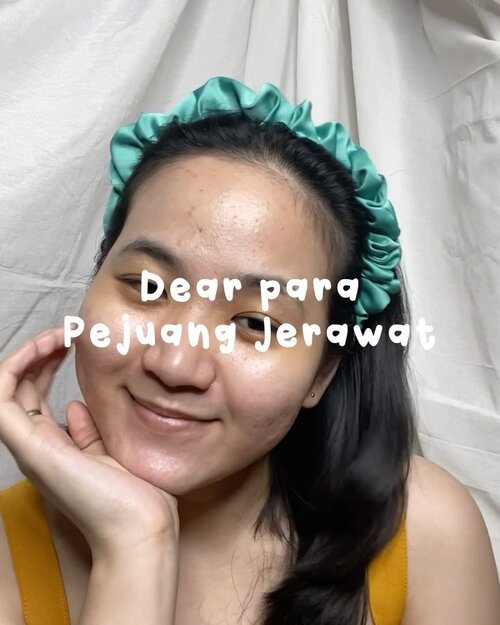 + View more details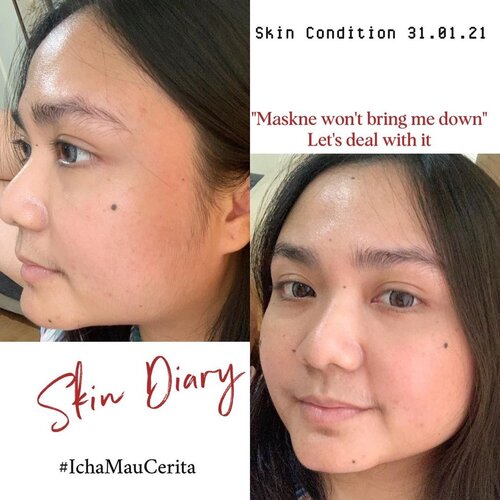 𝙈𝘼𝙎𝙆𝙉𝙀 𝙬𝙤𝙣'𝙩 𝙗𝙧𝙞𝙣𝙜 𝙢𝙚 𝙙𝙤𝙬𝙣 💛 Aktif buat
#AkuJalanPagi
dan harus menggunakan masker karena kalau ngga di denda ya babes😅. Pastinya membuat kulit aku acting out dan muncul si MASKNE💛But well it's normal. Hanya butuh lebih total lagi buat deep cleansing dan tenangin kulit.Selesai
#AkuJalanPagi
wajib banget langsung cuci muka. Jadwal maskeran sama Mugwort dan Charcoal juga 3 kali seminggu ngga boleh lupa😍 Bahkan bisa 4 kali seminggu tapi ke 4nya masker Almond✅Kalau kalian lagi struggling juga sama Maskne ngga usah stress ya babes.Makin kita stress..kulitpun stress ketemu masker jadi makin parah👻. 𝐑𝐞𝐩𝐞𝐚𝐭 𝐚𝐟𝐭𝐞𝐫 𝐦𝐞 "𝐌𝐀𝐒𝐊𝐍𝐄 𝐢𝐬 𝐍𝐨𝐫𝐦𝐚𝐥 𝐚𝐧𝐝 𝐈 𝐚𝐦 𝐛𝐞𝐚𝐮𝐭𝐢𝐟𝐮𝐥 𝐭𝐡𝐞 𝐰𝐚𝐲 𝐈 𝐀𝐦" This is my Current SkinCare line in January 2021.💕 Double Cleansing1.Chamomile Cleansing Balm @thebodyshopindo 2. Facial Cleanser Alternately in between Acne Soap BHA Tea Tree @whitelab_id and Begin @simplisticindonesia .💕Mask SquadCharcoal Mask @thebodyshopindo Mugwort Pore Clarifying @axisy.indonesia 💕 Routine StepsToner and Moisturizer @itsmybase First Serum Brightening Serum @whitelab_id Second Serum Bakuchiol @somethincofficial 💕Acne Spot TreatmentTea Tree Oil @thebodyshopindo
#IchaMauCerita
#MySkinJourney
#skincareroutine
#sensitiveskin
#bareface
#masknetreatment
#skintips
#skinjourney
#selflove
#maskne
#somethincsquad
#itsmybase
#cleanbeauty
#clozetteid

+ View more details

loading ...
Back To Top