loading...
Search
430 RESULTS FOR SHEETMASK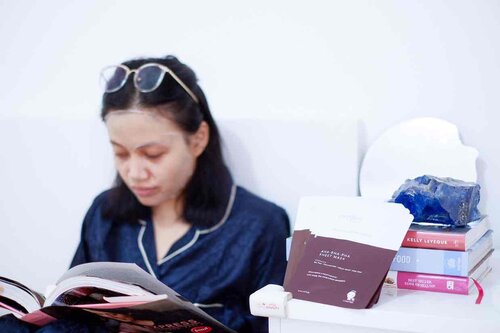 @avoskinbeauty Miraculous Series Sheet Mask 🧖🏻‍♀️
Me time buat gue itu salah satu hal yg penting, enggak usah yg heboh deh. Sekedar baca buku sambil pake sheetmask 10-15 menit buat gue udah cukup. Ya semua kembali ke mindset juga menurut gue soalnya. I choose to embrace what i have and enjoy it 👌🏻
Anyway, Avoskin sekarang udah punya sheet mask loh! Ada 2 varian sheet mask yg baru mereka launch, yaitu: Miraculous AHA-BHA-PHA Sheet Mask dan Miraculous Retinol Sheet Mask
✨ Avoskin Miraculous AHA-BHA-PHA ini mengandung AHA-BHA-PHA, Niacinamide, Tea Tree, Witch Hazel, dan Aloe Vera yg berfungsi untuk mencerahkan kulit dan memperbaiki tekstur kulit
✨ Avoskin Miraculous Retinol Sheet Mask mengandung Retinol, Peptide, Vitamin E, Green Tea Extract, dan Raspberry yg berfungsi untuk meningkatkan produksi kolagen secara alami, menyamarkan garis halus, menjaga elastisitas kulit, dan mencerahkan kulit
Avoskin tuh brand pertama yg mengeluarkan sheet mask dengan active ingredients loh, gimana enggak makin cinta coba? Yuhuuu~
For more details udah gue post di blog ya! YUK AH CUS BACA
@beautiesquad
#MiraculousMoment
#BeautiesquadxAvoskin
#BeautiesquadReview
#BStesting
#clozetteid
+ View more details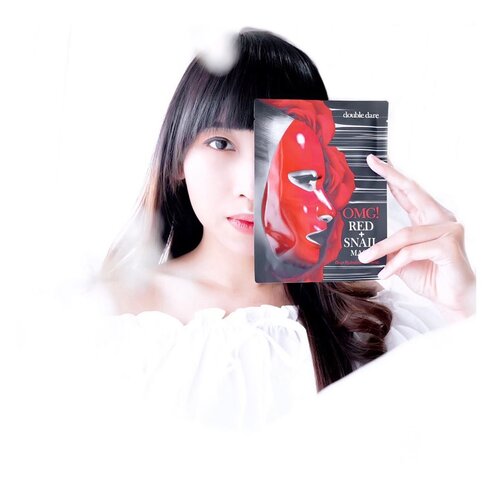 + View more details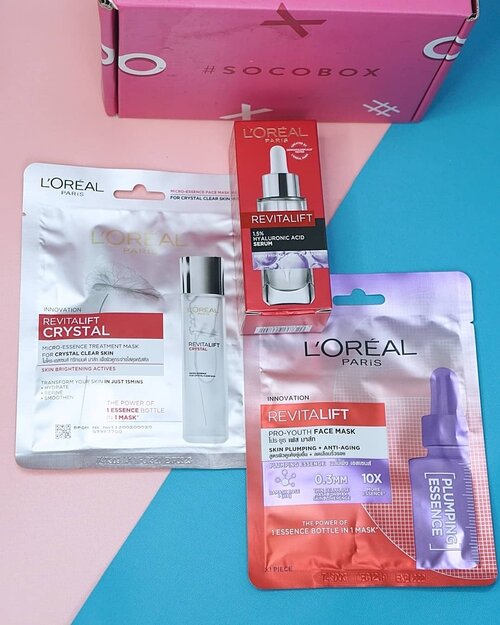 Socobox time 😍.Selalu happy deh kalau uda ada paket dari
#socobox
😍.Kali ini aku dapat 3 produk dari @lorealindonesia, yaitu:.✨ Revitalift 1.5% Hyaluronic Acid Serum✨ Revitalift Pro Youth Face Mask Plumping Essence✨ Revitalift Crystal Clear Skin Face Mask.Untuk review lengkapnya sudah aku tulis akun @sociolla ku ya (Link ada di Bio) 😊.Kamu mau juga ga dapat Socobox kaya aku? Jadi kamu bisa cobain produk secara Gratis seperti aku..Ayoo gabung menjadi SBN, untuk ini akan ak share di story ya 😊.Atau kamu mau belanja di Sociolla dan mendapatkan diskon sebesar 25K, bisa juga pakai kode diskon aku
[email protected]
#jeanettegy
#JeanettegyReview
#L
'oreal
#revitalift
#Sociolla
#SheetMask
#reviewskincare
#ClozetteID
#tampilcantik

+ View more details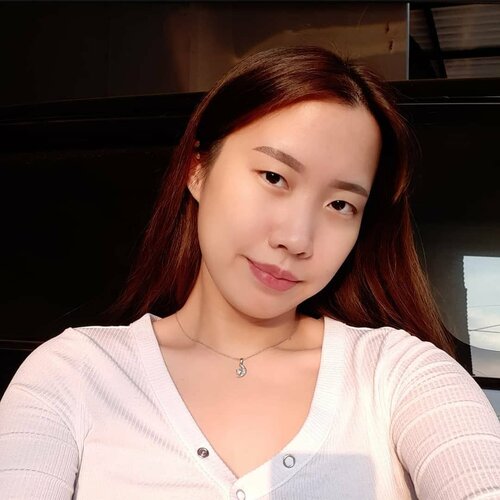 Bare face abis cuci muka belom skincareAlis sulamLips ? Thanks to Vaseline Rosy Lips 🤪Jujur semenjak pandemic tu jadi males makeup ga si kemana-mana ? Karena ga betah gitu kl harus pake makeup trs ditutup masker 😭 dan so far aku ga mengalami maskne yang parah sih malah terbilang cukup bersih karena sejak harus pake masker terus aku ga pake skincare aneh-aneh. My current skincare routine :Step 1 : @bioderma_indonesia Sebium & Sensibio Gel Moussant (yes aku pakenya ganti-gantianStep 2 : @clinelleid Pure Swiss Thermal Spring WaterStep 3 : @rojukiss_id Acne Pore Expert 5x Serum Mask (ini essence sisanya karena banyakkk banget jadi aku taro di dlm botol pump kosong biar aku bisa pake besok2annya)Step 4 : @vaselineid Lip Therapy - Rosy LipsAdditional Step : @dermaangel_id Acne Patch (Night) *ini kalau ada jerawat gede aja* + sheetmask 2 hari sekali merk apapun jenis apapun sesuai kulit aja hehehe
#clozetteid
#startwithSBN
#Influencer
#beautyinfluencer
#skincareaddict

+ View more details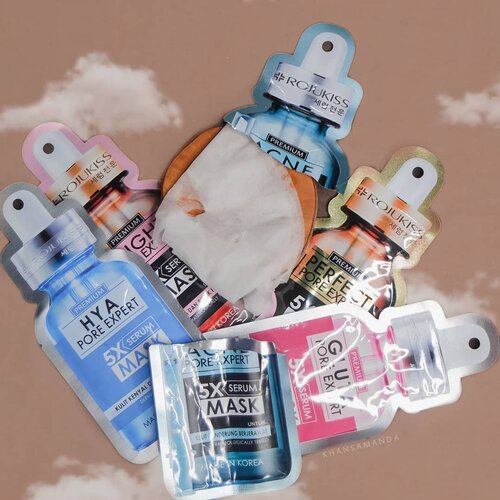 Meet my new fav sheetmask! ❤Suka banget sama masker @rojukiss_id ini.. Emang keliatan yaa beda banget hasilnya dari yg lain.. Langsung kaya bisa diliat banget hasilnya. + Lembar masker tipis + Essence nya melimpah banget jadi bisa di taro di bagian lain kaya leher gitu + wanginya enak, seger + pas di taro di wajah juga dingin, bikin wajah tenang + efek glowing setelah pemakaian keliatan banget + pori pori beneran tersamar, gue punya pori pori super gede, abis maskeran pake ini jd lumayan blur pori porinya.+ healthy glowing skin effect + packagingnya luar biasa lucu + harga affordable untuk kualitas sebagus ini+ variannya banyak, sesuaikan dgn kebutuhan kulit kalianSuka banget sii.. Ternyata beneran bisa seglowing eonni eonni korea cuma 15 menit ajaaa.Ini bisa beli di @sociolla guys.. Kalo belanja di sociolla boleh masukin kode "SBN050AA3" biar dapet extra
[email protected]
_id
#noporeblemwithrojukiss

+ View more details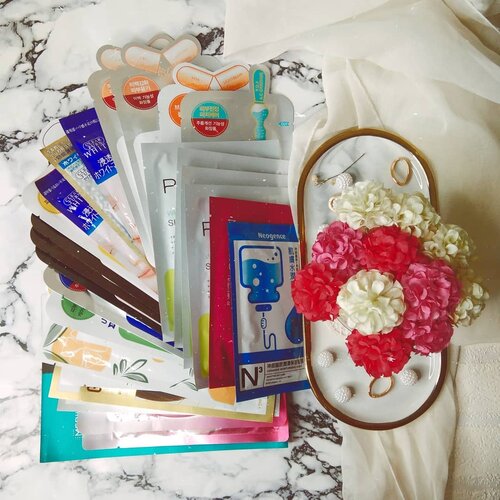 + View more details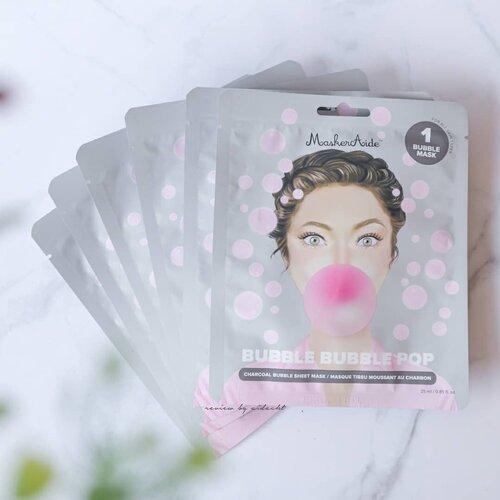 weekend is coming! so, it's mask time!✨
I got new sheet masks from @charis_celeb , it's @maskeraidebeauty bubble bubble pop mask. as you can see on its name, this sheet mask has a bubble that will pop on your face. isn't it interesting? these masks are for deep cleansing, reduce sebum, and tightens pores. it's for all skin types, but I highly recommend it for oily and acne-prone skin. because it will help your skin, a lot.
like the other sheet masks, you just need 10 minutes letting it laid on your face. but, you should wash your face after using this mask to cleanse the excess bubbles.
I've tried bubble pop mask and I didn't think that it would show on camera. my skin's problems, like redness, big pores, and a lil bit of sebum, it's gone by 1 sheet mask. omg!!! 🤯💞
it costs IDR 53000 for 1 sheet mask and I think it's worth the price for clean your pores quicly. it also fun because of the bubbles! you can get it on my charis shop 👉🏻
https://hicharis.net/aidacht/1qcW
👈🏻
what's your favorite sheet mask?🧖🏻‍♀️
#sheetmask
#koreanskincare
#skincare
#skincarelover
#skincareroutine
#skincareroutine
#facemask
#charis
#hicharis
#beautiesquad
#aidacht
#clozetteid
+ View more details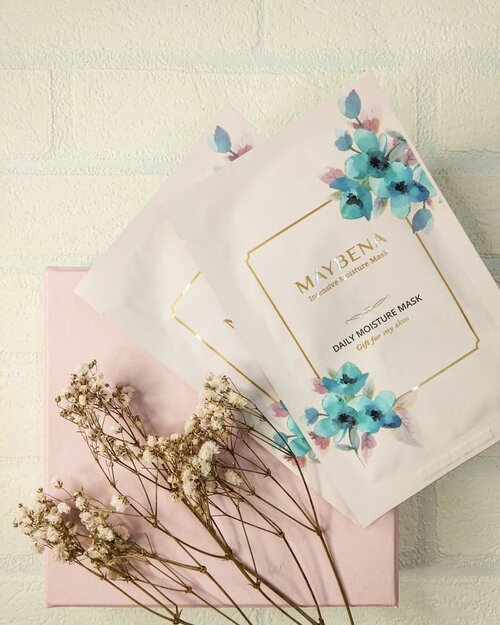 + View more details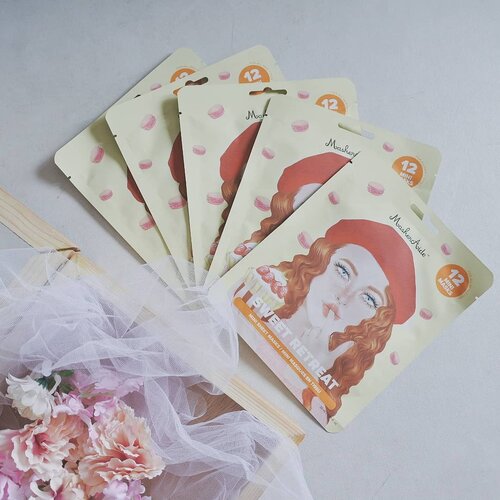 🍰 ÜBER CUTE STICKER MASK - @maskeraidebeauty Sweet Retreat 🍰Bored of ordinary sheetmask? You can try this super cute sticker mask from Maskeraide! Comes in illustrated shape of desserts, it's your choice up to cookies and cupcakes!PACKAGING • Actually the packaging itself is the same as any other sheet mask. But the illustration make it looks cute and unique. On the back side you'll get some product knowledge and ingredient list.TEXTURE • The mask itself is thin, i could describe it like a tissue, but doesn't get ripped easily.The sticker mask stick nicely to skin when it's wet from the essence, sadly when the essence dried up, it cannot stay on the skin anymore. I think it just need 5 to 10 minutes for it to completely dries.There are 12 pieces of stickers. But the size itself is lack of varieties. For people with small face like me, it's hard to stick 12 of them because it takes so much space on my face.For the essence, it's prettt light and runny. Absorbs really quick and left some 'tacky' feeling. The good news is, there are lots of the essence.FRAGRANCE • A faint sweet, gourmand smell. It's nice, actually.You can buy Maskeraide Sweet Retreat Set (6pcs) here 👉
http://hicharis.net/annisapertiwi/1qPi
👈
#SweetRetreatSET
#maskeraide
#CHARIS
#hicharis
@hicharis_official @charis_celeb
#charisceleb
#vsco
#clozetteid
#kbeauty
#kbeautyenthusiast
#beautybloggerindonesia
#beautyenthusiast
#skincarereview

+ View more details

loading ...
Back To Top