loading...
Search
13 RESULTS FOR TAIWANSKINCARE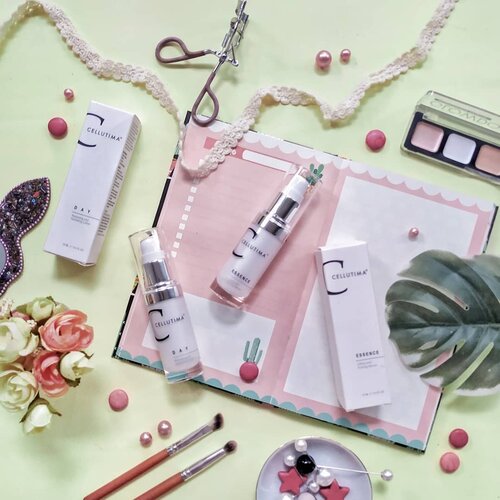 •
Pakai
#Cellutima
hemat budget banget! Produknya diformulasikan untuk semua jenis kulit (termasuk yang sensitif), semua gender, dan usia mulai remaja. Jadi bisa kita pakai barengan deh, sama keluarga 🥰 Nah, produk
#CellutimaTaiwan
apa sih yang ingin kamu coba?
_______________________
In frame :
1. Cellutima Day Renewing and Hydrating Lotion
Membantu mempercepat proses regenerasi kulit, melindungi kulit dari kerusakan akibat paparan polusi dan debu, mengatasi kekeringan, melembabkan, dan karena kandungan produknya natural, produk ini dapat digunakan oleh kulit remaja.
2. Cellutima Essence Lifting and Firming Serum
Dengan pemakaian rutin dapat mengecilkan pori-pori, membantu pertumbuhan kolagen kulit, mengurangi kerutan di wajah dan tanda-tanda penuaan lainnya.
_______________________
#clozetteid
#SkincareTaiwan
#cleanbeauty
#crueltyfree
#skincare
#skincareroutine
#skincarejunkie
#TaiwanSkincare
#skincarehalal

+ View more details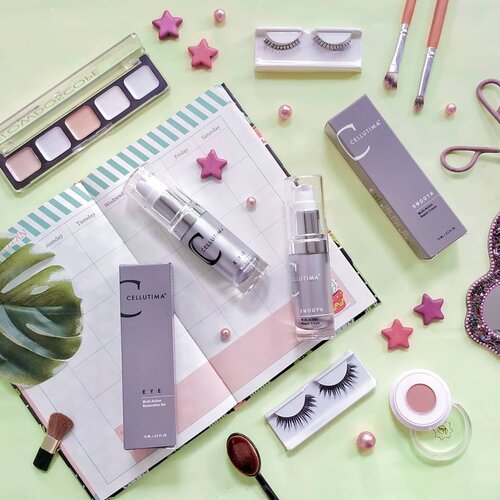 •Skincare Taiwan Cellutima sekarang ada di Indonesia nih. Selain aman untuk semua jenis kulit termasuk yang sensitif, produk Cellutima sudah Halal MUI 💕 Kandungan produknya juga tanpa parfum, alkohol, plasticizer, SLS, dan bahan berbahaya lainnya. Buat kamu yang tertarik dengan produk ini langsung beli di Official Store Shopee @kamillahbeauty 😍_______________________In frame :1. Cellutima Eye Multi-Action Restorative GelSolusi untuk mengurangi garis kerut di area mata, mengatasi kekeringan, menjaga elastisitas, meminimalisir tanda-tanda penuaan, mencerahkan, dan mengurangi mata panda 🐼2. Smooth Multi-Acrion Repair CreamAll in one treatment untuk segala macam masalah pada kulit. Dapat mengembalikan kelembaban kulit, mengatasi kerusakan kulit akibat paparan polusi udara, menguragi jerawat dan komedo di wajah, dst._______________________
#clozetteid
#SkincareTaiwan
#Cellutima
#cleanbeauty
#crueltyfree
#skincareroutine
#skincarejunkie
#TaiwanSkincare
#skincarehalal

+ View more details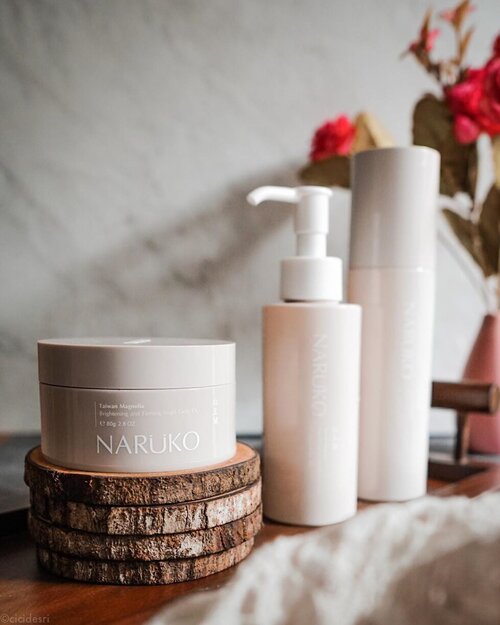 Gegara liat temen pakai Naruko progressnya baik jadi aku penasaran dong, sebagus itu emang?Cuma dia tuh pakai yang Naruko warna hijau alias yang tree tea oil utk oily and acne prone skin. Sementara, aku pilih yang Naruko warna putih atau Naruko Magnolia Brightening And Firming Series karena merasa wajah lagi agak kering dan kusam.Baru seminggu pemakaian, alhamdulilah gak ada breakout atau nunjukin gak cocok tapi progressnya cukup terlihat meski belum signifikan. Yang pasti wajah yang kering diarea pipi, dekat bibir dan sedikit diatas alis udah mulai halus dan lembap.Anyway aku coba 3 produknya yaitu:🌱 Magnolia Brightening And Firming Toner Ex🌱 Magnolia Brightening And Firming Night Gelly Ex🌱Magnolia Brightening And Firming LotionNaruko ini brand skincare no 1 di Taiwan. First impression nya, suka sama Naruko karena produknya gak lengket di wajah, tanpa aroma wangi2an, terbuat dari bahan-bahan alami, bebas parabens, cruetly free dan dibuat oleh Nieur atau Beauty King.Naruko bisa dibeli secara online di Shopee melalui akun official mereka. Sayangnya kemaron stok masker nya lagi kosong semua. Sambil nunggu ready order, kalian bisa ceki2 produk mereka, yang mai belanja bisa palai promo code NARUDESRI utk disc 15%. Nanti aku update di Igs progressnya setelah 2 minggu pemakaian ya. Beneran bisa mencerahkan ngga ya? Naruko Toner Ex Rp 224.000Night Gelly Ex Rp 281.600Lotion Ex Rp 236.800Lagi promo 😂😍 ...............................................
#cicidesricom
#travelnesia
#makeupphotography
#narukoindonesia
#narukoid
#naruko
#skincareaddict
#essence
#taiwanskincare
#clozetteid
#magnoliaskincare
+ View more details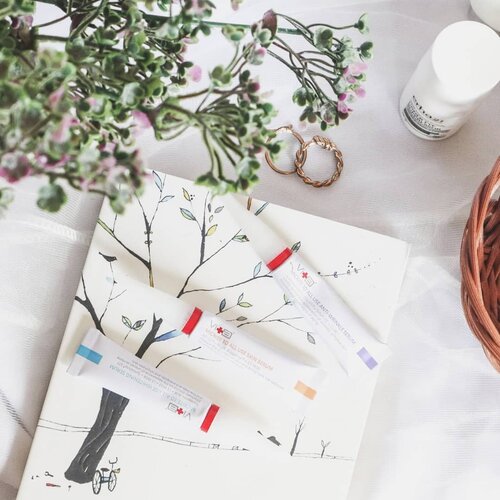 My last product I received from @allyoung.id is Swissvita Micrite 3D All Use Anti Wrinkle Serum*! This is just a sample so it must be used in the long run. There are some ingredients I could highlight:✔️ Retinyl palmitate, a vitamin A derivative, very useful as an antioxidant and antiaging.✔️ Palmitoyl tripeptide-5 is claimed to be able to penetrate into our dermis. It could help skin tissue growth and stimulate production of collagen. Palmitoyl tripeptide-5 is one of matricins peptides. Little info in in vivo efficacy data shown the actual effect; in addition, in many cases, it is still unclear in the individual improvement. Improving cosmeceutical function might lead to reclassification from cosmetic to drug category, which is often not desirable, so it limits possibilities for development (Schagen, 2017).✔️ There's also Palmitoyl dipeptide-5 diaminobutyroyl hydroxythreonine a type of synthetic peptide which is claimed good for antiaging.So far the serum is quite comfortable to use, but hasn't provided significant results. My rating is 3/5.*Gifted by @allyoung.muslima .
#allyoungmuslima
#allyoungmuslimasquad
#skincareblogger
#taiwanskincare
#taiwancosmetics
#asianskincare
#abcommunity
#abbeatthealgorithm
#rasianbeauty
#rasiancommunity
#skincareregime
#skincareobsessed
#antiagingskincare
#antiaging
#clozetteid
+ View more details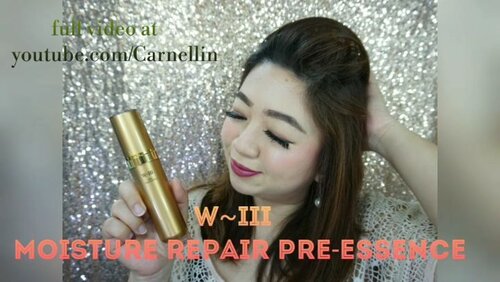 + View more details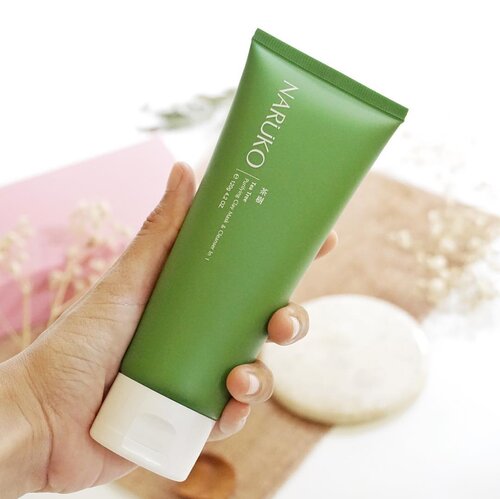 + View more details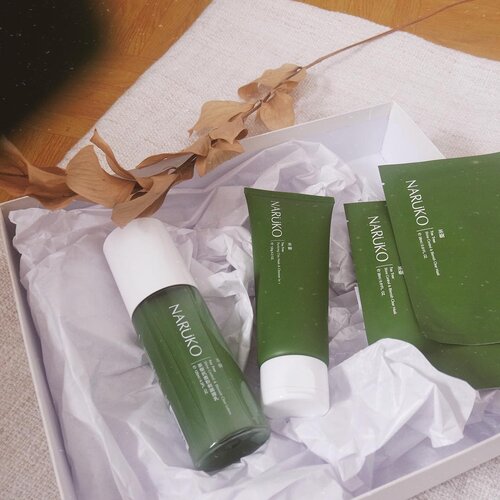 This Taiwan skincare is my recent favorite! Because why? I use Tea Tree range for my oily skin. And here's why you need to try.—Purifying clay mask & cleanser in 1Not only for facial wash but also as a face mask to scrub the dirt. The cream is very smooth, and smells good. I use it every morning and for my oily skin this doesn't makes my fave moist too much.—Shine control & blemish clear lotionThis helps reduce my oily skin everyday. I mean, its really helps to decrease the amount of oil and sebum from my face. It also smells so good.—Face maskUsed it twice, not to much watery, which is good for me. Also helps to control blemishes, the effect is real after using it.—Wants to give it a try? use NARUCELIN to get 15% off through shopee. Shop now, last until 9 Feb only 👌🏻--
#NarukoTeaTree
#NarukoIndonesia
#CKskindayries
#clozetteid
#CollabWithCK
#skincarejunkie
#beautybloggerindonesia

+ View more details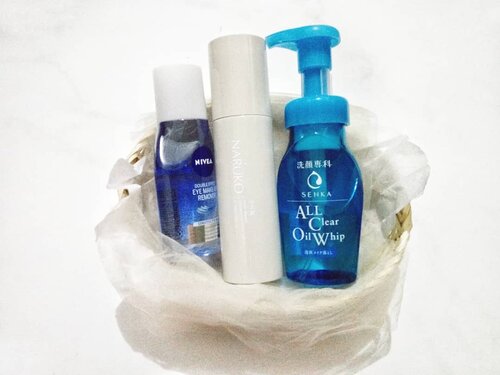 #ischitandmisschallenge
Today is supposed to post about the HIT SHEET MASK. Unfortunately, I'm not a fan of sheet mask though in several times I did it (especially when got samples or free stuff 😀). Sheet mask is good for its essence I admit it. Despite not a fan of them, since I have a daughter, I barely have time to do it. Mommies must know how it feels when you have a kid hahaha... So, to replace the post, let me welcome this three new babies that I bought from @sociolla. ➖
🍀 @nivea_id Double Effect Eye Makeup Remover
Please do not get bored seeing this in my post again hahaaa... I'm so damn in love with it. Just bear it guys! 😜
➖
🍀 @naruko.indonesia Magnolia Brightening & Firming Toner
Intrigued by seeing several reviews, I decided t give it a try since my goal this year is to lighten my skin and cast away those blemishes. I found out that it has Niacinamide in the first top ingredients so I want to see how it works on my skin.
➖
🍀 @senkaindonesia All Clear Oil Whip
After emptied out the 3rd jar of Heimish All Clean Balm, and seeing that Senka just launched its new product like this, I really want to adopt it. Clearly said, I'm not a huge fan of cleansing oil and haven't found any one that stole my heart, but this Senka come out with a new innovation: cleansing oil that turns to foam when the pump is pushed. Unique? That's why I'd like to give it a try. Could this oil replace my favorit Heimish? (the price is more affordable though). So, that's all three of my new babies. Oh well, the other one isn't new anymore. Hehe... Look forward for my reviews later. See ya and thank you for reading this long caption! Anyway, feel free to drop some comments below 😘
#makeupremover
#toner
#cleansingoil
#niveaid
#narukoindonesia
#senka
#taiwanskincare
#skincare
#skincarecommunity
#skincarejunkie
#skincareaddict
#skincarelover
#japanskincare
#abcommunity
#asianskincare
#abskincare
#abbeatthealgorithm
#discoverunder5k
#skincareblogger
#idskincarecommunity
#clozetteid
+ View more details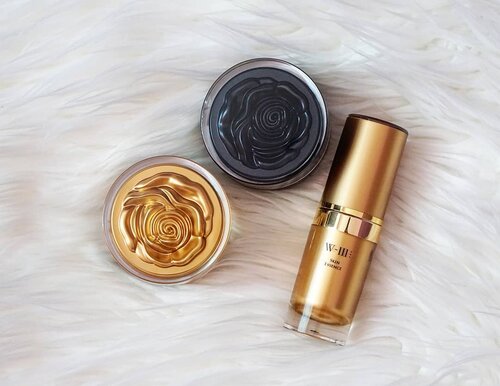 + View more details

loading ...
Back To Top