loading...
Search
84 RESULTS FOR A.STOP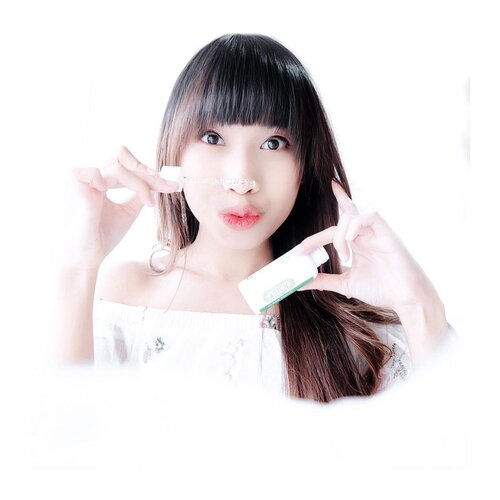 A.STOP CLEAR SERUM APPROVED 🔥-Actually,banyak banget beauty influencer blg kalo @a.stop4you clear serum oke bgt dan worth to try. Well, krn aku lagi hopeless banget sama masalah jerawat"an dan breakout akhir" ini, aku putusin buat cobain deh akhirnya.-What's good?Clear serum80% watery textureEasy to absorbReduce acne/breakout quicklyMoisture skin wellSoothe skin wellRemoving dead skin cellSensitive skin approvedSuper light-wearingDown side?There's no down side so farI RATE THIS SERUM 5/5 !Acne skin must try this serum as well. Sejauh ini kulit aku ga cuma lembab sama alus aja. Tapi juga jerawat" yg muncul mulai kempes dan ga ada tumbuh baru.-How to use?Put 2 drop serum on your skin and flatten it all over your skin. Wait until the serum absorbing perfectly. Use it twice a day after cleansing your skin.-Where's to buy?
http://hicharis.net/tephieteph/P2gCheck
this out,on my @charis_celeb shop ☘️...
#clozetteid
#charis
#charisceleb
#hicharis_official
#astop
#acneserum
#sensitiveskin
#serumwajah
#serumjerawat
#tephcollaboration
#bloggersurabaya
#bloggerjakarta

+ View more details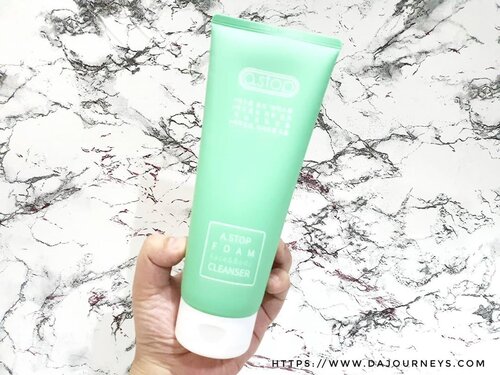 Akhirnya keluarga @a.stop4you saya lengkap sudah dengan kedatangan Foam face & Body Cleanser yang bisa dibeli di
https://hicharis.net/Wind1403s/GlF
🤭Iya ga salah baca ini sabun buat muka juga badan, bisa buat menghempas jerawat punggung juga. Jadi fungsi utamanya bukan membersihkan badan kayak sabun pada umumnya ya, jadi sayang aja gitu kalau dipake sebadan-badan 🤣 *kikirSaya pribadi sih suka ya sama kandungannya, tapi terkadang aroma tea tree nya kenceng banget kalau hidung lagi sensitif, tapi dihari2 biasa aroma tea tree nya malah seger 🤔 bingung aku juga. Review lengkap as usual cek link hidup di bio yak 🥰Harganya emang lumayan ya, tp asli ini gede banget, aku pikir awalnya bakal kayak facial foam umumnya gitu ternyata nggak, liat aja tangan sama tubenya gedenya gimana.Next aku mau minta diskon sama @charis_indonesia buat ngaish aku diskon acne patchnya. Karena akhir-akhir ini aku jerawatan mulu sejak pakai masker 😭 sekitar area yang ditutupi maskerlah pokoknya jadi kesel karena jerawatnya muncul terus.Kalian minat ga? Kalau aku adakan promo acne patch dari @acne_stop__?
#redness
#rash
#excessive
sebum
#quick
effect
#astop
#Foamface
&body Cleanser
#acne
#clozetteID
#abbeatalgorithm
#abcommunity
#idskincarecommunity
#koreanskincare
#skincaredaily
#naturalcosmetics
#abblogger
#skincareobssesed
#abroutine
#instaskincare
#igskincare
#skincarecommunity
+ View more details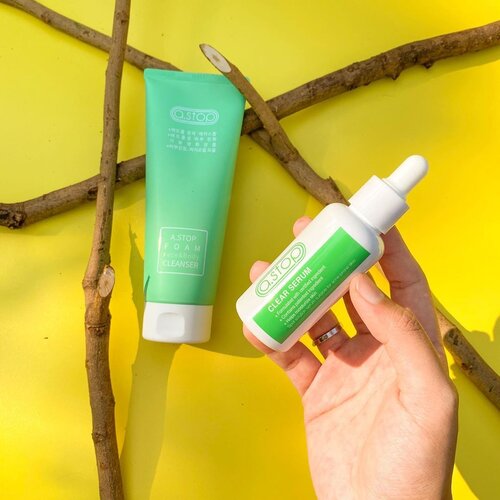 Produk kali ini yang sedang aku coba datang dari @a.stop4you 🌿 Ini pertama kalinya aku mencoba produk korea milik @a.stop4you . Yang aku lihat dari semua produknya ini ditujukan untuk kulit berjerawat. Nah inj bagi mentemen yang memiliki masalah jerawat, wajib merapat yah. Disini aku mencoba dua produknya yaitu✨ FOAM FACE & BODY CLEANSERSeperti judulnya yah produk ini bis digunakan untuk wajah dan badan. Kok gt ? Ya seperti yang kita tahu bahwa jerawat tidak hanya muncul di wajah, tetapi dipunggung badan atau daerah lain bisa terjadi tempat bersarangnya jerawat. Jadi tsrgantung kondisi kulit masing2. Kalau aku sih jerawat hanya ada di wajah, tapi kadang sering muncul 1/2 jerawat dipunggung. Itu jarang sih.. cuman kalau jerawat dipunggung kan sedikit bingung yah bagaimana mengobatinya ? Naahhh dengan adanya sabun dari @a.stop4you ini bisa nih membantu mempercepat proses mengeringnya jerawat pada areanyang susah dijangkau skincare hehehehehe✨CLEAR SERUMSerum ini dapat membantu proses penyembuhan jerawat kalian, yang biasanya kulit daerah jerawat yang sudah mengeringbikut kasar, nah serum ini dapat membantu memoistirizwr daerah kering tersebut. Serumnya juga ringan.. cepat menyerap dan bisa di apply sebelum kita bermakeup...
#clozetteid
#astop
#foamfacebodycleanser
#astopclearserum
#charis
@hicharis_official @charis_celeb
#charisceleb

+ View more details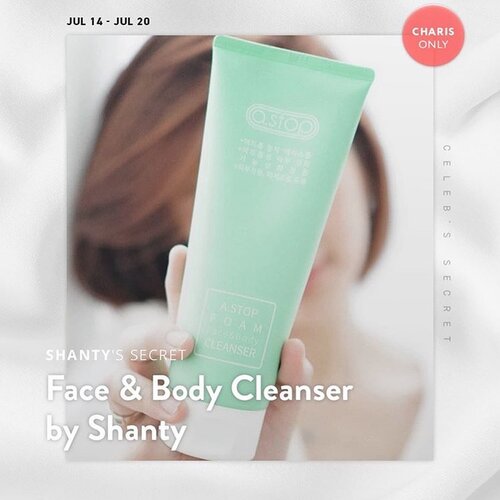 + View more details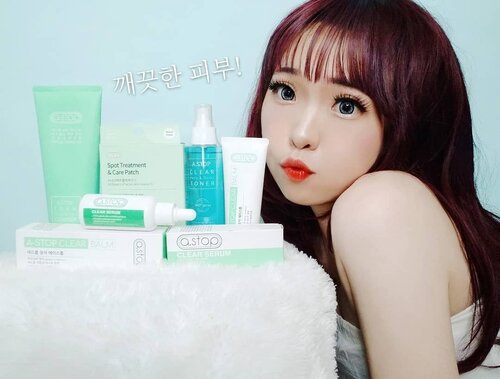 + View more details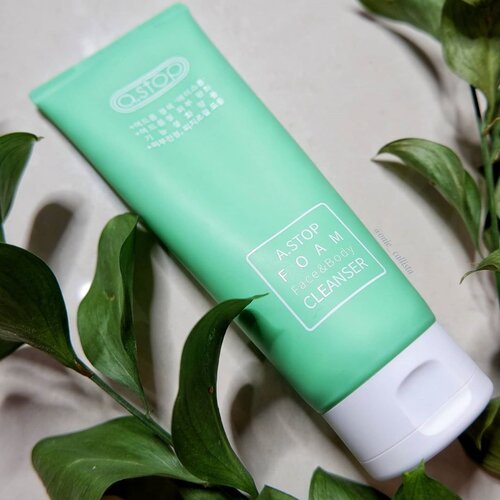 Hi guys! 🙋🏻‍♀️Setelah hampir satu minggu ilang, aku mau balik racunin kalian lg nih! Aku baru aja abis cobain A.Stop Foam Face and Body Cleanser nih! Dan ternyata sebagus itu buat muka ku yang lagi berjerawat! Busa nya lembut dan wangi tea tree nya lumayan kuat.. Tapi cepet banget mengeringkan jerawatku + mengontrol minyak berlebih di muka..Unik nya lagi, sabun ini bisa di pakai di bagian badan kalian yang berjerawat! Biasa nya seperti di punggung atau di leher.. Recommended banget buat kalian yg punya problem sama jerawat! ♥️♥️
-hicharis.net/Oniecallista/MYK
-
#astop
#Foamface
&bodyCleanser
#acne
#onieapproved
+ View more details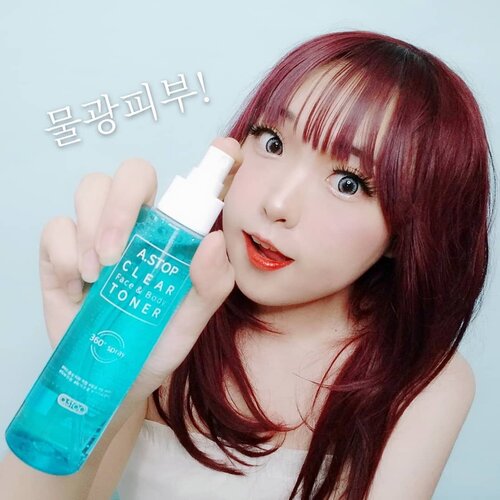 + View more details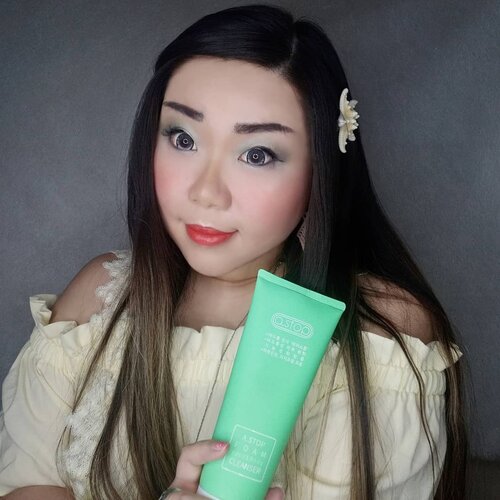 I heard so many great things about @a.stop2man products that mainly focuses on problematic skin (acne prone etc), and one of the products that a lot of influencers (including my friends) recommend is this Foam Face & Body Cleanser. Even though i rarely have acne, i do get that occasional hormonal acne and since i have oily skin, i get whiteheads quite often and acne preventing products usually helps so i am still interested to try it too.
Containing acne combatting and preventing ingredients like Salicylic Acid and Tea Tree oil as well as Shrubby Sophora for skin soothing, Citron for anti-inflammatory and Eucalyptus for antiviral, this cleanser can be used for both face and body and supposed to help with acne on any area.
The foam cleanser has a strong Eucalyptus and Tea Tree Scent, has a creamy consistency and it feels gentle and soft on the skin. Unfortunately i have a what i believe to be a very rare (judging from the mostly very positive reviews from trusted friend) allergic reaction to something in it. I gave it a few try and get the same reaction everytime (but only on the face! I can use it on my body totally fine), my husband use it and he got no negative effect whatsoever so the problem totally lies within my skin and what it is sensitive to. I still use it as body cleanser and actually almost finished it.
I do not think i totally qualify to review this product as i was unable to test it out properly, i don't really get body acne so i cannot comment on how it works to prevent and cure body acne either. But i do know that this cleanser is gentle, non drying and soft on the skin and if you want to try it, you can get it from my Charis Shop here :
https://bit.ly/astopcleanserMgirl83
#charisceleb
#astop
#astopfoamfaceandbodycleanser
#reviewwithMindy
#kbeauty
#koreanskincare
#cleanser
#koreanbeauty
#bodycare
#koreancosmetics
#kcosmetics
#clozetteid
#sbybeautyblogger
#beautynesiamember
#bloggerceria
#bloggerperempuan
#bbloggerid
#indonesianfemalebloggers
#review
#influencer
#beautyinfluencer
#SURABAYABEAUTYBLOGGER
#endorsement
#endorsementid
#endorsersby
#girl
#openendorsement
#beautysocietyid
#itsbeautycommunity
+ View more details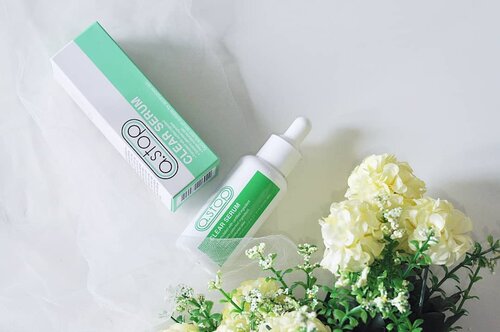 Siapa yang masih struggling sama urusan jerawat? 😫.Kalo kamu angkat tangan, sabar ya.. kamu gak sendirian. Aku juga masih kadang2 jerawatan, dan sedihnya saat ini lagi jerawatan dan kayaknya terparah sejak 3 tahun terakhir 😭.Sebetulnya udh lumayan lama kulitku mulai menjinak krn udah ktm kombinasi produk skin care yg cocooook banget di kulitku. Tapi tau kan kl aku emg semangat banget cobain segala macem skin care.. And if you know me, kalo aku cobain produk baru pasti bnr2 dipake min sebulan supaya bs tau beneran cocok apa nggaknya. Sayangnya produk yg aku coba sejak 2 bulan lalu gak cocok di aku, dan meskipun pas sebulanan udah keliatan gak cocok, tp aku masih gak yakin itu krn produk itu, krn ingredientsnya clean dan reviewnya bagus semuaaa 😭 trnyt stlh another month went by and my skin got worse, br yakin deh emg gr2 itu...Anyway krn sering liat temen2 ngomongin betapa ajaibnya rangkaian produk untuk mengatasi jerawat dari @a.stop2man, langsung deh aku cobain serumnya dari @hicharis_official.. Dan setelah aku pakai this
#A.STOP
Clear Serum is indeed magical! Jerawat2 kecil langsung kempes dalam 2 hari, gokil!.Untuk jerawat yg sakit dan gede banget emg butuh 2 mingguan sih supaya kering, tp kulitnya tuh jd bener2 tebel dan jerawat gak bakalan gampang pecah sendiri sampe itu jerawat kering, which minimize the risk of ice-picked scars..Saat ini aku udah pake clear serum ini hanya di area yang berjerawat sekitar 10 harian and my skin gets clearer,so happy!!! Swipe ▶️ untuk lihat perbandingannya..To sum up, here are my thoughts:Pros:+ Works like magic, jerawat2 kecil kempes dalam 2 hari, cystic acne 2 butuh 2 minggu tp kulitku jd lbh kuat+ Isinya 55 ml, mayan banyak utk ukuran serum+ Cepat meresap+ Tidak lengketCons:- Mengandung bergamot oil yg photosensitizing jd use your sunscreen.Anyway produk ini juga mengandung AHA dan BHA, which explains kenapa bs cepet banget keringin dan kempesin jerawat..Buat temen2 yg mau cobain, kalian bs dapetin diskon 50rb kalau beli via link
https://hicharis.net/wennykyuuto/NVj
(klik di bio)..
#Flush
#Pimple
#Excessive
Sebum
#CLEARSERUM
#CHARIS
@charis_celeb
#hicharis
#ClozetteID
#clozetteambassador

+ View more details

loading ...
Back To Top