loading...
Search
1,843 RESULTS FOR ACNE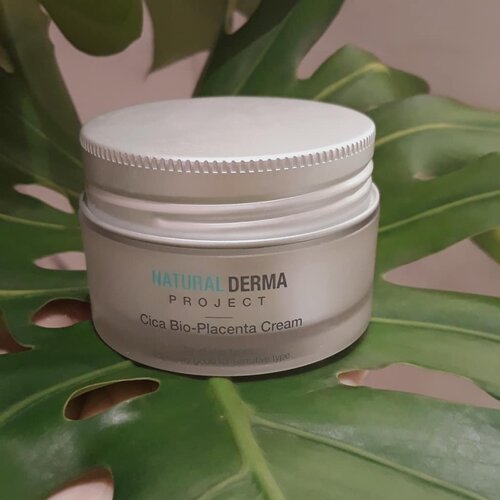 Beberapa bulan yang lalu, aku sempet cobain salah satu ingredients yang bagus banget buat kulit acne prone. Ingredientsnya udah pasti familiar banget di telinga kalian, yaitu Cica!
ㅡ
Aku cobain Cica Bio Placenta Cream nya Natural Derma Project @naturaldermaproject.official selama kurang lebih 1 minggu, jerawat yang tadinya merah banget jadi lebih tersamarkan. Gokil kan?
ㅡ
Oh ya btw kalian bs cek ini di shop Charis ak ya
Nih linknya
hicharis.net/yuuisabella/dAX
#naturaldermaproject
#cica
#kbeauty
#abcommunity
#charis
#hicharis
#clozetteid
#acne

+ View more details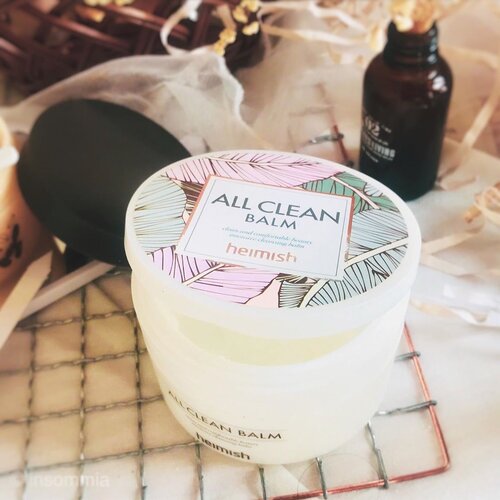 🧖🏻‍♀️ CLEANSING BALM
Omong omong @heimish_cosmetic ini saya dapatkan dari
#boselpiji
@keranjangmica 🙇🏻‍♂️. Ini cleansing balm pertama saya dan saya cukup suka... sampai saya nyoba yang lain 😛
Cleansing balm diperuntukkan manusia pemalas nan kikir karena ingin hemat kapas. Nah saya tuh termasuk homo sapiens kategori ini. Jadi hati saya sekarang cenderung menggunakan balm
Heimish ini bentuknya kayak lilin, secara tekstur. Agak berat dan viskositasnya cukup tinggi. Ada sedikit wangi agak asing yang lilinable, yang awalnya agak mengganggu tapi lama kelamaan hilang. Nah, yang saya punya itu sebetulnya bentuk formula lama, karena setahu saya sih sekarang Heimish itu formulanya baru
Bikin jerawatan gak sih? Bikin bruntusan gak sih? Cocok gak buat yang punya fungal acne? Sebetulnya website semacam COSDNA dan Skincarisma BUKAN PATOKAN untuk nyebut apakah produk ini bisa trigger jerawat, bruntusan, fungal acne dll. Bosen saya bilangin di dm bahwa dua website itu cuma sebagai REFERENSI bahwa bisa saja berpotensi comedogenic. Namun FDA sampai detik ini TIDAK PERNAH MENERBITKAN standar dalam penentuan comedogenic, jadi sungguh kalau ditanya begini saya juga enggak tahu jawabannya. Rumit. Tapi dengan tahu komposisinya, kamu bisa ngira ngira sendiri apakah kamu berani ambil risiko untuk nyoba atau enggak. Misal kamu tahu bahwa keberadaan essential oil pada produk ini bikin kulitmu nganu, ya jangan coba 💁🏼. Gak usah repot dan gak usah nangis kalo breakout, kan kamu yang ambil risiko
Kalau buat saya sih ini lumayan oke, bikin makeup saya lumer. Termasuk waterproof mascara yang kadang suka saya pakai kalau lagi gatel pengen centil. Secara harga dan berat, jelas ini termasuk cleansing balm affordable. Masalahnya hati saya ini mudah goyah kalau nemu yang lebih baik. Jadi cukuplah saya kasih rating 3.5/5
Kamu bisa beli di online shop mana pun. Buat kamu tim cleansing balm, kira kira gimana pendapatmu terkait Heimish All Clean Balm*? *gifted
#insommiaskinformation
#insommiareview
#koreanskincare
#skincareroutine
#skincareobsessed
#clozetteid
#idskincarecommunity
#skincarecommunity
+ View more details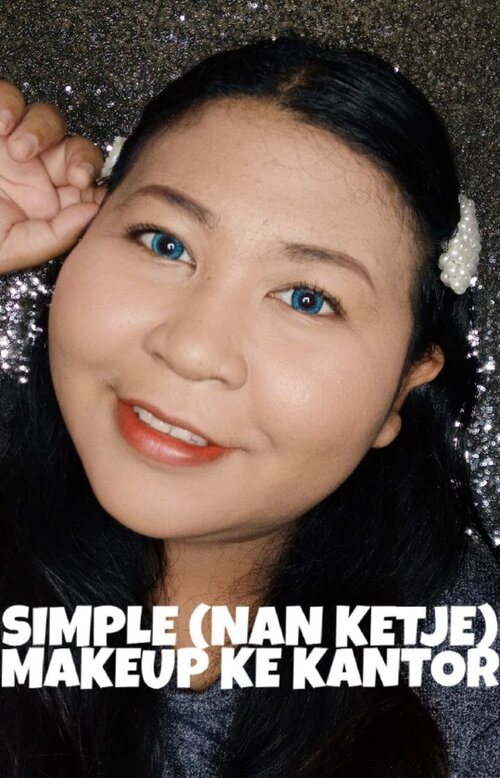 + View more details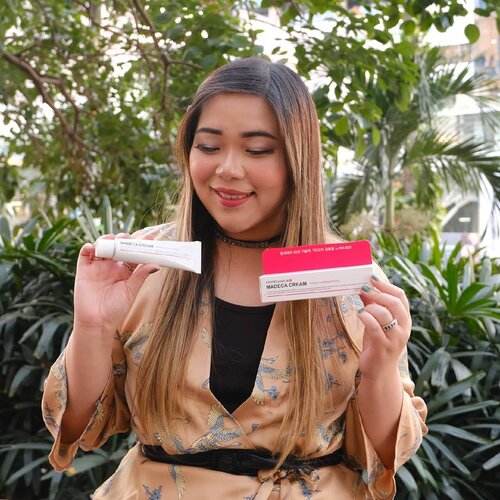 + View more details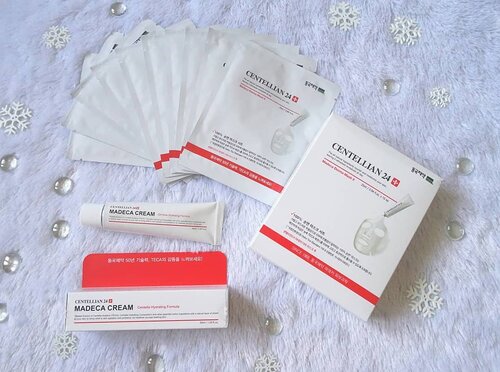 + View more details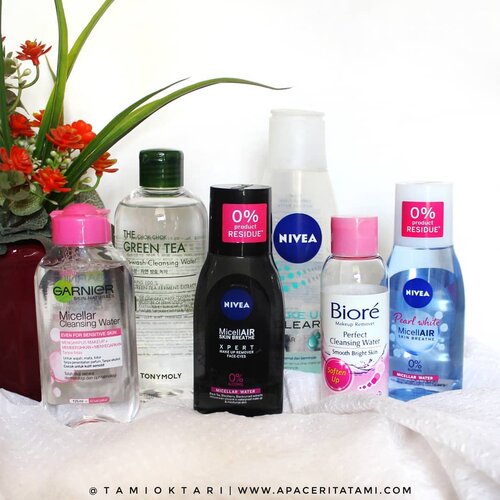 #MiniReviewbyTami.Salah
satu jenis cleanser yang wajib ada di rumah yaitu micellar water. Andalan dan favorit ! Makeup ataupun ga makeupan, wajib bersihin wajah pakai produk ini. Soalnya ingredients dari micellar water itu rata2 pada cocok di kulit aku. Rata-rata ya.. tetap ada yg ga cocok sih. Karena kalau ngomongin cleansing balm ataupun cleansing oil hampir 90% aku ga cocok ama ingredientsnya, makanya aku jarang bahas jenis cleanser itu. Btw sekarang aku berusaha fokus ke produk yang fungal acne friendly ya 👌.Untuk fungsi sama hasil pemakaiannya sih sama aja sebenarnya. Susah untuk hapus makeup waterproof. Bisa sih.. cuma sakit juga kalau ngegosok mata untuk bersihin mascara pakai ini. Jadi serahkan ke remover yang oil based aja untuk makeup yang anti air. Oh iya, abis step micellar water biasanya aku lanjut ke face wash~.● @id.biore Perfect Cleansing Water● @garnierindonesia Micellar Cleansing Water● @tonymoly_street The Chok Chok Green Tea Cleansing Water● @nivea_id Makeup Clear Micellar Water● Nivea Pearl White MicellAIR Skin Breathe● Nivea MicellAIR Skin Breathe Xpert Makeup RemoverSayangnya ada ingredients yang ngetrigger fungal acne. Pdhl botolnya paling cakep diantara yg lain haha 🤣.Satu lagi favoritku dari @bioderma_indonesia tapi aku belum repurchased lagi soalnya harganya itu lho 🤣✌ Dan dari 6 produk micellar water diatas, yang selalu aku repurchased adalah Nivea Makeup Clear Micellar Water dan Garnier (mau yg varian untuk kulit sensitf ataupun acne prone, keduanya cocok di kulit aku). Gampang dicari juga kan, kalau abis dan ga ada stok di rumah, tinggal ke Indomaret aja 🤗.Untuk produk dari Tony Moly dan Nivea Pearl White itu belum aku coba karena pas di cek ada ingredients yg sepertinya aku ga cocok🤦‍♀️ Akibat langsung comot pas beli tanpa cek ingredients terlebih dahulu~.
#tonymolythechokchokgreentea
#bioreperfectcleansingwater
#garniermicellarwater
#niveamicellarwater
#micellarwater
#cleansingwater
#SkincareRoutine
#ClozetteID

+ View more details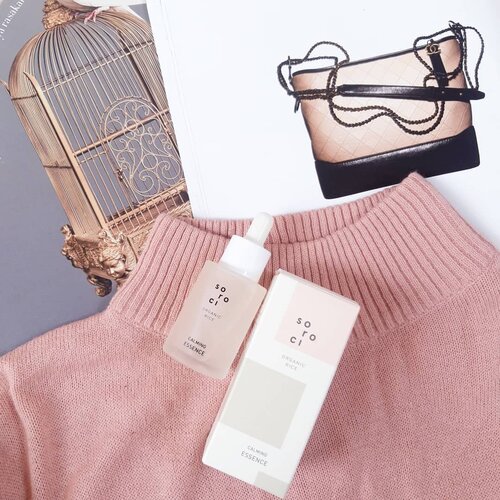 What do you think about calming effect in skincare product? For me calming effect is really important when your skin is in trouble such as redness, acne, sunburn, etc.
Two weeks ago I received a package from Soroci, they sent me Soroci Calming Essence and Eeje Soap, but today the review is about calming essence.
~~
What is this? This a water-type essence containing the optimum formula of plant-based concentrates and natural moisturizing factors to hydrate the skin and improve skin vitality and elasticity. Completed hypoallergenic and non-comedogenic test. All Soroci products are paraben-free. Soroci is cruelty- free and vegan🌿
~~
This silky essence will soothe and calm stressed or irritated skin with the help of Rice Bran Oil and Aloe Vera. It's also packed with antioxidants to help protect and nourish! Its really works well on drought season period in Jakarta.
~~
Texture and Scent:
It has a very lightweight texture, almost watery gel-like that absorbs quickly & a non-tacky finish. Come with a glass of 30 ml essence. It has mild scent and fresh. I love the minimalist packaging.
~~
Key Ingredients:
Oryza Sativa (Rice) Germ Extract, Ceramide, Aloe Vera Leaf Extract, Cactus Extract.
~~
How I use:
Spread product across skin and lightly past to absorb. I apply this essence after toner, before serums and it leaves my skin feeling calm, hydrated, glowy & plump. I also use their trial size of morning drizzle waterdrop cream.
~~
My Thoughts:
I love love this essence so much! 💛🌟 Since the first time I use it, I know my skin gonna like it 😂 I have been using this for about 2 weeks on my am and pm routine. This essence really works according to its claim. When my face is exposed to the sun and appears slightly redness, this essence decreases it. Especially after using this essence on my routine, I feel that my skin looks healthier. 💛 Ofc it doesnt break me out! I really love it ☺
.
.
Rating~~5/5🌟🌟🌟🌟🌟
#clozetteid
#beauty
#soconetwork
+ View more details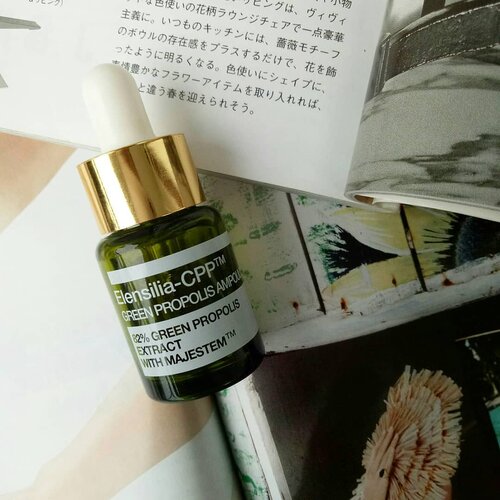 + View more details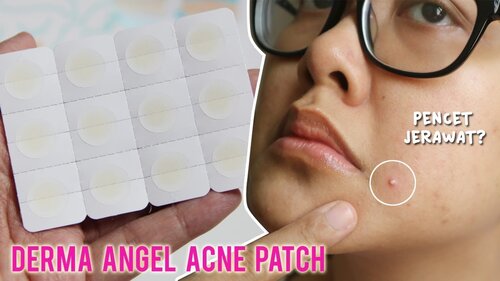 Jerawat Jangan Dipencet! Pakai Derma Angel Acne Patch aja - YouTube

+ View more details

loading ...
Back To Top