loading...
Search
15 RESULTS FOR ACWELL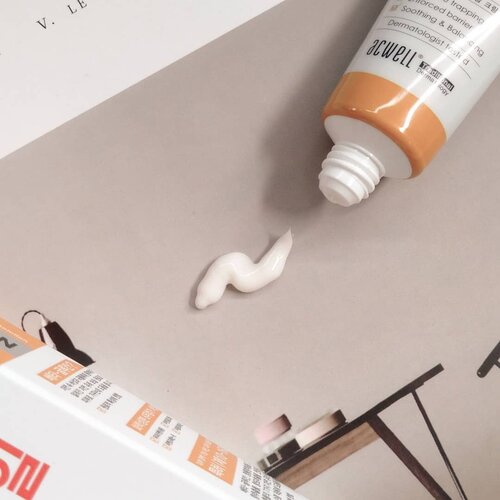 + View more details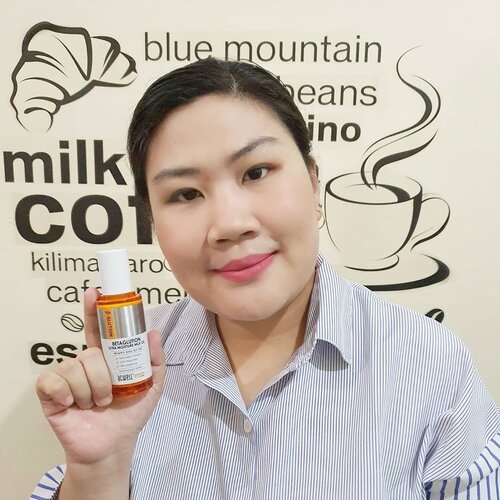 + View more details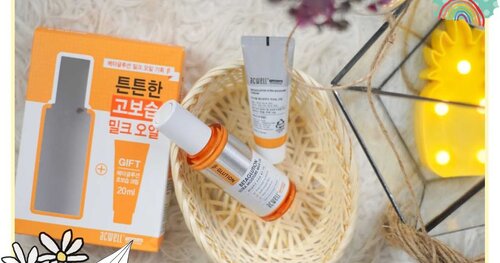 Hallo, aku Demia Kamil, seorang Beauty & Lifestyle Blogger Indonesia yang tinggal di Bandung.
Product Korea itu selalu sukses bikin penasaran

+ View more details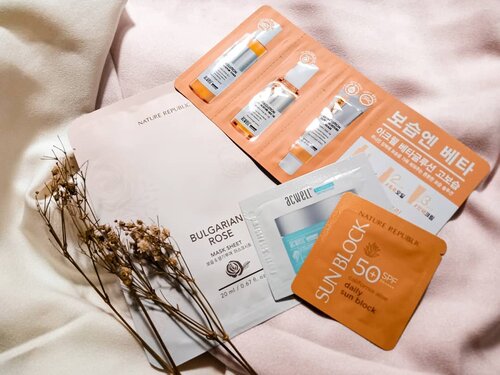 + View more details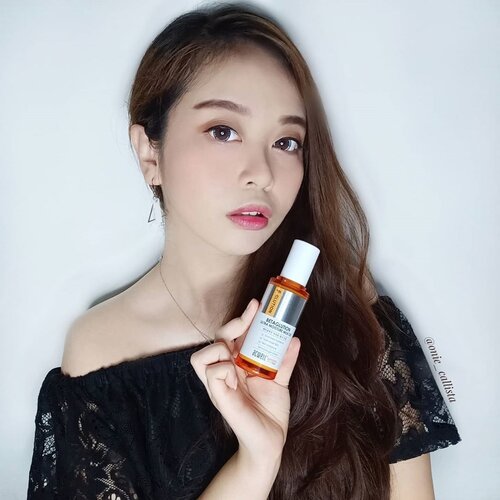 [REVIEW]-Hi guyss! 💕Kali ini aku mau review tentang produk yang aku pakai akhir" ini nih! Acwell Betaglution Ultra Moisture MilkOil, brand dari korea satu ini baru aja pertama kali aku coba, baik brand maupun produk nya!Yass, pertama penasaran banget karena aku jarang banget pake skincare dengan tekstur oil. Produk ini sendiri digunakan sebagai serum, di formulasikan untuk kulit sensitive! Mengandung Betaglution yang di peroleh dari jamur dan biji"an alami yang dapat mempercepat proses penyembuhan jerawat dan bekas jerawat. Selain itu dapat melembabkan dan menyegarkan kulit kalian.Aku sendiri udah nyobain produk ini kurang lebih 2 minggu dan suka dengan hasil nya.. kulit lebih lembab dan sehat. Gampang menyerap ke kulit dan tidak lengket.. Selain itu aman untuk acne prone dan kulit sensitive seperti aku! Penasaran buat cobain? Kalian bisa dapeti. Di @lynecosmetics.id ya! Review lengkap nya bisa kalian cek di blog aku yaa, bakal aku update malem ini! 😘-
#BetaglutionMilkOil
#Acwellindonesia
#Betaglutioncream
#SkinBarrier
#FaceOil
#BarrierMilkOil
+ View more details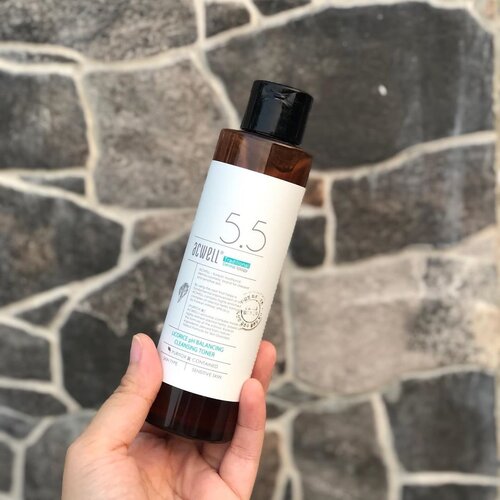 EXFOLIANT TONER ~ CLEANSING TONER
ACWELL 5.5 LICORICE pH BALANCING CLEANSING TONER 🌾 @acwell_official
Apaan nih fel? Exfo toner? Cleansing toner? Apa itu?
Kalo kalian tau, sebelumnya aku fanatik sama aha bha pha'nya somebymi, udah abis berbotol botol dan aku suka. Nah lalu akupun kena racun di grup komunitasku hehe. Jangan kalian pikir aku ini hobi ya hanya meracun saja, akupun juga sering banget kena racun 🤣
Jadi di grup itu banyak banget yang suka sama toner ini selain itu toner ini dapet award 2018 @sokoglam dan konon katanya toner ini banyak membantu untuk kulit yang mudah berjerawat
Awalnya aku ga berharap banyak, dan saat pertamakali pakai juga aku merasa biasa saja. Tapi semua itu bikin aku ngeuh disaat aku rutin pakai. Kulit jadi lebih cerah dari sebelumnya, menurutku dia termasuk exfo toner mild ya karena dia lebih lembut dari aha bha. Kenapa aku bilang lembut? Karena biasanya yang baru pertamakali menggunakan aha bha akan merasakan tingling tapi ini sama sekali ga ada efek itu
Toner pH-balancing sehari-hari dengan air akar licorice yang melembapkan,memperbaiki tekstur kulit, menghilangkan sel kulit mati dan kotoran di kulit
Texturnya watery, wanginya seger, berwarna sedikit kecoklatan. Aku suka after taste penggunaan toner ini, aku ngerasa kulitku jadi makin seger dan bersih banget. Kamu bisa lanjut dengan hydraing toner settelah ini jika kamu ngerasa kurang lembab, tapi aku sendiei ngerasa pake toner ini cukup lembab
Apakah aman dipakai sehari hari? Aku sendiri pakai toner ini AM PM dan nyaman di kulit karena toner ini mild banget
Belinya dimana? Belinya di Shopee dong 🛍
Kalo kamu nyari mild exfo toner, aku rekomen kamu cobain toner ini 😆
#toner
#exfolianttoner
#acwell
#kbeauty
#clozette
#clozetteid
#beauty
#skincare
#makeup
#kbeauty
#skincare
#kskincare
#idskincarecommunity
#abskincare
#abcommunity
#skincareblog
#skincareblogger
#kbeautyblogger
#skincarecommunity
+ View more details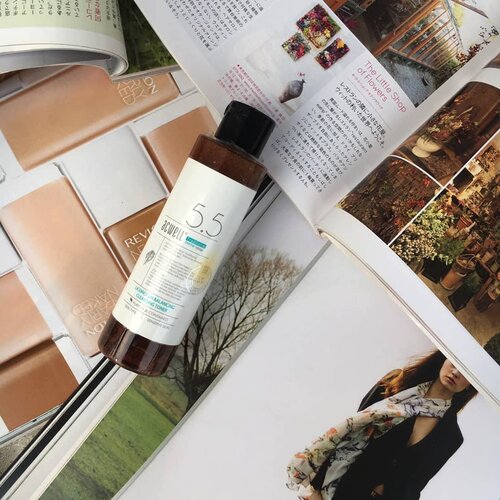 + View more details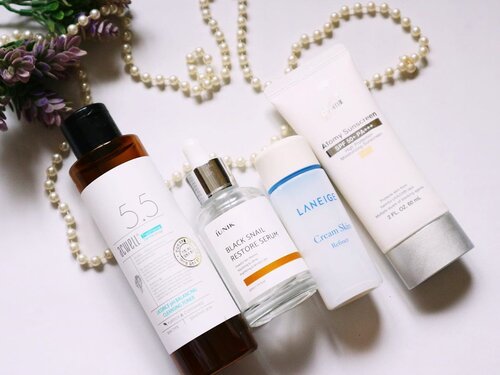 When it comes to cut down several step of morning skincare routine and choose the simple one, I put my hands on these babies. My dehydrated skin now like skincare that can be used for "layering" and doesn't feel heavy.
#Acwell
- Licorice PH Balancing toner🌵One of the hydrating toner that I like to use in the morning, and I use it with cotton pads. Even though the consistency is very water like, but it's really hydrating. I notice my skin is kinda bright and some of my acne scars fade after almost finished the whole bottle.
#iunik
Black Snail Restore Serum 🌵 this is such a light weight serum that I enjoyed using in the morning. Even sometimes when I use two layers of this, it still feel hydrate, yet light.
#laneige
Cream Skin Refiner 🌵Of of the unique moisturizer that have watery consistency. It might look so light weight, but it's actually kinda heavy products when it arrives on the skin. I put only two drops and that's enough.
#atomy
Moisturizing Sun Screen SPF 50+ PA+++ in shade beige🌵A tinted sun screen that's feel moisturizing 👌🏻 it doesn't create white cast, instead my skin looks brighter in healthy way. 📽 please watch this simple morning routine with korean skincare on my youtube channel. Link on bio. ......
#ellskincaregame
#skincareroutine
#skincarebloggers
#slaytheflatlay
#kbeauty
#kbeautyskincare
#idskincarecommunity
#theshonetinsiders
#clozetteid
#beautybloggers
#instabeautyblog
#abcommunity
#asianskincare
#skincarereviews
+ View more details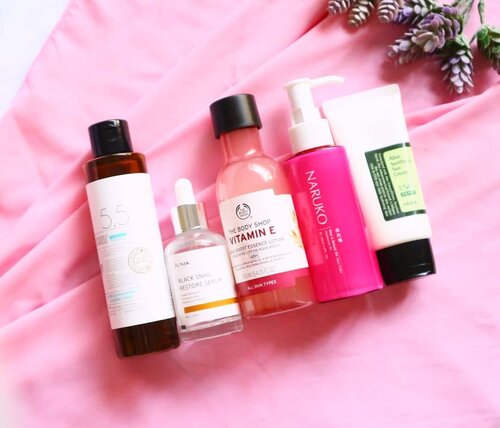 Meet my recent morning Bae ❤
Some weeks ago, I put morning cleanser as my first step but I ditched it again nowadays since in Ramadan I felt my skin will survive better without I have to wash it. In some days, my skin can't survive even though I've put gazillion skincare products and layering. it would still got itchy or red in the end of the day which is kinda annoying. Besides itchiness and redness, small bumps of acne and rough skin also indicate how dehydrated my skin was... 💦 Ah, I also feel that fasting makes my skin even more drier and dehydrated as I lack of water during the day...Do you feel the same? 💦 That's why even though you're fasting, water intake can't be forgotten. Don't forget to drink plenty of water at night. And in the day, spraying facial mist or putting more moiturizer can help the skin stay hydrated. 💦 Do you want to have a healthy skin?
No wonder, hydration is a key 🔑 🌱 Products: 🌻
#acwell
Licorice PH Balancing toner
🌻
#iunik
Black Snail Restore Serum
🌻
#thebodyshop
Vitamin E Aqua Boast Essence Lotion
🌻
#naruko
Rose & Botanic HA Aqua Qubic 🌻 Moisturizer EX
🌻
#cosrx
Aloe Shooting Sunscreen SPF 50++
.
.
.
.
.
.
.
#ellskincaregame
#abcommunity
#idskincarecommunity
#clozetteid
#skincareblogger
#skincareaddict
#asianbeauty
#clozetteid
#slaytheflatlays
#instabeauty
#influencer
#koreanskincare
#kbeauty
#glowingskin
+ View more details

loading ...
Back To Top