loading...
Search
16 RESULTS FOR AESOP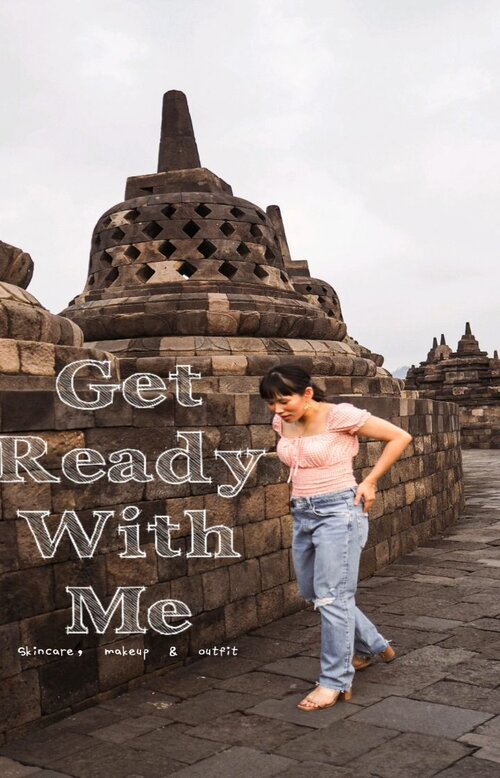 Another IGTV post yay! This time I made a full preparation video from skincare to my outfit.
This is my current morning skincare routine, I really love this Aesop serum that really does magic to my acne prone skin.
For the makeup, lately I prefer to wear simple & minimal makeup like this to give a more youthful and fresh vibes for the summer look. I was heavily inspired by 90's fashion this season, I chose the boyfriend jeans and peach plaid top with cute tiny puffy sleeves, I wore it with matching sandals from By Esme and complete the look with headband, and alphabet accessories ♡
I hope you enjoy the video, thanks for watching, I will put the product list on the next post after this.
Have a great weekend to you all!
xx
•
•
•
•
•
•
•
•
#clozetteid
#beatthatface
#indobeautygram
#makeuplook
#glamvids
#makeupfanatic1
#dailymakeup
#instamakeup
#wakeupandmakeup
#beautybloggerindonesia
#beautybloggers
#ivgbeauty
#makeuptalk
#powerofmakeup
#ビューティー #春メイク #화장품 #메이크업 #コスメ #メイク動画 #アイメイク #プチプラ #메이크업 #인스타뷰티
#beautyvlogger
#summer
makeup

+ View more details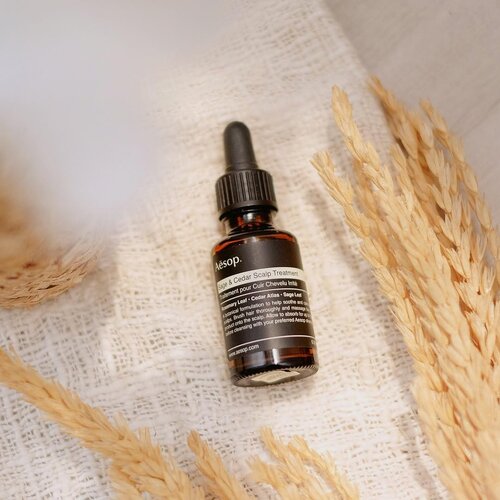 #deahamdanreview
MINI REVIEW - @aesopskincare Sage & Cedar Scalp Treatment.Iseng coba karena dapat hibahan dari temen @esterchristy , biasanya pake sebelum keramas dalam jangka waktu up to 15 menit. Kenapa iseng coba? Karena kulit kepala aku tipenya cepet berminyak, dan ada beberapa bagian yang sensitive jadinya agak gatal. Pas dipake enak deh rasanya, dingin-dingin sensasinya & wangi Sage nya mendominasi banget sih tapi gak strong. Lumayan lah buat treatment 3x seminggu. Cuman ya kalo liat harganya mo nangis sih😩, 25ml harganya $35 atau sekitar Rp.500.000. Menguras kantong😭..Overall:⭐️Product: 8.5/10⭐️Price: 4/10Would you try it?..
#clozetteid
#aesop
#aesopskincare
#aesophaircare
#sageandcedar
#sagecedar
#cedarandsage

+ View more details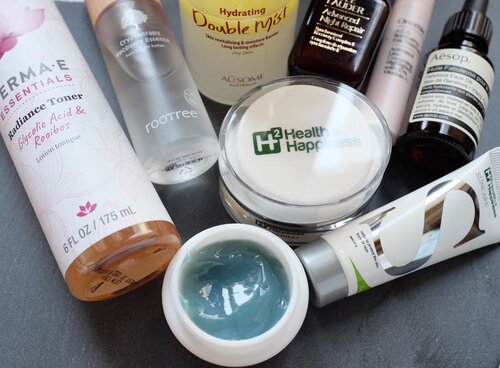 Today's
#deszellskincarearsenal
1️⃣ Cleanse with @kaepratiwi blend of blue coloured oleo gel.
2️⃣ Acid tone witg
#DermaE
radiance toner. Love how mild this is.
3️⃣ Hydrate with
#Rootree
cryptherapy recovery essence followed by two rounds of
#Ausome
hydraring double mist.
4️⃣
#Onomie
ACE illuminating eye treatment for the eyes.
5️⃣
#H2HealthandHappiness
whitening cream, 4% niacinamide & 0.5% liquorice extract. I'm tempted to mix this with vitamin C. Maybe after a week.
6️⃣Another shot of hydration with
#EsteeID
advanced night repair.
7️⃣ Seal with
#Aesop
fabulous face oil, the scent is fab! I love this equally as I love the Emma Hardie oil. Have similar wonderful scent.
8️⃣ Protect with
#h2healthandhappiness
suncare. Physical sunscreen with SPF20, UVA & UVB protection from 8% Zinc Oxide and 10% Titanium Dioxide.
+ View more details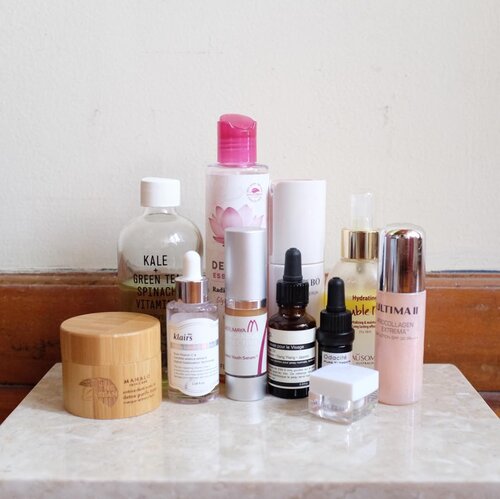 Work from home situation. It's that time of the month when I feel really cranky and have loads of reports to prepare.
1️⃣ Cleanse with
#YouthToThePeople
kale cleanser followed by
#MahaloSkincare
the bean mask. Left it a little bit too long, now my skin is tad dry.
2️⃣ Acid tone with
#DermaE
radiance toner. Super mild glycolic acid toner.
3️⃣ Hydrate with
#KaneboIndonesia
first serum and two rounds of
#Ausome
hydrating double mist.
4️⃣ Treat with
#Odacite
Bi+c on acne spots and
#Klairs
vitamin C allover. This is a low pH 5% vitamin C. Very dry, but I can see result in texture but not so much in hyperpigmentation. Packaging isn't air tight so oxidising after a month or two is expected. I'm gonna throw it away if it's changing in colour - a more prominent yellow than the current state.
5️⃣ Add a layer of
#Merumaya
iconic youth serum, this is a very good anti ageing serum. Great texture for daytime. Leave my skin supple, hydrated and plump.
6️⃣
#VotrePeau
blue pea flower eye cream for the eyes area.
7️⃣
#Aesop
fabulous face oil and
#UltimaII
procoagen extrema day cream to seal everything.
+ View more details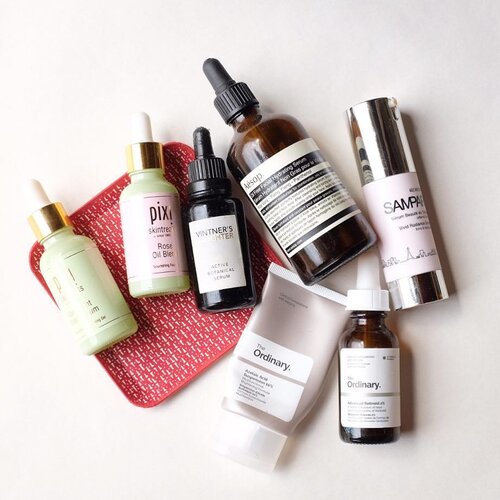 Empties! Some are well loved, some just doesn't leave lasting impression.
1⃣
#pixibypetra
glow overnight serum is a mild 10% AHA serum that exfoliates mildly but leaves your skin glowy the next day. Great for those that doesn't want a drying exfoliating serum. This is a second bottle.
2⃣
#pixibypetra
rose oil blend is softening and hydrating. A great alternative to those loving Trilogy Rosehip Oil effect but doesn't fancy the fishy scent.
3️⃣
#VintnersDaughter
active botanical serum is every bit as good as the hype! Will do a full review soon. But if you have problematic skin and want something simple but work for your skin, this is it. The price however makes me think twice about repurchasing.
4️⃣
#Aesop
oil free hydrating serum a gel hydrator that I use to seal everything in lieu of a moisturiser. This seems to absorb all the oilyness of the oil I'm using. So I love to use this on daytime for a more mattifying effect.
5️⃣ The ordinary Azelaic Acid 10% this balls up, makes my other skincare not able to absorp as fast as usual. Hence, doesn't really work effectively on my skin. I'm better off with Pixi.
6️⃣ The Ordinary advanced retinoid 2%, again I have problem with texture and absorption of this product. Because it doesn't absorp well, it's not really effective on my skin.
7️⃣
#Sampar
vivid radiance serum is a great anti ageing serum that is hydrating, makes my skin bouncy and soft.
+ View more details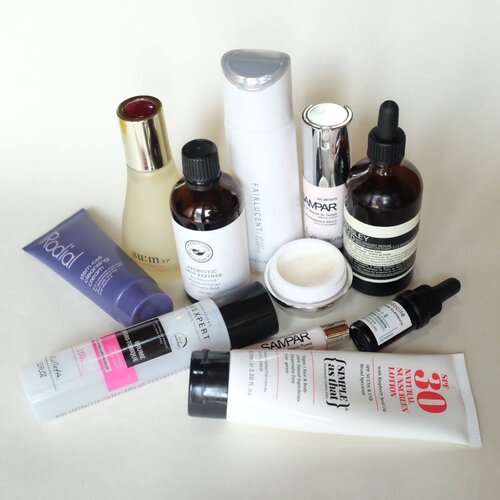 Because Sunday is reserved for lengthy skincare routine. I also did some masking beside these lot. Forgot to put the mask in the routine.1⃣
#Rodial
stem cell cleansing cream, washed off. Seriously just a normal cleanser, nothing special considering it's not cheap! 2⃣ I did triple masking, not in the picture:
#Aesop
parsley seed mask for deep cleansing,
#Glamglow
gravitymud for firming and
#Fresh
rose mask for hydration and nourishment.3️⃣ In between that, I used
#Glamglow
poutmud to exfoliate the lips. Grains are finer than most sugar scrub, easily melts and there's a minty and salty feel to it.4️⃣ Triple tone:
#TheBeautyChef
probiotic skin refiner (acid toner),
#Sum37
secret essence (booster/pre-essence) and
#Novexpert
brume hydro-tonique (hydrating toner).5⃣ Treat with
#Menard
#fairlucent
whiter essence loaded with vit C for spot treatments but this is tad dry on my skin that's why I add a layer of
#Sampar
vivid radiance serum that hydrate and plump my skin back to normal.6⃣ Seal my hydration with
#Aesop
parsley seed anti-oxidant serum.7️⃣ Protect with
#SimpleAsThat
sunscreen.8️⃣ On the eyes is
#Odacite
Ba+S, I literally clean out the bottle. Not a drop go to waste!
+ View more details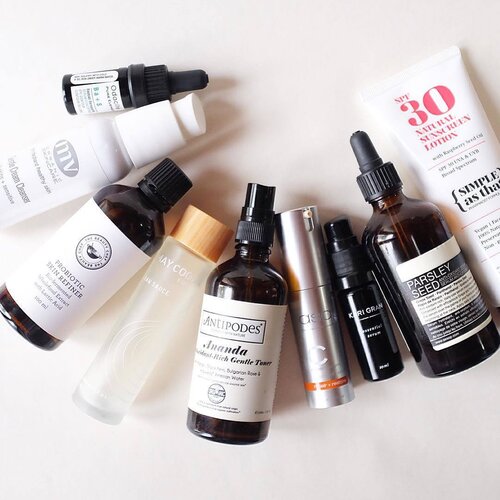 + View more details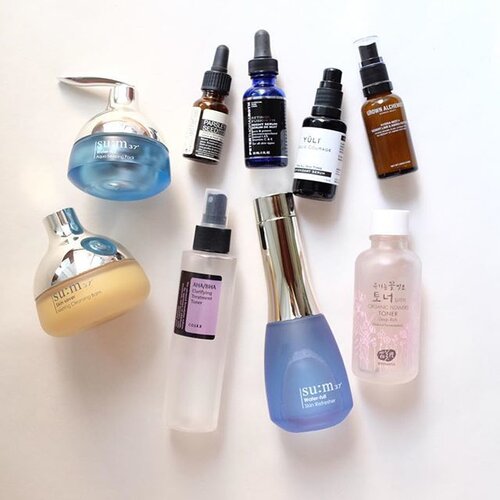 + View more details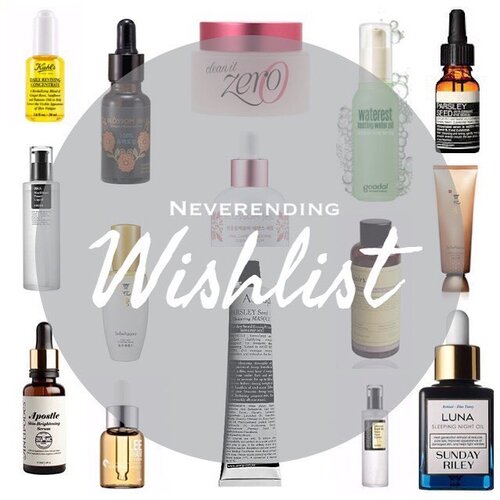 And I still have a few but ran out of grids 😅.
✨ @kiehls Daily Reviving Concentrate
✨ @cosrx BHA Blackhead Power Liquid
✨ @antipodesskincare Apostle serum
✨ @blossomjeju Camellia Seed Oil
✨ @sulwhasoo.kr First Care Activating Serum
✨
#leejiham
Vita Propolis Ampoule
✨ @banilaco_official Clean It Zero (I want the Purity one now, cause it's blue💧)
✨ @blossomjeju Pink Camellia Soombi Essence Serum
✨ @aesopskincare Parsley Seed Cleansing Masque
✨ @goodalbeauty Waterest Lasting Water Oil
✨ @dear_klairs Supple Preparation Facial Toner
✨ @cosrx Skin Returning A-Sol
✨ @aesopskincare Parsley Seed Eye Serum
✨ @sulwhasoo.kr Overnight Revitalizing Mask
✨ @sundayriley Luna Oil
Also drooling over the upcoming @dear_klairs Midnight Blue Calming Cream 😍.
Yes, I'm gearing towards K-beauty. Yes, I'm after that clear dewy glowing skin!
I placed an order for LJH Propolis and Tea Tree on @koreadepart and now praying hard that I actually get my order 🙏🏻.
#skincarewishlist
#2016wishlist
#klairs
#goodal
#rasianbeauty
#koreanskincare
#kbeauty
#sundayriley
#aesop
#banilaco
#blossomjeju
#cosrx
#antipodes
#leejiham
#skincareaddict
#skincarelover
#clozetteid
#fdbeauty
#instabeauty

+ View more details

loading ...
Back To Top