loading...
Search
1 RESULT FOR ALACHUACOUNTY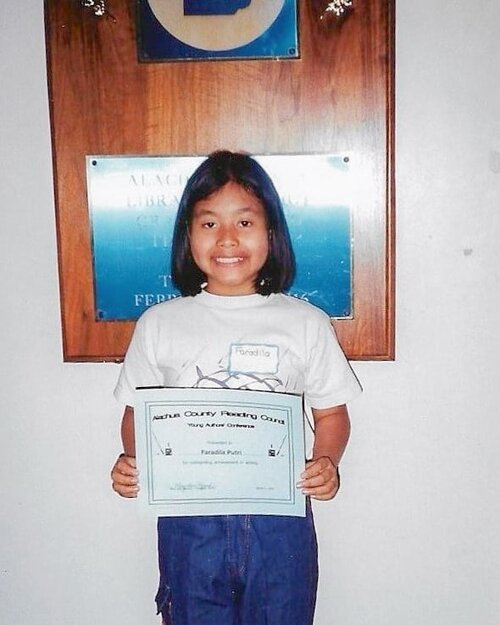 This morning I woke up to the most adorable "Happy birthday, Ibu" ever 🥰 Alhamdulillah bocah di foto ini akhirnya genap kepala 3 wkwwkwk. Thank you also for all the kind wishes and greetings. Otw membalasnya satu satu ❤️ .Berhubung hari ini
#throwbacktuesday
juga, sekalian lah pasang foto 20 tahun yang lalu. This overachiever (lol yes I was one) in elementary school loves to read and write. Alhamdulillah sampai sekarang hal-hal inilah yang mendukung pekerjaan ❤️ it also becomes a self healing proses when I just have so much things on my mind. .Kalau sekarang nulis blog, dulu nulisnya cerita pendek wkwk. Silakan swipe swipe buat baca cerita pendek ala the 10 year old me. Jadi ini adalah Young Author's Conference, dimana setiap sekolah di Alachua County, Florida hanya bisa mengirimkan 2 perwakilan. And this Asian girl got a spot! 😆 Berbekal pelajaran writing untuk FCAT, I pretty much finished a short story. Meskipun pas dibaca sekarang, APA SIH INI KZL AMAT 🤣🤣🤣🤣 .I hope in the many years ahead, I can still look back at the times I have and cherish it ❤️ for every memories are indeed valuable. Cheers to that! .PS : Thanks Mama Bapak for making me take this picture even though I hate taking pictures back in the days 🤣🤣 the face says it all. .-------.
#clozettedaily
#clozetteid
#throwback
#tbt
#childhood
#childhoodphoto
#alachuacounty
#2000
#year2000
#florida
#youngauthorsconference
#youngauthor
#happybirthday
#happybirthdaytome
#selflove
#writing

+ View more details

loading ...
Back To Top