loading...
Search
12 RESULTS FOR AXISY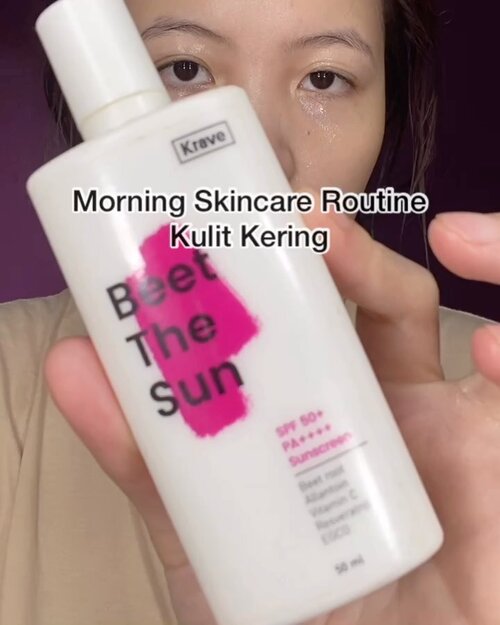 + View more details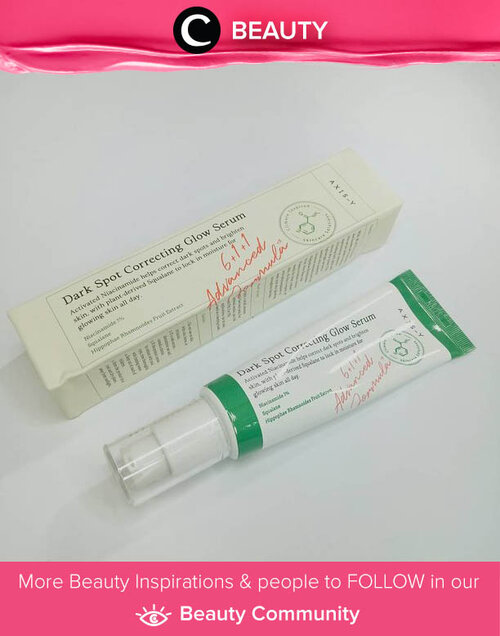 Sedang mencari skincare untuk mengurangi dark spot pada wajah? Kamu bisa coba Axis-Y Dark Spot Correcting Glow Serum dengan kandungan 5% Niacinamide ini. Teksturnya berbentuk gel, sangat ringan dan mudah meresap ketika digunakan. Bagi Clozetter @lianaeka, hasilnya bagus dan bekas jerawat memudar setelah 3 minggu pemakaian. Simak Beauty Update ala clozetters lainnya hari ini di Beauty Community. Yuk, share produk favorit dan makeup look kamu bersama Clozette.

+ View more details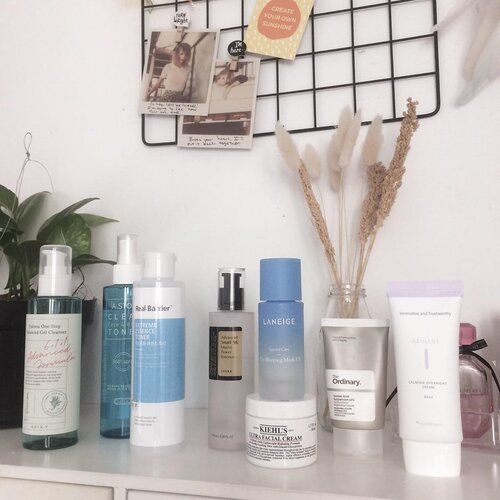 + View more details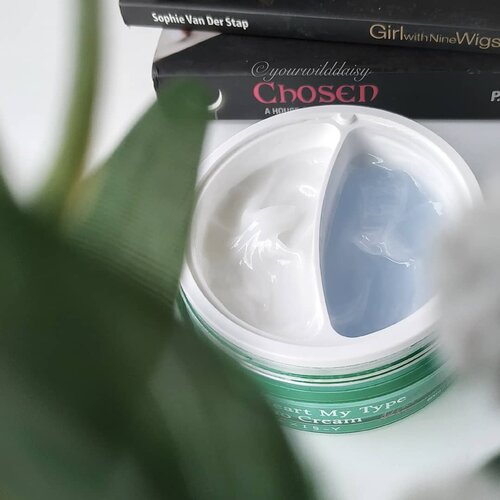 Have a nice weekend everyone ❤ how was your Valentine's day? Yesterday I only spent my time at home, no chocolate no flowers, how sad 😂 but no, I'm not sad!
.
Today I'd love to review a products that have become my favorite lately. Have you ever imagined 2 types of cream in 1 jar? it's Axis-Y Cera-Heart My Type Duo Cream. Consists of 2 types of cream for dry and oily skin areas, sounds very good for those who have combination skin right?
.
🌿 Heartleaf T-Zone Cream
This cream is formulated for oily skin areas. Contains heartleaf which hydrates oily skin. The cream color is bluish and has a gel texture, lightweight and easy to absorb. The smell is quite refreshing and soothing.
.
🌿 Ceramide U-Zone Cream
This cream is formulated for dry skin areas. Contains ceramide that nourishes dry skin. The texture of the cream is thicker than T-cream, has milky white color. Feels rich and very moisturizing.
.
Even though the name is T & U - Zone cream it doesn't mean you have to use it for T or U zone, it can be used as needed. Many people have T-zones are more oily and U-zones are drier, but in my case it's the opposite. I have drier T-zone sometimes even appears dry patches, while my U-zone is oily. So, I use U-Zone cream for my T-zone and T-Zone cream for U-zone.
.
After using it for a month I can say that this is the best cream for my combination skin! The U-Zone cream is able to deal with dry patches on my nose and chin area. While the T-Zone cream even thought has a light texture but is able to provide good hydration for my oily skin area.
.
If you have combination skin, you must try this cream!
.
.
.
Where to buy? @beautyglowing
.
.
#axisy
#axisyindonesia
#moisturizer
#combinationskin
#kbeauty
#koreanbeauty
#kskincare
#koreanskincare
#clozetteID
#bloggirlsid
#kbbvmember
#beauty
#beautyblogger
#beautyreview
#beautycommunity
#skincare
#skincarereview
#skincarecommunity
#skincareroutine
#skincarediary
#skincarelover
#glowingskin
#glowskin
#acneproneskin
#antiacne
#acne
#sensitiveskin
#acnetreatment

+ View more details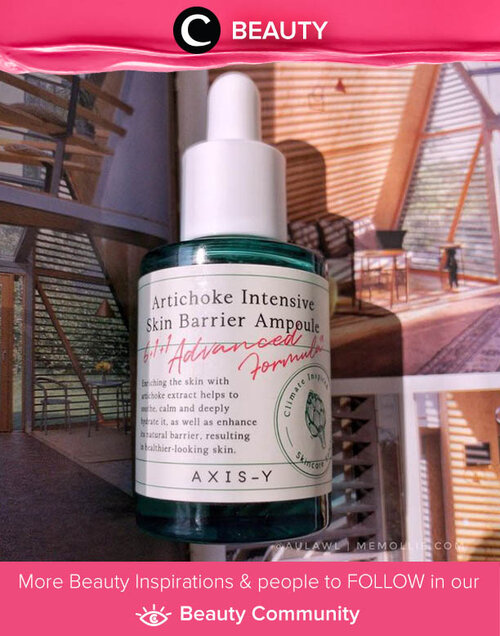 Baru masuk ke Indonesia, skincare Korea Axis-Y punya Artichoke Intensive Skin Barrier Ampoule yang aman untuk kulit sensitif. Dengan konsistensi seperti essence, produk ini mudah diserap dan ampuh untuk menyamarkan bekas jerawat. Image shared by Clozetter @awulawul. Simak Beauty Update ala clozetters lainnya hari ini di Beauty Community. Yuk, share produk favorit dan makeup look kamu bersama Clozette.

+ View more details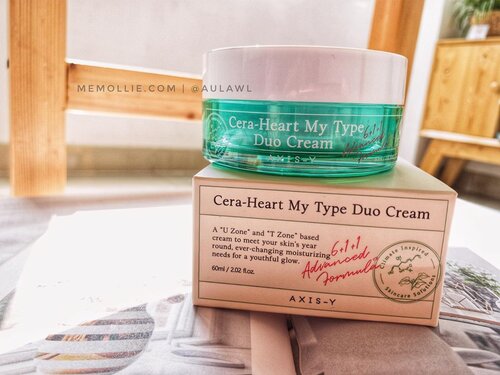 + View more details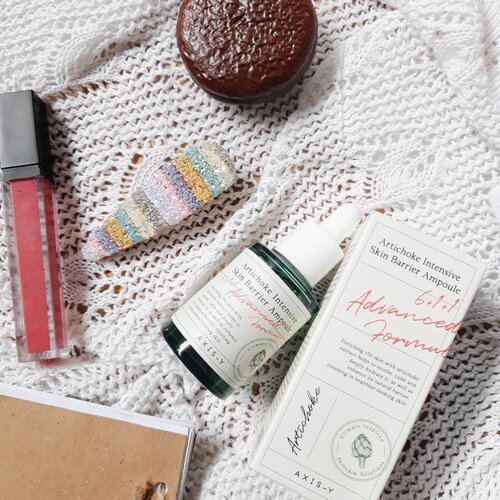 Aku telah mencoba beberapa produk dari Axis-Y, salah satunya Axis-Y Artichoke Intensive Skin Barrier Ampoule. Produk mereka memang based pada iklim panas dan humid. Jenis kulit oily-acne prone menjadi target mereka. Filosofi mereka, yaitu 6+1+1 Advanced Formula yang sudah aku jelaskan di blog..Ampoule ini memiliki tekstur light, cepat meresap. Hidrasi yang didapat cukup. Kalau dipake sendirian aja tanpa toner kayak kurang gitu, tapi kalo dipakai bareng rasanya lebih lembab dan lebih enak aja rasanya. Kalau pakai ini enggak terasa greasy dan ringan. Calmingnya dapat..Kalau ingin membaca review produk ini sudah ada di blog. Link on bio dan jangan lupa tinggalin komentar ya ✍..
#clozetteid
#soconetwork
+ View more details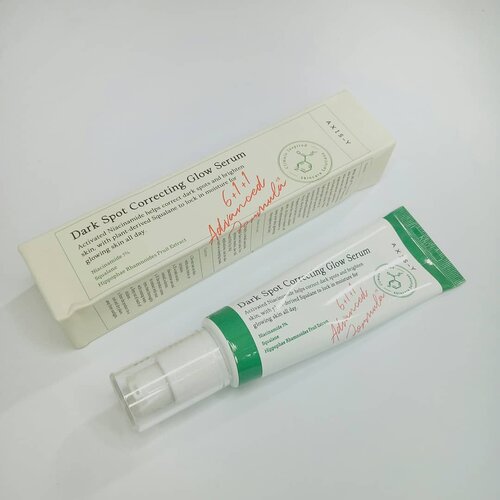 Axis-Y Dark Spot Correcting Glow Serum 🌿
Serum yang mengandung 5% Niacinamide untuk mengurangi dark spots dan memperbaiki warna kulit yang tidak merata, serta mengandung plant-derived Squalane untuk menjaga kelembaban kulit dan membuat kulit lebih sehat dan glowing.
Texture & Scent : Memiliki tekstur liquid gel berwarna broken white, ringan saat digunakan dan mudah meresap pada kulit. Menurut aku wanginya ini mirip tea tree. Aku biasa pakai 1 1/2 pump, sudah cukup untuk satu wajah.
Sebenarnya aku udah pakai ini sekitar bulan november, tapi baru sempet nulis sekarang.
Aku pakai siang dan malam hari, saat itu wajahku memang akan tumbuh jerawat di pipi sebelah kiri dan ada bekas jerawat di pipi sebelah kanan-kiri. Aku pakai 3 mingguan dan hasilnya bagus, bekas jerawat memudar, kulit terasa halus dan cerah
(foto diambil di tempat & jam berbeda). Saat aku aplikasikan serum ini, wajah terasa sejuk gitu. Sebenarnya ada beberapa rangkaian di series ini, seperti face serum, ampoule, toner dan cleanser.
Temen-temen yang penasaran bisa beli di @beautyglowing ada sample & full size rangkaian axis-y ini lho.
#axisy
#serum
#kbeauty
#beautiesquad
#lianaekacom
#idskincarecommunity
#skincarecommunity
#skincare
#koreanskincare
#skincarekorea
#skincarelover
#skincarejunkie
#indonesiabeautyblogger
#beautybloggerindo
#clozetteid
+ View more details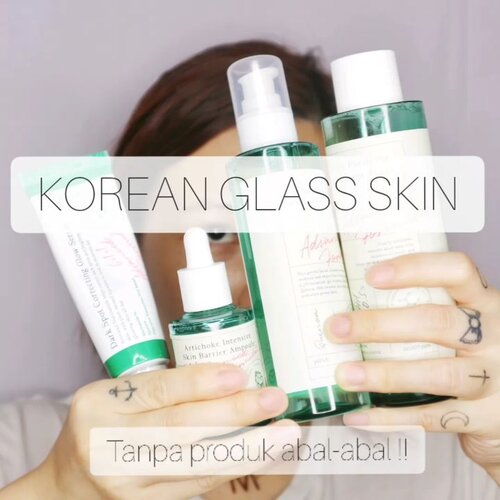 FULL SKINCARE ROUTINE WITH @axisy_official Semua produk bisa dibeli di @beautyglowing___You know achieveing glass skin can be gurelling at times. The major key is to be consistent in taking care of your skin with the right products. Dont be too easy to get lured by false ads and unsafe skincares 🗣️_ Break down products :•Quinona One-Step Balanced Gel CleanserIt comes in a clear-gel and not foamy as much when contacted with water. It is so easy to wash off and doesnt strip my skin. Containing Cica, Calendula, and Quinoa which is rich with Antioxidant. I use this mainly as my Pm cleanser, however its pretty gentle as Am cleanser as well._• Daily Purifying Treatment TonerI was so Amazed by the ingredients in the first place, it has Centella Asiatica & Aloe Barbadensis Leaf Water at the top 2nd & 3rd at the list.It is also a super gentle exfo toner as it has 0.5% Bha and sugar cane as the natural source of Aha. The texture is clear and watery, which sinks in to the skin nicely and quick. It doesnt leave my skin feeling tacky at all . It gives my skin quite amount of hydration as well.-•Artichoke Intensive Skin Barrier AmpouleI didnt know that artichoke is good for skin beforehand 😂 Hence before we jump on to serum, I use this ampoule as an extra booster. The texture is not too liquidy, but once applied on to the skin it becomes a bit watery and easily spread. Absorbs really nice without any tackiness. This feels really soothing especially when you have redness and adding hydration to my skin. However you can use this as hydration booster by mixing it up with your moisturizer.---CONTINUE BELOW
+ View more details

loading ...
Back To Top