loading...
Search
1,249 RESULTS FOR BELIEVER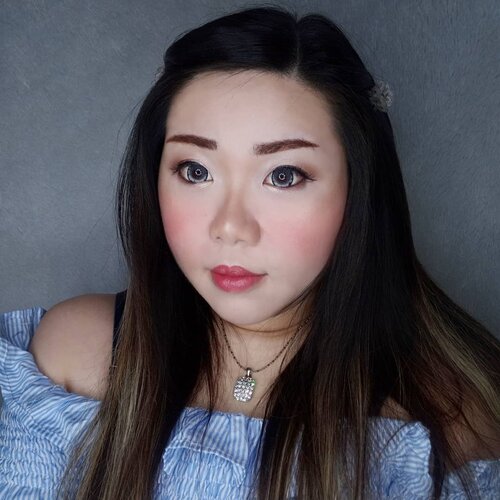 -FULL FACE OF SHOPEE MAKEUP : Wearable Edition-
Okay, you can buy the makeup outside of shopee, technically this is full face of China brands makeup but full face of Shopee Makeup sounds a lot more interesting 🤣. Please note that i consider this a makeup challenge (i always love "full face of" challenges, especially the weird ones. I love to watch full face of Wish makeup videos and the closest thing we have to Wish would be Shopee, i guess? I did a full face of kids makeup back in the day and it was also so much fun!) In NO WAY i am recommending or endorsing using Chinese makeup brands that are not BPOM certified yet (some of the products used has BPOM tho!), I just love a challenge and i believe skill matters more than the quality/price of the makeup so i want to see if i can use such low priced products (again, not all of them are super cheap either) and make myself look good regardless, well. I LOVE how the makeup turned out so personally i think i totally smashed the challenge 🤣. While i am not encouraging anyone to buy these makeup, i know a lot of people does anyway so i would be listing the products used in the next post and give brief thoughts on each so if you do want to buy them, you know which one you can consider and which one you should never even think of.
Honestly, i had sooo much fun doing this and i think imma continue doing it with different brands to see if i can a brand that actually impressed me.
Oh, i also have a second look using all of the same products (just different shades mostly) that i will show you later.
Do you enjoy this type of posts too? I might do a video in the future too, but i am not making any promises tho 🤣.
#clozetteid
#sbybeautyblogger
#makeup
#ilovemakeup
#BeauteFemmeCommunity
#fullfaceofchinesemakeup
#makeupchallenge
#clozetteid
#sbybeautyblogger
#makeup
#bloggerceria
#makeuplook
#softmakeup
#ilovemakeup
#beautynesiamember
#makeupaddict
#bloggerperempuan
#indonesianfemalebloggers
#girl
#asian
#bblogger
#bbloggerid
#influencer
#influencersurabaya
#influencerindonesia
#beautyinfluencer
#beautysocietyid
#itsbeautycommunity
#surabayainfluencer
#jakartabeautyblogger
+ View more details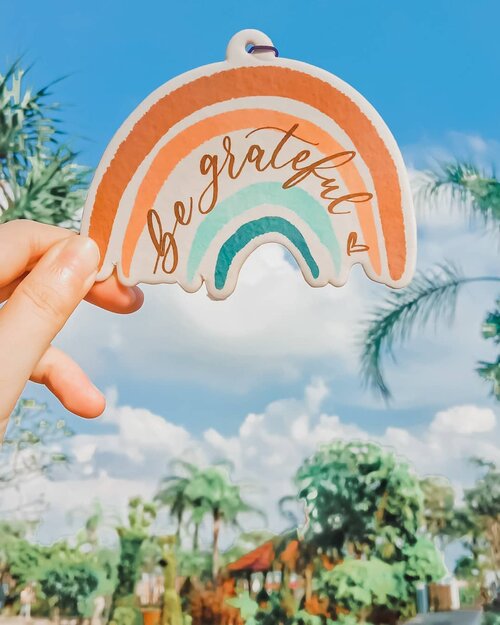 ---------------------
BE GRATEFUL
Kalimat sederhana yang impactnya luar biasa terutama untuk diriku.
Sejak baca buku Secret belasan tahun lalu, aku suka banget menuliskan semua hal penting lalu menempelnya atau memajangnya di sudut yang sering aku lihat sehari-hari.
Jadi bisa selalu ingat, absorbs the positive energy and make it happen.
Because I believe that Law of Attraction is REAL!
Dan 'Be Grateful' adalah kalimat yang suka aku tulis & pajang di kamar & meja kantor dulu.
Makanya ketika melihat @heyla_id mengeluarkan 2 design collab bareng @letteringandlife , aku langsung beli. Karena keduanya tak hanya cantik tapi juga meaningful.
(Later, I'll show you the other one)
Khusus yang ini, aku gantung di meja rias biar selalu ingat bersyukur setiap hari. Terutama di kondisi sekarang ini.
Bersyukur masih diberikan kesehatan sekeluarga.
Bersyukur masih punya penghasilan.
Bersyukur masih bisa merasakan kenyamanan di rumah.
Basically mencoba bersyukur tidak kurang apapun.
Dan sejujurnya beberapa bulan terakhir ini aku belajar banyak hal.
Bagaimana bisa menjadi lebih lebih lebih sabar, lebih lebih lebih kuat dan lebih lebih lebih ikhlas.
Meskipun perjalanan kita masih panjang dan buram, especially menyangkut Covid, tapi semoga kita semua bisa menemukan hal yang bisa disyukuri setiap harinya.
Teruntuk kamu yang sedang membaca ini,
Kalau kamu sedang menghadapi persoalan hidup,
Aku doakan semoga segera mendapat solusi yang tepat, yang bisa membuatmu tersenyum kembali.
Sebaliknya bila kamu sedang bersuka hati,
Semoga kamu bisa menyebarkannya kepada sekitarmu ❤️
.
.
Btw ci @lorenlilmoi , Fresh Cotton scent is perfect for bedroom!
Soft & calming.
Kaget si padahal gantung di meja rias tapi wanginya semerbak di 1 kamar.
Jadi ga usah pakai candle lagi sementara waktu 😄
.
Buruan kalau mau beli, mumpung masih ada stock di Shopee. Only 30k!
.
.
#heylaxletteringandlife
#Clozetteid
+ View more details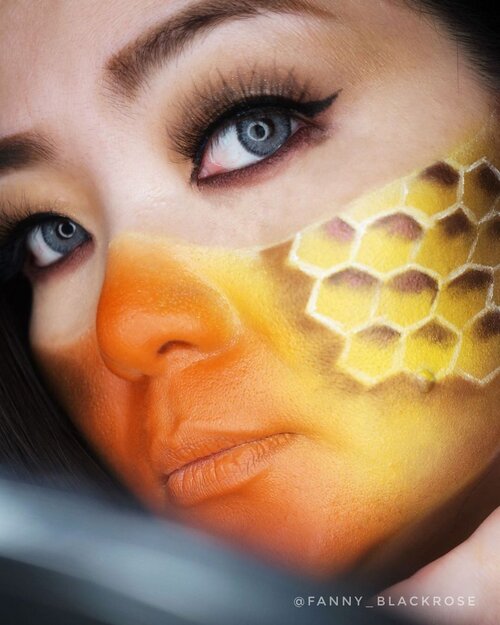 + View more details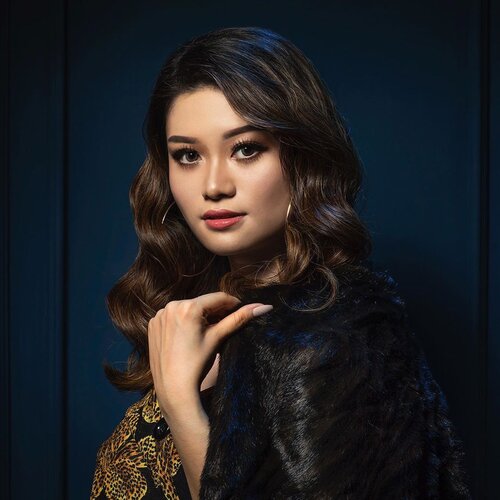 If you are always trying to be normal, you will never know how 𝐚𝐦𝐚𝐳𝐢𝐧𝐠 you can be. 🔑———Long story short, I used to be a camera shy person since I was a kid. Tapi lama kelamaan sejak nyemplung ke dunia ini, my confidence grow up because I'm slowly accepting myself for who I am✨(tapi bukan berarti jadi kepedean yess. Semua yang berlebihan itu tidak baik 🙂)—Nah aku jadi mulai tau nih angle bagus aku dari kanan. Dan gak pede kalau angle nya kiri. Jadi ttp aja masih ada kurangnya. Namanya juga manusia hehe..—One day aku diharuskan photoshoot pake angle kiri karena satu dan lain hal. This photoshoot is my 1st photoshoot yang mau ga mau harus foto dari angle kiri daan mengharuskan pake softlens karena ini photoshoot utk sebuah brand softlens. Before this event, aku gapernah pake softlens karena mata aku gak ada minus/silinder. At that time rasanya insecuuuuuree banget & paniik. Udah pake softlens susaaah bgtt karena 1st timer, dibantu pakein sama team, trus pake ada drama softlens nya robek lah dll. Tapi mau gimana? The show must go on & I've been working hard to get to this point (keep telling myself this)—So I push myself to the limit supaya semua ga sia-sia. Turns out, pas liat hasilnya,,, ternyata..!! Melampaui ekspektasi!! Ga nyangka my other side of my face bisa bagus juga kayak gini daaan aku merasa pake softlens makes me look prettier smh 😳? Up until now, aku jadi pede sama angle kiri dan tambah bisa accept all my flaws, & aku malah jadi ketagihan pake softlens!! So all this time cuman mindset aku aja yang insecure itu nganggep angle kiri aku kurang bagus.—I believe, apapun yang terjadi dalam hidup kita itu pasti ada hikmah nya. Mungkin sekarang berasanya struggle, tapi kedepannya itu pasti bakal buat kita menjadi orang yang lebih kuat atau leads us to better things. Other than that, please have TRUST in yourself, be grateful for who you are & accept your flaws. Because there's nothing you can't do IF you FIGHT for it. Dan jangan lupa buang jauh" itu kata 'INSECURE' 😉Love,A.L ♥️———
#ALorrainestory
pt 1.Like for
#part2!
There are still so many things I haven't told you that might inspire you ☺️.
#selflove
#insecurities
#clozetteid

+ View more details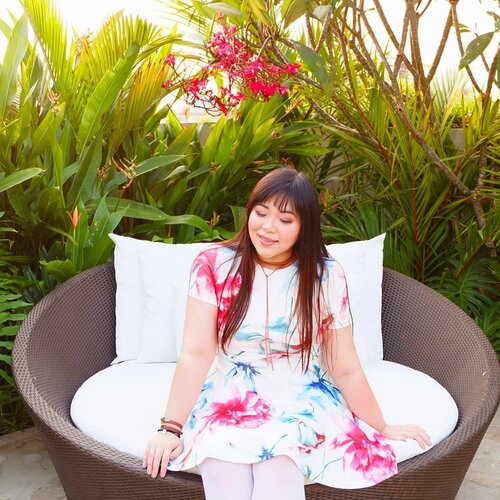 Words cuts.
Too often people finds it so easy to say things that they think is funny, or means nothing - just some flippant words for a cheap or two, but for some (i would say a lot) those words cuts. Deeper than you ever thought and for plenty of us who feels more, we carry it with us like scars.
I'm used to be teased, being bigger than your average petite Asian stereotypes, even when i was once skin and bones, i was never skinny enough for people to stop commenting about my body.
With my demeanor (i am naturally shy, some people mistaken my shyness as bitchiness and sometimes arrogance but when you are older than me/someone i know/a friend of a friend then i tend to hide my shyness with jokes and laughter - which again people mistaken as a welcome sign to say demeaning jokes about me) and my years-younger-appareance (young uns, i'm probably old enough to be your mother) it's just so easy to get too comfortable to say stupid things to me and think that it's okay.
What's weirder to me? Is those people who attacks with their snakey tounges usually have their own weight problems (on both spectrums), this makes me believe that it's their own inability to accept and love their bodies that makes them bitter with the way i love mine. Sad people are pathetic, in their minds others who they think shares their problem (although honestly, they are usually a lot bigger than me) should be as sad and bothered as them, therefore they try to bring you down by saying mean things about you.
Have you ever think people who says mean things about you this way? Coz i know for a fact that it's true... Why can't we all be a little kinder, a little more cautious with our words?
#ootd
#ootdid
#mybodymyrules
#sbybeautyblogger
#bblogger
#bbloggerid
#influencer
#influencerindonesia
#surabayainfluencer
#beautyinfluencer
#beautybloggerid
#beautybloggerindonesia
#bloggerceria
#beautynesiamember
#influencersurabaya
#indonesianblogger
#indonesianbeautyblogger
#surabayablogger
#surabayabeautyblogger
#bloggerperempuan
#clozetteid
#girl
#asian
#notasize0
#personalstyle
#surabaya
#effyourbeautystandards
#celebrateyourself
+ View more details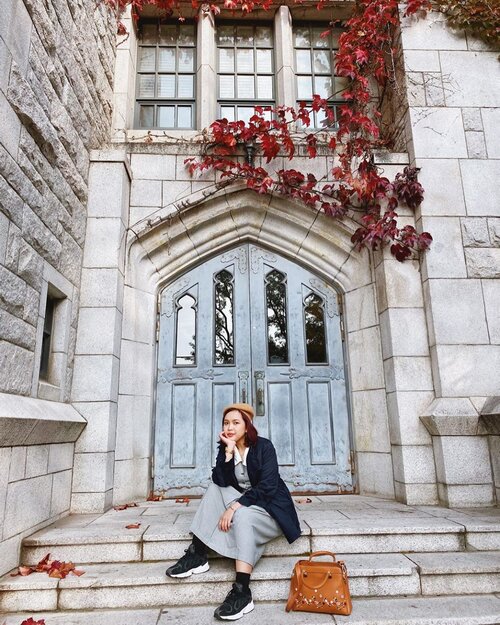 We don't always choose what happens to us but we can choose to see and to believe it is for the best with positivity.

No matter how you're celebrating this year, I wish you all a blessed Eid 🙏🏻✨

+ View more details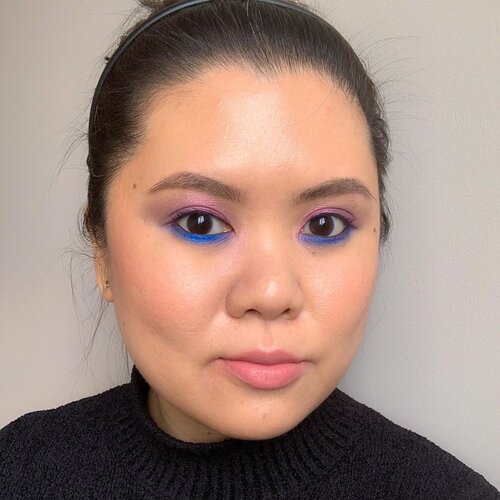 I can't believe I forgot to post this on my feed! I created this look using purple, pink & blue eyeshadows (it's on my highlight under "Purple Blue"). It's super fun to play with colours, but that BLUE eyeshadow is just so amazing, yes? •Tell me, what's your favourite colour? 👇🏻•••••
#muotd
#clozette
#clozetteid
#bbloggersca
#colourfulmakeup

+ View more details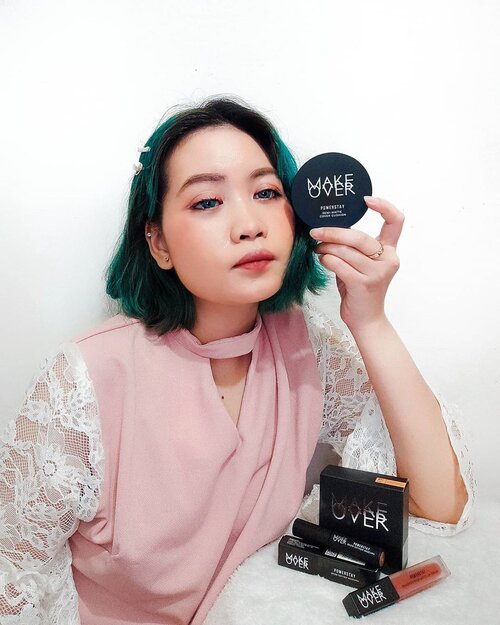 Masih pada
#stayathome
kan beb? Kuacungin empat jempol buat manteman yang udah terus di rumah aja 🤗 Tapi kadang suka bosan kan ya? Biasanya pada ngapain kalo bosan?Kalo pas lagi jenuh atau bosan, aku biasanya video-call bareng teman2 niih.. ngobrol-ngobrol santai, curhat2an juga. Tapi kalo aku anggapnya sih saat video-call-an sama kayak pas kita lagi ketemu dan nongkrong bareng di cafe atau di mall. Hehehe. Jadi makeup dan penampilan kudu tetep
#staygorgeous
dong walaupun cuma untuk video-call di rumah.Believe or not, tapi buatku makeup & penampilan yang on point juga bisa bikin mood jadi baik lho. Walau cuma makeup simpel tapi nyatanya sukses bikin mood jadi lebih baik di kala lagi jenuh di rumah. Enggak butuh waktu lama dan makeup yang banyak kok, cukup dengan 3 produk dari
#makeoverid
aja aku udah bisa dapetin makeup simpel buat video-call 🥰Produk2 yang aku pakai @makeoverid Powerstay Demi-Matte Cover Cushion, Powerstay Brow Definer Mascara dan Powerstay Transferproof Matte Lip Cream. Suka banget sama semua produknya.Cushionnya longlast sampe 12 jam, mengandung pelembab, UV Filter SPF 50/PA++++, oil control dan soft focus-nya. Coveragenya medium-to-full lho.Kalau Brow Definer Mascara-nya aku pakai yang no. 02 Chocolate. Jadi ga butuh waktu lama buat ngerapiin alis. Gak sticky dan waterproof 💞Dan Transferproof Matte Lip Cream-nya aku pake no. B06 (Powerful). aku pake buat blush on juga biar wajahku ga terlalu pucat. yang aku suka dari lip cream ini adalah dia gak heavy di bibir, transferproof dan longlast. Jadi pas lagi kebetulan harus pake masker buat ambil pesanan food delivery juga ga ninggalin bekas.Produk2nya udah aku review di blog aku yaa. Baca yuk 😉Kalau kalian udah coba Make Over Powerstay yang mana?Btw.. ada diskon produk Make Over di Official Store-nya di Lazada dan free cloth mask juga lho. Kalau mau tanya2 dulu bisa kok, DM aja ke Instagram @makeoverid 💞

+ View more details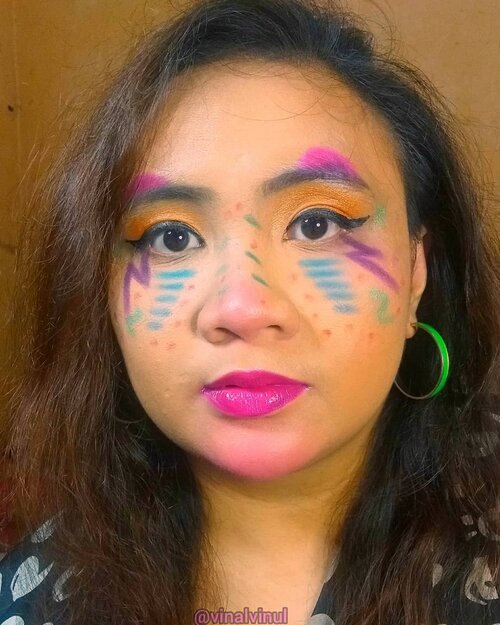 + View more details

loading ...
Back To Top