loading...
Search
11 RESULTS FOR BUJO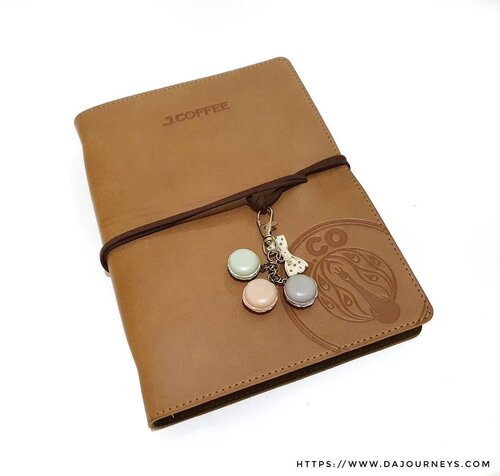 Tahun berasa cepat juga berasa lama, sejak awal tahun banyak peristiwa dan kabar tidak menyenangkan, dan voila, mendadak sudah bulan juni lagi, separuh tahun sudah dilewati, semoga separuh tahun sisanya lebih positif ya 🙏 amiin.
Sudah lama tidak sharing
#bujogram
saya, jadi nggak banyak yang tahu kalau saya juga bikin
#bulletjournal
walaupun schedule saya nggak banyak tapi semata-mata untuk menjaga otak tetap waras.
Karena saya suka menghias-hias bujo, walau hasilnya nggak sebagus teman-teman lainnya di
#bujocommunity
😅
Ada yang suka bikin
#bulletjournaling
juga? Kalian tipe simple dan terorganisir atau tipe banyak doodle atau hiasan? Ini adalah layout bujo bulan juni saya 🤫 quote yang saya tulis itu persis menyuarakan isi hati banyak orang, iya apa iya 😆.
#ClozetteID
#bujoinspiration
#bujoideas
#bulletjournalideas
#bulletjournalcommunity
#bulletjournalideas
#bulletjournaladdict
+ View more details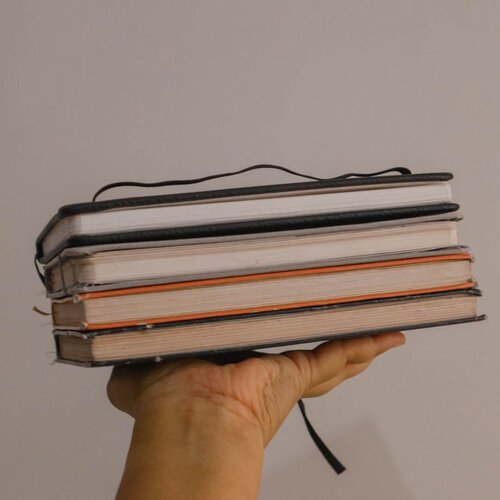 + View more details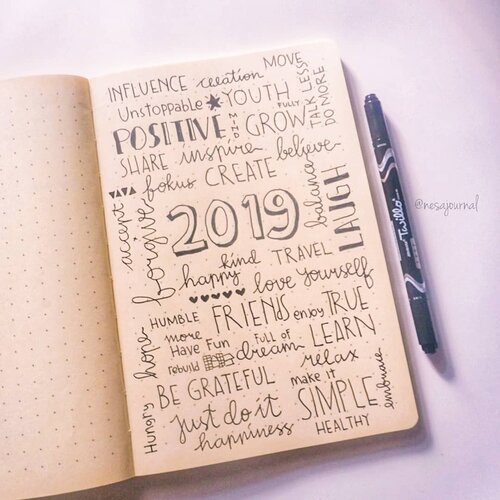 + View more details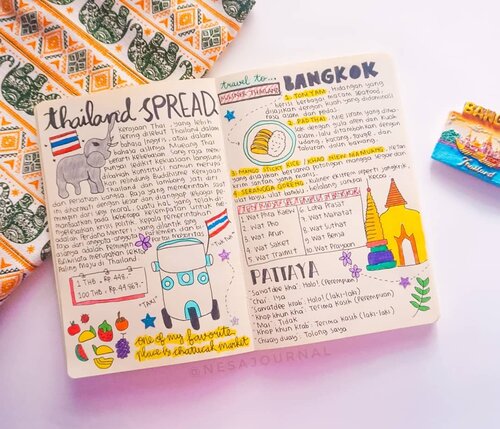 + View more details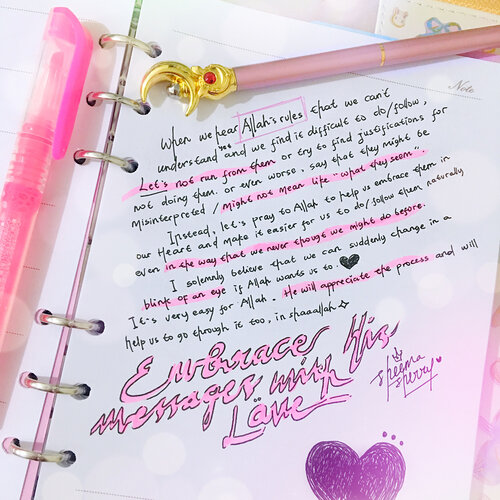 + View more details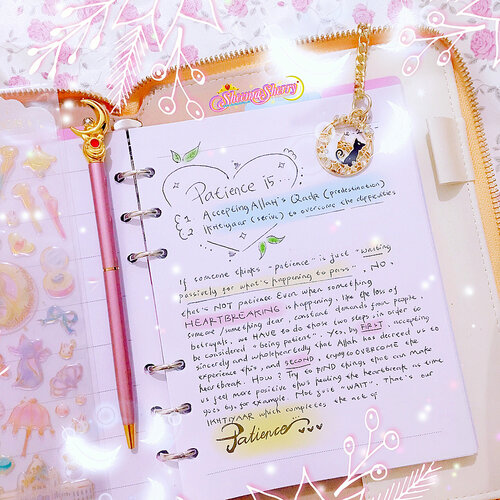 🍃 Sabar Adalah: sepaket tindakan 1. Menerima Takdir yang telah Allah tentukan, 2. Ikhtiyaar mencari jalan keluar dari yang sedang dihadapi 🍃.Apabila seseorang menyangka bahwa sabar hanyalah "secara pasif menunggu apa yang sedang terjadi itu berlalu", Tidak, itu BUKAN sabar. Bahkan ketika sesuatu yang mematahkan hati kita terjadi, semisal kehilangan benda / orang terkasih, tuntutan yang tak henti-henti dari orang lain, atau pengkhianatan, kita tetap harus melakukan kedua langkah sabar itu. Tidak cuma pasrah ikhlas menerima takdir yang terjadi, tapi juga harus tetap ikhtiyar, BERUSAHA. Berusaha bagaimana? Misal, berusaha MENCARI kegiatan positif yang bisa membuat rasa patah hati itu tersembuhkan seiring waktu. Semacam itu. Maka ikhtiyar setelah ikhlas menerima takdir, adalah perbuatan yang mencukupi terlaksananya tindakan SABAR 🌸🍃.Kenapa ikhtiyaar masuk di dalam definisi sabar? Karena kalau kita mendapat cobaan lalu kita hanya "menerima" tanpa usaha, itu bisa dikatakan "malas", atau bahkan "putus asa". Contoh, ketika bangun tidur, kita terkena flu. Lalu kita bilang "Ah... aku sabar deh. Aku nggak akan ngeluh dan aku akan nunggu Allah sembuhin aku". Tidak. Allah mau kita selain menerima takdir, juga berusaha MERUBAH KEADAAN kita sendiri dengan mencari solusi. Misal, minum obat, minum air hangat, dll..Di banyak kasus di Hadist rosulullah, ketika beliau bersabda kepada orang-orang untuk "sabar agar dapat pahala surga", itu berarti juga beliau ingin orang tersebut berjuang menyelesaikan masalah yang mereka sedang hadapi...Dan... YA!!! Mengapa sabar begitu PENTING?! Karena Allah punya janji-janji yang luar biasa dan indah bagi orang-orang yang sabar!!🤗💖🤗💖 *kepanjangan kalau di sini jadinya nanti lagi aku tulisnya in shaaallah* hehe..
#bujo
#bulletjournal
#bulletjournaling
+ View more details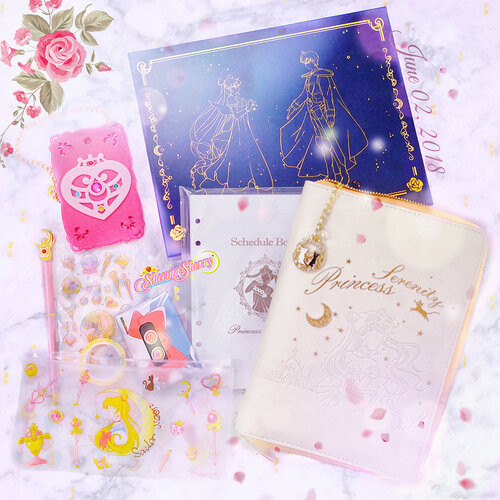 In the very little spare time I have from being a Mom, I always wish I can manage to do journalling. I love writing about ideas [ideas, not the dear-diary-today-I... thing anymore], because writing (especially on paper) is one of my therapies for so long. It helps me get to know myself better, and keep the ideas that popped in my head to be read later again and again for me to reflect.🤗💖
.
My Husband Prince brought this Princess Serenity Planner (and it's friends) when he came home from work yesterday 😻💖, and he said he hope I'd be more motivated to [spare some time to] write if it's on a very Special Planner, so that I can store and share my ideas which in shaaallah may be beneficial for others too. Aaamiin 🤗🤲🏻🌸
.
Coming with this Planner is the very pretty Moon Stick Pen, Luna&Artemis Planner Chain, Sailor Moon Washi Tape, Stickers, and Pencil Case — to compliment the journalling journey! And also a card holder because in HK we always use card anytime anywhere. .
I literally was crying in happiness while opening these one by one. He indeed always knows how to make me feel happy and special 🌸🌸🌸 @zenkih , Alhamdulillah!
.
.
#2june2018
#bujo
#bulletjournal
#sailormoon
+ View more details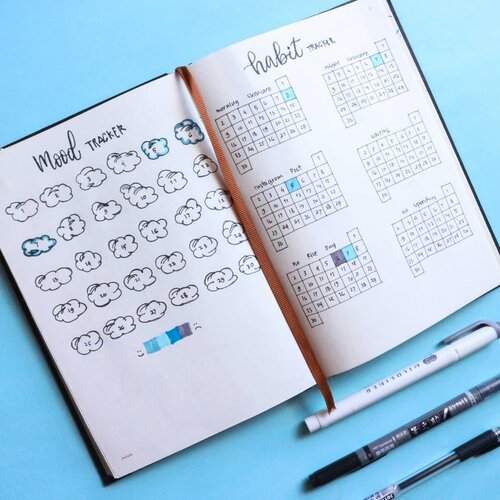 + View more details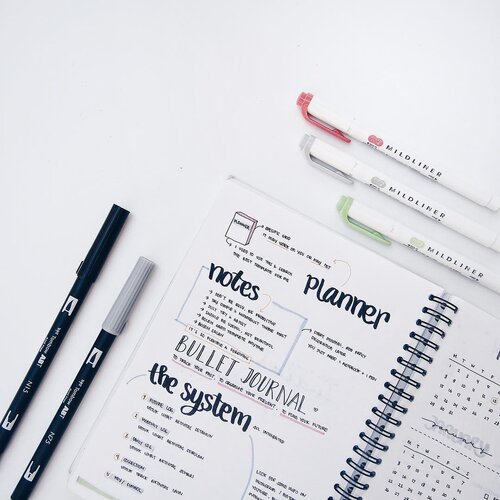 #bulletjournal
anyone? 🤓 Have you watched my video about the basic of bullet journal-ing? 🤩Buat kamu, 'planner girls' kurekomendasikan bikin bullet journal, lebih efektif dan efisien dari planner lainnya 👌🏻 I'm so so in love with my
#bujo
📒
#clozetteid
+ View more details

loading ...
Back To Top