loading...
Search
140 RESULTS FOR CHILDHOOD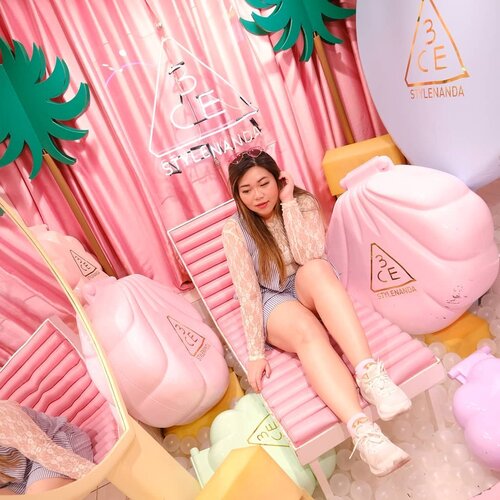 Happy Sunday, beautiful people!Daripada stress dan butek (kayak aq yg lagi PMS), jalan-jalan virtual /throwback lagi aja deh. Bersyukur loh ternyata jadi hoarder to ada bagusnya juga di masa2 seperti ini hahaha, always a silver lining in every storm 🤣🤣🤣. Btw, aq suka banget sama packaging (dan blow up mock nya ofc) 3CE yang kayak Polly Pocket ini (meskipun aq tetep ga beli karena 3CE mahal ah 🙊🙊🙊, aku lebih prefer belanja merk2 makeup Thailand aja kalo lagi jj ksana, bagus2 lucu2 meskipun rata2 nyolong packaging Korea hahaha, tapi ga nolak kalo ada yg mau sponsorin 3CE sih 🤣🤣🤣), nostalgic banget karena selain Barbie, mainan fave aku waktu kecil tu Polly Pocket.Anak jaman sekarang tau Polly Pocket ga? Mereka ada lagi sih tp ga sama, jadi gede2 gitu ga seru 😣, Polly Pocket jamanku kecil2 super mini (choking hazard abis 🤣🤣🤣) dan aq inget banget pertama kali punya Polly Pocket tu dibeliin ccku pas dia pulang dari US (aq beda 11 taon sama ccku, jadi waktu dia k US sekitar late teensnya dia aq masih krucil hahaha), amazed banget sama mainan itu, thus began my obsession with Polly Pocket (dan nambah stress mamaku karena tambah banyak mainan yang aq minta hahaha, dulu Barbie ku aja ratusan 🤣🤣🤣). Kalo kalian, apa childhood toy favorite kalian?
#stylenandapinkhotel
#pinkhotel
#stylenanda
#cafebangkok
#bangkokcafe
#bangkok
#pinkinthailand
#clozetteid
#sbybeautyblogger
#beautynesiamember
#bloggerceria
#influencer
#jalanjalan
#wanderlust
#blogger
#indonesianblogger
#surabayablogger
#travelblogger
#indonesianbeautyblogger
#indonesiantravelblogger
#girl
#surabayainfluencer
#travel
#trip
#pinkjalanjalan
#bloggerperempuan
#asian
#thailand
#bunniesjalanjalan
#pinkinbangkok
+ View more details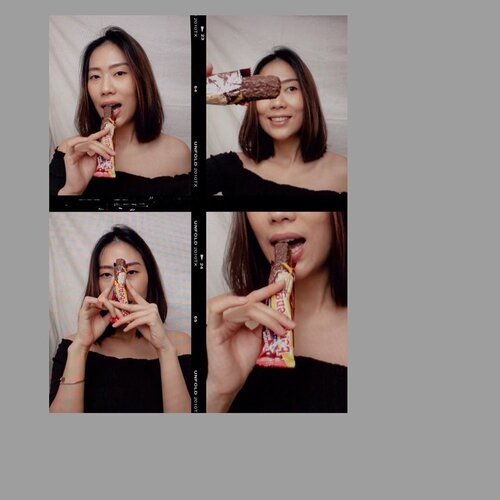 + View more details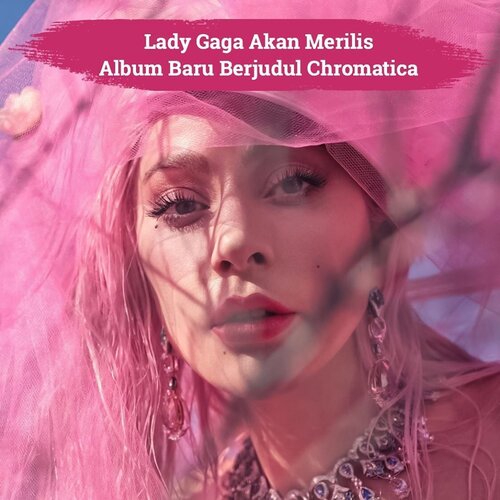 Penyanyi asal Amerika Serikat @ladygaga akan merilis album baru dengan judul Chromatica. Album studio ke-6 nya seharusnya dirilis pada 10 April, tetapi tanggalnya tertunda karena pandemi covid-19. Sekarang, Chromatica memiliki tanggal rilis baru nih, Clozetters! Pada 6 Mei, Gaga mengumumkan di Instagram pribadi nya bahwa album baru akan keluar pada 29 Mei.Album ini menampilkan 16 lagu secara total, beberapa di antaranya dengan penampilan tamu istimewa: Ariana Grande ditampilkan di "Rain on Me," BLACKPINK di "Sour Candy," dan Elton John di "Sine From Above." Ada juga sebuah lagu bernama "Alice," dan para penggemar menduga lagu itu diambil dari nama childhood dog sang penyanyi yang hilang pada tahun 2013. 📷 @ladygaga
#ClozetteID
#Chromatica

+ View more details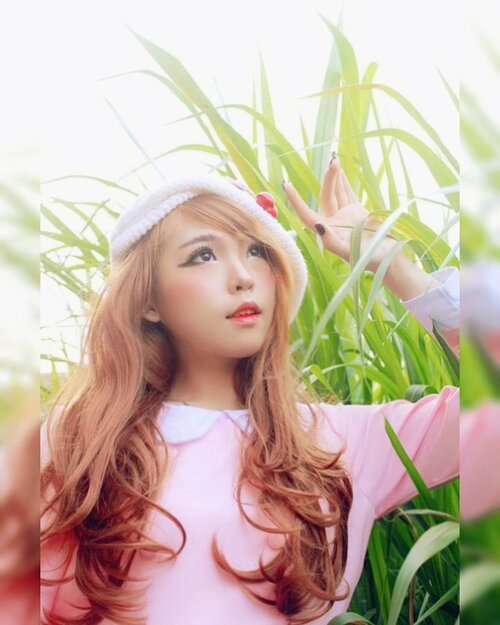 What would you do if you were suddenly only 15 cm tall? I imagine about how if i become one-inch-princess and walking through the lawn with my childhood friend that i really love. He save me and help me back to my normal size. - Watched My Little Lover, 南くんの恋人 really makes me thinking about a 'Chilhood Promises'..When i was young, around 2nd grade elementary school. i've took a course. I was so quiet because i'm such an introvert. I feel shy to say hi and talk to someone. I don't have a friend at that time. I ate alone, and sat down in the class alone during break. Until someone came and talking to me..I felt so happy because i found someone who always there beside me during courses. Until finally our course come to and end..After course, while waiting for our parents to pick up. We said to each other : 'please always remember our togetherness. I hope we can meet again someday and talk to each other!'- That is the last words he said to me before he left the course..Since that time, we never meet each other again, we went to the different school, and i never know where he live, i've tried to searching for him in social media but i didn't find out..I hope i will find my little friend after a years. I have no idea how to find him until now. But still, i remember our childhood promise..... .
#JapaneseBeauty
#makeup
#kawaii
#beauty
#style
#girls
#cherry
#モデル  #メイク  #ヘアアレンジ #オシャレ  #メイク #ファッション #ガール #かわいい
#cute
#beautiful
#IndonesianBlogger
#BeautyBlogger
#BeautyBloggerIndonesia
#ClozetteID
+ View more details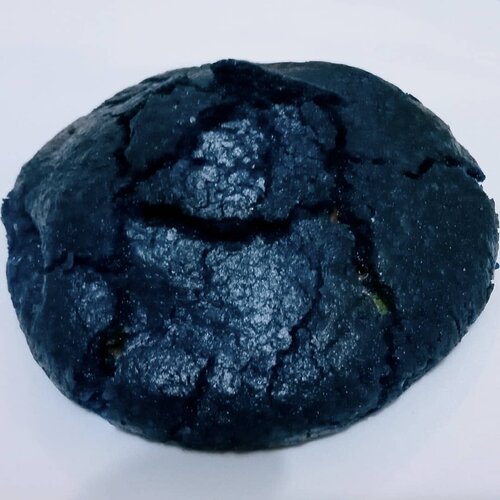 + View more details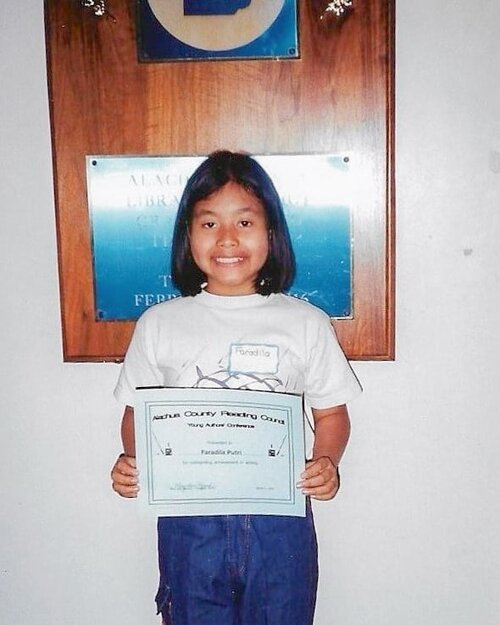 This morning I woke up to the most adorable "Happy birthday, Ibu" ever 🥰 Alhamdulillah bocah di foto ini akhirnya genap kepala 3 wkwwkwk. Thank you also for all the kind wishes and greetings. Otw membalasnya satu satu ❤️ .Berhubung hari ini
#throwbacktuesday
juga, sekalian lah pasang foto 20 tahun yang lalu. This overachiever (lol yes I was one) in elementary school loves to read and write. Alhamdulillah sampai sekarang hal-hal inilah yang mendukung pekerjaan ❤️ it also becomes a self healing proses when I just have so much things on my mind. .Kalau sekarang nulis blog, dulu nulisnya cerita pendek wkwk. Silakan swipe swipe buat baca cerita pendek ala the 10 year old me. Jadi ini adalah Young Author's Conference, dimana setiap sekolah di Alachua County, Florida hanya bisa mengirimkan 2 perwakilan. And this Asian girl got a spot! 😆 Berbekal pelajaran writing untuk FCAT, I pretty much finished a short story. Meskipun pas dibaca sekarang, APA SIH INI KZL AMAT 🤣🤣🤣🤣 .I hope in the many years ahead, I can still look back at the times I have and cherish it ❤️ for every memories are indeed valuable. Cheers to that! .PS : Thanks Mama Bapak for making me take this picture even though I hate taking pictures back in the days 🤣🤣 the face says it all. .-------.
#clozettedaily
#clozetteid
#throwback
#tbt
#childhood
#childhoodphoto
#alachuacounty
#2000
#year2000
#florida
#youngauthorsconference
#youngauthor
#happybirthday
#happybirthdaytome
#selflove
#writing

+ View more details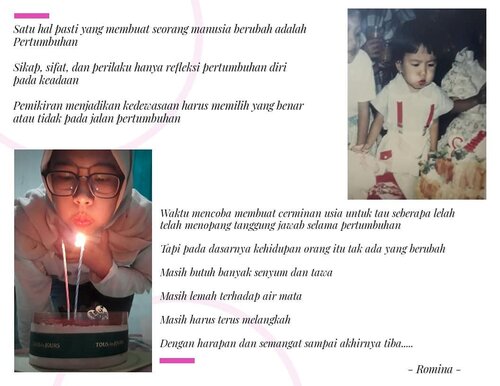 + View more details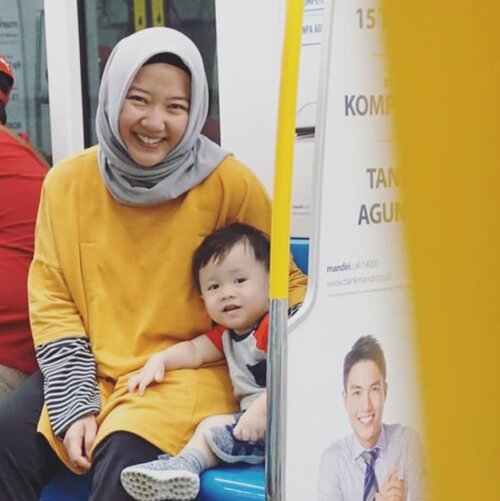 + View more details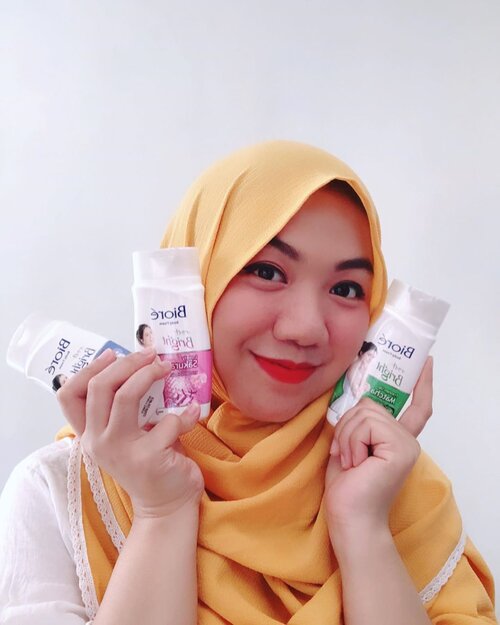 KULITMU KUSAM DAN TERASA KERING? 😩 ••••COBAIN DEH BIORE BRIGHT SERIES @id.biore @clozetteid TERBARU 🛁 Ada 3 Varian,🧴BRIGHT WHITE SCRUB ✨🧴BRIGHT FRESHEN UP MATCHA 🍃🧴BRIGHT LOVELY SAKURA 🌸•••••Aku pakai body foamnya Biore itu sudah sejak jaman childhood 👧🏻 cung yang samaan 🙋🏻‍♀️ Seiring bertambahnya usia kita, kelembapan alami kulit kita pun berkurang, belum lagi sehari-hari kita pasti pakai AC baik dirumah maupun kantor, belum lagi kita kadang telalu malas buat pakai pelembap ekstra untuk kulit badan kita. Jangan cuman muka aja yang rajin pakai skincare, badan juga harus pakai dong ❤️•••••Inovasi terbaru Japan Bright Micellar & Hyaluronic Acid, membersihkan kulit lebih mendalam dan menjaga kelembapan sekaligus mencerahkan kulit. Aku notice banget setiap abis mandi, kulitku lembab banget dan pernah ga pakai lotion seharian, ga kerasa kering yay 😍 •••••Aku pribadi suka banget Varian Bright White Scrub, karena Wanginya enak bangett dan juga ada butiran natural scrub yang sekalian mengeksfoliasi kulit jadi lebih halus, cerah, lembab 😍 ahh triple benefit yang aku dapet ❤️ karena aku suka ga ada waktu buat luluran, so for me is my fav 🧴Varian Matchanya itu enak banget jadi pengen minum ice matcha latte setelah mandi 😆 dan varian Lovely Sakura ini wangi feminim 🌸••••Kamu suka varian mana ??••••
#biorebrightxclozetteid
#biorebrightseries
#biore
#bioreid
#clozette
#clozetteid
#beauty
#skincare
#makeup
#bodyfoam
#bodywash
#selfie
#KireiBrightSkin
#CerahKenyalBercahaya
#ClozetteID
#ClozetteIDReview
+ View more details

loading ...
Back To Top