loading...
Search
37 RESULTS FOR CLEANSINGFOAM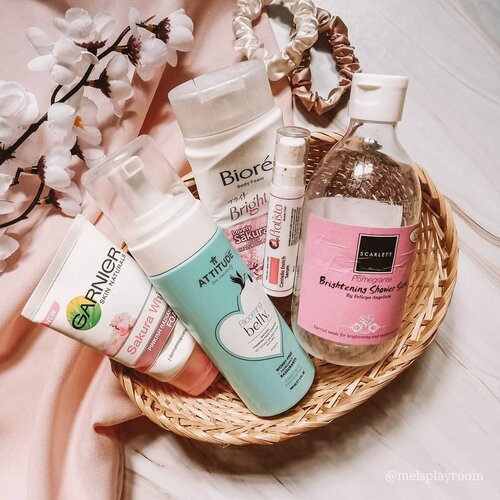 + View more details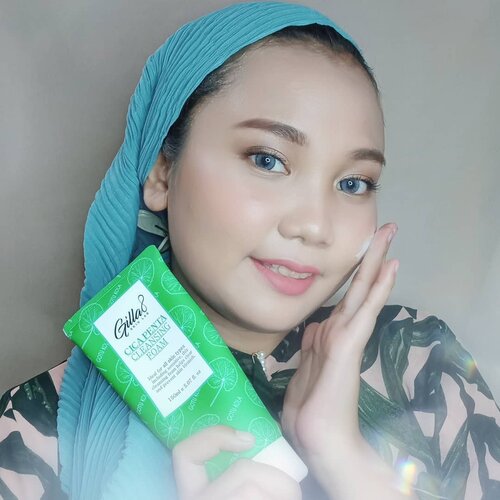 Yuhuu~ calling all 𝘾𝙞𝙘𝙖 lovers💕 Kalian wajib banget cobain skincare dari @gilla8.official ❤️❤️ @gilla8indonesia ini brand Korea namun sekarang sudah mulai masuk di Indonesia, varian produknya banyak.. Namun yang aku cobain ini yang khusus untuk kulit sensitif dan berjerawat karna mengandung bahan utama 𝘾𝙚𝙣𝙩𝙚𝙡𝙡𝙖 𝘼𝙨𝙞𝙖𝙩𝙞𝙘𝙖 ✨-Produknya adalah 𝙂𝙞𝙡𝙡𝙖8 𝘾𝙞𝙘𝙖 𝙋𝙚𝙣𝙩𝙖 𝘾𝙡𝙚𝙖𝙣𝙨𝙞𝙣𝙜 𝙁𝙤𝙖𝙢🍀 Manfaatnya banyak banget! yaitu untuk melembabkan kulit, menenangkan kulit yang iritasi dan mengatasi jerawat❣️ Cocok untuk semua jenis kulit bahkan untuk kulit sensitif. Tekstur foamnya creamy, busanya gak begitu banyak, wangi lime nya menyegarkan ~~ Hasilnya bikin kulitku jadi lebih lembab, fresh dan mengurangi minyak berlebih 😍-Ohiya kalau kalian penasaran sama Cleansing Foam ini, Yuk buruan beli di 𝗖𝗵𝗮𝗿𝗶𝘀 𝗦𝗵𝗼𝗽 aku ~~ lagi ada diskon menarik loh ➡️
https://hicharis.net/anisa/Kc4
--
#charis
#charisceleb
#gilla8
#cicapentacleansingfoam
#cleansingfoam
#cica
#cicaseries
#cicacleanser
#purifypores
#centellaasiatica
#skincarereview
#clozetteidPs.
Abaikan Jepitan wkwk 😜

+ View more details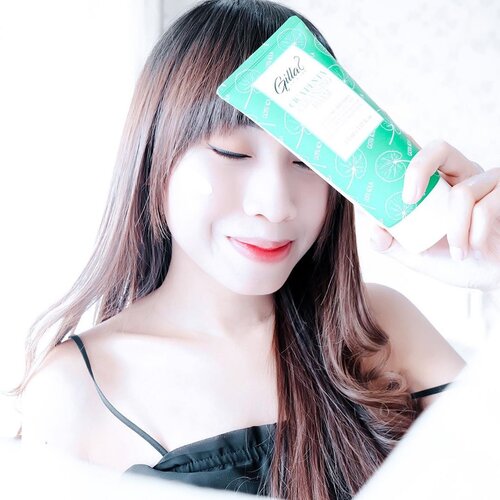 + View more details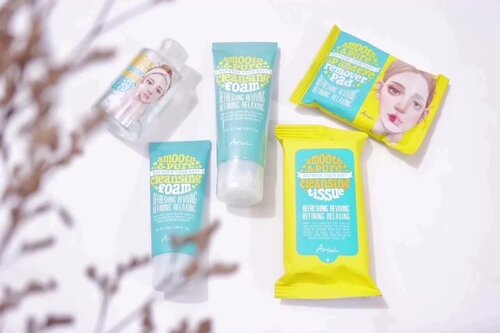 Hi guys kalian udah pada tau Ariul belum? Nah buat yang belum tau, Ariul adalah Brand skincare asal Korea yang di produksi oleh C&Tech Corporation. .
Setiap produk dari Ariul mengandung bahan-bahn alami yang dipercaya dapat membantu secara efektif memulihkan kesehatan kulit, serta melindungi kulit yang stres karena kehidupan sehari-hari dan juga polusi.
.
Baru-baru ini Ariul mengeluarkan produk barunya, yaitu rangkaian pembersih wajah 𝗔𝗥𝗜𝗨𝗟 𝗦𝗠𝗢𝗢𝗧𝗛 𝗔𝗡𝗗 𝗣𝗨𝗥𝗘 yang terdiri dari
✔️𝙼𝚒𝚌𝚎𝚕𝚕𝚊𝚛 𝚆𝚊𝚝𝚎𝚛
✔️𝙵𝚊𝚌𝚒𝚊𝚕 𝙵𝚘𝚊𝚖
✔️𝙲𝚕𝚎𝚊𝚗𝚜𝚒𝚗𝚐 𝚃𝚒𝚜𝚜𝚞𝚎
✔️𝙻𝚒𝚙 𝚊𝚗𝚍 𝙴𝚢𝚎 𝚁𝚎𝚖𝚘𝚟𝚎𝚛
Keempat produk ini dapat membuat kulit bersih dan membuat kulit lebih lebih lembab serta serangkaian produk ini memiliki aroma citrus yang sangat menyegarkan.
.
So jangan lupa bersihkan wajah kalian ya walaupun
#DiRumahAja.
Aku punya 𝒕𝒊𝒑𝒔 𝒎𝒆𝒎𝒃𝒆𝒓𝒔𝒊𝒉𝒌𝒂𝒏 𝒘𝒂𝒋𝒂𝒉 𝒚𝒂𝒏𝒈 𝒑𝒓𝒂𝒌𝒕𝒊𝒔 dengan produk Ariul Smooth and Care ini, yaitu Removes Lip & Eye Makeup, kemudian Micellar Water atau cleanshing sheet, dan Cleansing Foam. Untuk Cleansing Sheet tidak perlu usap dengan keras ya sehingga kulit lebih terjaga dan tidak gampang iritasi. .
Yang penasaran sama produknya bisa beli di 𝗦𝗼𝗰𝗶𝗼𝗹𝗹𝗮, 𝗚𝘂𝗮𝗿𝗱𝗶𝗮𝗻, 𝗪𝗮𝘁𝘀𝗼𝗻𝘀, 𝗔𝗹𝗳𝗮𝗺𝗮𝗿𝘁, 𝗜𝗻𝗱𝗼𝗺𝗮𝗿𝗲𝘁, 𝗱𝗮𝗻 𝗧𝗼𝗸𝗼 𝗞𝗼𝘀𝗺𝗲𝘁𝗶𝗸 𝗱𝗶 𝗞𝗼𝘁𝗮 𝗸𝗮𝗹𝗶𝗮𝗻.
.
@ariul_id @sociolla @beautyjournal
.
#WaktunyaAriul
#Ariul
#Ariul_Id
#AriulID
#Sociolla
#BeautyJournal
#SBN
#CleansingFoam
#ClozetteID
#BeautyBlogger
#KBeauty
#KBeautyProduct
#ariulbeauty
#ariulcleansingfoam
#koreanproduct
#koreabeautyproduct
#skincare
#makeup
#m
#skincarereview
#skincarereviewindonesia
#skincarereviewmalaysia
#AriulDimanamana
+ View more details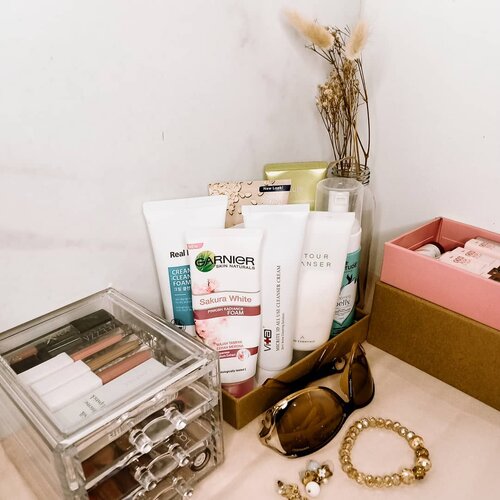 + View more details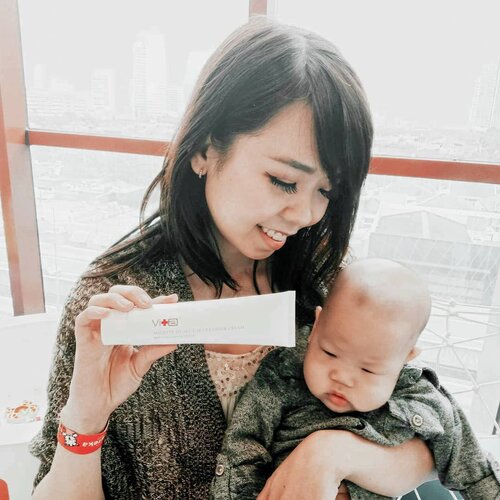 Kalau punya anak, apalagi masih bayi, kita pun sebagai ibu juga masih harus selektif dalam memilih produk skincare. Makanya aku selalu cari skincare yang kandungannya nggak cuma ramah di kulit aku, tapi juga aman ketika kulit kita bersentuhan dengan si bayi.Sekarang ini aku lagi pakai produk cleanser cream dari @swissvita.id yang aman untuk bumil-busui, termasuk yang punya kulit sensitif juga.Cleanser cream ini dikemas dalam bentuk tube panjang dan sekilas mungkin bisa kesaru sama pasta gigi ya 🤭. Tapi tipe kemasan tube begini justru paling aman dibawa travelling menurutku. Selain itu, teksturnya yang berupa creamy paste juga lembuttt banget. Berasa pas dibusakan dan diusap ke wajah.Sabun ini punya kandungan utama glycolic acid untuk membantu mengangkat sel2 kulit mati yang tersisa di wajah. Masih ada ekstrak Biji Moringa yang dapat membersihkan secara intensif dan melindungi kulit dari polusi sehari-hari. Lalu ada AC-11 untuk merevitalisasi kulit dan Polisakarida Mikroba Laut (Abyssine™) menenangkan dan melindungi kulit sensitif.Oh ya, produk asal Taiwan ini juga less aroma lho. Hampir nggak ada kecium aroma apapun. Terus setelah cuci muka pakai sabun ini juga nggak ada tuh sensasi kering atau ketarik. Kalem aja gitu kulit aku jadinya, selain jadi lebih bersih pastinya ya.Meski di produk ini ada keterangan 3in1 acne clearing solution, sebenarnya Swissvita masih punya 1 lg sabun yang memang khusus acne prone skin dengan kandungan utama salicylic acid yang emang bertugas membasmi jerawat.Kalo tanggapan suami, dia sih seneng banget karena aku bisa paham skincare dan memilih produk terbaik yang aman buat anak2 juga. Thank you Swissvita!
#BloggirlsidxSwissvita
#BecauseYouMatter
#SwissvitaCleanser
#SwissvitaSolutionForYourSkinConcern
#BloggirlsID
#BloggirlsidReview
#cleanser
#cleansingfoam
+ View more details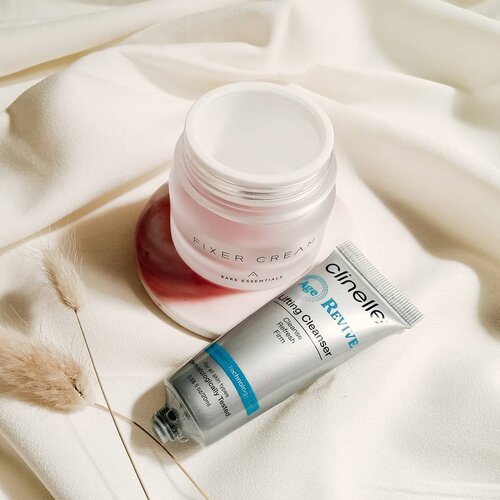 + View more details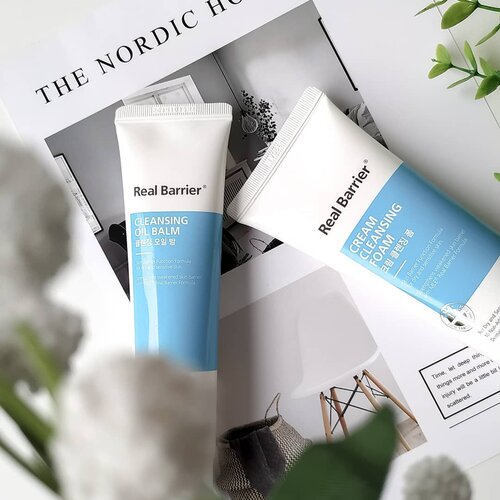 As you know, a few days ago I received @realbarrier products as @stylekorean_global Try Me Review Me program. So, I will start to review their cleansing products first.
.
💙 Cleansing Oil Balm : An easy-to-use first cleansing, the texture is similar to a melting balm, sometimes I found the hardened texture like balm. With 100% natural fragrance of bergamot, marjoram & chamomile oil, it's smell like fresh citrus. Formulated with patented ceramide complex & natural oils, leaves the skin hydrated after cleansing. The tube-shaped packaging makes it cleaner and easier to use.
.
💙 Cream Cleansing Foam : A creamy, acid balanced moisturizing cream. As its name, this product has a creamy texture that produces very soft foam. The smell is a blend of fresh citrus and lavender, you can see on the ingredients list there are Lavender Oil & Lemon peel oil. Contains wheat sprout extract & spirulina to help relax sensitive skin. I also saw Madecassoside & Centella Asiatica on the ingredients list, both are my sensitive skin fav!
.
I use both of these products in my pm routine, while for am I only use Cream Cleansing Foam. Both of these product work very well together, they clean makeup and dirt well and keep my skin hydrated after cleansing. But ... I don't know why I feel the stripping sensation every time I use Cream Cleansing foam myself in the am routine, it even tends to make my skin dry. So I decided to only use it in my pm routine along with Cleansing Oil Balm, and for am I used my old Cleansing wash. For the Cleansing Oil balm, I have no complaints, I like it! So far, these products didn't break me out so I will continue to use both the products.
.
.
You can buy these product at @stylekorean_global
.
#stylekorean
#stylekorean_global
#realbarrier
#TrymeReviewme
#skincare
#dryskin
#dehydratedskin
#kbeauty
#skincareroutine
#skincarediary
#skincarelover
#skincarecommunity
#beauty
#beautycommunity
#clozetteID
#beautyblogger
#sensitiveskin
#dryskin
#skinbarrier
#koreanbeauty
#cleansingoilbalm
#creamcleansingfoam
#hydrating
#facecleanser
#cleansingfoam
#firstcleansing

+ View more details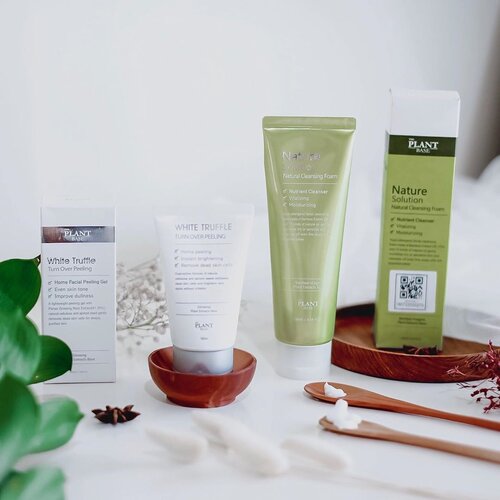 + View more details

loading ...
Back To Top