loading...
Search
3 RESULTS FOR CLEANSINGSTEP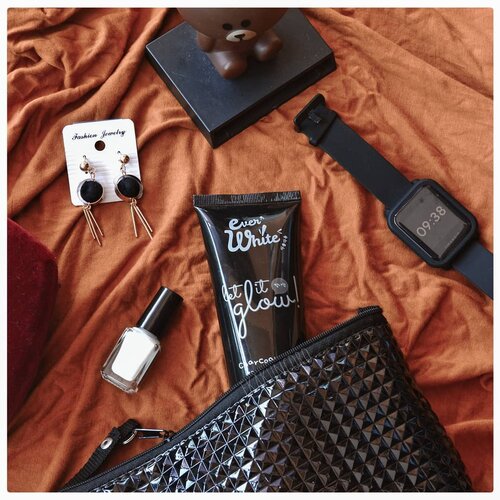 + View more details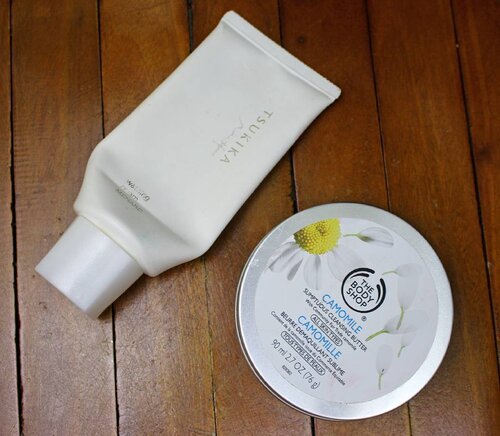 I'm confusing which ones should take place them. Both will run out soon😕
1. I like Tsukika
#menard
washing cream. This is a unique type of face cleanser. You should make the big buble after that you can enjoy your time washing your face without touch your skin. Your hand only touch the bubles. You need a net for making the buble. I can enjoy making the buble if I hv enough time, but if im in hurry situation that isnt enjoyable anymore. I love how smooth it's in my skin. It cleans my makeup without giving me tight sensation. My skin feel fresh, clean and moisture after that. If you dont clean your foundation well before you can see the buble turn into foundation/bb cream shade. I use it as 2nd cleanser.
2.
#thebodyshop
camomile cleansing butter. I love how cleansing butter works. It makes makeup melt by themself and after than I just wash off with water. It can't clean a waterproof makeup like mascara and its quite hard to remove heavy eye makeup. But, I usually clean my eye before it. I prefer cleansing butter than makeup remover or cleansing milk or cleansing lotion. I dont need to spent a lot of cotton. But now, this has already hit the pan😧
.
.
.
.
.
.
.
.
.
.
.
.
#skincareroutine
#cleansingstep
#beautyblogger
#beautyvlogger
#indonesianbeautyblogger
#skicaretips
#clozetteID
#ofisuredii

+ View more details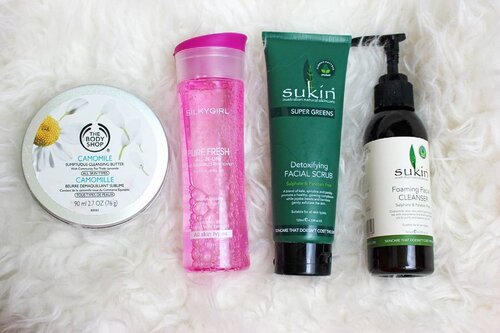 Have you heard about double cleansing?
I did that too but I think I used more than 2 product for cleansing:
1. I will remove my mascara and lipstick with makeup remover. This night I used
#silkygirl
pure fresh gel makeup remover. To be honest it's only nice for eye and lips. For whole face, it didn't take anything *meh
Sometimes, i use micellar water
2. I rarely used bb cream or powder fr everyday but I use waterproof sunscreen so I think I still need cleansing product that can take my sunscreen off. Tonight is time to play with
#thebodyshop
camomile cleansing butter. Im not fan of cleansing butter btw, It's little bit gross when you take the product with your hand.
I will try cleansing oil soon😄
3. The last is cleansing foam. Today I used
#sukin
foaming facial cleanser. Because they claim
#sukin
is 100% vegan and carbon neutral, its comforting my skin. It doesnt really amazing. It smells a real aloe but it doesnt foamy or give tight effect after cleansing. It has ternifolia seed oil, rose hip oil and primerose oil, giving me a positive suggestion for my skin *lol
4. It isnt part of cleansing but I love to add scrubing into my routine. I'm not scrubing everyday but I do it oftenly. I dont suggest you to do it oftenly if your scrub is harsh.But sukin has very gentle scrub which I think It would make my skin breakout if I did that oftenly.
.
.
.
.
.
.
.
.
.
#cleansingsteps
#doublecleansing
#skincareroutine
#nightskincare
#beautyblogger
#cleansingbalm
#cleansingoil
#facialfoam
#scrub
#indonesianbeautyblogger
#ofisuredii
#clozetteID

+ View more details

loading ...
Back To Top