loading...
Search
334 RESULTS FOR COCONUT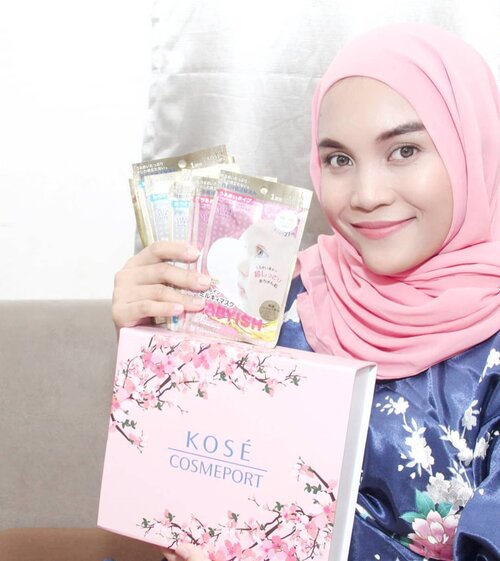 𝙈𝙖𝙨𝙠 (𝘾𝙡𝙚𝙖𝙧 𝙏𝙪𝙧𝙣 𝙋𝙧𝙚𝙘𝙞𝙤𝙪𝙨 𝙎𝙚𝙧𝙞𝙚𝙨)@kosecosmeportidSheet Mask dengan kandungan 3 jenis minyak (Virgin coconut, Argan, Baobab) dapat melembabkan. Masker kaya bahan pelembab lainnya dan dapat digunakan sehari-hari....- Clear Turn Precious A (Pink): Hyaluronic Acid, lipidure, Asam amino serta Glycerin untuk melembabkan. - Clear Turn Precious B (Gold): Collagen, Madu, Amino acid, dan Glycerin untuk melembabkan. - Clear Turn Precious C (Blue): Vitamin C sebagai antioksidan, dan Amino acid, Glycerin untuk melembabkan...Sudah tersedia di @watsonsindo
https://www.watsons.co.id/search?text=KoseNantikan
cerita di Blog Mam, cara penggunaan dan manfaat lainnya masker 100% made in
[email protected]
#EverydayBeauty
#MaskeranWithClearturn
#BersihPakaiSoftymo
#Kosecosmeportid
#ClozetteID
+ View more details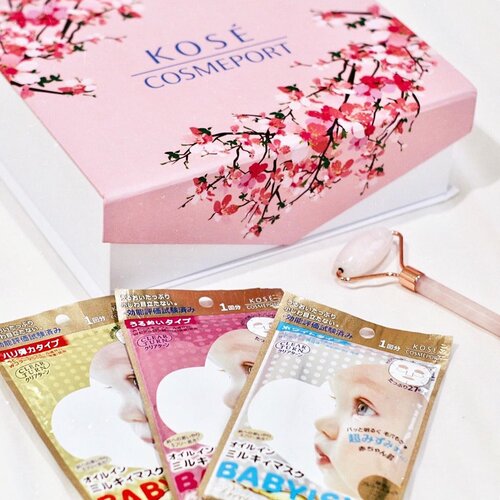 @kosecosmeportid Clear Turn Precious Series Mask 🌸.• Currently loving this sheet mask from Kosé Cosmeport Clear Turn Precious Series 💕.Mengandung 3 jenis minyak ( virgin coconut, argan & baobab ) dengan fungsi utama untuk melembabkan.•Comes in 3 types :🌸 Clear Turn Precious A ( pink ).dengan kandungan hyaluronic acid, lipidure, asam amino serta glycerin untuk melembabkan.🌸 Clear Turn Precious B ( gold ).dengan Collagen sebagai kandungan utamanya, madu, amino acid dan glycerin untuk melembabkan.🌸 Clear Turn Precious C ( white )memiliki kandungan Vit C sebagai antioksidan, amino acid dan juga glycerin untuk melembabkan.• My favourite is Clear Turn Precious B, which one is yours ? ☺️Get yours at @watsonsindo
[email protected]
#EverydayBeauty
#Maskeranwithclearturn
#Kosecosmeportid
#ClozetteID

+ View more details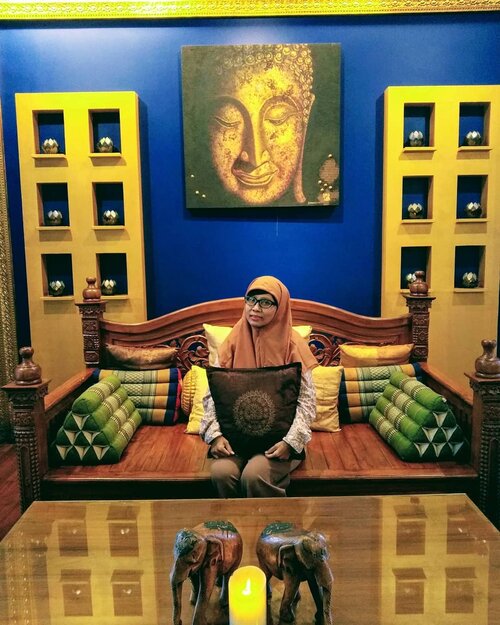 Happy weekend 🥰
Awalnya daku berniat weekend siang ini menyelesaikan tugas tulisan2 dan nulis artikel ttg tempat2 makan "all you can eat" selama di Thailand lalu.
Eh, baru buka smartphone, ternyata ada yang nawarin or ngajak lunch bareng di Tamnak Thai Menteng 😍
Jadilah kami berempat lunch disana sambil bahas rencana libur akhir tahun 🥰
Sepertinya baru kali ini nih daku makan di resto Thailand tanpa pesan Tom Yum Soup 😅 Pesen supnya : Chicken Coconut Soup macam kuah lodeh gitu deh... 😊
#balqis57kuliner
#restaurant
#thaifood
#foodblogger
#foodie
#weekend
#asianfood
#clozetteid
+ View more details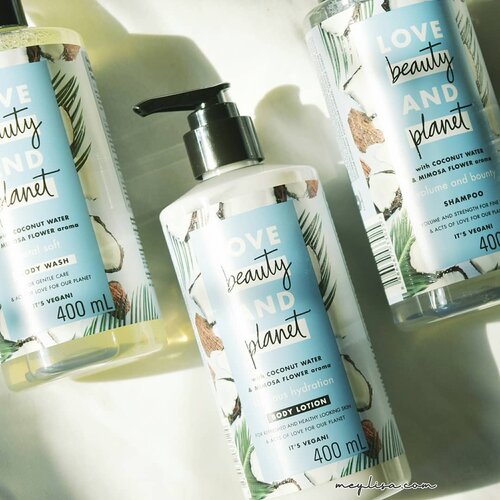 Mini Review: Love Beauty and Planet with Coconut Water and Mimosa Flower
.
.
Brand yang baru-baru ini menghebohkan dunia perskinkeran, ternyata keluaran perusahaan Unilever beb 👌Klaimnya produk ini adalah produk vegan, botolnya 100% dari plastik daur ulang, mengandung minyak kelapa organik, dan tidak diujicoba pada hewan. .
.
Diantara 4 variannya, aku pilih yang warna biru "Coconut Water & Mimosa Flower". Seneng banget produk yg ada coconutnya tapi aromanya gak eneg kayak santan gitu, justru aromanya cenderung manis creamy.
.
.
Ada yang sudah coba? .
.
🌴Packaging: 400ml / 200ml recycled plastic bottle. Worth to buy, but not for travel use. 🌴Quality: soft aroma, organic ingredients, tanpa bahan pewarna. 🌴Price : +/- IDR 50.000
Beli di? Guardian, shopee
#fotdibb
#bbloggerid
#indobeautygram
#clozetteid
#fdbeauty
#indobeautyblogger
#indonesianbeautyblogger
#BPers
#Beautiesquad
#bloggerceriaID
#bloggerceria
#bloggerperempuan
#fotdibb
#indonesianfemaleblogger
#beautybloggerID
#bblogger
#bloggerjakarta
#femalebeautyblogger
#indonesianfemalebloggers
#hijabblogger
#hijabblog
#bloggerhijab
#hijabstyle
#hijaboutfit
#hijabclubindo
@indobeautyblogger @bloggerperempuan @femalebloggersid @bloggerceriaid

+ View more details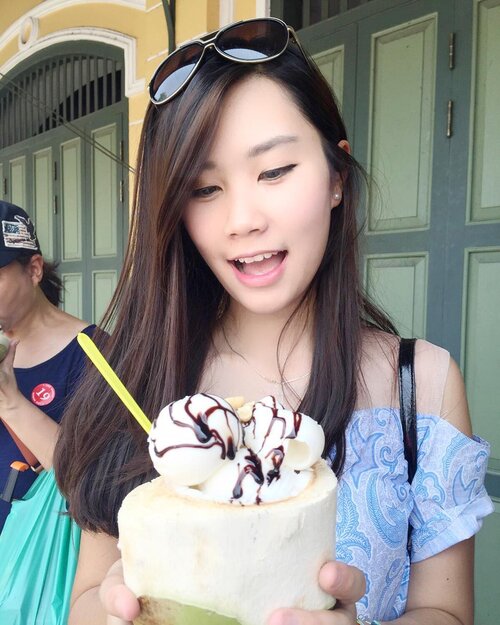 + View more details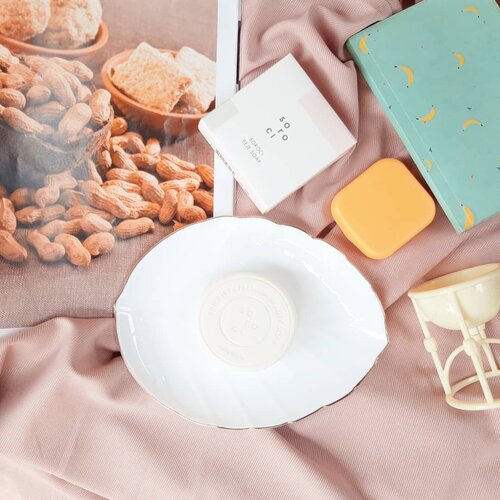 Happy Texture Tuesday ☀️💕
Good Skin
Good Mood
Good Day
~~
I have posted a review about Soroci Calming Essence, and now its time for Eeje Soap review.
I honestly never use beauty bar or soap before. So this is my first time. Im so excited to try this as a cleanser 💕
~~
Soroci's Eeje soap contains selected pure herbs to help maintain healthy and bright skin. Eeje soap foams into creamy light bubbles naturally from the premium coconut oil within the soap. It removes dirt, dead skin, and sebum for clearer skin. It leaves softness for skin. It comes in round shape of soap and printed letters on the surface.
~~
Ingredients
Cocos Nucifera (Coconut) Oil, Glycerin, Citrus Paradisi (Grapefruit) Fruit Extract, Algae Extract, Glycyrrhiza Glabra (Licorice) Root Extract, Sophora Flavescens Root Extract, Ulmus Davidiana Root Extract, Paeonia Lactiflora Extract, Castanea Crenata (Chestnut) Shell Extract, Prunus Armeniaca (Apricot) Kernel Extract, Tocopherol
(Love its ngredients!)
~~
This soap works well to clean the dirt on my face. The scent is a lil bit strong, but the fragrance comes from natural ingredients, so no need to worry. It smells like flowers. The foam that is produced from this soap is also quite a lot and after being rinsed I don't feel my face dry or tight feel like that. My face feels clean and soft. As a second cleanser, this soap is also good. Overall, I like this soap because it doesn't make my face dry or feeling tight. Good for cleaning up dirt on my face ☀️💕
.
.
#clozetteid
#beauty
#soconetwork
+ View more details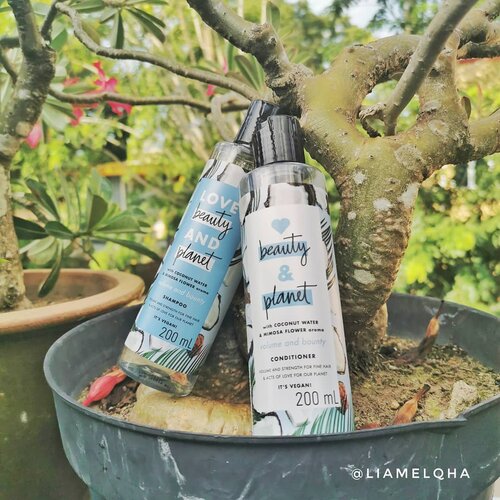 Love Beauty and Planet Coconut Water and Mimosa Flower Aroma Shampoo and Conditioner (Volume and Bounty).
#SOCOBOX
dari @
[email protected]
@lovebeautyandplanet_id Shampoo dan Conditioner ini memiliki aroma kelapa dengan sedikit hint citrus. Kemasan 200ml ini nggak gampang tumpah dan sticker plastiknya ada embosnya. ini cocok di rambutku yang sudah dibleach. Nggak bikin rambut makin kering.Shampoonya di aku termasuk lumayan banyak busanya dan conditionernya bisa melembabkan dan melembutkan rambutku. Padahal sebelumnya aku harus menggunakan masker rambut. Yang bikin makin cinta, kombinasi kedua shampoo dan conditioner ini nggak bikin rambut lepek. Sesuai dengan fungsinya 'Volume and Bounty', meskipun rambutku masih basah habis keramas, rambutku nggak lepek. Pas udah keringpun tetap bervolume.Produk
#lovebeautyandplanet
ini:- YES VEGAN- YES This Bottle is Made from 100% Recycled Materials- YES 95% Biodegradable Formula- YES Natural Coconut Water- YES Ethically Sourced Rose- YES Organic Coconut Oil- YES with Plant Based Ingredients*- YES Not Tested on Animals- NO added Siliocnes- NO Added Parabens- NO Added Dyes- NO Guilt*cleansersCerita tentang 2 foot terakhir cek stories/highlight
#socoboxxlbp
😘
#SociollaBlogger
#sociollabloggernetwork
#ClozetteID
#hairproducts
#bleachedhair
#veganshampoo
+ View more details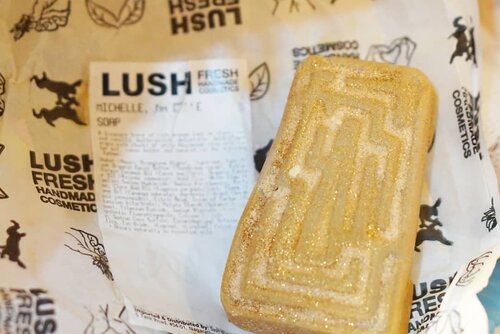 Michelle, Ma Belle! We choose this one for the glitters 😍 and smells so gorgeous too. "these are words that go together well. Just like our spicy clove and ylang ylang combine to create a sweet and tasty aroma. Cocoa butter and coconut oil hydrate your skin, while baking soda works for an extra softening effect. Your soft, smooth, supple skin is finally garnished with a subtle sparkle to dazzle.
How to use: Lather up, smooth all over your body and let the glitter and warm take over. When you're ready, rinse off and marvel at the sparkle.
#naturalskincare
#love
#naturalsoap
#nature
#bodycleanser
#lush
#bodysoap
#glitters
#sparkle
#Clozetteid
#igdaily
#bblogger
#igbeauty
#beauty

+ View more details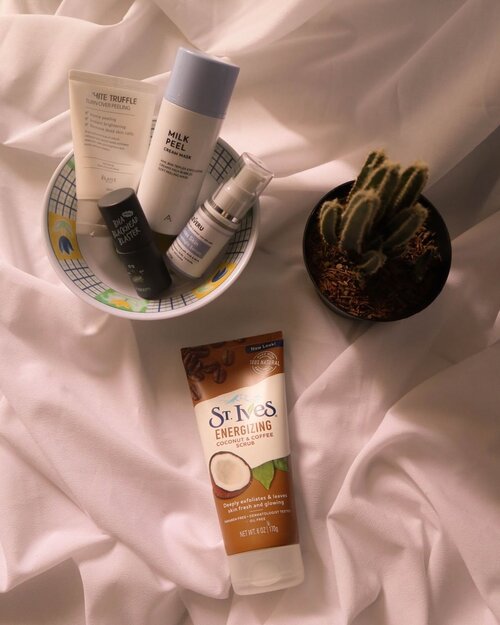 🌵EXFOLIATION🌵⠀⠀⠀⠀⠀⠀⠀⠀⠀⠀⠀⠀⠀⠀⠀⠀⠀⠀Salah satu step penting dalam rutinitas skin care adalah eksfoliasi. Step ini penting karena fungsinya melenyapkan sel-sel kulit mati. Bisa dengan cara chemical atau physical.⠀⠀⠀⠀⠀⠀⠀⠀⠀⠀⠀⠀⠀⠀⠀⠀⠀⠀Produk-produk eksfoliator yang sedang saya pakai ada di foto.⠀⠀⠀⠀⠀⠀⠀⠀⠀⠀⠀⠀⠀⠀⠀⠀⠀⠀@theplantbase_id White Truffle Turn Over Peeling: ini peeling gel, physical. Scrub-nya nggak bikin iritasi. Review lengkap sudah ada di
#JurnalSaya
⠀⠀⠀⠀⠀⠀⠀⠀⠀⠀⠀⠀⠀⠀⠀⠀⠀⠀@kleveruorganics Glass Skin Overnight Serum: chemical exfoliator yang cukup mild. Pakai AHA & BHA tapi nggak ngerti berapa persentasenya.⠀⠀⠀⠀⠀⠀⠀⠀⠀⠀⠀⠀⠀⠀⠀⠀⠀⠀@stivesskin @stivesindonesia Energizing Coconut & Coffee Scrub: ini wanginya enak banget, tapi scrub-nya sayang banget nggak compatible dengan kulit wajah saya. Jadi saya pakai buat badan.⠀⠀⠀⠀⠀⠀⠀⠀⠀⠀⠀⠀⠀⠀⠀⠀⠀⠀@altheakorea Milk Peel: ini clay mask yang jadi bubble-bubble setelah didiamkan. Pernah saya bahas di highlight.⠀⠀⠀⠀⠀⠀⠀⠀⠀⠀⠀⠀⠀⠀⠀⠀⠀⠀
#AltheaAbloom
Blackhead Blaster: scrub stik yang ada kandungan charcoalnya, cukup oke buat scrubbing muka.⠀⠀⠀⠀⠀⠀⠀⠀⠀⠀⠀⠀⠀⠀⠀⠀⠀⠀
#ClozetteID
#flatlayskincare
#skincarejunkie
#chemicalexfoliator
#facescrub
#beautywriter
#beautybloggersemarang
#beautiesquad
#altheaangels
+ View more details

loading ...
Back To Top