loading...
Search
17 RESULTS FOR COMBINATIONSKIN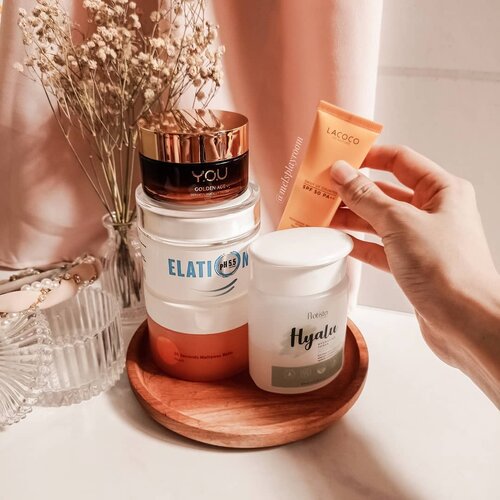 + View more details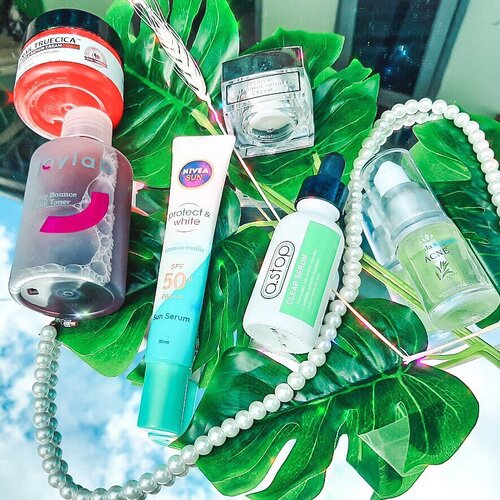 ❤️
@beautefemmecommunity presents : " Skincare Collaboration"🍃🍃
.
.
.
Ini rekomendasi aku untuk kulit wajah yang kombinasi ya :)
Kulit wajah kombinasi yaitu kulit yang punya 2 tipe , Oily-Dry .
Skincare di foto ini aku pakai dalam keseharian ku, jadi ini yang Work di aku :)
.
Product :
💕Berry Bounce Toner @joylabbeauty
Hmmm aromanya bener2 Berry banget, aku sampe sesuka itu nyium2nya , warnanya juga unik (ungu) dan packaginnya juga safe buat dibawa kemana2 karena anti pecah, tutup nya model putar gitu, jadi ga bakal terbuka sendiri :)
.
Kalau dipakai, toner ini auto buat kenyal deh wajah dan juga ada efek calm nya , gampang meresap dan safe for sensitive skin .
Aku udah pakai beberapa minggu ,
Dan cocok di aku ! ❣️
.
.
💕 Clear Serum @acne_stopper
Nah kalau yang ini udah hype karena kemampuan nya yang menghilangkan jerawat , karena penasaran aku coba dong sewaktu diskon kwkwkw ,
Tekstur nya agak cair gitu, dan seperti ada emas2 nya gitu , jadi terkesan mewah isinya , packaging nya dari kaca tebal , dan model pipet , jadi higienis dong .
Sewaktu pake ini, kulit aku yg tadi nya Oily bisa kalem gitu , minyak nya ga keluar dong :)
Hehehe
Mmg harganya agak mahal, Tp ini Work banget untuk Oily dan acne prone ❣️
.
.
💕 Acne Essence @skinexpert.id
Nah ini kandungan utamanya adalah Cica , yang sebagus itu untuk kulit terutama jerawat , aku pakai ini 2x hari sehari dan ngebantu 2 skincare aku yang tadi menjadi lebih Work, aman untuk semua kulit dan teksturnya agak kental , dan lengket , tapi ttp enak dipakai , packaging nya juga dari kaca tebal jadi ga gampang pecah dong kecuali sengaja di pecahkan:)
.
.
💕Miracle Repair cream Snail @somebymi
Nah yang ini aku pakai setelah ketiga skincare aku diatas sebagai pelembap , jadi kulit ku bakal tetap lembab (bukan berminyak) , dan juga dia berfungsi mencerahkan dan menghilangkan flek , cocok di kulit yang kombinasi , tekstur nya kyk lendir gitu, tapi ga lengkap cepat banget meresap , ini yang buat aku suka juga selain hasil nya :)
.
.
#sambung
di komen
.
#beautefemmecommunity
#beautefemmecollab
#skincare
#collab
#normalskin
#dryskin
#oilyskin
#acneskin
#combinationskin
#clozetteid
#clozette

+ View more details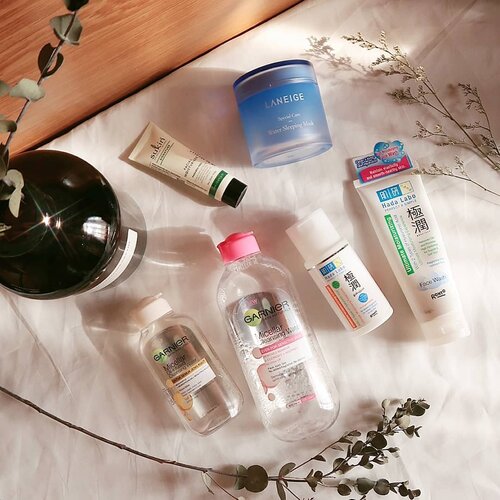 + View more details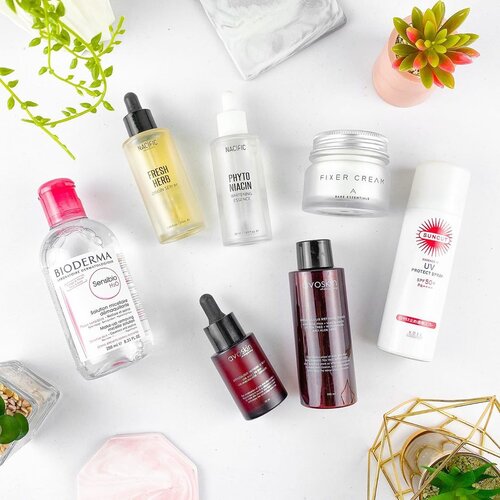 @beautefemmecommunity presents : " Skincare Collaboration"
Jadi aku mau share produk skincare apa aja yg kupakai untuk jenis kulitku yg tipenya kombinasi-sensitif. Oya, karakter kulitku itu rentan whiteheads di area selain hidung (akibat clogged pores), mudah kusam dan bekas jerawat susah hilang. Produk yg kupakai antara lain:
___
- @bioderma_indonesia Sensibio H2O
Ini micellar andalanku. Sejak pakai micellar ini kulitku jadi jarang muncul whiteheads. Karena kulitku sensitif, aku nggak bisa sering-sering pakai face wash jadi aku selalu mengandalkan micellar. Aku pakai ini untuk pengganti toner juga.
- @nacificofficial.id Fresh Herb Origin Serum
Aku pakai serum ini di malam hari karena hasilnya glowing. Kalau kulitku udah keliatan kuyu dan kusam, pakai ini besoknya jadi keliatan plump dan kenyal lagi. Kalau pakai rutin kulit kelihatan sehat banget.
- @nacificofficial.id Phytoniacin Serum
Serum ini kupakai di pagi hari karena teksturnya lebih ringan. Sejauh ini, serum ini yg efeknya paling cepat terlihat hasilnya. Bekas jerawat dan tone kulitku mencerah cuma dalam waktu sekitar 1 minggu. Aku udah pakai serum ini udah 2 tahun dan masih jadi favorit.
- @altheakorea Fixer Cream
Cream ini nggak clogged pores dan hasilnya glowing natural. Dipakai jadi base makeup jg bagus banget. Sesuka itu.
- @kosecosmeportid Suncut UV Protect Spray
Sunscreen ini yg paling nggak clogged pores di kulitku. Setelah spray biasanya tetep aku ratain lagi pakai tangan supaya beneran rata. Tipenya spray jadi bisa dipakai di badan juga.
- @avoskinbeauty Miraculous Refining Toner & Serum
Jadi kalau pakai ini, serum lain+cream aku skip. Biasanya aku pakai 2-3 kali seminggu di malam hari aja. Kadang juga aku pakai kalau kulit udah keliatan kusam, gampang minyakan dan banyak komedonya. Sejak pakai ini aku udah jarang pakai peeling scrub lagi.
_____
Dan ini teman-teman aku dari @beautefemmecommunity yang 1 tipe kulit sama aku:
1. @inegunadi
2. @prillistyy
3. @nanasmilala
4. @ayuthiacv
5. @hincelois_jj
.
Stay tuned for more fun collabs from us!
#beautefemmecommunity
#beautefemmecollab
#skincare
#collab
#normalskin
#dryskin
#oilyskin
#acneskin
#combinationskin
#beauty
#clozetteid
+ View more details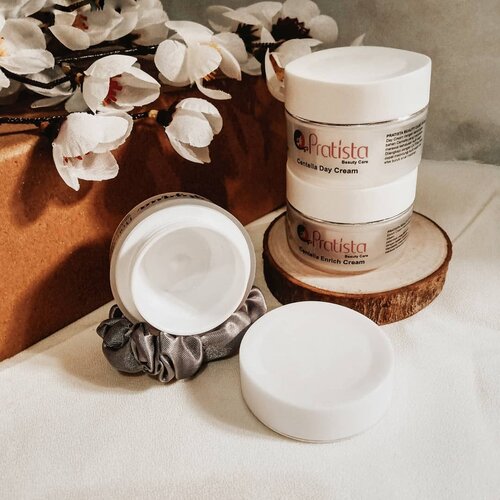 + View more details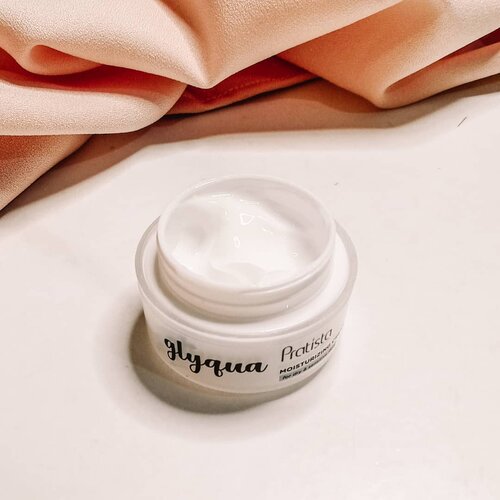 + View more details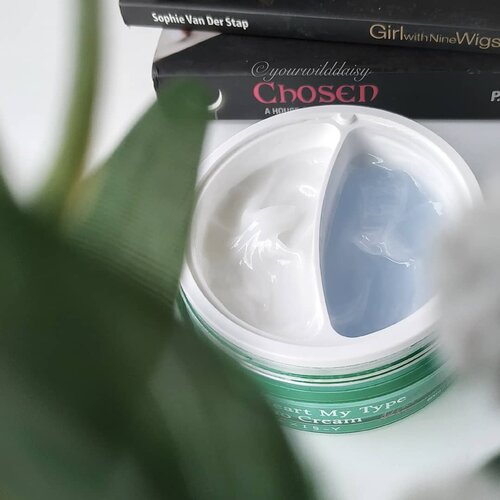 Have a nice weekend everyone ❤ how was your Valentine's day? Yesterday I only spent my time at home, no chocolate no flowers, how sad 😂 but no, I'm not sad!
.
Today I'd love to review a products that have become my favorite lately. Have you ever imagined 2 types of cream in 1 jar? it's Axis-Y Cera-Heart My Type Duo Cream. Consists of 2 types of cream for dry and oily skin areas, sounds very good for those who have combination skin right?
.
🌿 Heartleaf T-Zone Cream
This cream is formulated for oily skin areas. Contains heartleaf which hydrates oily skin. The cream color is bluish and has a gel texture, lightweight and easy to absorb. The smell is quite refreshing and soothing.
.
🌿 Ceramide U-Zone Cream
This cream is formulated for dry skin areas. Contains ceramide that nourishes dry skin. The texture of the cream is thicker than T-cream, has milky white color. Feels rich and very moisturizing.
.
Even though the name is T & U - Zone cream it doesn't mean you have to use it for T or U zone, it can be used as needed. Many people have T-zones are more oily and U-zones are drier, but in my case it's the opposite. I have drier T-zone sometimes even appears dry patches, while my U-zone is oily. So, I use U-Zone cream for my T-zone and T-Zone cream for U-zone.
.
After using it for a month I can say that this is the best cream for my combination skin! The U-Zone cream is able to deal with dry patches on my nose and chin area. While the T-Zone cream even thought has a light texture but is able to provide good hydration for my oily skin area.
.
If you have combination skin, you must try this cream!
.
.
.
Where to buy? @beautyglowing
.
.
#axisy
#axisyindonesia
#moisturizer
#combinationskin
#kbeauty
#koreanbeauty
#kskincare
#koreanskincare
#clozetteID
#bloggirlsid
#kbbvmember
#beauty
#beautyblogger
#beautyreview
#beautycommunity
#skincare
#skincarereview
#skincarecommunity
#skincareroutine
#skincarediary
#skincarelover
#glowingskin
#glowskin
#acneproneskin
#antiacne
#acne
#sensitiveskin
#acnetreatment

+ View more details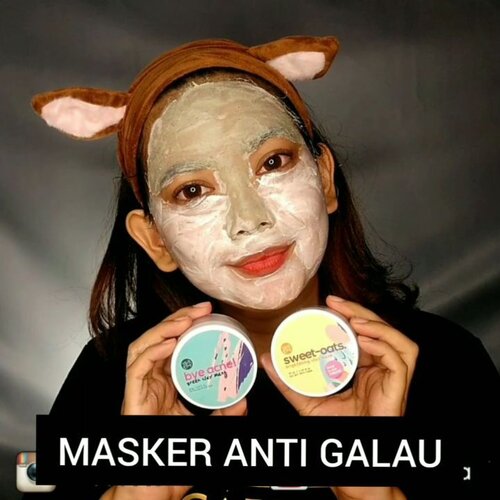 Galau pilih masker yg cocok? Daerah dahi sama hidung berminyak tapi sisa nya kok kering? Itu namanya kulit kelyan jenis nya kombinasi guys.. Kulit kombinasi itu daerah T zone nya (dahi & hidung) itu berminyak, tapi sisanya kering (pipi, dagu, sisanya lah)
.
.
Trus kalo kayak gitu jadi bingung ga sih mau maskeran pake apa? Pake clay mask takut daerah kulit kering nya makin kering. Tapi mau pake hydrating mask juga takut kulit berminyak nya kurang cocok. Solusi nya adalah multimasking!
.
.
Apa sih multimasking? Jadi multimasking adalah penggunaan masker dengan 2 jenis yg berbeda atau lebih. Disini aku pake Clay Mask nya @kleiandclay
.
.
💀Bye Acne Green Clay Mask💀
For normal to oily skin
Netto 70gr
Rp 115,000
ini aku pake di daerah T zone aku aja karena produksi minyak nya lebih banyak di daerah sana, apalagi di hidung. Teksturnya encer gitu kek bubur nestle. Kayak bubuk sama airnya ga nyatu gitu kudu diaduk dulu (?) Mengandung French Green Clay & Tea Tree Oil yg bagus untuk menyembuhkan jerawat & menghilangkan blackhead. Tp ga perlu takut kulit jadi kering karena mengandung Shea Butter juga untuk melembabkan. Selain itu juga mengandung peppermint & spearmint oil yg wangi & bikin kita relax
.
.
💀Sweet Oats Clay Mask💀
For all skin type
Netto 70gr
Rp 115,000
ini aku pake di daerah pipi sama dagu, sisa nya lah pokoknya. Ini untuk mencerahkan kulit kusam & menyamarkan noda bekas jerawat juga. Kandungan nya ada white kaolin clay, honey, & oats. Udh gitu cocok untuk kulit sensitif, jadi aman kalo kelyan mau coba gaperlu takut iritasi. Kalo wangi nya Bye Acne Green Clay Mask tuh relaxing, kalo Sweet Oats Clay Mask ini wangi nya manis, bikin ketagihan hihi
.
.
Rate: 7.5/10
.
.
.
.
.
📷 Kameranya Vivo V9
💡 Lightingnya LED Ringlight no dimmer
💸Backdropnya beli di @pixmixstore
💻 Editnya di Filmora
📱 Editnya di Quik
📱 Editnya di Inshot
🎶 Musicnya Dark Side
.
.
.
.
.
#indobeautysquad
#Bloggirlsid
#BeautygoersID
#Beautiesquad
#Clozetteid
#Beforeafter
#bvloggerid
#muajakarta
#makeuptutorial
#tutorialmakeup
#ivgbeauty
#makeupjunkie
#viral
#viralvideo
#skincare
#skincareroutine
#masker
#claymask
#multimasking
#kombinasi
#combination
#combinationskin

+ View more details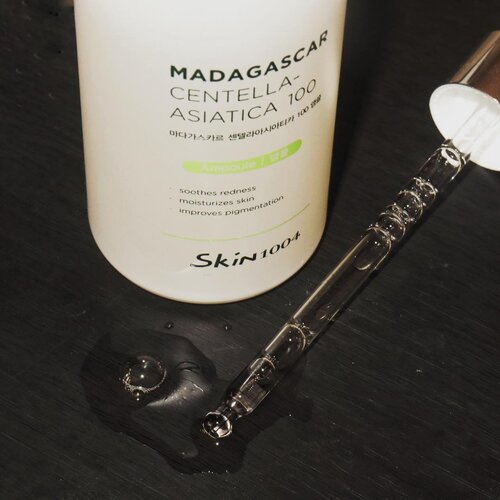 It's been cold for the past 2 days, or at least for my skin preference cause it decided to be freaking dry. 🙄
.
So I use this Madagascar Centella Asiatica from Skin1004. I was looking for something to hydrate my skin but not too greasy nor barely there much, and apparently this works fine. .
I know I said that this doesn't work on my skin at all on my previous review, but it was when my skin is still in oily combination zone.
I was having some dryness, flaky, and patchy situation around my smile lines and lower cheek. It was the worst feeling. So I put on this product instead of my Guerrison moisturizer, and the result kinda surprising.
My dryness got hydrated. It was mild hydration and non greasy feeling. Unlike the kind of hydration like a sleeping mask or a moisturizer give you, it's more like watery type of hydration(?)
.
Well I'm not sure how I describe the hydration but it was mild and it helps my dryness. ☺️
So I guess this product works better for dry skin considering my experience trying out when I had an oily skin and it did nothing on my skin. ☺️☺️
#clozetteid
#starclozetter
#beauty
#makeup
#skincare
#caaantikbeautyblog
#ampoule
#madagascar
#centellaasiatica
#skin1004
#skincarejunkie
#skincareregime
#dryskin
#oilyskin
#combinationskin
#caaantik

+ View more details

loading ...
Back To Top