loading...
Search
606 RESULTS FOR CONTENT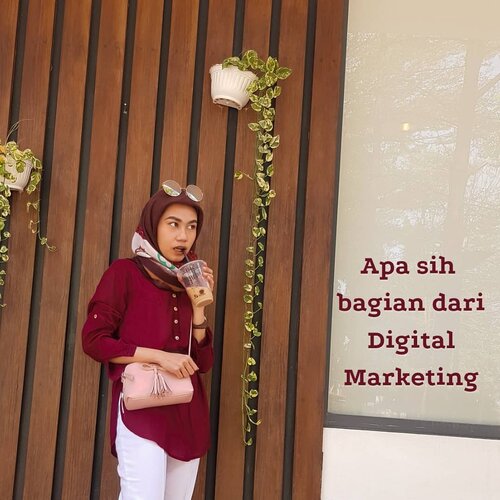 Well, banyak yang bertanya apa saja sih bagian dari DM or Digital Marketing dan banyak juga yang mengira atau tahunya itu hanya sebatas media sosial, website or blog atau kreator konten. Digital Marketing is big. Semua bagian yang disebutkan itu termasuk didalamnya akan tetapi ada banyak bagian yang tidak semua orang mengerti atau punya jabatan khusus. Contoh seperti copy writer dan content writer, tidak semua perusahan memiliki dua orang yang akan mengerjakan ini secara terpisah. Kebanyakan malah menyatukan bagian ini, padahal jelas-jelas teknik yang dibutuhkan keduanya sangat berbeda. Sama seperti dengan Digital Marketing yang tidak bisa juga dianggap di bawah bagian Marketing, Public Relation atau Corporate Communication karena sistem seperti ini tergantung dengan company masing-masing. Jadi, secara garis besar yang termasuk ke dalam Digital Marketing dibagi menjadi 2 bagian besar dan dibagi lagi dari kedua itu sesuai dengan technique, tools, media and people. a. SEO, SEM, SEAb. SMO, SMM, SMA
#easternlight
#digitalmarketing
#digitaleducation
#sem
#seo
#smo
#clozetteid
#clozette
#content
#marketing

+ View more details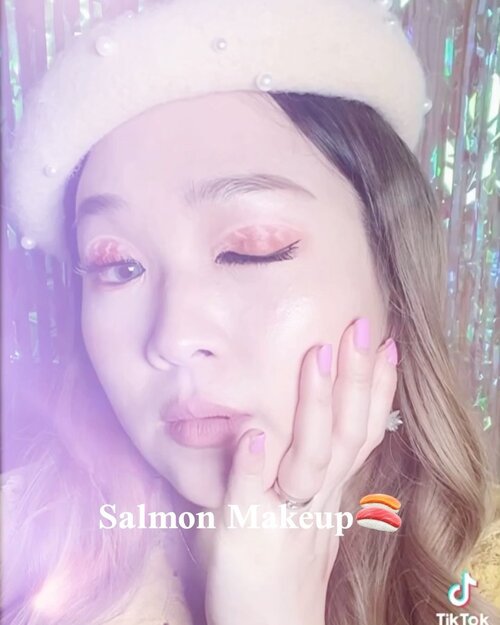 Makeup inspired by salmon eye patch @foreverskin_indonesia 🍣Who loves salmon and who loves makeup?😉It's salmon makeup!Wanna save inspiration of video content? Follow my account 😉Music from @tiktok @tiktok.indonesia -
#salmonmakeup
#creativemakeupart
+ View more details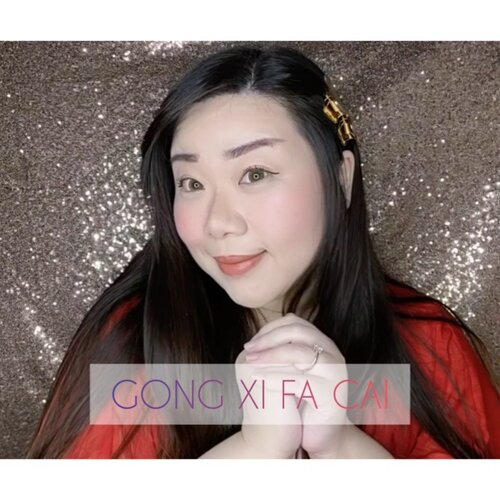 So this is what i filmed yesterday, a get ready with me for CNY / full face of new makeup for CNY!Pretty much every year i would gather full set of makeup to wear on CNY (as you probably already know, i get a LOT of makeups from PR kits and also, before pandemic - goodie bags from events. I actually used to wear new makeups for every event 😅, that's how much new makeups i have in my collection) but as this year i have a little more time to do my makeup (because no open house n no other plans so we're very 'laxed this year) i decided to film it and make a content out of it 🤣.My actual CNY look is similar every year, anything fast and make me look more awake (because i do wake up earlier on CNY, to get more luck hahaha) - but i love how this year's look come out, maybe because i wasn't stressed out or in a hurry as usual! And because i add a lot more bling2 products than usual.. Btw, the products are new for me (as in newly opened, i have hundreds of unopened new products 😓) but they are not necessarily new in the market ya, most of them aren't 🤣. I starred my fave products in the video and as usual i cheated a bit because i didn't break open new mascara, eyeliner (don't like to waste them) and loose powder (this one i forgot to).I will share and list the new products and my 1st impression in the next post, anything you want to know more of?
#BeauteFemmeCommunity
#SbyBeautyBlogger
#clozetteid
#startwithSBN
#socobeautynetwork
#minitutorial
#makeuptutorial
#chinesenewyearmakeup
#chinesenewyear2021
+ View more details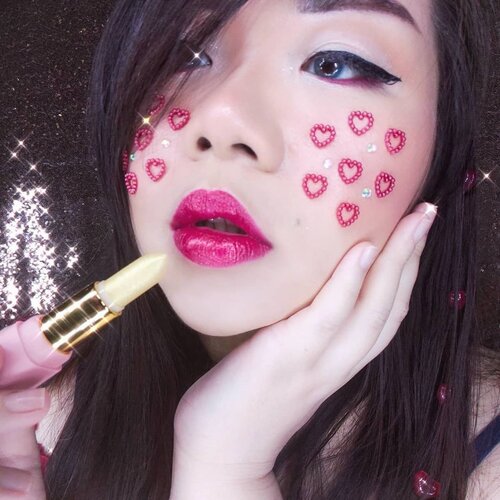 Remember that gold glitter lipstick? Yeah, i ended up being a little obsessed with it 🤣, i use it as a topper all the time now and i have so much fun watching lippie color changes as i apply it on top! Can you spot in the pictures which ones are already topped and which one's not yet? The red lippie's @wardahbeauty btw (Wardah Exlusive Matte Lip Cream in Red-Dicted) it's one of my all time fave true red lippie and i almost alway reach for it whenever i feel like wearing red lips.My concept for this Love hearts inspired look is very simple, i want a clean but sultry eye makeup (i only used 2 shades on my lid, light brown and white plus red and brown on the waterline for some sultry pop of color) because i want the centre of attention to be the little hearts (and lips).For those of you who keeps on asking about the heart appliques (because i have used them in a few looks. They come in multiple colors but i also paint them with nail polishes if i don't have the shade i want, like black!), yes they are ready to use applique, i bought all of my appliques at Shopee and i always stick everything to my face using eyelash glue (tips from my fellow content creators : peel off mask also works!).
#thematicmakeup
#red
#lovehearts
#redhearts
#valentinesmakeup
#BeauteFemmeCommunity
#SbyBeautyBlogger
#clozetteid
#startwithSBN
#socobeautynetwork
+ View more details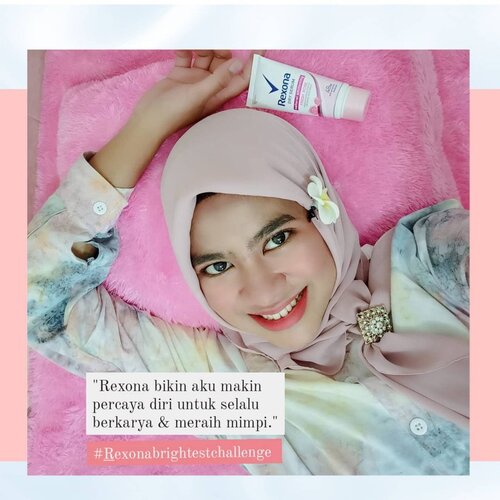 Semakin Percaya Diri untuk Meraih Mimpi Bersama Rexona Dry SerumUdah beberapa bulan ini Abel sudah mencoba Rexona Dry Serum varian Natural Whitening Fresh Rose. Anti Perspirant Deodorant terbaik yang pernah Abel coba.Selain bekerja sebagai seorang Marketing disalah satu Rumah Sakit Swasta, Abel juga ingin berbagi semangat dengan menjadi content creator & tetap bisa berkarya lewat digital platformku sendiri serta bertumbuh bersama dengan sahabat onlineku.Aku memiliki semangat untuk terus bertumbuh, mempelajari banyak hal baru, serta menekuni passionku sebagai seorang content creator. Aku ingin menjadi agen perubahan untuk terus menebarkan semangat positif dan menebarkan cinta untuk sesama.Dengan padatnya kegiatanku sehari-hari, Abel butuh Rexona Dry Serum yang langsung menyerap dan cepat banget keringnya. Supaya gak perlu spare time waktu yang lebih lama Dan spesialnya yang paling Abel suka di Rexona Dry Serum ini ada kandungan Vitamin E, Vitamin B3, licorice Ekstrak, dan Niacinamide yang bikin keti lebih cerah hanya dalam 5 hari 🥰💕Abel jadi semakin percaya diri untuk tampil all out sepanjang hari dan Siap untuk meraih mimpi bersama Rexona.Siapa disini Team Keti Cerah dengan pake Rexona Dry Serum? Share dong di kolom komentar di bawah ini 👇Kalau belum kalian harus coba ladies 🥰@rexona_id Let's growth together and keep spreading the love 💕@
[email protected]
@
[email protected]
@intanarwida
#rexonabrightestchallenge
#ActiveBrightSquad
#ClozetteID
+ View more details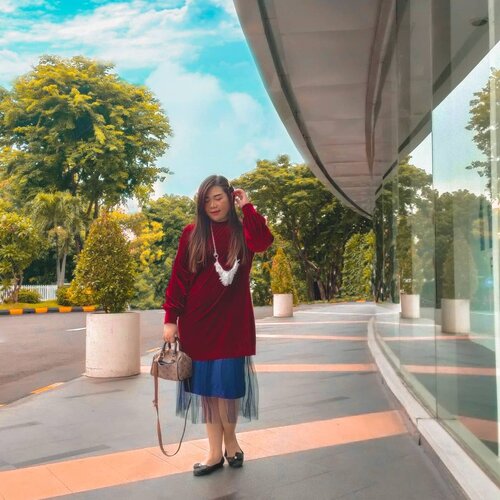 For me, advise is only something you should give when asked, even if you think it's a constructive criticism - not everybody wants and needs your opinion, you know?I said this while posting this heavily edited pic because while it's not the tone i usually post, i had so much fun (and stress) editing a set of ordinary pics with less than desirable background into something more pleasing to my eyes. My pictures, my feed, even my personality might not up to your taste, and that's okay - nobody forces you to look.I heard through the grapevines once that someone criticize a content creator's editing style (which i find very weird and inappropriate because style is not something you can criticize okay? Typos, wrong information, or maybe blur pics you can give friendly advise to improve on, but style??? That's another territory altogether and one you should never step on!) and when the content creator wouldn't accept the criticism, the critic gets upset. This is one of the most ridiculous story i've ever heard and i cannot forget it 🤣🤣🤣.So next time you feel the urge to tell someone you don't like their editing/tone/angle/style/fashion/face - stop and stuff your mouth with your feet because you're being a d***.
#ootd
#ootdid
#clozetteid
#sbybeautyblogger
#BeauteFemmeCommunity
#notasize0
#personalstyle
#surabaya
#effyourbeautystandards
#celebrateyourself
#mybodymyrules
+ View more details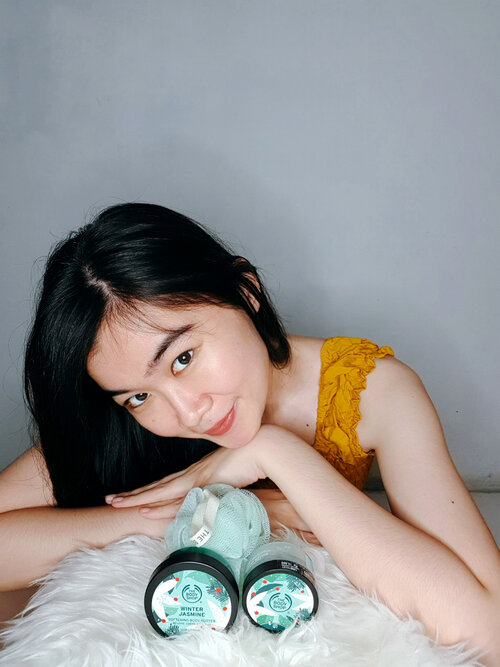 + View more details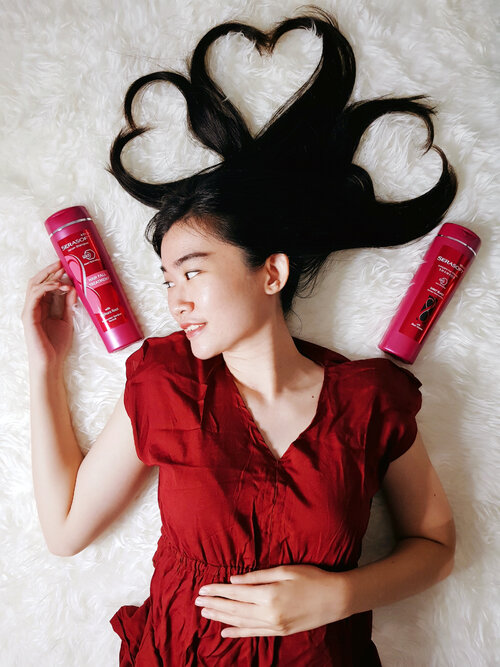 + View more details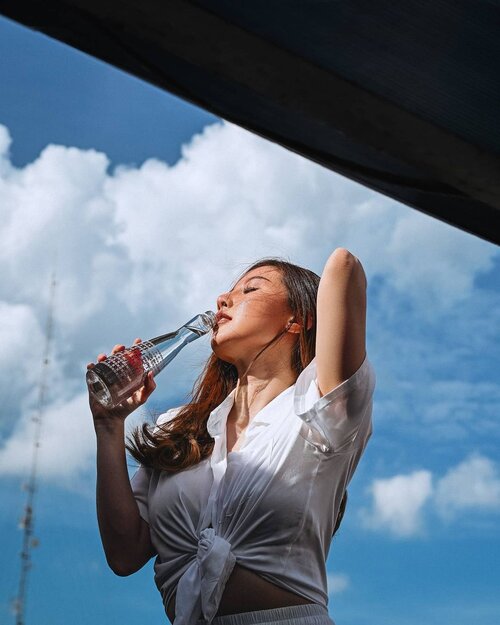 Jauh2 ✈ ke Jepang khusus buat foto ini 🤭
#maafhalu
Siapa hayooo yg ga kepingin punya glass skin? Sebetulnya selama ini aku suka gagal fokus karena lebih mentingin perawatan luar daripada asupan dari dalam. Alhasil skincare2 yg aku pakai rasanya jadi kurang optimal. Ternyata minum air mineral adalah maha skincare dari segala skincare. Aku ngerasain sendiri loh, ketika cukup air, jerawat jadi lebih jarang mampir. Kalaupun mampir, biasanya ga lama bakal mengering. Dan yang pasti kulit jadi lembab, minimal ga pecah-pecah. Buat yang seumuran sama aku, umur aku 27 btw, kita harus mulai concern sama kulit kering, karena kulit kering bikin kulit jadi kehilangan keelastisitasannya. Buat aku yang tipe kulitnya berminyak sejak puber, ini adalah hal baru, jadi aku harus cepet-cepet adaptasi karena aku menolak tua 😆👊.For better hydration with single source purity and contents high quality, balanced minerals sourced through protected ecosystem balance, aku recommend @AquaReflection yg saat ini sedang berkolaborasi dengan @sociolla
#AquaxSociolla
Anw botol pink cakep ini bisa dibeli di semua offline store @sociolla and it's limited edition! Buat kamu yg punya botol limited edition ini, jangan lupa juga untuk ikutan kompetisinya dan menangin set hydration box lengkappp!.Sekalian cobain produk2 rekomendasi untuk
#HydrateToRadiate
kulit kita yuk. Ada @ariul_id Micellar Water, @koreanaestheticskincare_id AHC Hyaluronic Cleansing Foam, @sukinskincare_idn Signature Original Hydrating Mist Toner, @mediheal_idn N.M.F AQUAring Ampoul Mask EX, dan @klorane_idn Fleur De Cupuacu Ultra Nourishing Body Lotion. Semua produk2 ini available di @sociolla Mini reviewnya ada di blog aku (postingan perdana 2021 🥰 Klik di bio ya)
[email protected]
@beautyjournal @aqua_reflections
#clozetteid
#beauty
#2021
#beautyblog
#id
#skincare
#skincarereview
#beautybloggers
#jp
#jktspot
#jktgo
#blogger
#lifestyle
#blog
+ View more details

loading ...
Back To Top