loading...
Search
462 RESULTS FOR COSRX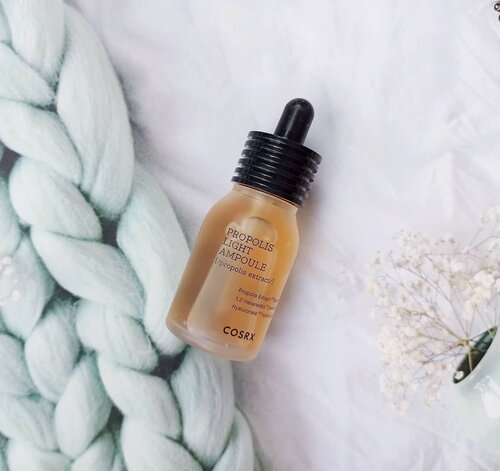 Haii haii.. It's time to review about 𝗖𝗢𝗦𝗥𝗫 𝗙𝘂𝗹𝗹 𝗙𝗶𝘁 𝗣𝗿𝗼𝗽𝗼𝗹𝗶𝘀 𝗟𝗶𝗴𝗵𝘁 𝗔𝗺𝗽𝗼𝘂𝗹𝗲, and this is my first time using Propolis in skincare. I already use it for almost 1 month and so far my skin doesn't show any negative reaction like breakouts. My skin feels really hydrated and plumps after use.The texture is rich and thick because of the high concentration. The color is transparent and a little bit like gel-watery which reminds me of honey. It spreads easily on my skin and doesn't feel sticky at all if you using of enough amount. It take a couple of minute to absorbs. It has no scent.I usually just need a drop of this for my PM skincare routine, depending on my skin condition and I layer them with other moisturizers. I have dry-combination skin so this products good for moisturizing, hydrating my skin and makes it look glowing and more healthier.Ingredients : 𝘗𝘳𝘰𝘱𝘰𝘭𝘪𝘴 𝘌𝘹𝘵𝘳𝘢𝘤𝘵, 𝘏𝘰𝘯𝘦𝘺 𝘌𝘹𝘵𝘳𝘢𝘤𝘵, 𝘉𝘶𝘵𝘺𝘭𝘦𝘯𝘦 𝘎𝘭𝘺𝘤𝘰𝘭, 1,2-𝘏𝘦𝘹𝘢𝘯𝘦𝘥𝘪𝘰𝘭, 𝘎𝘭𝘺𝘤𝘦𝘳𝘪𝘯, 𝘉𝘦𝘵𝘢𝘪𝘯𝘦, 𝘊𝘢𝘴𝘴𝘪𝘢 𝘖𝘣𝘵𝘶𝘴𝘪𝘧𝘰𝘭𝘪𝘢 𝘚𝘦𝘦𝘥 𝘌𝘹𝘵𝘳𝘢𝘤𝘵, 𝘗𝘢𝘯𝘵𝘩𝘦𝘯𝘰𝘭, 𝘗𝘰𝘭𝘺𝘨𝘭𝘺𝘤𝘦𝘳𝘺𝘭-10 𝘓𝘢𝘶𝘳𝘢𝘵𝘦, 𝘗𝘰𝘭𝘺𝘨𝘭𝘺𝘤𝘦𝘳𝘺𝘭-10 𝘔𝘺𝘳𝘪𝘴𝘵𝘢𝘵𝘦, 𝘌𝘵𝘩𝘺𝘭𝘩𝘦𝘹𝘺𝘭𝘨𝘭𝘺𝘤𝘦𝘳𝘪𝘯, 𝘚𝘰𝘥𝘪𝘶𝘮 𝘏𝘺𝘢𝘭𝘶𝘳𝘰𝘯𝘢𝘵𝘦, 𝘏𝘺𝘥𝘳𝘰𝘹𝘺𝘦𝘵𝘩𝘺𝘭 𝘈𝘤𝘳𝘺𝘭𝘢𝘵𝘦/𝘚𝘰𝘥𝘪𝘶𝘮 𝘈𝘤𝘳𝘺𝘭𝘰𝘺𝘭𝘥𝘪𝘮𝘦𝘵𝘩𝘺𝘭 𝘛𝘢𝘶𝘳𝘢𝘵𝘦 𝘊𝘰𝘱𝘰𝘭𝘺𝘮𝘦𝘳, 𝘊𝘢𝘱𝘳𝘺𝘭𝘪𝘤/𝘊𝘢𝘱𝘳𝘪𝘤 𝘛𝘳𝘪𝘨𝘭𝘺𝘤𝘦𝘳𝘪𝘥𝘦COSRX Full Fit Propolis Light Ampoule contain 83.25% concentration of Black Bee Propolis Extract, which is a natural antibacterial and anti-inflammatory ingredient, the ampule helps to heal stressed skin and reduce redness. I never expected to like it this much, my skin got better now. I finally managed to try this popular products from @cosrx thanks to @go.picky 🥰🥰
#pickyxcosrx
#pickyreview
#gopicky
#ClozetteID

+ View more details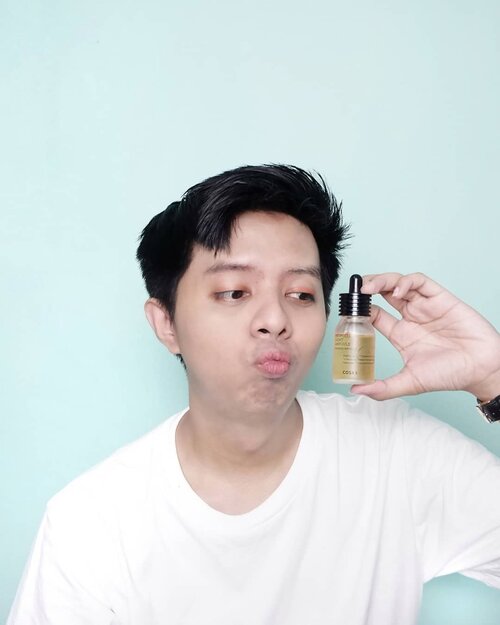 Aku mau share pengalaman aku menggunakan serum Cosrx yang Propolis Light Ampoule ini. Sudah hampir 3 minggu kayanya aku pakai serum ini. Ringan banget dari teksturnya, pas, ga terlalu cair dan ga terlalu kental. Jadi mudah meresap juga ke kulit. Dia waktu di aplikasiin ke kulit itu seperti licin, tapi ajaibnya ga bikin greasy atau lengket. Dengan kandungan utama propolis ini, dia bantu banget buat mengurangi bekas jerawat atau kalau ada red spot di wajah. Kalau ada jerawat kecil pun jadi lebih cepet kering. Bikin lembab juga di kulit. Suka banget. Cuma memang harganya agak lumayan ya Cosrx ini. Hehe.

+ View more details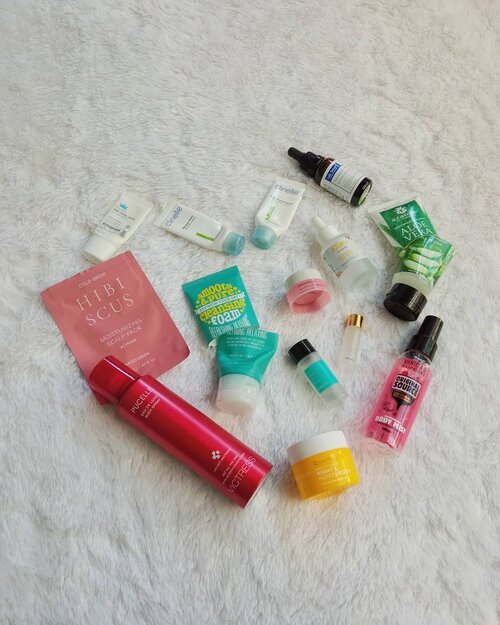 #ProductEmpties
kali ini aku ngabisin beberapa produk ukuran travel size dan beberapa lainnya ukuran full size. Kalo yang ukuran travel size sih karena ukurannya kecil jadi dalam waktu sebulan juga udah pasti abis, tapi kalo yang ukuran full size bisa sampe tiga bulanan atau lebih abisnya.
Ini dia
#ProductEmpties
yang berhasil aku habiskan :
✔ @rated_green Cold Brew Hibiscus Moisturizing Scalp Pack with Honey 50ml [Travel Size]
✔ @ariul_id Smooth and Pure Cleansing Foam 100ml [Full Size]
✔ @clinelleid Deep Cleansing Gel 20ml [Travel Size]
✔ @cosrx_indonesia Two In One Poreless Power Liquid 20ml [Travel Size]
✔ @crystallurebywardah Supreme Activating Booster Essence 6ml [Travel Size]
✔ @dr.hsieh.id Lab Smart Tranexamic Acid Essence 30ml [Full Size]
✔ @azaleabeautyhijab Amazing Brightening Face Serum 30ml [Full Size]
✔ @innisfreeindonesia Jeju Cherry Blossom Jelly Cream 10ml [Travel Size]
✔ @clinelleid Moisture Glow 20ml [Travel Size]
✔ @snpofficial.id Perfect Air Cool Sun Gel SPF 50+ PA++++ 15ml [Travel Size]
✔ @azarinecosmeticofficial C-White Perfect Radiance Night Moisturizer 25gr [Full Size]
✔ @azarinecosmeticofficial Soothing and Hydrating Aloe Vera Gel with Honey All In One 100ml [Full Size]
✔ @originalsourceid Refreshing Body Mist Vanilla and Raspberry 100ml [Full Size]
✔ @pucelleid Eau De Luxe Body Spray Victress 150ml [Full Size]
Jangan abaikan produk ukuran travel size, karena bisa jadi itu langkah awalmu menuju kulit glowing 😁
#ClozetteID
#beauty
#blogger
#lifestyleblogger
#mantrianarani

+ View more details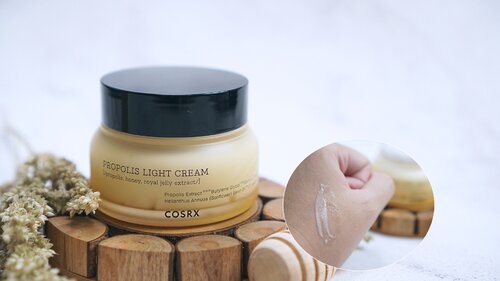 Cosrx Propolis Light Cream
.
Ini merupakan produk terbaru dari Cosrx yang mengandung Royal jelly.
.
Ini sangat cocok digunakan untuk kulit kering. Aku sudah hampir sebulan lebih menggunakan ini, hasilnya bikin kulit lebih lembab ❤️

+ View more details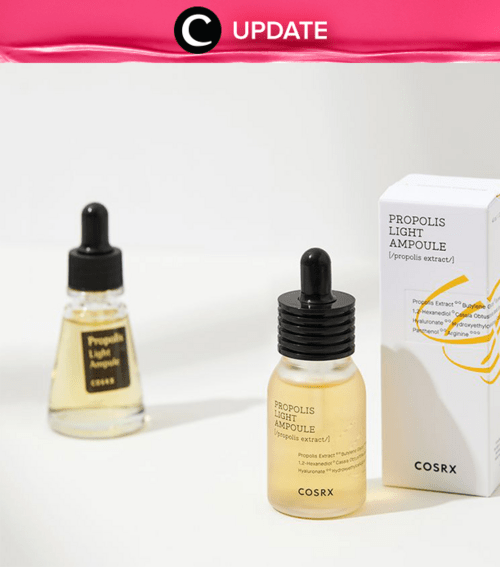 April might be the month for giggles and jokes, but COSRX's April Sale is NO JOKE! Check out the April Sale Event held by COSRX, and don't miss all the promo and event info for cheaper (but not "cheap") skincare purchase. Lihat info lengkapnya pada bagian Premium Section aplikasi Clozette. Bagi yang belum memiliki Clozette App, kamu bisa download di sini
https://go.onelink.me/app/clozetteupdates
. Jangan lewatkan info seputar acara dan promo dari brand/store lainnya di Updates section.

+ View more details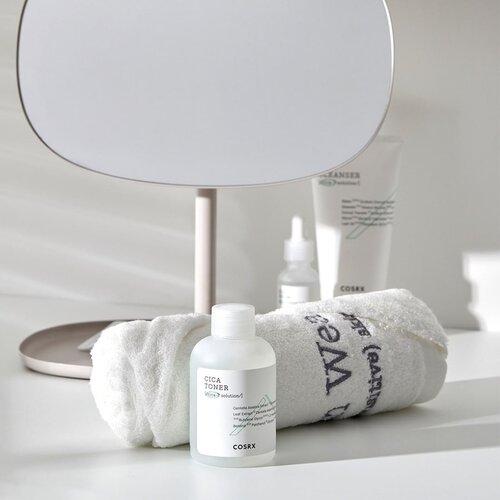 ...
Diformulasikan dengan CICA-7 Complex dan Pinus Pinaster Bark Extract, rangkaian ini tak hanya memberikan triple calming effect. Simak juga artikel menarik lainnya di Article Section pada Clozette App.

+ View more details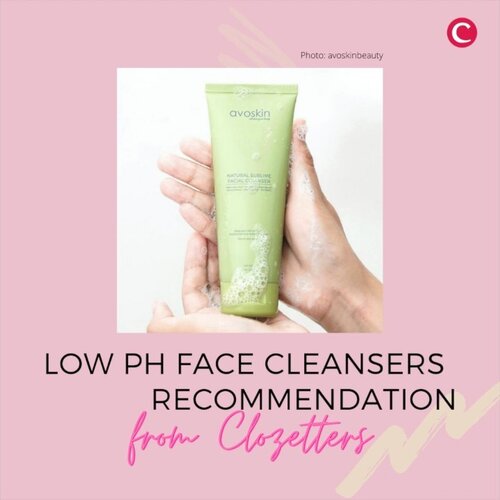 Menurut buku The Little Book of Skincare, menemukan sabun dengan kadar pH yang tepat, sangatlah penting terutama bagi pemilik kulit sensitif, lho Clozetters. Kadar pH yang terlalu tinggi bisa mengiritasi kulit, sedangkan kadar pH yang terlalu rendah juga kurang efektif membersihkan kulit. Idealnya, kadar pH yang tepat adalah 5.5 dan bisa dicek dengan pH strips. But don't worry karena sekarang udah banyak juga brand yang memberikan keterangan kalau produk mereka punya pH yang lembut dan sesuai dengan pH kulit. Beberapa diantaranya adalah produk yang direkomendasikan Clozetters @ikadevita, @ratriret, @yourwilddaisy, @firdaskinjourney, @aiyuki_aikawa, dan @akpertiwi ini. Check it
[email protected]
@cosrx_indonesia @hadalaboid @107global @elformula.id @soonplus_official.
#ClozetteID
#ClozetteIDVideo
#ClozetteXCoolJapan
#ClozetteIDCoolJapan
#lowphcleanser

+ View more details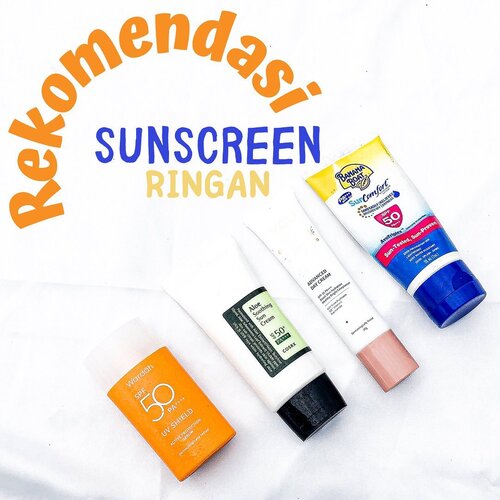 🪴✨𝗦𝘂𝗻𝘀𝗰𝗿𝗲𝗲𝗻 𝘁𝗲𝗸𝘀𝘁𝘂𝗿𝗲 𝗿𝗶𝗻𝗴𝗮𝗻✨🪴(っ◔◡◔)っ ♥ 𝘔𝘢𝘶 𝘣𝘢𝘨𝘢𝘪𝘮𝘢𝘯𝘢 𝘱𝘶𝘯 𝘴𝘶𝘯𝘴𝘤𝘳𝘦𝘦𝘯 𝘪𝘵𝘶 𝘵𝘦𝘳𝘱𝘦𝘯𝘵𝘪𝘯𝘨 , 𝘵𝘢𝘱𝘪 𝘬𝘦𝘯𝘢𝘱𝘢 𝘬𝘢𝘭𝘢𝘶 𝘱𝘢𝘬𝘦 𝘴𝘶𝘯𝘴𝘤𝘳𝘦𝘦𝘯 𝘪𝘵𝘶 𝘣𝘪𝘬𝘪𝘯 𝘬𝘶𝘴𝘢𝘮? 𝘔𝘶𝘯𝘨𝘬𝘪𝘯 𝘣𝘦𝘭𝘶𝘮 𝘬𝘦𝘵𝘦𝘮𝘶 𝘱𝘳𝘰𝘥𝘶𝘬 𝘺𝘢𝘯𝘨 𝘵𝘦𝘱𝘢𝘵 ~ ♥🪴Banana boat @bananaboatindonesia :Sunscreen yang bertekstur cream lotion namun hampir seperti moisturizer karena sangat ringan ini ternyata Spf nya 50 PA+++, namun di kulit ku sedikit perih kalau di pakai , jadi biasanya aku pakai ke badan aja , karena tesktur nya enak, di layer pun enak, cepat meresap , kalau di aku sedikit kerasa ngerah kalau di siang hari , ga ada whitecast.🪴Wardah @wardahbeauty :Teskturnya lotion , sangat ringan ,ga ada whitecast , cepat meresap , kalau di kulit ku , ini terasa ga nyaman kalau lagi berkeringat , bikin sedikit gerah , spf 50 PA++++ yaaa.🪴Cosrx @cosrx_indonesia : Tesktur lotion, ada efek tone up sedikit tapi ga ngeganggu , gampang di ratain , cepat meresap, ga bikin gerah , ga bikin berminyak , hasil nya matte di kulit ku, spf 50+ PA+++ 🪴YOU @youmakeups_id :Tesktur nya cream , termasuk day cream, jadi ada efek tone up , hasil matte , enak di pakai, kalau di pakai dalam keadaan kulit yang basah susah di blend , gampang di ratain , SPF 35 PA+++.Sejauh ini, aku suka COSRX :)
#nmreview
#nmsunscreen
#reviewsunscreen
#skincarehoarder
#treatyourskin
#skinstagram
#textureshot
#tekstureshot
#reviewindonesia
#skincareindonesia
#skincarecommunity
#clozetteid
#clozette

+ View more details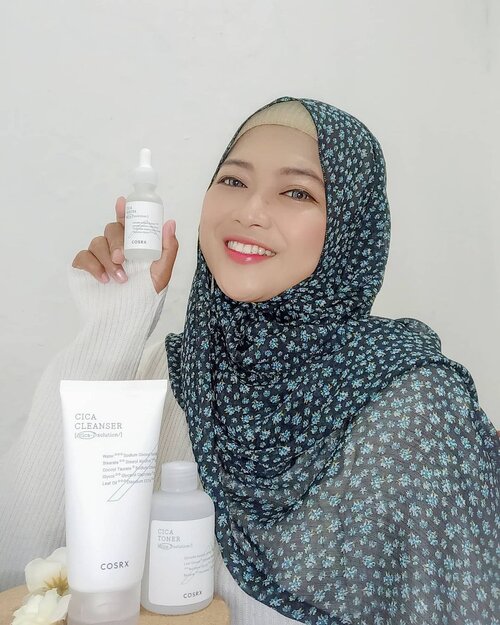 Punya kulit sensitif itu harus extra sabar shayyy!!⠀⠀Karena gampang kemerahan dan juga breakout, ada yg senasib ga sih? Nah, ternyata itu salah satu tanda bahwa skin barrier kita mulai rusak nih. ⠀⠀Salah satu kandungan yang bagus buat kulit yg sensitif kaya aku adalah Centella Asiatica atau yg dikenal dengan CICA.⠀⠀Btw, udah semingguan ini aku cobain COSRX PURE FIT CICA, yang mengandung CICA-7 COMPLEX, yaitu 7 type of Centella Asiatica yang punya manfaat untuk melindungi, menenangkan dan membuat skin barrier kita jadi lebih kuat.⠀⠀Aku sih ngerasa produk ini efektif banget untuk hidrasi kulit aku, dan bikin kulitku jadi ga gampang kemerahan dan jerawatan lagi.⠀⠀COSRX Pure Fit Cica ini udah bisa dibeli di Sociolla, Lazada & Shopee, Watsons, and Other Cosmetic Stores 😉⠀⠀@COSRX_INDONESIA @SOCIOLLA @WATSONSINDO
#COSRXINDONESIA
#PUREFITCICA
#RXFX
+ View more details

loading ...
Back To Top