loading...
Search
17 RESULTS FOR FDMADEMEBUYIT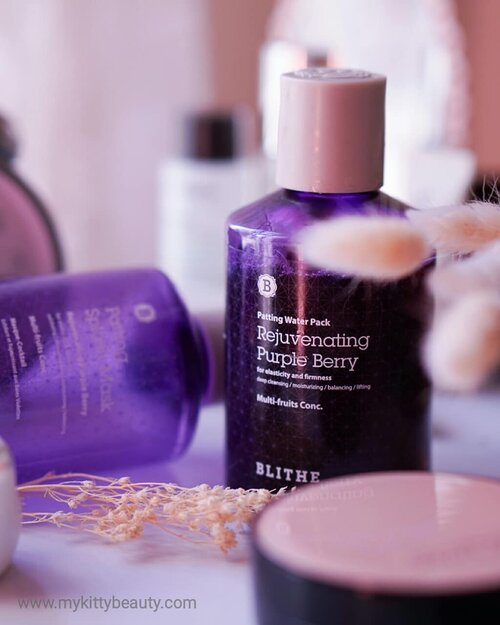 Which one are you? Finish your skincare as soon as possible, then try and play the new skincare? There is no word for turning back to the same product because there are so many tempting products in this world.Or keep and repurchase your fave product again and again until you get bored, then looking for a new product, then purchase a new one and the old one at the same time? Me? The second one :) ..Freaking love about this mask. It gives me mild exfoliating that very gentle for my sensitive skin. But hydrating dan plumping my skin at the same time. It boosts anything that I layer afterward. Such a game changer makes my routine simpler and faster.Full review on my blog, link on bio.
#mykittybeauty
#clozetteid
#1empty1newbie
#idskincarecommunity
#skincareroutine
#blithe
#pattingsplashmask
#fdmademebuyit
#abcommunity
+ View more details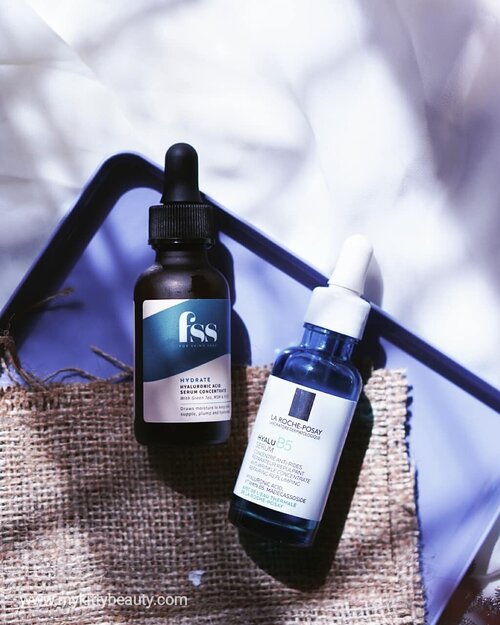 Do you believe when someone tells you that "hydration" is a key?After trying so many products, going through various trials and errors. Sometimes it works, sometimes it ends with a breakout instead. But in the end, hydration is a "key" for every condition. Whatever happens, whether it's being irritated, breakout or dehydrated, this one becomes my basic and stable product in my skincare routine. And it has been proven by these HA serum, @forskinssake and @larocheposayusa ...💦 @larocheposayusa has slime texture, thick, a bit tacky and tricky to all over my face. It needs time to fully absorbed and sometimes ended balling up when I did too much layering. With this one, I need to layer as simple as I can. But it works well when combined with LRP B5 (my another fave). The perfect duo every time my skin feels itchy, sore, rough, red. The calming effect and the ingredients are undeniable ....💦 @forskinssake Hyaluronic Acid. It comes to be my 4th and get ready for my 5th bottle. I never thought I'd spend as much as this. When compared with Vitamin C and Retinol, HA is indeed not too tempting. But, it has a jellyish texture. It feels less tacky than the LRP one. Easy to absorb and leave your skin plump and well hydrated. It is not as hydrating as LRP, but it is suitable for everyday use. I even thought the Retinol and Vit A works better when combined with this HA.Enjoy your breakfasting. Don't forget to give a drink to your skin. 🍹🍵...
#mykittybeauty
#clozetteid
#skincareroutine
#basicskincare
#forskinssake
#larocheposay
#fdmademebuyit
#idskincarecommunity
+ View more details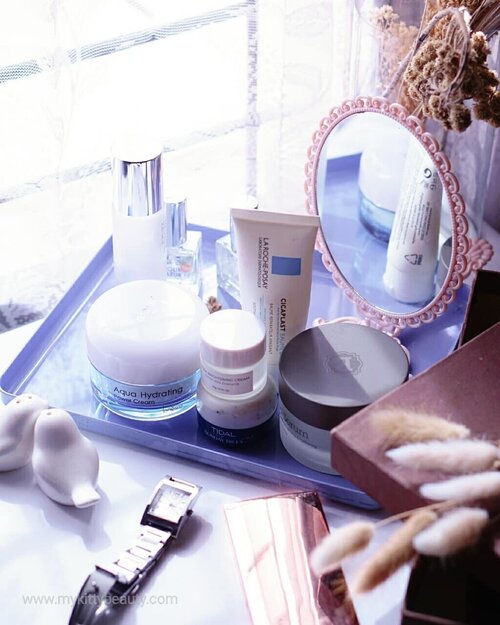 + View more details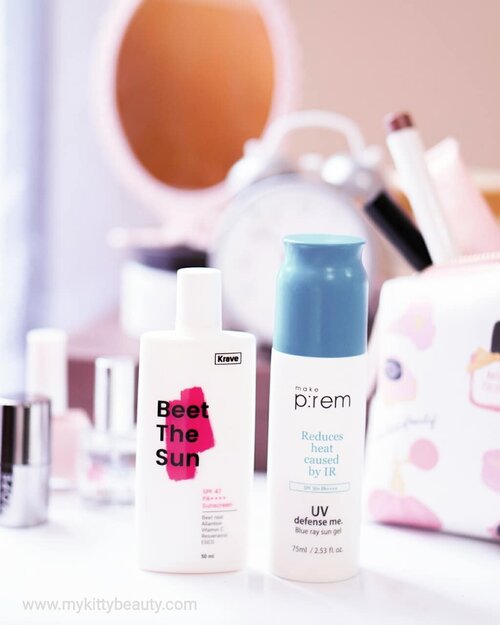 Once you find a sunscreen with a great formulation, then you will commit using sunscreen forever...These two have been my favorite sunscreen lately. They both have a great formulation, nice texture, no white cast, ni greasy feeling, no sticky feeling, no ball up, feel so light and giving hydration during the day. Perfect sunscrern for my likey. It's hard for me to choose just one of them. But when both are almost gone, you have to decide which one to repurchase. 😊..How about you? Have you they both or one of them?..I've written anything about them on my blog. If you want to know further more about them, feel free to find out on my blog. Link on bio ☺..
#mykittybeauty
#clozetteid
#idskincarecommunity
#skincareroutine
#abcommunity
#sunscreen
#rasianbeauty
#abnewyearstashchallenge
#fdmademebuyit
+ View more details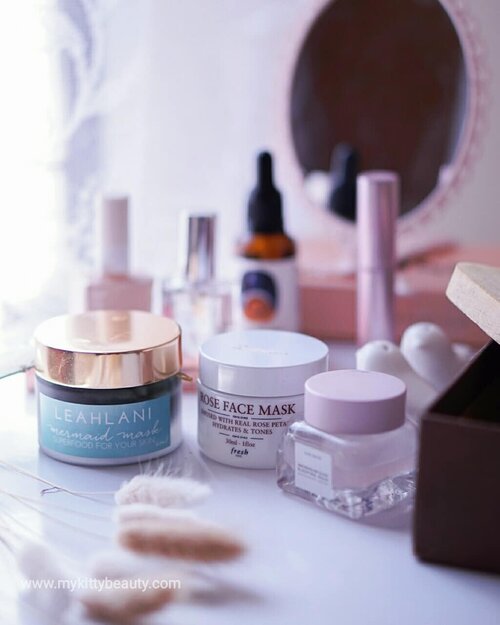 What's your beauty resolution in 2019? Me. Be realistic for beauty standard by using a simple and minimalist skin care product. And for reach that goal, I have to finish off all of my opened skincare first. 😅Masks might be the hardest and longest skincare to finish off. I don't use a mask every day, but don't know why I keep buying it just because the the mask is too tempting to buy until Blithe stole my heart. It gives me all the things that I need in 30 seconds which are exfoliation and hydration. That's a game changer. I was too lazy to put another after found that Blithe.And after a long time, this weekend gives me a chance to go back to using another mask. After a long break, I've never expected that my skin still loves these conventional masks. ..🌿Leahlani Mermaid Mask is a clay mask that comes with natural ingredient. It contains Hawaiian Raw Hone, Spirulina, Kaolin, Chlorella and many kinds of premium essential oils which gives you plumpy and natural glows. The texture a little bit dry and rough, so make sure put on a damp face. You only need to massage then wait 2-5 minutes. Don't too long! And if you have low tolerance with raw honey please the patch test before...🍁Fresh Rose Face Mask is a hydrating mask. It probably is the most popular mask from Fresh. It infused with real rose petals and pure rosewater that hydrates and tones the complexion. It does the job but to be noted I have to use in much amount. Or I  would feel a bit overstretched and dry on my skin if I used in a small amount...🍂Glow Recipe Watermelon Night Sleeping Mask is an overnight mask that contains watermelon which rich an antioxidant, hyaluronic acid to give extra-hydration and AHA (glycolic acid & lactic acid) as an exfoliating agent. It has a fresh scent and a jelly-texture. Once you apply it on the face, it will leave a thin layer on the skin. But don't be afraid, it feels so light and breathable. I don't know about the presentation of AHA, but I could say it does a gentle exfoliation. You will feel smooth, supply and plumpy on next morning.
#mykittybeauty
#clozetteid
#fdmademebuyit
#abcommunity
#idskincarecommunity
#skincareroutine
#rasianbeauty
+ View more details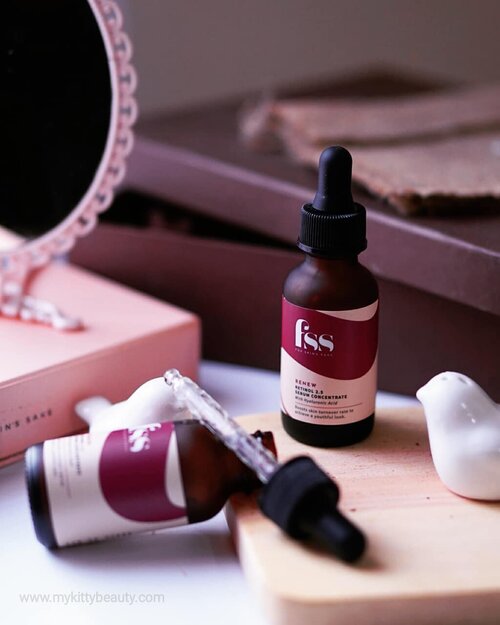 My very first empty product in 2019 goes to @forskinssake Retinol Serum. I've never thought that I would try retinol serum, used it till finished, then opened the second bottle.I was too afraid to try retinol in my routine. Not because of it an anti-aging, of course, I used an anti-aging product before (sunscreen). But I too afraid it would cause purging and breakout. Afraid it would too harsh to my skin. It contains 2.5% retinol which is quite high for retinol product, but it works nicely on my skin. I used this religiously for two months. Glad to find that this helped me to reduce my blemishes and acne scars and improving my skin texture.  I didn't find breakout or the peeling effect. It didn't dry out my skin, it quite hydrating instead.I think retinol is a game changer. Still far away from flawless, but for right now, I even feel more comfortable using retinol if comparing to vitamin C or other acids...
#mykittybeauty
#clozetteid
#firstempy2019
#abcommunity
#1empty1newbie
#skincareroutine
#idskincarecommunity
#fdmademebuyit
#fss
#femaledailynetwork
#abnewyearstashchallenge
+ View more details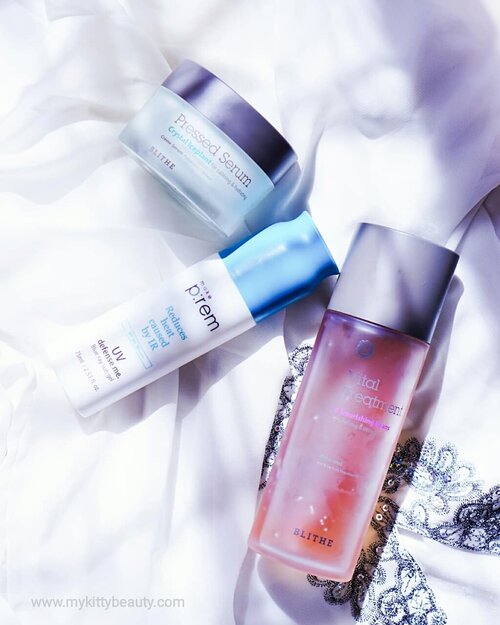 + View more details
I can be a picky person when it comes it comes to cleanser, toner or sunscreen which are my basic skincare routine...The following is toner that I tried, I loved it and stable is my routine in 2018..💦@huxley_korea Secret of Sahara Toner..💦@iunik_official Vitamin Hyaluronic Acid Vitalizing Toner..💦@dear_klairs Supple Preparation Unscented Toner..💦@blithecosmetic Vital Treatment Pulp Essence...All of them has a different texture, finish, and feeling. Huxley is the lightest one, then Klairs, Iunik, and Blithe as the heaviest one. Even though they have a different texture, but they all give a soothing, calming, hydrating and plumping effect on my skin. I think I am going to reviewing and comparing them an in-depth review on my blog. But for now, I can recommend you to try one of these products if you feel dry, dehydrated, dull or less plumpy skin...Have you ever tried one or all of these toners? Please tell me and let me know your experience 😊😊. I am so excited to read it 😊😊...
#mykittybeauty
#clozetteid
#fdmademebuyit
#femaledaily
#femaledailynetwork
#idskincarecommunity
#skincareroutine
#skincarecommunity
#abcommunity
#rasianbeauty
#jogjabloggirls
#abnewyearstashchallenge
#ischitandmisschallenge
+ View more details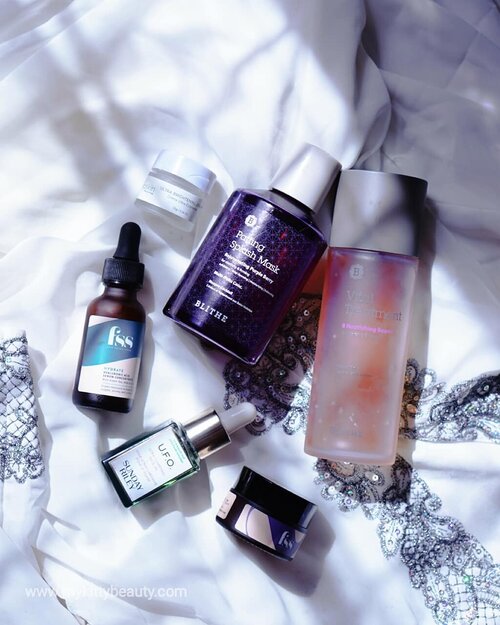 When you wanna get a little bit "extra" on your period but still wanna keep anything simple:..🍀 Cleansing using @eleaorganics & @clinelleid (not in the picture). PS: current fave of cleansing product 💛.🍀 30 seconds masking using @blithecosmetic Rejuvenating Patting Splash Mask. What do you expect from 30-second patting face? For me, it is kinda game changer. I love its exfoliating and hydrating effect. And it takes only 30 seconds 💛🍀 And keep the hydration with @blithecosmetic Vital Treatment 8 Nourishing Beans.🍀 Give it extra hydration with @forskinssake Hyaluronic Acid Serum🍀 Layer anything with my current fave treatment on the period: @sundayriley. It is kinda dry oil that contains1.5% Salicylic Acid. Great to exfoliates and clears the congested pores.🍀 Add @forskinssake Stimulate Matrixyl 3000 Eye Gel. I love the soothing effect on my under the eye. Keeping the hydration and help to reduce yg dark circle 🍀 Seal anything with @avoskinbeauty Ultra Brightening Cream...How about you? What do you do on your period?..Happy saturday nite everyone 💛💛💛....
#mykittybeauty
#clozetteid
#idskincarecommunity
#skincarecommunity
#rasianskincare
#femaledaily
#femaledailynetwork
#fdmademebuyit
#skincareroutine
#jogjabloggirls
#abcommunity
+ View more details

loading ...
Back To Top