loading...
Search
32 RESULTS FOR FEAST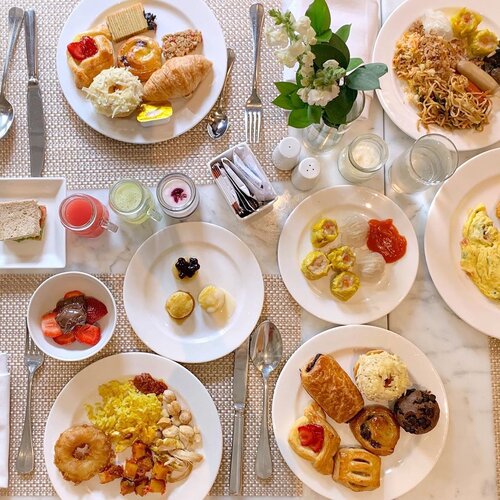 + View more details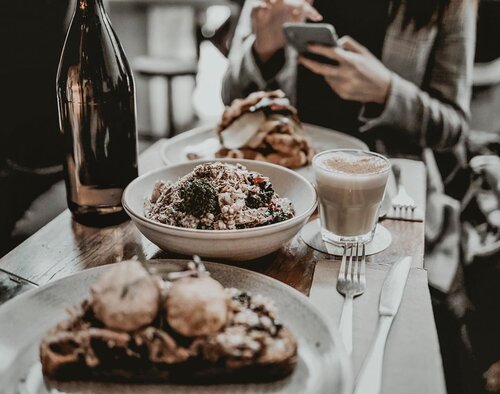 Somehow, after all this mess, what I need is a dinner that filled me up. Whoever and whatever I eat, it depends on my mood :(. //I know it hurts when, you're just feeling down because there's 80/90% jealousy feeling inside of you:(. It should be a motivation, but somehow deep down there, you can feel it all over. Somehow yes, it makes me stressed out so bad.....but what can I do to stop that? Nothing......people are just people. How they work, hustlin, and compete. But just so you know that, every job has its consequences and risks. You might never know, what comes after a grief or your good times.....maybe, it could be a miracle? Not sure....but I hope so:). //For some of you yang lagi down, you're okay because you're not alone. And remember, always take a high road. Don't compete them, just try your best to feel okay. Anyway, have a good dinner everyone. .......
#styleblog
#feast
#inspocafe
#getrepost
#indoblogger
#bloglifestyle
#bloggerstyle
#asianmenstyle
#tealandgray
#foodismylife
#foodofmylife
#unsplashphoto
#foodgasmic
#clozetteid
#theshonet
+ View more details
BANANÉ SUMMER VIBES 🍌 ✨
–
Summer is one of my favorite moments of all times. It's all about fresh things that we see and enjoy, like: hangout with friends (in an outdoor bar), enjoying a cold fresh smoothies or lemonade, eat a good feast, and brought a summer ootd essential. Anyway, I'm still in the mood for this bucket bag from @bananecraft .
–
#bananecraft
#summervibes
#localprideindonesian
#nusantarafit
#clozetteid
#theshonet
+ View more details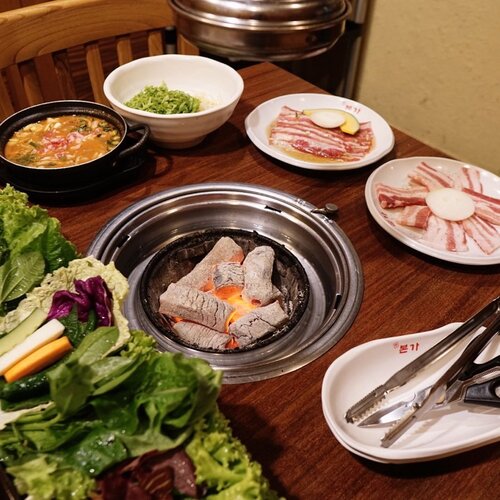 + View more details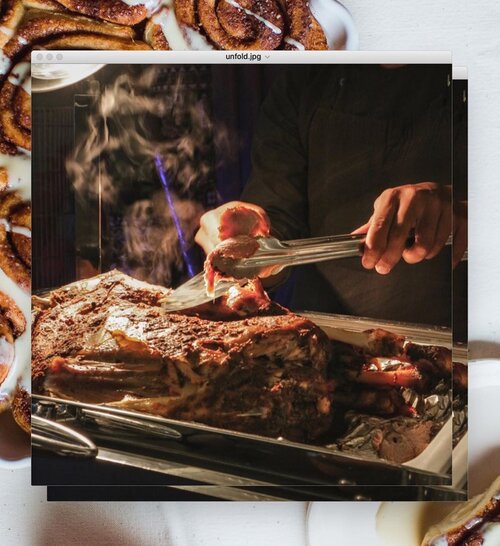 + View more details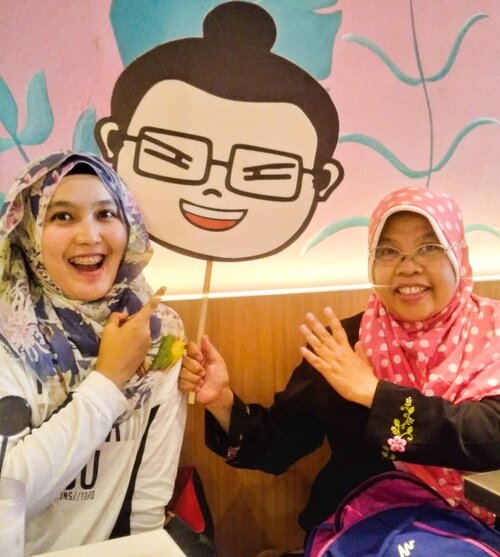 .
한국 잔치
.
Whoooo...... Yesterday was a feast!! @fat_oppa cabang Terusan Jakarta 43 Antapani - Bandung.
.
Kemarin itu dapet kesempatan nyobain banyak banget menu korea favorit para eonni dan oppa.
.
Dari mulai buddae jjigae, korean barbeque, oden, tteokkbokki, buldakk, sampe patbingsoo. Makanan korea disini lengkap bangettt gengss..
.
Ahh gak akan cerita banyak2 disini. Mau ku tulis aja n
Entar di blog yass.. Di tunggu ae.
.
Maacih teh @nchiehanie udah rekomen tempat mamam korea yang endul dan mursidahh
.
#Clozetteid
#lifestyle
#foodiehunter
#koreanfeast
#koreanfood
#fatoppa

+ View more details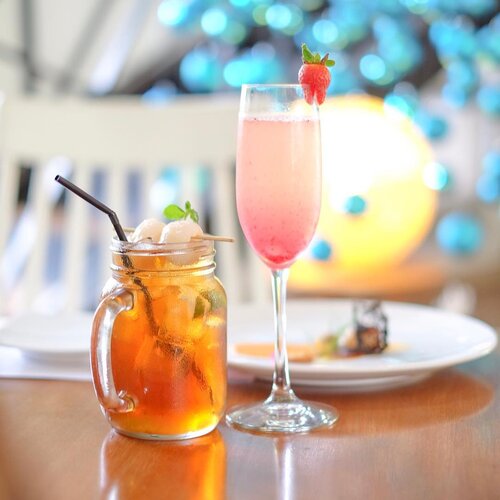 Having Christmas Lunch🎄 at @gastromaquia Jakarta. Swipe up buat tau aku icip-icip makanan apa aja. Aku rekomendasiin tempat ini buat kalian yang mau makan sama keluarga/teman/pacar. Spesial Desember ini @gastromaquia ada Special Christmas Feast from appetizer to dessert dengan harga 275.000++/pax ! 🎄🎄.Untuk review makanannya aku sudah up di blog yah!💕☺️..
#clozetteid

+ View more details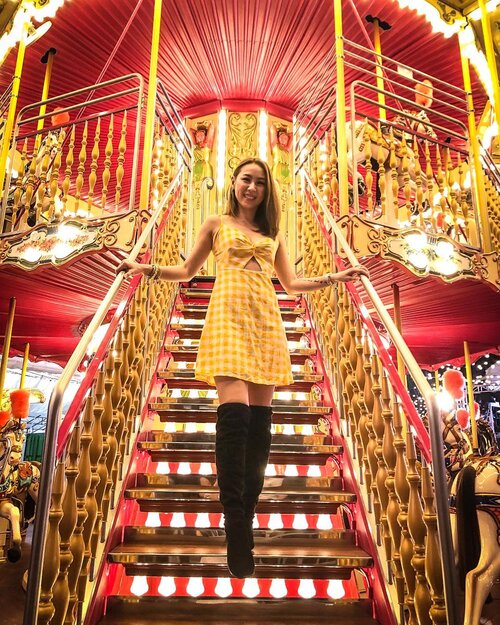 + View more details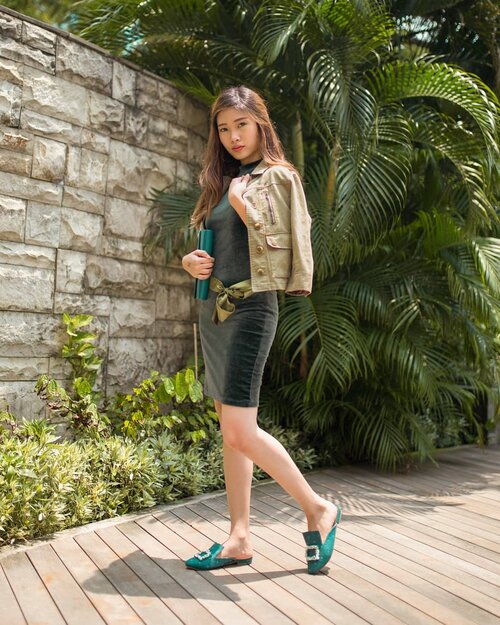 3/3
This shot was taken at 12.30 and it was really hot right there. However, i finally managed to get proper shots even tough i had only 10 minutes for this. Greeny vibes matter. 💚
Bicara soal fashion style, i am always the most confident kalau pakai sesuai yang dengan style aku banget, yaitu Feminime Chic. 💚
Feast for the eyes 🌿, di look serba hijau ini, velvetly green dress aku pilih karena memberikan kesan feminime dan elegant juga. Karena ini bodycon, dan gak ada pattern, aku menambahkan statement pita dengan ikat pinggang berbahan kain. Ditambahkan dengan outer yang multifunction.
Outer has always been my bestfriend since day one karena menambahkan kesan chic especially in army green colored. Dengan sentuhan mules yang dipenuhi dengan statement, jadi tetap chic walau tanpa heels. Dan juga clutch yang in accordance dengan warna mules
-
Lalu, kira-kira bisa dipakai kemana aja ya? 😏 .
Pastinya relevan, look ini bisa dipakai ke pesta yang formal seperti wedding, kalau outernya dipakai seperti biasa, tentunya bisa menambahkan kesan daily-wear yang bisa dipakai kalau hangout, kalau diikat dipinggang sudah pasti tampil chic apalagi untuk travelling. Jadi memang bisa dipakai dan mix and match sesuai dengan occasion. Apalagi mules yang aku pakai, elegant dan super comfy jadi bisa dipakai sehari-hari nggak cuma ke pesta aja lhoo!
_
Relevan, aku memilih look yang menurutku sesuai dengan @Tokopedia yang selalu hadir dengan inovasi yang menarik dan selalu relevan untuk semua orang! 🙌
Yang tertarik untuk ikutan, buruan yuk hari ini kesempatan terakhir lho, kompetisi dan hadiahnya menarik banget! 🙆 Kamu juga bisa banget untuk beli fashion items serba hijau di Tokopedia lho! Bisa di filter sesuai yang kamu mau jadi gak repot deh carinya. 😏💚
__
@amelitayonathan @caroline.kosasi @briansolid_ @anastasiawid @ghinaaulia
__
#StyleAlaToppers
#KurasiToppers
✨

+ View more details

loading ...
Back To Top