loading...
Search
23 RESULTS FOR FLOWERBOUQUET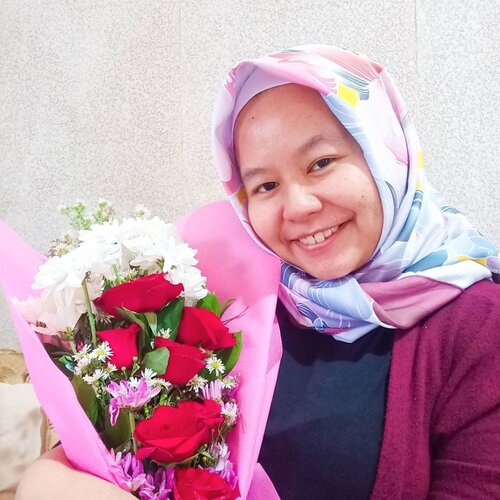 Finally a year older ❤️❤️❤️ Terima kasih untuk segala doa dan ucapannya hari ini yaaa semuanya. Today I really feel loved and blessed alhamdulillah 🥰🥰 Senang banget diberi kesempatan oleh Allah untuk dikelilingi oleh keluarga, sahabat dan teman (offline maupun virtual) yang supportive ❤️ dan akhir dapet flower bouquet dari si dia setelah sekian lama HAHAHA 😂Nah pas di hari ulang tahun saya ini, saya mau mengajak kalian untuk ikut campaign
#1000SenyumKebaikan
dari @AllianzIndonesia. Caranya cukup gampang kok, kalian hanya cukup : 1. Upload foto Senyum kalian.2. Cerita alasan kebaikan yang dialami hari ini. Nah pas deh kaya bikin thankful journal 😁3. Beri hashtag
#1000SenyumKebaikan
&
#AwaliDenganKebaikan.4.
Jangan lupa tag @AllianzIndonesiaUntuk 1.000 postingan senyum tulusmu, Allianz melalui Yayasan Allianz Peduli akan memberikan bantuan edukasi kesehatan untuk Program Kesehatan Lansia, Ibu Hamil dan Balita 🥰🥰 Yuk yuk ikutan @
[email protected]
@mamahfaza 💜💜.-------.
#happybirthday
#birthday
#birthdaygirl
#hellonewage
#newage
#flowers
#bouquet
#flowerbouquet
#donasi
#donation
#allianz
#allianzindonesia
#clozetteid
#clozettedaily

+ View more details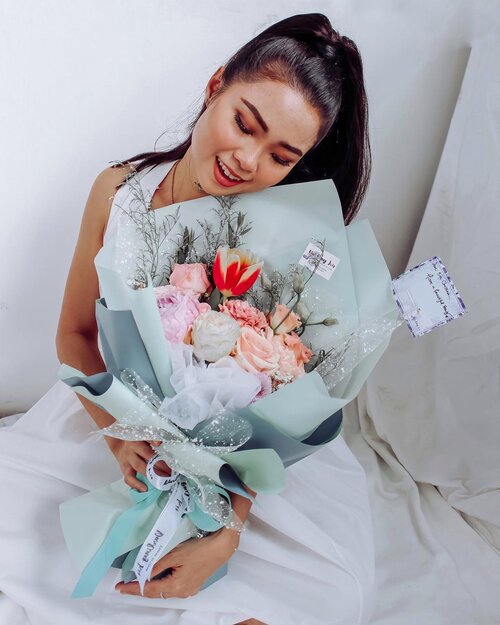 + View more details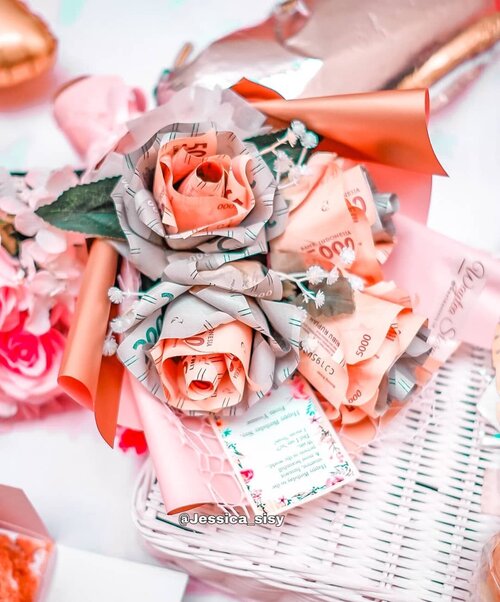 Money or Faith? Today's reading from my Bible app said like this :"The pursuit of success and money seems great until you notice the flaw. The flaw in the pursuit of material things is their temporary satisfaction. It's not sustainable and when you die you can't take these things with you. You'll find yourself lacking in contentment;  a beautiful exterior, yet empty on the inside. This is why you can see someone who looks poor on the outside yet their soul is rich in joy because they have invested in their relationship with God."Have a nice weekend all ❤❤
#flyingmoney
#weekend
#quotesoftheday
#moneybouquet
#buketbunga
#buketuang
#flowerbouquet
#moneycake

+ View more details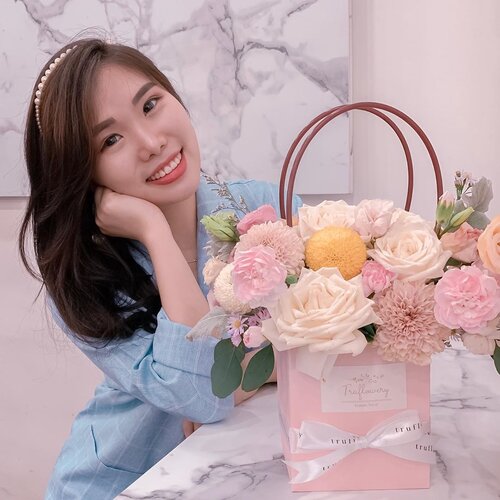 + View more details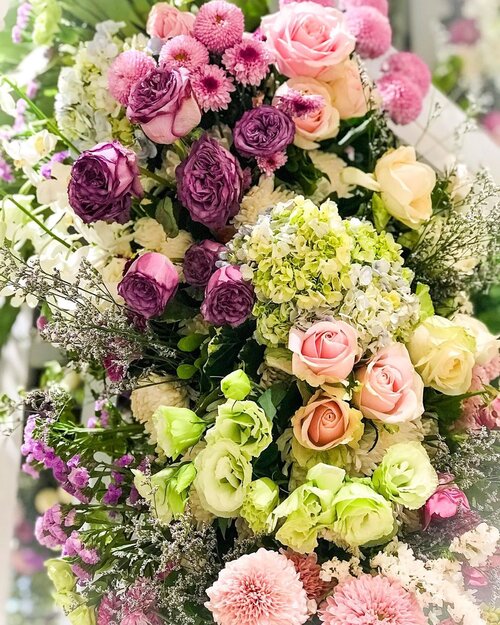 + View more details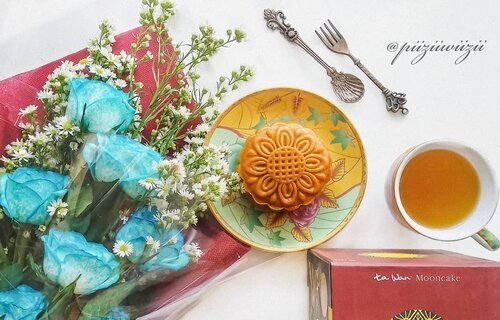 OFFICIALLY 27..!!!.Yeaayy!!!!! Its time for mooncake. Padahal mooncake itu buat mid autumn. Tapi karena gak jauh dari tanggal ulang tahunku, jadi selalu makan kue ini every birthday!..Feel very blessed juga today. Ada banyak hal terjadi di umur ini. Rise and fall sudah di rasakan.Bahkan beberapa hari lalu aku sudah di beri kado terbaik sama Allah. Ayahku yang aku kasihi di ajak pulang ke tempat terbaik dan sudah tidak merasakan sakit lagi.Al -Fatihah...🙏🙏🙏 Bersyukur juga karena aku punya banyak keluarga dan teman yang sayang sama aku. Thank you soo much semuanya. I love you all so much!!💗💗💗💗💗........................................Bicara tentang ulang tahun hari ini, aku selalu dapat kado terspesial. Bouquet bunga yang selalu mewarnai tiap tahunnya. Makasih sudah selalu perhatian dan maaf selalu tidak pernah mengerti banyak hal. Aku janji akan lebih belajar lagi ya. I really promise you 🐹🐹🐹🐹😘😘😘..Mooncake favorit selalu dari @tawanrestaurant entah kenapa rasanya selalu cocok di lidah. Buat kalian yang asing dengan perpaduan antara rasa telur asin dan manisnya pasta kacang merah/biji teratai, ini mungkin pasti aneh sih.Aku suka banget sama mooncake mungkin karena ada setetes darah chinese dari ibu ku...........................................Anyway cerita kali ini jadi mirip curhat ya. Hehehhee. Thank you banget semuanya....😘😘😘😘
[email protected]
Price : 170k for two mooncakeTaste : 🌟🌟🌟🌟🌟..
#clozetteid
#lifestyle
#food
#clozetteco
#foodgasm
#fotd
#birthdaycake
#flowerbouquet
#blue
#birthdaygirl
#septembergirl

+ View more details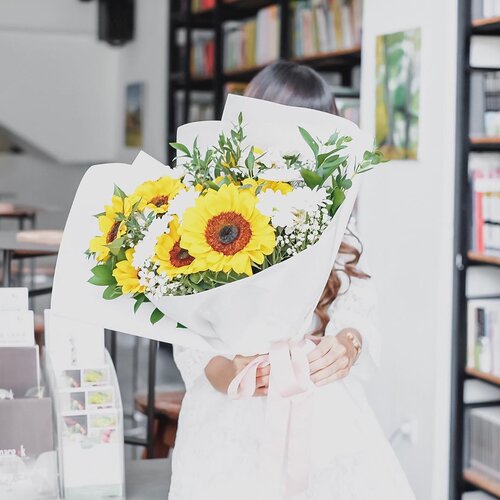 My road isn't easy,My shoes isn't always pretty.-Maybe some people thinking :"Woah, easy to going anywhere""Everyday is holiday""She have a lot of money""Easy to get what she want""Her life is happy and easy""Her boyfriend can give everything""Her parents is also spoiled her"...and anything like that.-Well,Anything that I got today,it's just a result of something that I was struggle before.-If you struggle with your life today,don't give up. A new life, has just begun.Focus on your goal. Work hard. Be good with others. Don't forget to pray. Don't envy with others successful, give them applause. Always believe, one day you will feel what they feel 🍃...
#clozetteid
#flowers
#flowerbouquet
#sunflower
🌻
#summer
#summervibes
#summerfun
#tephcollaboration
#bloggerlife
#bloggersurabaya
#bloggerjakarta

+ View more details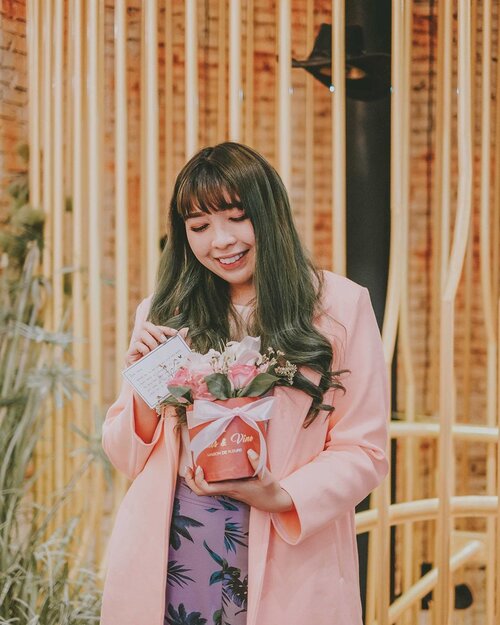 Happy Mother's day to all great moms out there ❤️❤️❤️
.
Beberapa hari yang lalu aku ikut private workshopnya @petalsandvine & belajar merangkai bunga dalam rangka Mother's day. Awalnya sempet panik, soalnya nggak ngerti sama sekali soal soal merangkai bunga ini 😅. Thanks to @elizazachandra & @petalsandvine akhirnya aku bisa ngerangkai bunga sendiri, walaupun hasilnya nggak terlalu bagus hihihi. But i'm so proud of myself 😁😁
.
.
.
.
.
#clozette
#clozetteid
#workshop
#flowerarrangements
#lifestyle
#petalsandvine
#flowerbouquet

+ View more details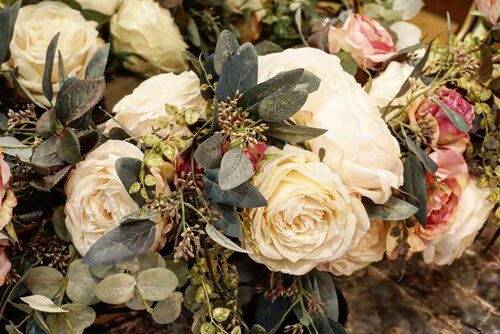 + View more details

loading ...
Back To Top