loading...
Search
1,990 RESULTS FOR FLOWERS
#glutanexgiftedme
@glutanex.official their products. I got 3 products, they are mask, night serum, snow white cream for day time.
Now i want to review about Glutanex Snow White Mask ✨
~~
Glutanex mask was engineered to reveal a brighter and more radiant skin. This mask promotes whitening, hydration, nourishment and skin clarity to help achieve the dazzling look in just 15 minutes. It suggested to keep refrigerated to get full snow white effect
This mask made from cupra sheets, cupra sheets are made from pure natural cotton and maintain all serum perfectly for the skin. The fit was perfect for my face and look transparent.
~~
The star ingredient is Glutathione, a tripeptide comprised of three amino acids (cysteine, glutamic acid, and glycine), which work in unison to offer skin-restoring and brightening benefits when used in topical products.
The key ingredients are Glutathione, collagen, hyaluronic acid, sodium hyaluronate, niacinamide.
~~
The essence is not too much and has clear color, it scents like fresh flower and for me doesn't sting at all. When wearing this, the scent doesn't stay longer after sometime. The texture of the essence is watery but not slippery, I like this one. I keep this refrigerated as I follow the instruction, so when Im using it, I feel cool and so nice for relaxing. I let this mask on my face for 20 mins, while im doing something and for the last 5 mins I used my amethyst roller ❤ and patted the remaining essence on my face.
~~
After using this mask for four times with the night serum, I feel brighter effect for my skin and effect for my hyperpigmentation is good. I feel glowy and well-hydrated after use.
But for effect that immediately looks white after using it once, I don't feel it.
Overall, this mask is good when you want to have an instant boost for the next day and very good to use it with their another product 👍
.
.
.
.
#soconetwork
#clozetteid
#beauty
#kokoamore_reviewprogram
#glutanex
#glutanexcare
#glutanexjourney
+ View more details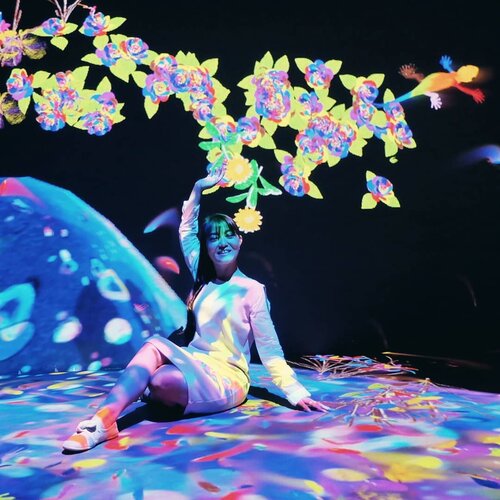 Belajar simbiosis hidup hewan dan bagaimana menjaga kelestarian ekosistem laut ga pernah seseru ini!Ini di instalasi digital teamLab Future Park, and Animals of Flowers, Symbiotic Lives di Gandaria City...Pulang dari sini jangan lupa beli merchandise yang hanya dijual sampai tanggal 11 November 2019 ini, ada 3 kaos dg gambar hewan laut yg terancam punah yaitu Blue Fin Tuna, Humphead Parrotfish, dan Hummerhead Shark yang diwarnai langsung oleh Hamish Daud selaku pendiri Indonesian Ocean Pride...Seluruh hasil penjualannya akan disumbangkan untuk IOP dalam melestarikan taman laut di Indonesia...Beberapa hari lalu aku sempat hadir ke acara press conference tentang kerjasama ini, dan sudah aku tulis ceritanya di
#anitamayaadotcom..
dibaca yah.. 🐋
[email protected]
@
[email protected]
#HariBinatangSedunia
#bloggerslife
#ClozetteID

+ View more details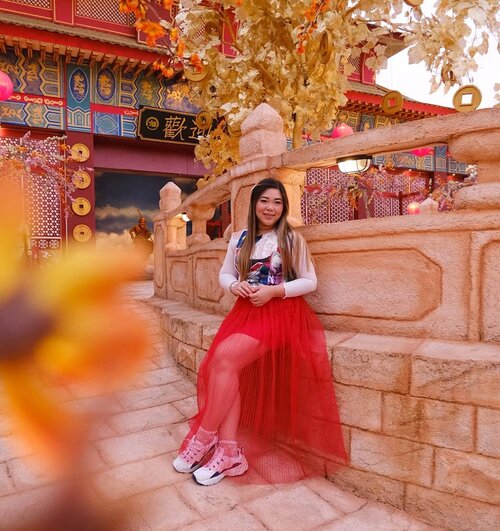 + View more details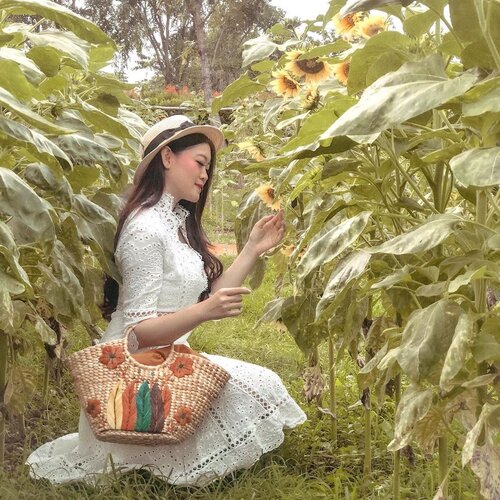 "You carry so much love in your heart, don't forget to give some to yourself" 🌿🌻🍃 Yesterday, was
#WorldsMentalHealthDay
, and I filled my day with some fresh air, walking through greenery, and enjoy beautiful flowers. Sometimes the smallest things feed the soul and bring peaceful vibes to our inner self
The way of recharging-your-life-battery might be different for everyone. But the most important is to understand when and how to heal your self. Because we are just human, and our daily activities or surroundings could be stressful sometimes. So it's okay to not be okay, all we need to do is to take a step back and practice some self care 🙂 It could be a small talk to our loved one, treating yourself with some comfort food, or chilling on the couch and create a cozy space
Just kindly remember, flowers do not bloom without a little rain. Everything has its purpose, even a little pain ✨
_____________
#selflove
#mentalhealthawareness
#selfcare
#spreadpositivity
#positivevibes
#spreadlove
#positiveaffirmations
#clozetteid
#beauty
#skincare
#makeup
#ootd
#fashiongram
#beautyenthusiast
#beautyinfluencer
#asianblogger
#stylediaries
#얼짱 #인스타패션 #패션스타그램 #오오티디 #패션

+ View more details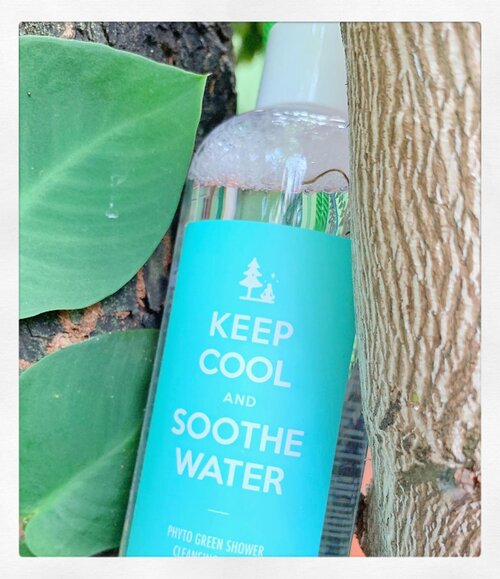 Cleansing water!Yes! Ini dia item yang sudah lama membuatku penasaran.Setelah marak micellar water beberapa tahun lalu, kemudian muncul lagi namanya cleansing water. Apa bedanya? Well.. ada yang bilang beda nama aja, ada yg bilang cleansing water ini ada bahan pelembabnya, dll.Aku sendiri lebih penasaran ke keampuhan cleansing water ini untuk membersihkan wajah, terutama makeup ya. Karena kalau micellar water sendiri, ga semuanya ampuh angkat makeup dari wajah bahkan bikin kulit wajah jadi kering...𝗞𝗲𝗲𝗽 𝗖𝗼𝗼𝗹 𝗦𝗼𝗼𝘁𝗵𝗲 𝗪𝗮𝘁𝗲𝗿 𝗣𝗵𝘆𝘁𝗼 𝗚𝗿𝗲𝗲𝗻 𝗦𝗵𝗼𝘄𝗲𝗿 𝗖𝗹𝗲𝗮𝗻𝘀𝗶𝗻𝗴 𝗪𝗮𝘁𝗲𝗿Namanya panjaang ya boo! Dan aku pun heran kenapa kudu dinamain panjang2 😅Dari bahan-bahan pembuatnya, Cleansing Water ini banyak dibuat dari bahan alami . Aku juga seneng banget karena ada ekstrak green tea dan centella asiatica yang biasanya cucook marucook untuk kulitku yang sensitif dan gampang banget jerawatan.𝕀𝕟𝕘𝕣𝕖𝕕𝕚𝕖𝕟𝕥𝕤Water, PEG-6 Caprylic/Capric Glycerides, Dipropylene Glycol, 1,2-Hexanediol, Centella Asiatica Extract, Polygonum Cuspidatum Extract, Scutellaria Baicalensis Root Extract, Green Tea Extract, Glycyrrhiza Uralensis (Licorice) Extract, Lonicera Japonica (Honeysuckle) Flower Extract, Forsythia Suspensa Fruit Extract, Chamaecyparis Obtusa Leaf Extract, Thuja Orientalis Extract, Pinus Densiflora Extract, Bambusa Vulgaris Extract, Rosemary Leaf Extract, Anthemis Nobilis Flower Extract, Citrus Aurantium Bergamia (Bergamot) Fruit Oil, Butylene Glycol, Polysorbate 20, Ethylhexylglycerin, Disodium EDTA..Setelah pakai ini, kuakui, cleansing water ini berbeda dengan micellar water. Setuju dgn yg bilang cleansing water ini aman utk kulit sensitif karena dia diformulasikan lembuut.Kemampuannya membersihkan mascara dan Lipstik pun oke . Walau rasanya agak pedih di mata.Secara keseluruhan aku suka banget sama cleansing water ini. plus ga ada wangi nya. Cintaa! Kekurangannya cuma satu, kemasannya yang guede bgt, sama botol aqua 600ml lebih gede ini coba! Jadinya doi ga fleksibel dibawa kemana-mana.
+ View more details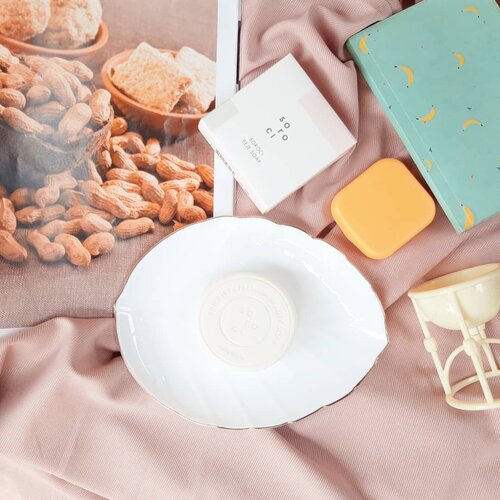 Happy Texture Tuesday ☀️💕
Good Skin
Good Mood
Good Day
~~
I have posted a review about Soroci Calming Essence, and now its time for Eeje Soap review.
I honestly never use beauty bar or soap before. So this is my first time. Im so excited to try this as a cleanser 💕
~~
Soroci's Eeje soap contains selected pure herbs to help maintain healthy and bright skin. Eeje soap foams into creamy light bubbles naturally from the premium coconut oil within the soap. It removes dirt, dead skin, and sebum for clearer skin. It leaves softness for skin. It comes in round shape of soap and printed letters on the surface.
~~
Ingredients
Cocos Nucifera (Coconut) Oil, Glycerin, Citrus Paradisi (Grapefruit) Fruit Extract, Algae Extract, Glycyrrhiza Glabra (Licorice) Root Extract, Sophora Flavescens Root Extract, Ulmus Davidiana Root Extract, Paeonia Lactiflora Extract, Castanea Crenata (Chestnut) Shell Extract, Prunus Armeniaca (Apricot) Kernel Extract, Tocopherol
(Love its ngredients!)
~~
This soap works well to clean the dirt on my face. The scent is a lil bit strong, but the fragrance comes from natural ingredients, so no need to worry. It smells like flowers. The foam that is produced from this soap is also quite a lot and after being rinsed I don't feel my face dry or tight feel like that. My face feels clean and soft. As a second cleanser, this soap is also good. Overall, I like this soap because it doesn't make my face dry or feeling tight. Good for cleaning up dirt on my face ☀️💕
.
.
#clozetteid
#beauty
#soconetwork
+ View more details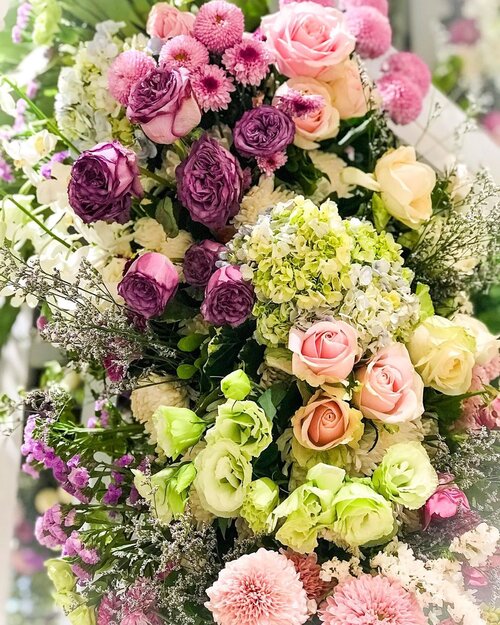 + View more details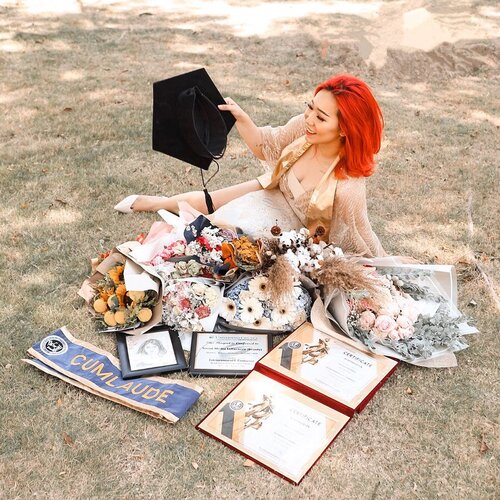 blessed beyond measure🌻❤️-finally finished this 4 years of "bangun pagi demi kelas 10 menit". i really didn't expect my friends to come (since my uni is in "ujung dunia"), didn't expect anyone to give flowers (even my own besties said they won't bring me anything), and especially didn't expect to be one of the best graduated student (i'm honored to wear the gold slayer for the symbol), thankyou all for coming and celebrate my next step to the real world❤️...i would like to thank God for everything, to my family who supports me, and to my besties (my ride or die). my circle may be small but i know it's strong, i laf u guys❤️✨(-) yg ga cukup ke tag: @oliviayangga @clrthomas @kevinwangsa @abelhajadi @samanthajudhianto @parisfloristsby @sentirefalloir @lesfleursby @aeartworkid @swieflorist @reginapatrice @winda012 @nanditohackim @kaayomws @kristantoevan @dttjandra @albesagita @briandyputra @geraldoricky ...............
#graduated
#graduation
#ucpeople
#surabaya
#ootd
#outfitoftheday
#clozetteid

+ View more details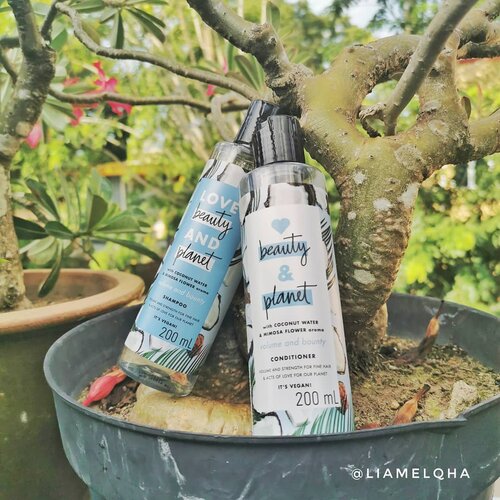 Love Beauty and Planet Coconut Water and Mimosa Flower Aroma Shampoo and Conditioner (Volume and Bounty).
#SOCOBOX
dari @
[email protected]
@lovebeautyandplanet_id Shampoo dan Conditioner ini memiliki aroma kelapa dengan sedikit hint citrus. Kemasan 200ml ini nggak gampang tumpah dan sticker plastiknya ada embosnya. ini cocok di rambutku yang sudah dibleach. Nggak bikin rambut makin kering.Shampoonya di aku termasuk lumayan banyak busanya dan conditionernya bisa melembabkan dan melembutkan rambutku. Padahal sebelumnya aku harus menggunakan masker rambut. Yang bikin makin cinta, kombinasi kedua shampoo dan conditioner ini nggak bikin rambut lepek. Sesuai dengan fungsinya 'Volume and Bounty', meskipun rambutku masih basah habis keramas, rambutku nggak lepek. Pas udah keringpun tetap bervolume.Produk
#lovebeautyandplanet
ini:- YES VEGAN- YES This Bottle is Made from 100% Recycled Materials- YES 95% Biodegradable Formula- YES Natural Coconut Water- YES Ethically Sourced Rose- YES Organic Coconut Oil- YES with Plant Based Ingredients*- YES Not Tested on Animals- NO added Siliocnes- NO Added Parabens- NO Added Dyes- NO Guilt*cleansersCerita tentang 2 foot terakhir cek stories/highlight
#socoboxxlbp
😘
#SociollaBlogger
#sociollabloggernetwork
#ClozetteID
#hairproducts
#bleachedhair
#veganshampoo
+ View more details

loading ...
Back To Top