loading...
Search
8 RESULTS FOR FRMADCOS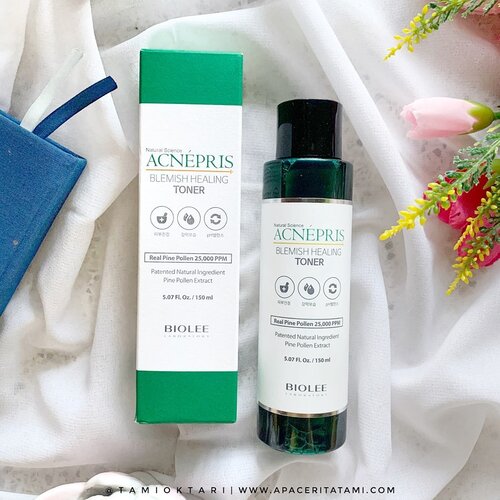 Produk kedua dari @biolee_official yang aku coba setelah Anti Trouble Pen nya. Untuk tonernya ini cukup cepat meresap dan ga begitu lengket. Cukup untuk menghidrasi dan ga bikin kulit kering.Masih mengandung fragrance. Lumayan strong menurutku jadi agak ga nyaman ketika pakai tonernya. Wanginya terlalu semerbak. Dan sayangnya walaupun tonernya cukup menghidrasi, kulitku kurang klop ama produknya karena bagian pipi jadi bruntusan..Sekali lagi, ini reaksi di kulitku dan pastinya hasil pemakaiannya bakal berbeda di tiap individu.Untuk saat ini, produk favoritku dari Biolee ini masi dipegang oleh Anti Trouble Pen nya yang memang ngefek untuk mengempeskan
[email protected]
@madforcos
#ClozetteID
+ View more details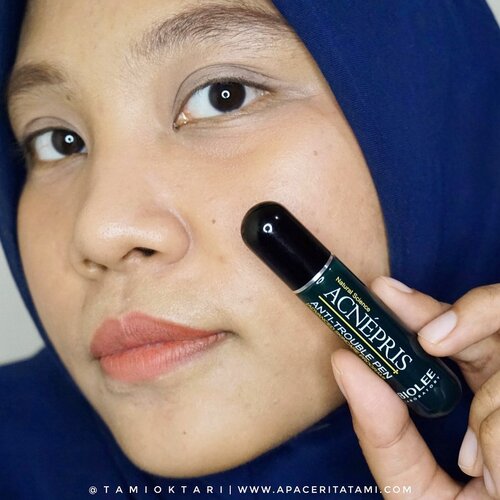 Setelah sekian minggu terbebas dari jerawat, tiba-tiba kemarin kedatangan tamu tak diundang yaitu jerawat 3 biji sekaligus di sekitaran bibir😅 Langsung pakein @biolee_official Acnepris Anti Trouble Pen yang super praktis ini. Bentuknya roll on jadi tinggal oles di bagian jerawatnya. Aku pakai setiap hari, pagi dan malam.Untuk efektif atau gak nya, tergantung jerawatnya. Yg muncul di wajahku tipe pustula. Untuk yg ukurannya kecil, 1 hari langsung kempes dan mengering jerawatnya sedangkan yang agak gede lumayan butuh waktu supaya kempes. Swipe aja ke foto paling akhir untuk liat foto before-afternya ya😉.Masih mengandung fragrance tapi untungnya wanginya ga menyengat seperti tonernya.Kalian yang punya kulit berjerawat dan tertarik untuk mencoba bisa cek produknya langsung ke website
www.madforcos.com
dan jangan lupa sertakan kode voucher 'TAMIOKTARI' untuk dapatkan diskon 30% ya🥰
[email protected]
@madforcos
#acneskin
#ClozetteID
+ View more details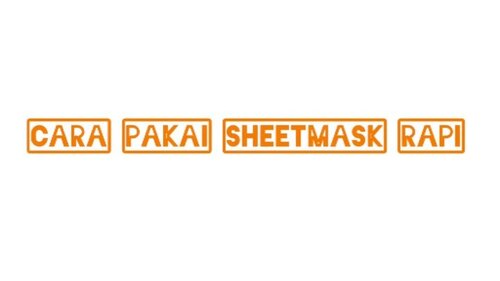 + View more details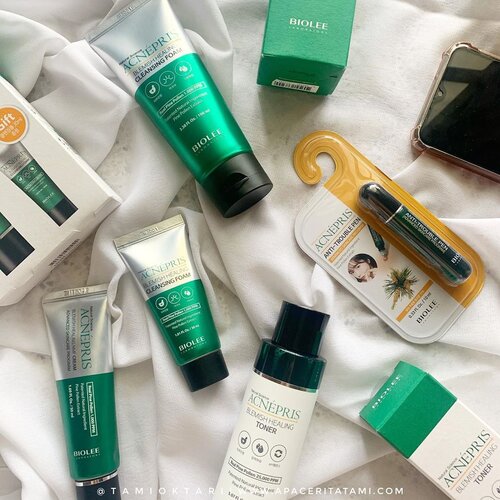 Udah pada tau brand @biolee_official? Jadi ini brand asal Korea yang fokus untuk kulit berjerawat. Ada 4 macam produk yaitu facial foam, healing cream, toner dan anti trouble pen.Review lengkapnya menyusul. Dan sepertinya aku bakal dahulukan review toner dan anti trouble pen nya😁👍
[email protected]
@frmadcos
#acneproblems
#clozetteid
+ View more details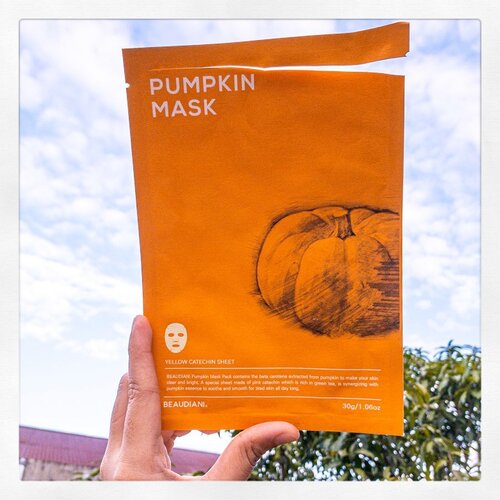 + View more details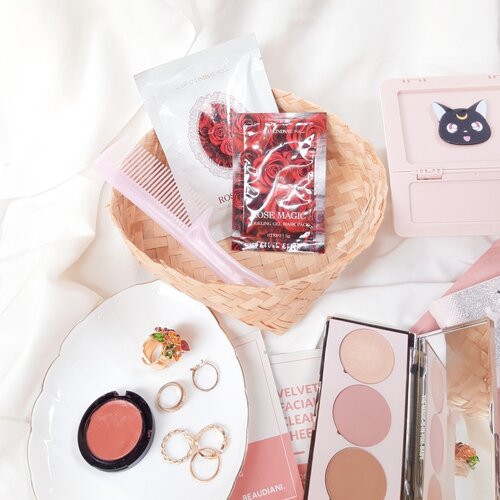 𝗨:𝗟𝗜𝗡𝗗𝗦𝗔𝗬 𝗥𝗼𝘀𝗲 𝗠𝗮𝗴𝗶𝗰 𝗠𝗼𝗱𝗲𝗹𝗶𝗻𝗴 𝗚𝗲𝗹 𝗠𝗮𝘀𝗸 𝗣𝗮𝗰𝗸🌷🌹This modeling mask pack is basically sheet mask that you build yourself.The U:Lindsay Rose Magic Modeling Pack is a gel-type pack that is used after mixing liquids and powders that are full of high-moisturizing nutrients.It says that rose extract with moisturizing nutrients helps to brightening and moisturize the skin. It contains rose extract, licorice, root extract, niacinamide, cica, and peptides..How to use:Put gel into container and put powder. Mix the gel and powder well. Apply the mixed pack to the face using mask brush. Its a lil bit hard and messy to apply, but im enjoy it. I wait like about 30 minutes until the mask was fully dry. then came the fun part, peeling it off 😂.I feel cooling effect after I apply this mask. The scent is like rose and neroli mist (I have reviewed it before). Not too strong. I noticed that it gives moisture and firming effect. I enjoyed using this mask in my mid day time. Rubber mask like this usually available at facial spa and treatment, so I really feel lucky to try this at home.Thank you @madforcos @frmadcosHave you tried modeling mask pack like this? ✨..
#clozetteid
#soconetwork
+ View more details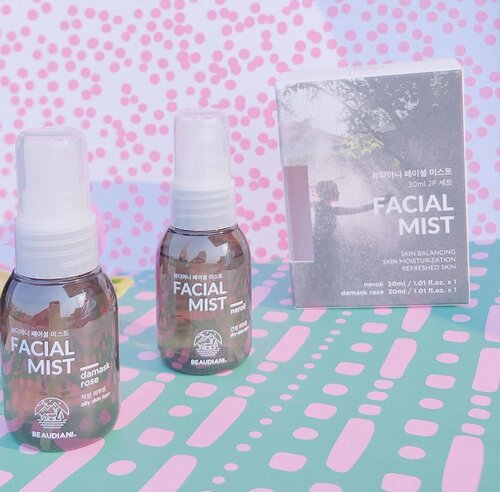 What's this? The cute mini bottle from @beaudiani @beaudiani_global 😍
BEAUDIANI FACIAL MIST 💧
Neroli (dry skin type)
Damask Rose (oily skin type)
How much do you need to face mist? for me, every day I definitely use face mist because I need extra hydration, instant freshness, and so it's not easy to sleepy😁
What are the advantages of face mist Beaudiani? first of all I was quite impressed with the ingredients because for me this content was quite unique and I just met this product 😍
It uses citrus aurantium dulcis flower oil helps for dry skin and a base of carrot seed oil which helps to make skin healthy. Its full moist and continuous moisturizing makes tired skin moist and healthy. Also, delicate citrus aurantium dulcis flow er oil (neroli oil) fragrance helps to uplift the mood. Is perfect for me who is moody 😆
Which of these two variants am I using? I use both! because in today's weather, my skin is easily dehydrated and the first aid is to use face mist. And also when going to reapply and after reapply sunscreen I usually use face mist for extra freshness and to boost my mood 🎀
I want to know how you use face mist, tell me 🥰
대단히 감사합니다 @madforcos ❤️
#beaudiani
#beaudianiglobal
#madforcos
#madcos
#frmadcos
#facemist
#skincare
#makeup
#beauty
#clozette
#clozetteid
#skincarecommunity
#skincareblogger
#skincareblog
#abskincare
#abcomunity
#abblogger
#kbeauty
#kbeautyblogger
#kbeautyblog
#skincareblogger
#beautybloggerindonesia
+ View more details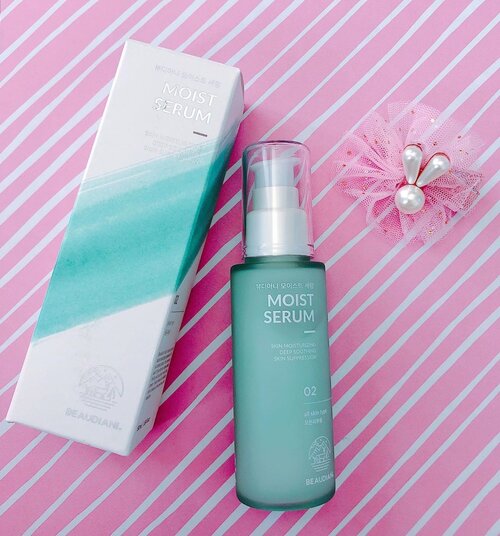 Annyeong 촉촉 스킨 hunter 🔎💧 @beaudiani_global @beaudiani MOIST SERUM
REFRESHING and MILD ESSENCE
SKIN MOISTURIZING, DEEP SOOTHING, SKIN SUPRESSION
If you a newbie of kbeauty, you'll confused with naming emulsion, essence, serum. Let me tell you, in kbeauy, layering skincare is about step by step using skincare from the mildest to the thickest ter texture. This basic principle.
Personally, I used this product on moisturizer slot and give me extra hydration because I used 2 layers. The texture is gel cream easy melt on skin, milky white colour a little bit transparent, hint citrus orange scent, fast absorb and non sticky feeling. I used in AM PM and so light texture.
Contain micro silk moisture capsule technology, soothe the skin and intensive moisture effect. My skin feel so smooth like using pore primer.
The packaging is sturdy, elegand, and cutie with colur combination 😍 and the Ingredients is so interesting
They claim is for all skin type. And I feel comfortable using it even though my skin is breakout and is a good thing. This product will not trigger a breakout 😍
You can buy this product at @frmadcos and get 30% discount if using my code 🛍
And special thankyou for @madforcos
#madforcos
#frmadcos
#beaudiani
#kbeauy
#abskincare
#abcommunity
#abblogger
#idskincarecommunity
#skincarecommunity
#kbeautyblog
#kbeautyblogger
#kbeautybloggers
#skincareblog
#skincareblogger
#clozette
#clozetteid
#skincare
#makeup
#beauty
+ View more details

loading ...
Back To Top