loading...
Search
488 RESULTS FOR GADZOTICA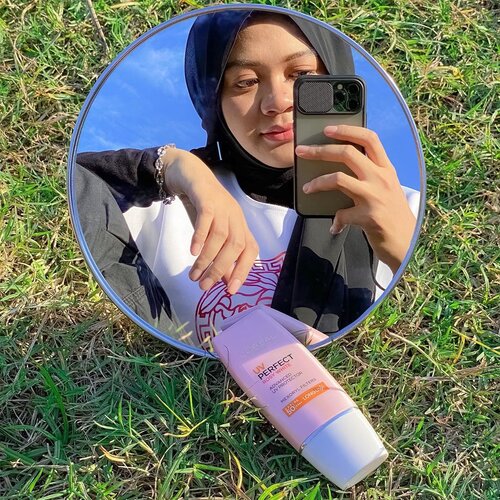 Hai semuanya~ Jangan heran yah kalau aku panas-panasan. Lagi mencoba sky selfie sambil tes sunscreen nih. Btw aku mau share review 3 varian @getthelookid Loreal UV Perfect yg lagi kucoba.
Rosy White (pink): ada hint pink yg bisa mencerahkan kulit kusam. Menurutku lebih ke color correcting gitu. Hasilnya sedikit glowing tapi nggak terasa berminyak. Suka banget sama tampilannya yg glowing alami. Cocok untuk all skin type/ yg pengen dapat kesan cerah dari sunscreen.
Matte & Fresh (hijau): teksturnya lotion tapi paling padat diantara 3 varian. Hasilnya langsung matte di kulit. Cocok untuk kulit oily/ suka tampilan matte.
Super Aqua Essence (ungu): Teksturnya paling encer diantara 3 varian. Hasilnya glowing walaupun di kulit nggak terasa terlalu berminyak. Cocok untuk kulit kering/ yg suka tampilan glowing.
Sengaja aku tes sambil pakai makeup, ternyata foundation jadi lebih nempel. Aku ambil foto ini panas-panasan 2 jam dan foundationku nggak melting/ minyakan loh padahal nggak dikasih bedak. Oya, kulitku tipenya kombinasi-sensitif dan favoritku si varian Rosy Pink.
Gimana, kalian udah coba belum? Paling favorit sama varian apa?
@sbyglamsquad
#StaySunnyInside
#sunnytime
#skyselfie
#beauty
#lifestyle
#beautybloggerid
#bbloggerid
#bloggersurabaya
#influencersby
#beautyinfluencer
#beautyinfluencerindo
#indobeautygram
#clozetteid
+ View more details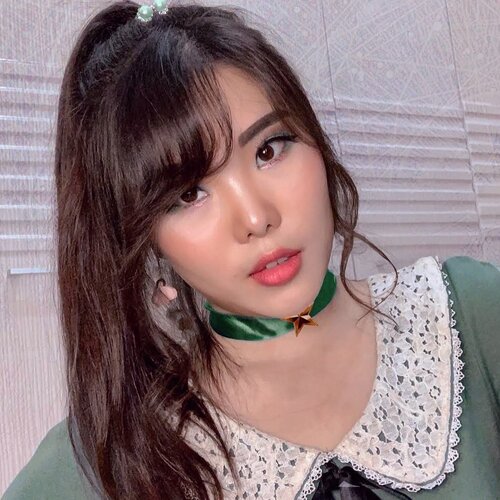 Siapa ini? 😂.
(Swipe left aja ya 😉).
.
.
Fun collaboration with amazing girls here, reminiscing our good old days watching Sailormoon :
1. Mindy (@mgirl83) as Sailor Moon.
2. Aiyuki (@aiyuki_aikawa) as Tuxedo Mask.
3. Ine (@inegunadi) as Luna.
4. Bella Sandra (@bellasandraa_ ) as Artemis.
5. Anita (@anitaa_bee ) as Saturnus.
6. Leonita (@leonita_wenny ) as Merkurius.
7. Lena (@magdalena_bhe ) as Venus.
8. Ochix (@ochix_zakiyah ) as Mars.
9. Chelshea (@chelsheaflo ) as Jupiter.
10. Gadis (@gadzotica ) as Pluto.
11. Angelika (@banieun08 ) as Pluto.
12. Ryan (@hincelois_jj ) as Uranus.
13. Vallerine (@vallerinechristaballe ) as Chibiusa.
14. Auzola (@auzola) as Serenity.
15. Yunika (@yunikatartila ) as Princess Ceres.
.
.
#sailormoon
#sailormoonmakeup
#sailormooninspired
#sailorjupiter
#sailormooncosplay
#ClozetteID

+ View more details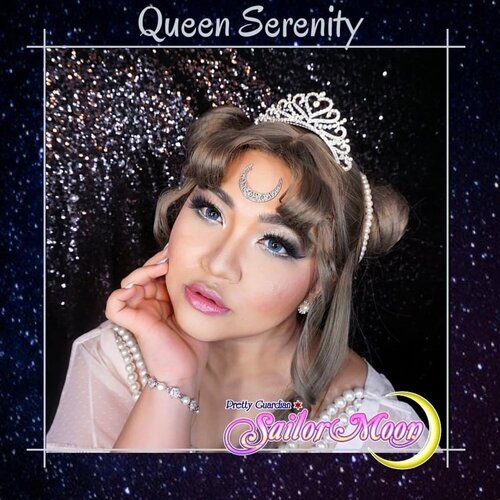 + View more details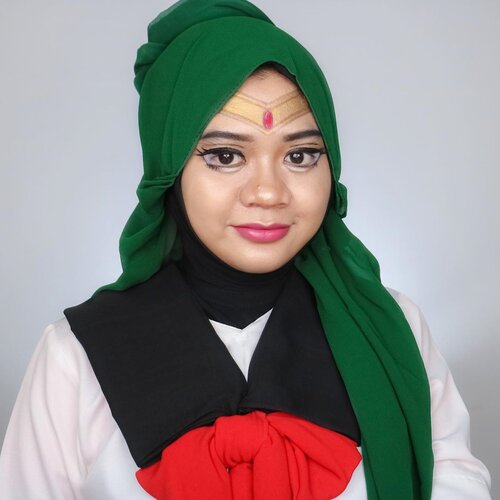 Yuhuuu akhirnya bisa posting collab makeup bareng temen-temen lagi~
Kali ini temanya Sailormoon dan aku jadi Sailor Pluto. Keliatan kan dari baju dan warna hijabnya? Disini aku terapin anime eyes walaupun nggak mirip banget sama matanya Setsuna Meioh. Banyak banget tantangannya bikin anime eyes karena harus enlarge mata 2x lipat sedangkan space mataku ya segitu aja 😂.
Btw, cukup puas sih sama outfitnya yg aku create pakai jilbab biar keliatan kaya outfit sailormoon. Sailor Pluto juga princessy elegan gitu kan, posenya ngikut deh 🙈.
Gimana nih makeup Sailor Pluto-nya, berhasil nggak? Kalian suka karakter Sailor Moon yg mana?
The full lineup :
1. @inegunadi as Luna
2. @mgirl83 as Sailor Moon
3. @aiyuki_aikawa Tuxedo Mask
4. @auzola as Serinity
5. @bellasandraa_ as Artemis
6. @leonita_wenny as Merkurius
7. @ochix_zakiyah as Mars
8. @vallerinechristaballe as Chibiusa
9. @chelsheaflo as Jupiter
10. @magdalena_bhe as Venus
11. @gadzotica as Pluto
12. @banieun08 as Neptunus
13. @yunikatartila as Ceres
14. @hincelois_jj as Uranus
15. @anitaa_bee as Saturnus
#sailormoon
#sailormooncollab
#thematiclook
#sailormoonmakeup
#animemakeup
#sailormooninspired
#sbybeautyblogger
#beautefemmecommunity
#indobeautygram
#bbloggerid
#beautybloggerid
#influencerindonesia
#influencersurabaya
#surabayainfluencer
#makeup
#beauty
#clozetteid
+ View more details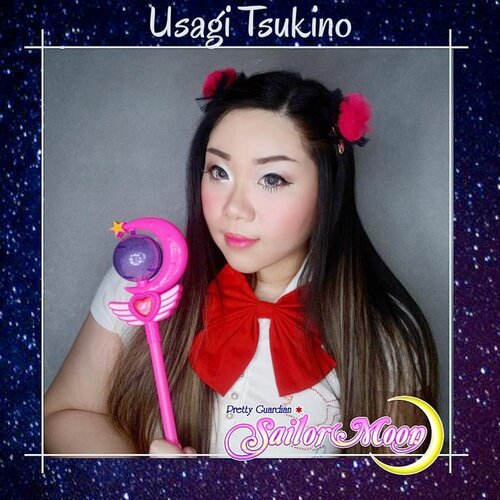 + View more details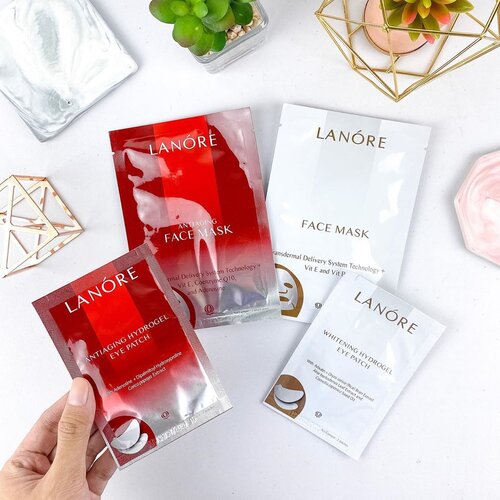 + View more details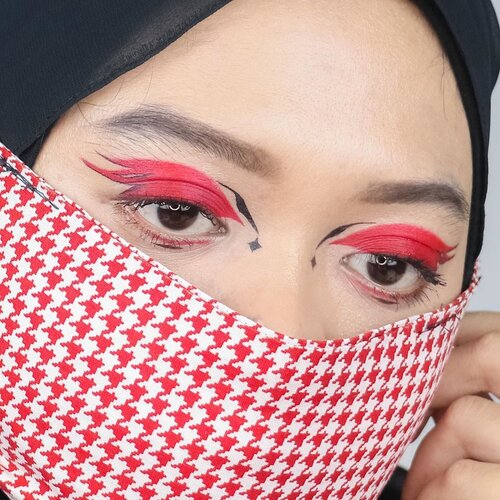 + View more details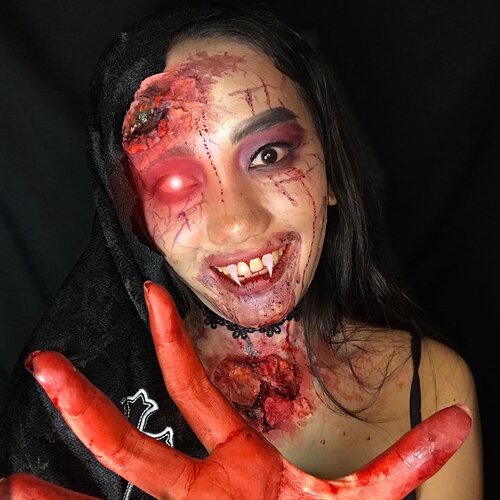 " (TRIGGER WARNING) ".
" HORROR VAMPIRE"
.
Darah dan luka semuanya make up ya, ga ada yg nyata , murni kreativitas .
.
@beautefemmecommunity presents : our second makeup collab : "Vampire Makeup Collab"
kategori 𝑯𝒐𝒓𝒓𝒐𝒓 𝑽𝒂𝒎𝒑𝒊𝒓𝒆
Collage 1
1. @sucianisuhendra
2. @nidahanifahn
3. @ayuthiacv
4. @maslahatul.ad
Collage 2
1. @nanasmilala
2. @its_nurulistqmh
3. @gadzotica
4. @shf.ardi
Collage 3
1. @rayya_bethys
2. @aiyuki_aikawa
3. @theresiavd22
4. @dianpebryla
Collage 4
1. @serlypuspita.s
2. @prillistyy
3. @nrl1996
4. @mufadwi
Collage 5
1. @deafebi_
2. @adekumalaputri
3. @elendry97
4. @chatrine_wu
Cek makeup teman" aku lainnya yg kategori Twilight Vampire Makeup di
#beautefemmecollab
Stay tuned for more fun collabs from us!
#beautefemmecommunity
#beautefemmecollab
#makeup
#collabmakeup
#vampiremakeup
#twilightmakeup
#horrormakeup
#horror
#crazymakeup
#vampire
#clozetteid
#clozette

+ View more details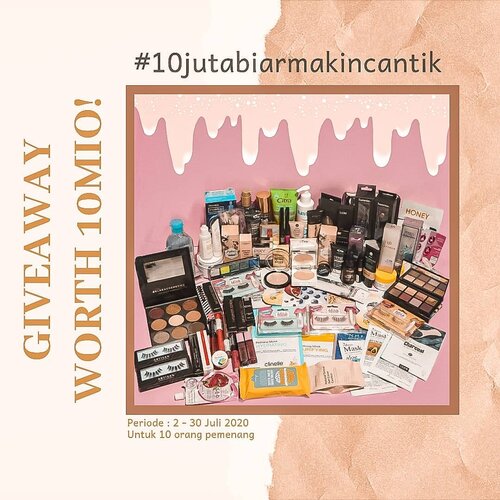 .[GIVEAWAY TIME!] 🤩🤑 Untuk mengapresiasi kalian yg udh setia support kita selama ini, kita mau bagi bagi makeup, skincare, beauty tools SENILAI 10JUTA RUPIAH untuk 10 pemenang! Ini hadiahnya mantap bgt sih banyak high end brand 😍😍Mau? Caranya gampang banget loh..(1) FOLLOW IG KITA SEMUA, WAJIB :1. @khansamanda2. @ayudamayanthi3. @mgirl834. @gadzotica5. @
[email protected]
@rigiwereld8. @siscapiccha9. @glowliciousme10. @chelsheaflo.(2). Like postingan ini & comment ajak 5 teman kalian untuk join giveaway, gunakan hastag
#10JUTAMAKINCANTIK.
Makin banyak kalian ajak teman, makin banyak kesempatan menang loh! ..(3). Repost giveaway ini di sebanyak banyakanya IG Story kalian dengan hashtag
#10JUTAMAKINCANTIK
mention kita di story tsb yaa ( be active di instagram kita jadi nilai plus!).(4). Periode giveaway 02 - 30 JULI 2020..(5). Pemenang akan diumumkan 01 AGUSTUS 2020 di IG Story kita masing-masing! ..⚠ NO second acc / olshop acc / giveaway acc. Harus pake akun pribadi dan jangan di-private yaGood luck ❤❤
#giveawayindonesia
#Giveawaybulanan
#giveawaymakeup
#giveawayjuli2020
#JakartaBeautyBlogger
#ClozetteID

+ View more details

loading ...
Back To Top