loading...
Search
1,471 RESULTS FOR GLITTER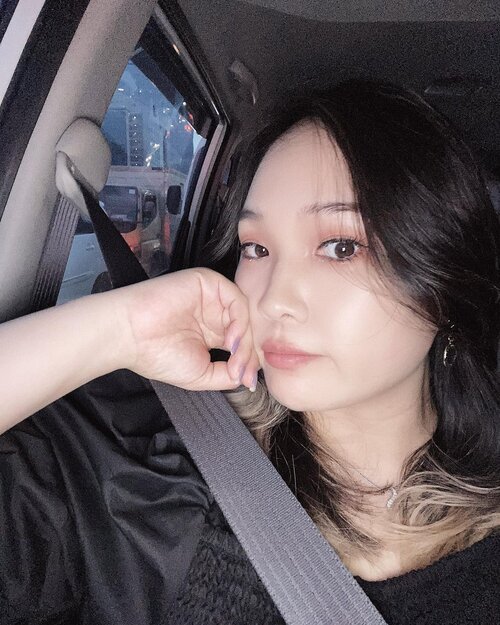 Even though we are facing the pandemic 😷 Don't lost our beauty babe 😉🥲
#alwaysshining
✨
#beautyenthusiasts
By the way how can i lose my weight 🥲Share me tips my friendsGlitter from @charis_indonesia find my shop :)
+ View more details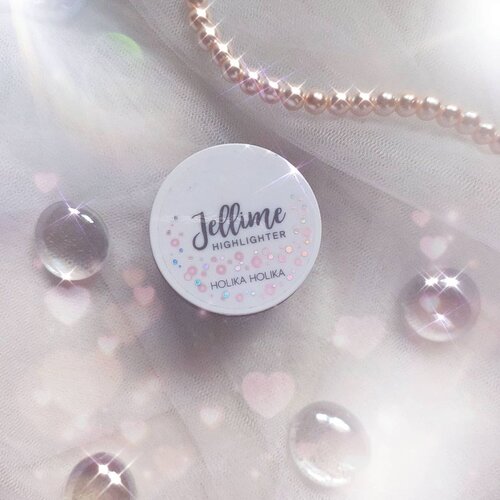 Korean highlighter's quality is below Western ones? Well, maybe you haven't try the right ones, because i have a lot of beautiful Korean highlighters that's every bit as awesome as Western branded ones!The latest one that i really like, quite unexpectedly because i never liked any wet highlighters before - is this Jellime Highlighter from @holikaholika_official . It's not super new or anything, they came out when those slime/jelly highlighter became a trend, i simply forgot that i got it 🙈.I actually only get it to get in the trend if anything, i was also a bit scared to actually use it because wet highlighters never really worked for me before, especially because i am a heavy powder user (because i have very oily skin, if i don't set my base it'd be game over for me in a matter of minutes 🙈) , wet highlighter would normally be patchy and clumpy on top of powders - and they move my base around, but not this one! It's definitely wet alright (but it's putty-like so it's not entirely liquid but a lot more solid and jiggly, like its name jellime - which supposed to be jelly/slime i guess?)It works super well on top of powder (ofc it works well on base without powder too, but avoid applying before setting your makeup if you plan on using powder), no shifting nor clumping detected!It's a bit hard to catch the full effect on camera, my shade 01 Feel So Candy (also available in 2 other shades) has pink microglitters but they are so fine when blended it actually doesn't look pink at all, just shiny and pretty - it looks pretty natural too (the glitters aren't chunky at all) as you can see from the close up pics so don't be afraid of how pink it is on the pot, it looks more light gold than anything once fully applied.If you want OTT, super blinding highlighter then this one is not your match, but if you want a unique, easy to use (it's hands down the easiest wet highlighter i've ever tried), glow from within type of highlighter then you should totally check this out.
#highlighter
#highlighterreview
#jellimehighlighter
#holikaholikajellimehighlighter
#kbeauty
#clozetteid
#sbybeautyblogger
#BeauteFemmeCommunity
#reviewwithMindy
+ View more details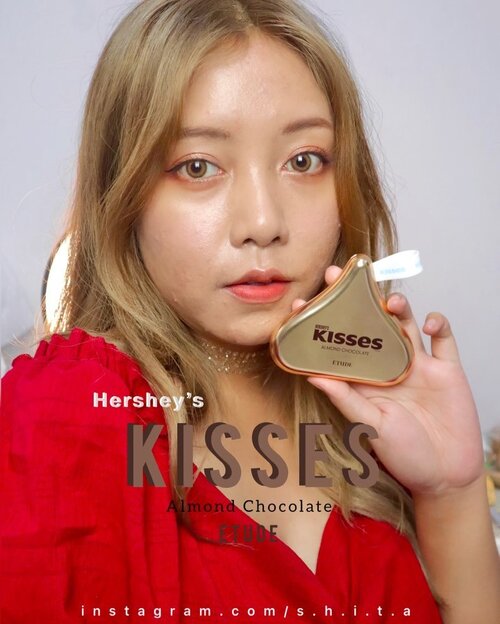 🌰𝑬𝒕𝒖𝒅𝒆 𝑷𝒍𝒂𝒚 𝑪𝒐𝒍𝒐𝒓 𝑬𝒚𝒆𝒔 𝑯𝒆𝒓𝒔𝒉𝒆𝒚'𝒔 𝑲𝒊𝒔𝒔𝒆𝒔 #𝑨𝒍𝒎𝒐𝒏𝒅𝑪𝒉𝒐𝒄𝒐𝒍𝒂𝒕𝒆🌰
Makeup junkies terutama yang ngikutin Korean brand pasti tau kalo Etude di 2021 ini kolaborasi lagi sama Hershey's (iya lagi, karena 2020 mereka juga pernah kolaborasi)
Aku sendiri sebagai bucin packaging unyu-unyu excited banget sama produk ini!
Packagingnya dibanding dengan tahun lalu yang kotak biasa aja, tahun ini lebih kyooot! Mirip coklat Hershey's banget! Bedanya eyepalette kali ini isinya hanya 4 warna aja huhu yaudah gapapa sebagai ganti packaging yang lucu…
Nah shade
#AlmondChocolate
ini warnanya lebih brown-orange yang lebih dark. Ada 4 shadow terdiri dari matte, shimmer, matte+sedikit glitter dan glitter yang kecil-kecil. Kalau palette yang Almond Chocolate ini menurutku mirip dengan palette 2020 Hershey's Original.
Warna-warnanya yaitu :
Flash! Sweet Energy (mini glitter)
Sweet Like You (shimmer)
Almond Time (matte)
Gold Flake (matte + sedikit glitter)
Warnanya pigmented dan cocok banget buat semua warna kulit menurutku. Netral dan bisa dipakai untuk day look or night look! Menurutku palette ini bisa digunakan untuk pemula sekalipun karena lengkap dari matte-shimmer-glitter.
Where to buy? @nearndear.official
@etudeofficial
#nearndearxetude
#nndofficial
#nndxetude
#etudexhersheys
#hersheys
#clozetters
#clozetteid
#etude
#hersheys
#koreanmakeup
#makeup
#startwithSBN

+ View more details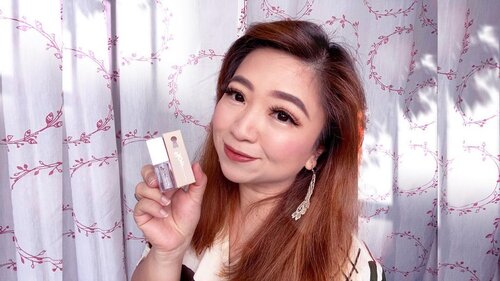 + View more details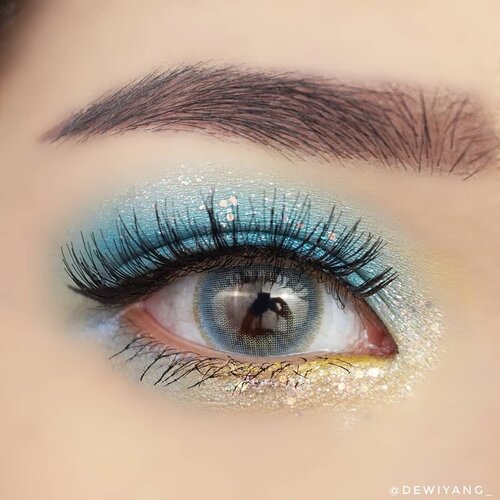 Jadi keinget warna ikan pas lagi snorkling 💙💛Products used:• @jacquelle_official Eyessential Pen - Medium Brown (for brow & eyeliner)• @beautyglazed Gorgeous Me Eyeshadow Tray Palette• @unleashia_id Get Loose Glitter Gel - N°6 Sunset Lover• @hicharis_official Mecret Vegan Mascara - Black• @x2softlensofficial Bio Glaze - Na Azul
#DewiYangEye
+ View more details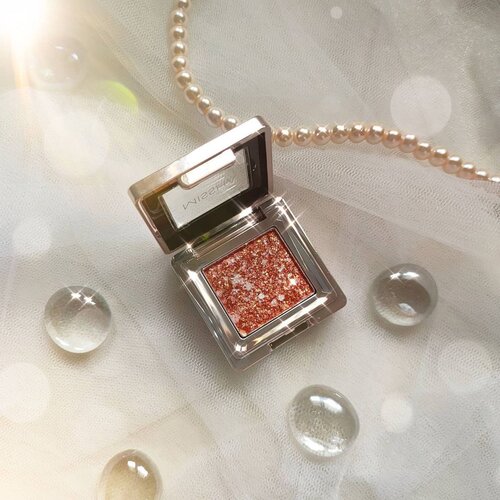 My love for shimmery Korean eyeshadow will never fade 🙈.I usually prefer eyeshadow palettes, but for micro glitter shimmery shadows, i don't mind singles - like this @misshaglobal.official Kodern Shadow Glitter Prism. Weirdly enough i cannot find the shade's name in the packaging (or it might only written in Korean, which i definitely cannot read) i thought it was Lucid but i dug up my old receipt (i got it from @altheakorea a while back) and turned out it's
#9
Dragon - which looks almost bronze-brick red in the pan but translate into a more Rose Gold shade when used.I was drawn to the unique presentation and it's actually hand made??? Which makes it all the more interesting for me. It seems like they combined and pressed several colors, shimmers and micro glitters for each shade and press them together, resulting in highly reflective, full dimensioned glittery, pigmented (the swatch only took me some light swipe okay) shadow. It's just simply beautiful, smooth (no grittiness whatsoever, the glitter particles are sooo fine) and easy to use. I am happy with the shade i chose, it's very easy to wear and pair with most shades and it's pretty enough to wear on its own (not many shades can be worn solo and not make my eyes looks smaller/weird) - but because it's soo pretty... I kinda want to collect all of the shades and there are quite a lot of them 😭. Price wise, it's not too expensive (78-120k, depending on the OS), but if you try to get them all, obviously they add up 🤣.I am obviously in love and that means i highly recommend it, even if you don't wear a lot of makeup and just want some color on your eyes and be done with it, i think you will appreciate this one. TAKE ALL MY MONEY!
#glitter
#eyes
#glittereyeshadow
#kbeauty
#clozetteid
#sbybeautyblogger
#BeauteFemmeCommunity
#shimmeryeyeshadow
#eyeglitter
#reviewwithMindy
+ View more details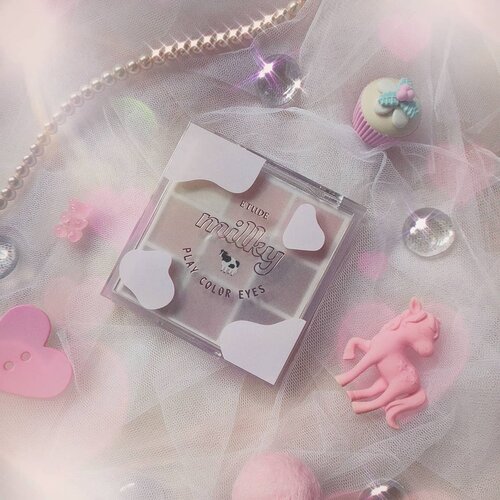 No @etudeofficial eyeshadow ever fail me, Color Play Eyes Strawberry Milk is definitely no exception.
Uber kawaii and girly packaging? ✅ .
Soft, buttery, smooth (or, in their words : milky 🤣) texture? ✅.
Decent pigmentation and uber wearable matte shades? ✅.
The most beautiful, enchanting, mesmerizing shimmer shade that makes me fall over and over again for Korean glitter shadows? ✅✅✅.
The only down point is that i only have one of the variants while they have two others (Banana Milk and Blueberry Milk) 🤣🤣🤣, i want them all in my collection!!!
Needless to say, i LOVE it and would highly recommend it for all other girly girls who are also a sucker for all things kawaii - you can't tell me you don't covet it because i know you're lying!
Swipe to see swatches and wait for my next post to see how the palette looks on the lids!
Wanna have one too? You can get yours with special price at my Charis Shop (Mindy83) or type
https://bit.ly/strawberrymilkMindy83
to get directed to the page directly.
#etude
#playcoloreyesstrawberrymilk
#CHARIS
#hicharis
#eyeshadow
#koreancosmetics
#koreanbeauty
#reviewwithmindy
#kbeauty
#clozetteid
#sbybeautyblogger
#BeauteFemmeCommunity
@hicharis_official @charis_celeb @charis_indonesia
+ View more details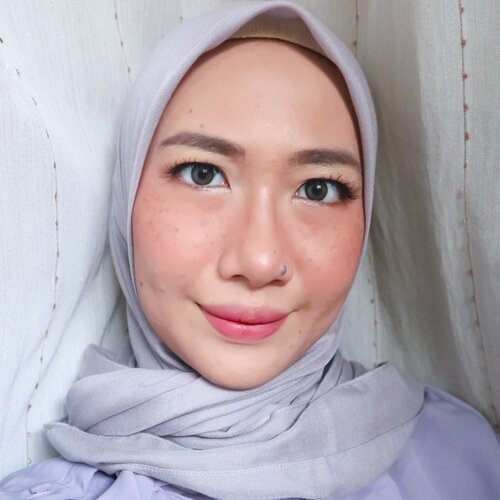 swipe for more✨
ikutan makeup challenge sama Beautiesquad bulan ini, yay! temanya "date with oppa" makeup 💕 sebenernya ngga bisa aku terapkan karena orang yg aku incer sekarang lebih muda 4 tahun, jadi ngga bisa dipanggil oppa. iyak, siapa lagi kalau bukan Felix 🥰
date makeup-ku sendiri temanya freckless korean makeup. tbh aku kurang pede pas foto makeup ini, mungkin karena ngga biasa aja. tapi kalo inget Felix suka banget sama freckless dia jadi aku pakai fake freckless di makeup-ku. ngga lupa dengan grey softlens, glitter di bawah mata, dan peach blush biar makin gumush kalo jalan sama Felix 🥺 halu emang HAHAHAHA! biar sesuai tema lah yaa~
untuk makeup lainnya dari anak-anak BS bisa tinggal swipe atau klik username mereka di bawah ini 🤗 kasih "oppa" crush kamu di kolom komentar dong! 🐣
@silviaayudianoor @shintadwia @septianadamay @saadahft @reginapitupulu @rayditaph @phirlyv @magdalena_bhe @liamelqha @fugu28 @flowrindesu @fiarevenian @aliyatussadiyah @akpertiwi @aghitaandriani @abigailfrida @nadasushi @andayanirhani @yeninur17 @aazurei_ @shanty_huang
@beautiesquad
#Beautiesquad
#BSFebCollab
#BSCollab
#BSDatewithOppa
#aidacht
#clozetteid
#makeup
#koreanmakeup
+ View more details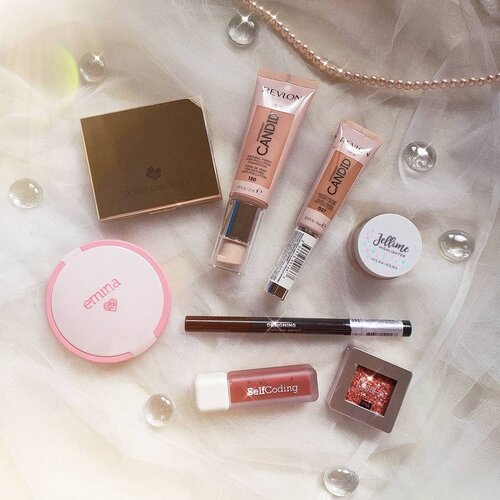 Products used in previous video and my first impression of them :1. @revlonid PhotoReady Candid Foundation (130) - very light, almost feels like a tinted moisturizer to me. Not my fave but imma try it again and see if it grows on me. Shade matches me pretty well.2. Revlon PhotoReady Concealer (027) - i like the packaging and the wand. It's good for my under eye but probably a bit thin to cover blemishes. I quite like it tho. Can go a shade lighter, but it's the lightest in my collection, i can make it work.3. @missha.official Modern Shadow Glitter Prism ⭐ (not sure of the shade coz i can't find it in the packaging, pretty sure it's
#1
Lucid) - it solidifies the fact that I LOVE KOREAN GLITTER EYESHADOWS ! Super duper pretty. Kinda dying to add every shade in my collection 😓.4. @thefaceshop.official Designing Eyebrow Pencil (03 Brown) - not a big fan, too creamy for my liking. I like that it comes with a spoolie tho.5. @holikaholika_official Jellime Highlighter ⭐ (01 Feel so Candy) - IT'S BEAUTIFUL 😳😳😳, was scared of the jelly/slime texture but it works well even over powder! It's glittery but not chunky and it's what every highlighter-obsessed girls' dreams are made of. The first wet highlighter that i actually love!6. @eminacosmetics Bare with Me Mineral Compact Powder (01 Fair) - it's okay, i prefer a bit more coverage from my compact powder but it's wearable. It works pretty well with the foundation tho, i enjoy how my complexion turned out yesterday.7. @poppydharsonocosmetics Perfecting Color Blush (02 French Rose) - it's a lot more pigmented than i expected and a little harder to blend, it's alright.8. @selfcoding.official Code Crush Matte Liquid Lipstick in
#Nostalgia
, it's my 2nd Code Crush lippie and i already know i like it, the shade is bolder than it appears on the tube (it looks more pale nude in the tube) and i like it better than i expected.Most of the products are just okay, 2 are super good tho - any product you want me to review in more detail first? I would probably talk about each in the future after a few more use!
#BeauteFemmeCommunity
#SbyBeautyBlogger
#clozetteid
#startwithSBN
#socobeautynetwork
+ View more details

loading ...
Back To Top