loading...
Search
8,324 RESULTS FOR HAIR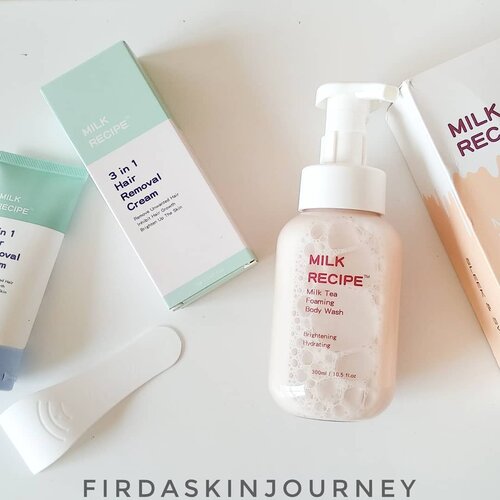 #Repost
from Clozetter @firdaskinjourney.
✨MILK RECIPE✨
-
Haiii, I'm back.
Aku mau share review 2 produk yang lagi aku coba selama 3 minggu terakhir. Kedua produk ini dari brand Milk Recipe (@milkrecipe.id). Produk yang aku coba adalah Milk Tea Foaming Body Wash dan 3in1 Hair Removal Cream. Here's the review:
-
✨Milk Recipe Milk Tea Foaming Body Wash
Aku suka banget sama wanginya karena wangi susu + tea yang manis dan segar. Foamnya juga lembut banget tapi gampang ilang, jadi harus cepet-cepet dipakai biar gak terbuang.
Setelah dibilas, kulitku kerasa lembap tapi gak licin. Nyaman banget. Ditambah wangi milk tea yang nempel di kulit bikin makin relax.
Minusnya cuma satu sih, boros. Karena tiap mandi aku perlu sekitar 8 pump lebih buat seluruh badan. Aku pakainya hemat-hemat banget, sayang.
-
✨Milk Recipe 3in1 Hair Removal Cream
Teksturnya thick cream dan wanginya aneh banget, aku gak kuat nyium wanginya. Untung pakainya gak di muka sih, jadi gak begitu keganggu sama wanginya.
Buatku yang punya bulu lebat + panjang, produk ini membantu banget kalo lagi males waxing. Pakainya gampang dan gak bikin sakit. Yang paling aku suka sih, produk ini gak bikin kulitku iritasi atau muncul ingrown hair gitu, jadi kerasa nyaman banget. (Lihat slide 7 untuk pengaplikasian)
Emang sih gak bertahan lama, baru seminggu udah muncul lagi bulunya (lihat slide terakhir). Tapi sejauh ini aku merasa terbantu banget sama produk ini.
So far, keduanya aku suka karena performanya gak mengecewakan. Dengan harga yang cukup affordable, kedua produk Milk Recipe ini wajib kamu coba.
-
✨Body wash: Rp54.000
✨Hair removal cream: Rp35.000
✨Where to buy? Misscindy9059 (Shopee) atau cek @milkrecipe.id for more info.
+ View more details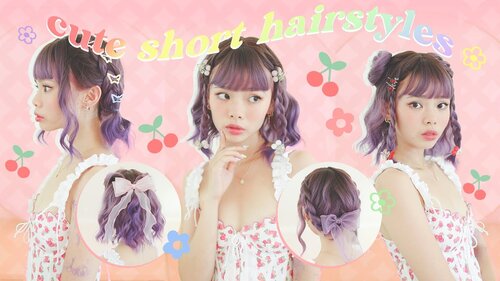 cute 5 minute hairstyles for SHORT HAIR!! 🍒❤️ - YouTube
+ View more details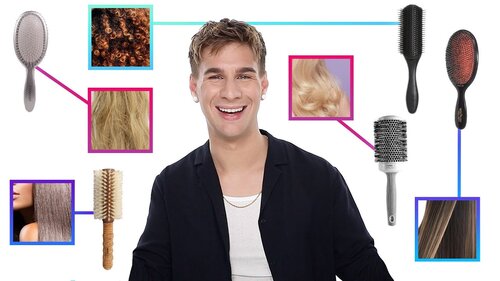 You're Using The Wrong Brush For Your Hair Type - YouTube
+ View more details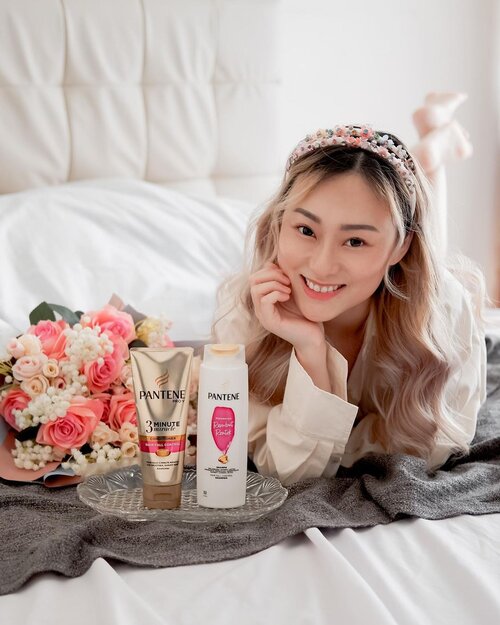 #Repost
from Clozette Ambassador @hisafu.
[HAIR CARE]
Pasti uda pada tau kan klo tubuh butuh vitamin biar kuat, begitu juga rambut loh.. Jd klo km blg rambutmu sering rontok, cb deh cek shampoo km uda memenuhi nutrisi yg dibutuhkan blm??
-
Sekarang aku lagi pake Pantene Perawatan Rambut Rontok plus 3 Minutes Miracle Conditionernya yg punya Pro-V Multivitamin yg dibutuhkan rambut. Rambut bisa lbh kebal dan tebal dlm 14 hr pemakaian loh..
-
Jadi uda siap blm punya
#RambutTanpaBatas
dengan @panteneid ??
+ View more details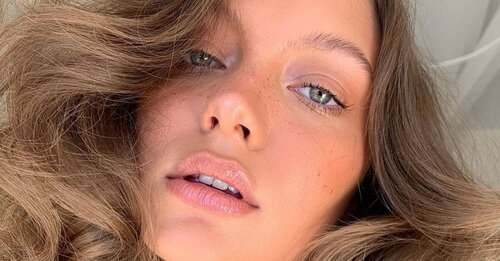 So swishy.
Simak juga artikel menarik lainnya di Article Section pada Clozette App.

+ View more details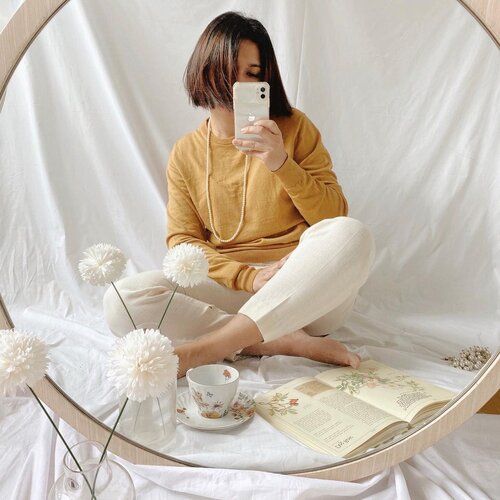 #Repost
from Clozette Ambassador @cellinikamil.
Messy hair don't care. Who loves to read book while sipping tea other than me? I think this hobby will suits me well when Im older and became a granny LOL 😂
-
#ClozetteID
+ View more details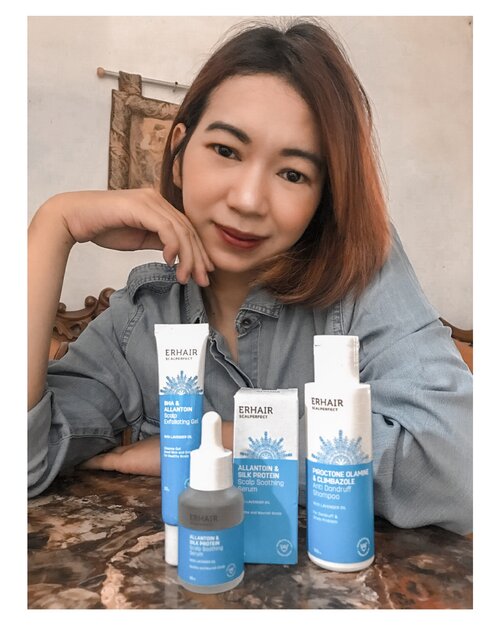 Bye2 rambut ketombe ~

Punya permasalahan rambut berketombe ataupun seborrhoic kadang bikin ga nyaman bahkan bisa bikin kita ga percaya diri, tapi jangan khawatir aku rekomendasiin @erhair_official scalperfect series, pemakaiannya mudah dan cukup dipakai 2-3x seminggu untuk hasil yang optimal.

ERHAIR SCALPERFECT BHA & ALLANTOIN Sclap Exfoliating Gel
Erhair punya produk exfoliasi khusus untuk rambut yang berfungsi untuk mengurangi minyak berlebih di kulit kepala tanpa iritasi, ketombe, residu hair spray, hair gel ataupun produk hair styling lainnya. Exfoliating gel ini mudah digunakan, cukup ambil produk sebesar koin lalu aplikasikan pada rambut sebelum keramas selama 5 menit lalu dilanjutkan keramas dan hair serum.
Erhair exfoliating gel ini memiliki kandungan bha yang berfungsi untuk membersihkan kulit kepala dari minyak dan kotoran lainnya tanpa membuat kulit kepala kita iritasi. Selain itu, allantoin pada exfoliating gel ini berfungsi untuk meredakan gatal dan juga membuat calming iritasi yang terdapat di kulit kepala. Kalian ga usah khawatir karena produk erhair scalperfect ini sangat aman digunakan untuk kulit kepala yang sensitive sekalipun.

ERHAIR SCALPERFECT PIROCTONE OLAMINE & CLIMBAZOLE Anti dandruft shampoo
Shampo dengan ingredient dual poten anti-dandruff actives Piroctone Olamine & Climbazole yang bekerja secara bersamaan untuk mengatasi ketombe dan seborrhoic. Kandungan lavender oil, green tea extract dan juga aloe vera pada erhair shampoo berfungsi untuk mengurangi minyak berlebih pada kulit kepala, meredakan gatal, memberikan rasa relax, dan juga menghaluskan rambut. Untuk pemakaian shampoo ini sama seperti shampoo pada umumnya yaitu ambil secukupnya lalu busakan lalu gosok perlahan pada kulit kepala, cukup diamkan selama satu menit ya guys lalu bilas deh.

ERHAIR SCALPERFECT ALLANTOIN & SILK PROTEIN Scalp Soothing Serum
Serum ini memiliki texture yang watery jadi penyerapannya cepat sekali. Pemakaian serum ini juga sangat mudah, cukup diaplikasikan 1-2 pipet di kulit kepala yang terasa gatal ataupun iritasi lalu pijat secara lembut sampai serum meresap tanpa harus dibilas.

+ View more details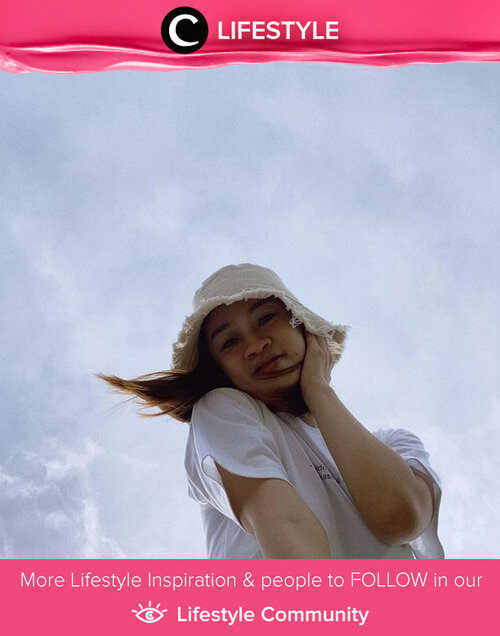 Let your hair loose and enjoy the breeze. Image shared by Clozette Ambassador @shanty_huang. Simak Lifestyle Update ala clozetters lainnya hari ini di Lifestyle Community. Yuk, share momen favoritmu bersama Clozette.

+ View more details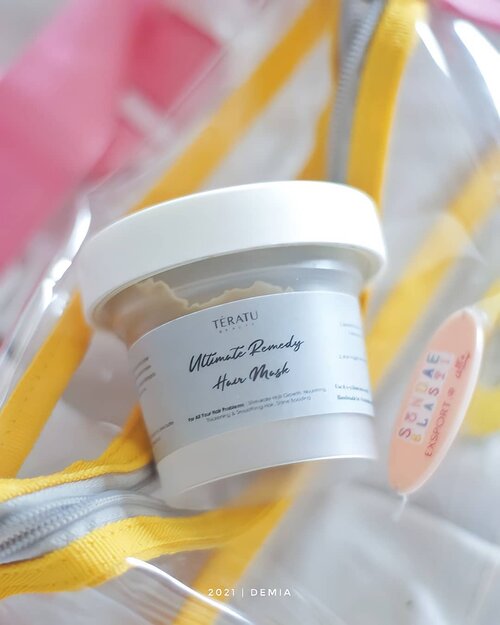 __
Sering warnain rambut tu bikin rambut aku kering, ngembang nggak jelas, kusam, gampang kusut, dan keliatan banget nggak sehatnya
Makanya nih beb aku lagi banyak banget cobain produk Hair Mask, mulai dari brand terkenal, sampe brand lokal yang jarang banget orang tau sekalipun
Niih beberapa bulan lalu aku sempet cobain produknya @teratubeauty , ternyata cocok juga di rambut aku, rambut jadi keliatan lebih sehat dan lumayan teratur dan nggak kusut
Aku udah abis satu jar kaya gini nih, siapa tau ada yang punya masalah rambut yang sama, bisa banget cobain ini juga beb, siapa tau menbantu mengurangi permasalahan rambut kamu juga kan yaaa hihi
Harganya juga terjangkau banget, ukuran 100gr ini cuma dibanderol dengan harga IDR 73k aja!!! Cuss cobain buat yang kepo
✨ @teratubeauty
✨ Netto 100gr
💰 IDR 73k
#teratubeauty
#hairmask
#hairmasknatural
#ClozetteID
#ClozetteAmbassador
+ View more details

loading ...
Back To Top