loading...
Search
4,029 RESULTS FOR HIGHLIGHTER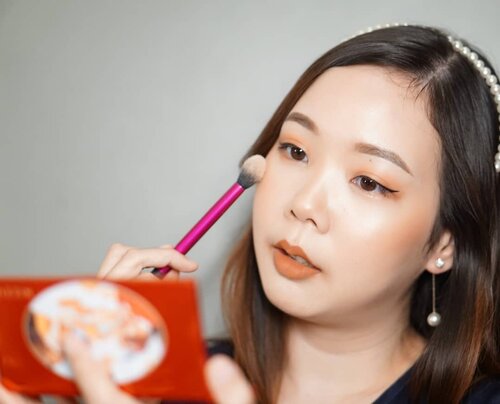 I'm shining brighter than a diamond ✨😆
-
Lagi demen pake @mizzucosmetics x @khongguan_biscuits face palette karena praktis dan lengkap isinya
-
Di palet ini sudah isi 3 warna:
✨ BABA: peach blush
My kind of color krn aku lebih suka pake warna2 kaya gini. Disini aku pake di eyeshadow dan blush on. Warnanya cakep, dipake juga easy, ga lebay, pas pigmentasinya.
.
✨ PAPA: pink blush
Ditambahin sedikit sentuhan pink di pipi supaya lebih fresh. Pigmentasinya oke dan smooth teksturnya.
.
✨ DADDY: gold highlighter
Blinding tapi smooth, ada sedikit fallout. Don't forget to tap your brush before applying it. Love!
-
Overall semuanya wearable banget dan praktis krn sudah ada cerminnya juga. Warna paletnya eye catching banget deh bak kaleng biskuit kesayangan si khong guan. Suka banget sama konsepnya yang unik dan inovatif. Intinya kl lagi makeup bisa sambil nyemil biar ga laper ~eh..
-
Anyway for the lips I'm using mizzu x fore yang shade macchiato~my fave! Katanya @julisapratiwi shade ini jarang ada offline, so langsung cus ke shopee mizzu aja yah.
-
#mizzucosmetics
#mizzuxkhongguan
#mizzuxkhongguanfacepalette
#MIZZUCariPapa
#babapapadaddy
#tipsmakeup
#reviewmakeup
#BaliBeautyBlogger
#bloggerperempuan
#Clozetteid
#makeuplook
#makeupreview
+ View more details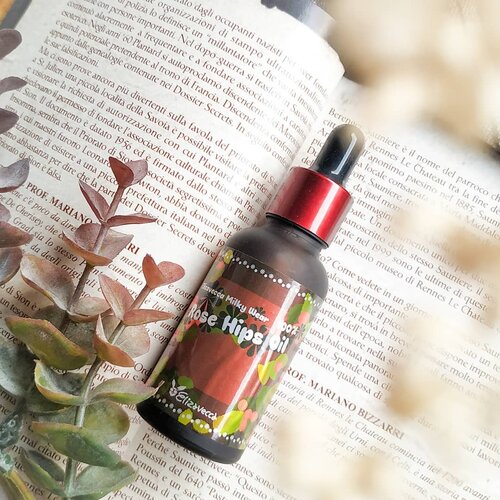 Elizavecca Milky Wear 100% Rosehip Oil
.
This is the first oil that I dare try to apply it on my face. I have read about how good rosehip oil is, some people said it works like magic for the skin. .
First, I'd like to highlights what are the benefits of rosehip oil as stated at littlediy.com
❤ Fades Wrinkles : It help stimulate collagen production & slows down aging.
❤ Fights Acne : The oil's acid content helps prevent blackheads & whiteheads.
❤ Evens Skin Tone : Using it at night to fade scars, spots & pigmentation.
❤ Fade Stretch marks : Massage oil into your stretch marks to help repair the damage skin.
❤ Hair Growth : Helps repair the damaged hair & promots healthy hair growth.
.
The oil housed in frosted amber glass dropper bottle. I think this is the old packaging, because they already have the new packaging with their cute piggy illustration on it.
.
Since it's 100% rosehip oil & there's no artificial fragrance added, so it's smell slightly musty.
.
It has clear & liquid texture, feels abrasive and greasy, so I chose to mix it with my moisturizer before applying it onto my face to reduce its uncomfortable greasy feeling and unpleasant scent.
.
This oil works pretty well for my seasonal dry patches. I frequently have dry patches due to weather changes or when my skin got bad reactions of a new products. By using this oil, I can see that my dry patches are slowly disappearing and my skin has become more moisturized.
.
I plan to use it for my thighs stretch marks. My weight increased dramatically, around 11 kg, so stretch marks appeared on my thighs. I will share how the results later...
.
This product was provided by
#elizavecca
in exchange for honest review.
.
.
#rosehipoil
#elizaveccarosehipoil
#clozetteID
#bloggirlsid
#kbbvmember
#beauty
#beautyblogger
#beautyreview
#beautycommunity
#skincare
#skincarereview
#skincarecommunity
#skincareroutine
#skincarediary
#skincarelover
#kbeauty
#koreanbeauty
#kskincare
#koreanskincare
#koreanmask
#koreansheetmask
#glowingskin
#glowskin
#acneproneskin
#antiacne
#acne
#sensitiveskin
#acnetreatment

+ View more details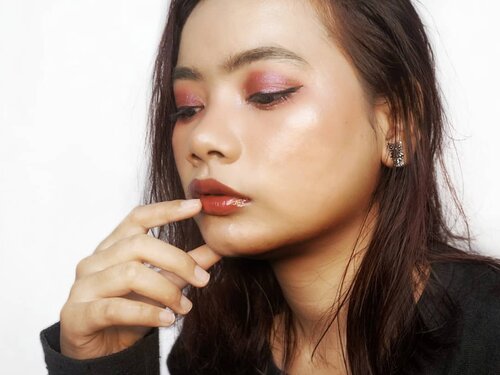 Maunya tiap hari bangun dalam keadaan cantik menggunakan makeup. 🤣😅 *maunya lho ini⠀
⠀
Ya biar ga cape-cape makeup berjam-jam gitu terus menghapusnya dalam hitungan menit. 🤭⠀
⠀
Detail Makeup⠀
🌸 Maybelline Fit Me Dewy+Smooth Foundation ⠀
🌸 Ultima II Delicate Translucent Face Powder ⠀
🌸 Maybelline Instant Age Rewind Erase Multi-Use Concealer - 150 Neutralizer⠀
🌸 Maybelline Fit Me Concealer - 25 Medium⠀
🌸 Fanbo Perfect Fairs Lip & Cheek 03⠀
🌸 Catrice Blush Box - 010 Soft Rose ⠀
🌸 Make Over Riche Glow Face Highlighter⠀
🌸 Esqa Pink Goddes Eyeshadow Palette ⠀
🌸 Makeup Revolution I Heart Chocolate Bar Eyeshadow Palette - Pink Fizz⠀
🌸 Althea Spotlight Eye Glitter - 02 Pink Light⠀
🌸 Maybelline Fashion Brow Color Drama Mascara - Khaki⠀
🌸 Maybelline Brow Precise Fiber Volumizer Mascara - Soft Brown ⠀
🌸 Mizzu Eyebrow Matic - Caramel ⠀
🌸 Emina Creamatte - 02 Fuzzy Wuzzy ⠀
🌸 Fanbo Ultra Satin Lip 07⠀
🌸 Catrice Dewy-Ful Lips Conditioning Lip Butter - 02 Let's DEW This! ⠀
⠀
#maybellinefoundation
#makeoverhighlighter
#esqaeyeshadow
#makeup
#makeuplook
#clozetteid
#althea
#eminaCreamatte
#mizzu
#catrice
#fanbo
+ View more details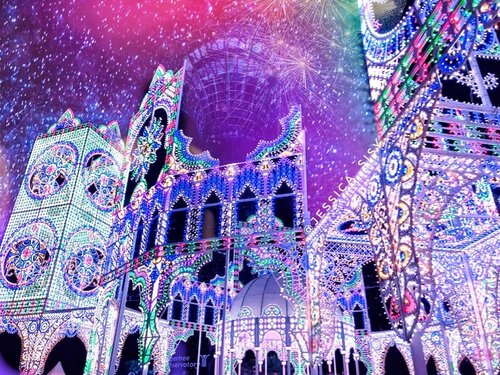 + View more details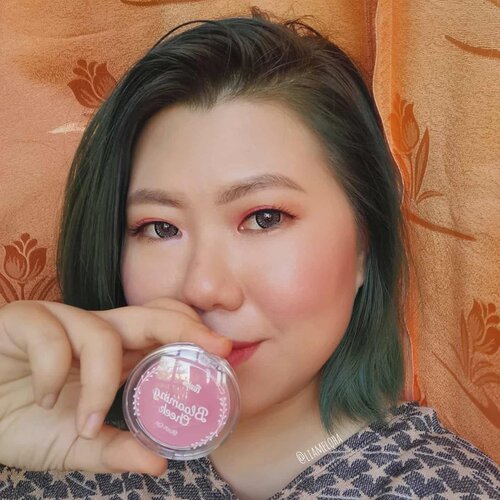 Fanbo Blooming Cheek Blush OnThe newest Blush On from @fanbocosmetics. Blush on ini ada 6 warna, yaitu:01 First Date (warnanya agak pink peachy tone) 02 Prom Kiss (super light pink tone) 03 Pinky Promise (agak pink ungu tone. Warna ini dominant pinj) 04 Happy Ending (deep brown dg hint ungu sedikit dan ada shimmer) 05 Sweet Heart (ungu pink tone ada shimmer nya. Warna ini dominant ungu) 06 Warm Hug (hampir Coral Peach tone ada shimmernya) Slide 4 arm swatches with ring light Slide 5 arm swatches with natural lightYang berbeda pada Blush On ini adalah• Micro coated Particle yang membuat warna lebih mudah menyatu sempurna di wajah. • Light Reflecting Pigment yang membuat aplikasi terasa lembut dan halus dengan warna yang segar.Apa yaang aku rasakann? Blush on ini emang gampang banget dibaurkan. Warnanya juga buildable, cocok buat yang pro maupun pemula. Warna nomor 1-3 itu matte dan nomor 4-6 itu ada shimmernya. Yang lagi aku pake sekarang itu yang nomor 05 Sweet Heart, adanya partikel shimmer yang kecil nggak membuat look aku jadi lebay kulitku malah aku kelihatan segar dan glowing. Nggak perlu additional highlighter untuk daily look. Warna 04 Happy Ending itu di aku bisa jadi Bronzer juga, tapi karena ada partikel shimmernya jadi pakenya tipis ajah. 😍. Harganya pun ramah di kantong loh. Cus lah cobain.
#FanboCosmetics
#FanboBloomingCheek
#JakartaBeautyBlogger
#jbbfeatured
#JakartaBeautyBloggerFeatFanboCosmetics
#Clozetteid
#reviewproduklokal
#blushonmurah
#liamelqhareview
#JourneyAboutMakeup
#liamelqhadotcom
@
[email protected]
+ View more details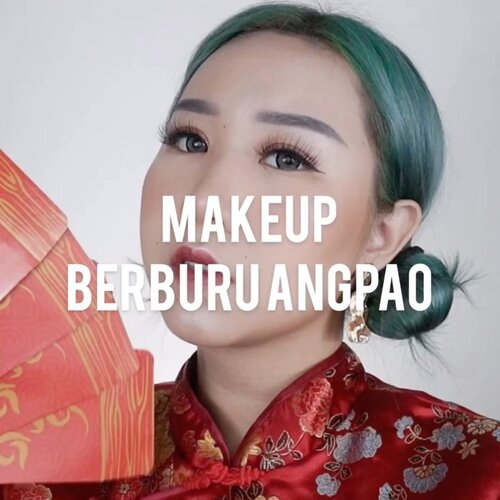 + View more details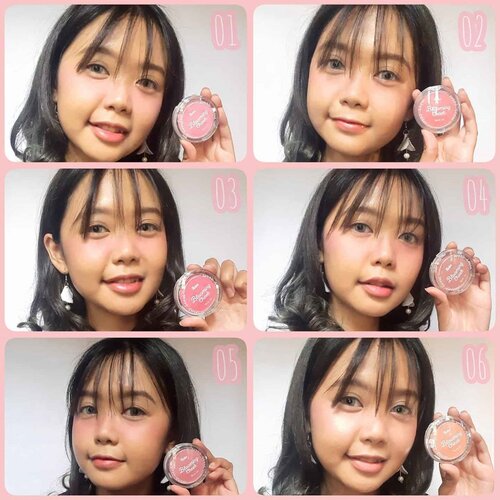 50 shades of
#widyasibanyakmau
🤣Gak deng, ini adalah 6 shades yang cantik2 banget dari Fanbo Blooming Cheek Blush On ! Warnanya gemes banget, berikut keterangan per warna nya yaa 💕01 First Date : soft pink alias pink muda, warna paling soft (muda), paling matte, cocok untuk blushy cheeks buat yg kulitnya fair / light02 Prom Kiss : peach - pink, pink dengan hint sedikit orange, natural banget buat semua warna kulit03 Pinky Promise : pink terang (bukan soft) mendekati shocking pink, tapi masih natural kok.. cocok buat kulit medium kayak aku04 Happy Ending : dusty pink kalau di kulit aku, cocok buat blushy cheeks untuk yg kulitnya medium to tan05 Sweet Heart : pink dengan hint mauve, gak terlalu keliatan mauve nya sih.. paling gelap warna pink nya, ada sedikiiiit banget shimmer di blush on nya, cocok buat semua warna kulit06 Warm Hug : terracota, peach agak kecoklatan.. paling shimmery, buat yg mau coba blush shimmer ini masih aman banget, keliatan natural.. cocok buat yg mau keliatan glowing tapi mager pake highlighter 🤣Teksturnya agak powdery (jd hati2 sama fallout nya) dan punya pigmentasi yang oke, perlu di build up kalau mau jelas banget warnanya. Tapi kalau mau ala2 blush manjaahh cukup 1 - 2 kali aplikasi cukup kok 😘Kalau mau luat arm swatches nya boleh intip highlight story aku ya gengs 🙈
#fanbobloomingcheek
#fanbocosmetics
#bandungbeautyblogger
#widlimselfie
#ClozetteID

+ View more details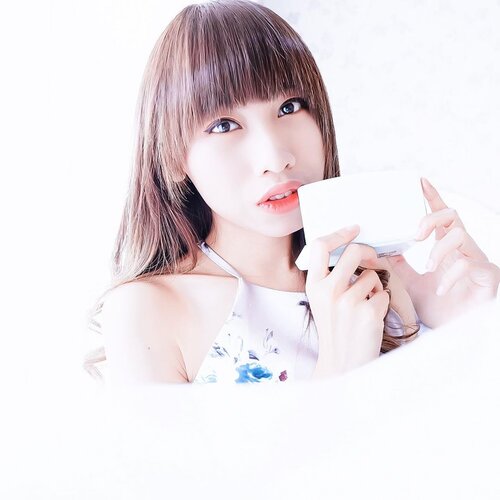 + View more details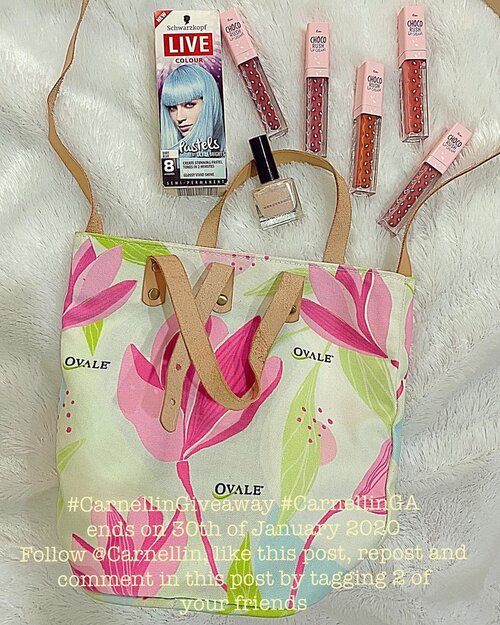 + View more details

loading ...
Back To Top