loading...
Search
1,147 RESULTS FOR HOUSE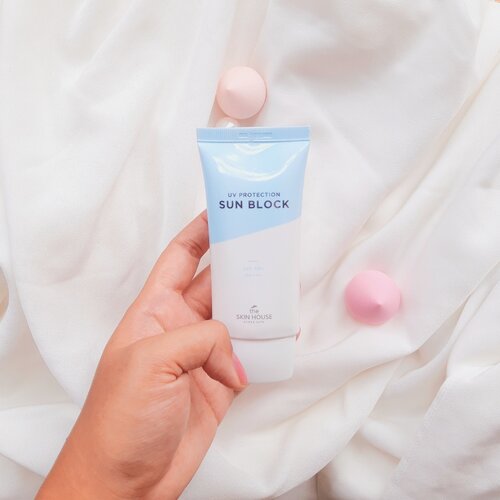 Chemical Sunscreen dari The Skin House 🙌✅
+ View more details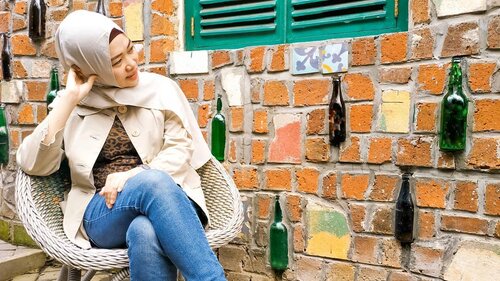 + View more details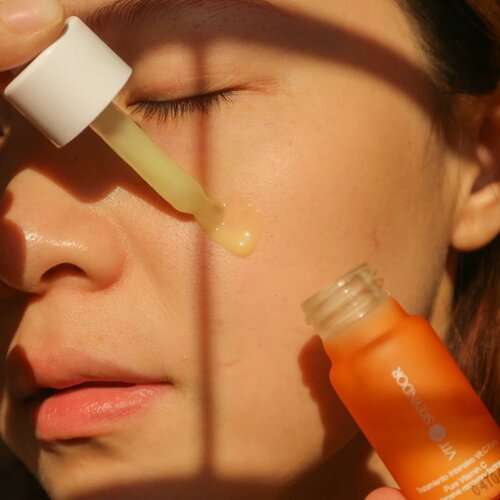 I do have pores & fine lines _______𝐒𝐤𝐞𝐲𝐧𝐝𝐨𝐫 𝐏𝐮𝐫𝐞 𝐕𝐢𝐭𝐚𝐦𝐢𝐧 𝐂 𝐈𝐧𝐭𝐞𝐧𝐬𝐞 𝐑𝐞𝐜𝐨𝐯𝐞𝐫𝐲 𝐅𝐚𝐜𝐭𝐨𝐫@skeyndor.idVitamin C Serum yang aku pakai 2 minggu belakangan, kandungan Absorbic Acid nya 6% yang menurutku cukup mild karena masih dibawah 10%. That being said, masih oke bagi pemula mau coba incorporating Vitamin C ke skincare regimen.Bagi yang masih awam, Vitamin C ini adalah sumber antioxidant yang baik untuk menstimulasi produksi collagen. Dia juga ciamik banget dalam reducing fine lines, wrinkles, sun spot, bekas jerawat, mencerahkan kulit, & meratakan warna kukit jika dipakai secara rutin.Jadi 1 dus itu kita akan dapat, 3 serum berisi 12 ml that are housed in mini bottles.The Vitamin C comes in powder form yang nanti akan kita mix dengan fluid di botol (slide kedua). Jadi kalau mau pakai, baru kita keluarin bubuk nya dari tutup botol because Skeyndor wants it as fresh as can be.Aku pakainya pagi-malam ya, karena takut ga keburu dengan jangka waktu si serum yang harus habis dalam 14 hari. Keliatannya memang sedikit bgt 12 ml, tapi dia a little goes a long way jadi cukup banget. Malah takut ga habis tuh.Untuk tekstur, formula , & efek nya dikulit aku silahkan baca lebih lengkap di blog ya (LINK IN BIO)@clozetteid
#clozetteidreview
#clozetteid
#clozzeteid
#absorbicacid
#vitamincserum
+ View more details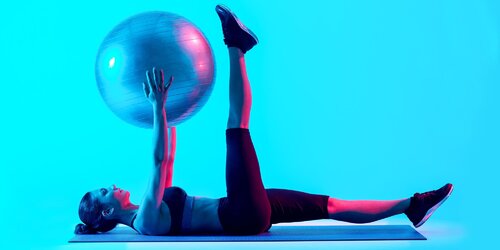 Bougie classes < lazy asses...
Simak juga artikel menarik lainnya di Article Section pada Clozette App.

+ View more details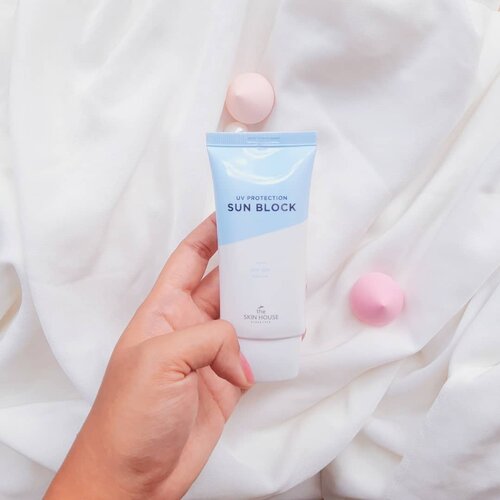 The Skin House UV Protection Sunblock SPF 50 PA+++🌞🌞🌞What is it? a lightweight and quick-absorbing formula provides protection against UV rays. Its perfect for all skin types, even the delicate or sensitive skin. This product has a high sun protection factor SPF 50+ PA +++~~🌤Texture and ScentThis sunblock has a white color. It has a light fresh aroma and a delicate creamy consistency, so that the process of applying it turns into a pleasure. This cream claims to prevents the appearance of age spots and freckles, and also starts the skin regeneration process (i feel its like a tone up cream hehe)~~🌤IngredientsIts a physical sunblock, the key ingredients are micro particle titanium dioxide, micro particle zinc oxide. Titanium dioxide only provides protection from UVB, and part of the UVA spectrum, whereas, zinc oxide is able to provide protection against the entire UVA and UVB spectrum.Its also contains extracts of mallow (Malva Sylvestris), Edelweiss, etc. Prevent the appearance of oily sheen of the skin, while providing a mild soothing effect.~~🌤🌞I really like this sunblock! When I open the tube, the scent is not so strong and fresh. Creamy texture that blend easily to skin. Although there is a little bit whitecast, after some time it even blends with my skin. I love it! This sunblock give a moisture feeling, not sticky and I dont feel greasy after use. Even it does not give a matte finish, it doesnt make my face more oily when I use this compare to another uv protection product before.I feel well a balanced skin in the morning. The packaging is very good and minimalist. It does not cause breakout due to incompatibility.I would recommend this product for u guys! Head up to their instagram and official website 🌞🌼 @theskinhouse_officialPrice: $18 / Rp. 255.000
#theskinhouse_official
#coxir_official
#coxir
#sferangs
#kbeauty
#koreancosmetics
*PR but honest review 🧚‍♀️
#ReviewByArum
#clozetteid
+ View more details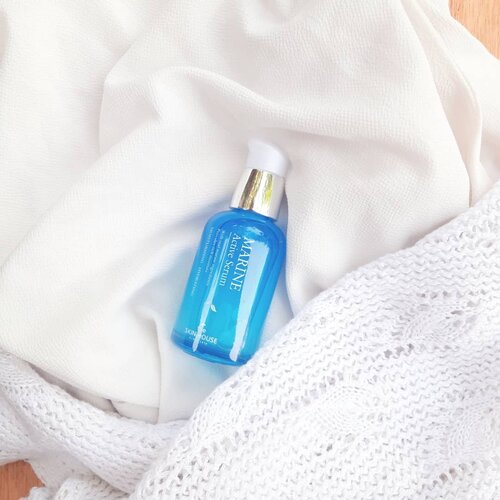 Hello everyone! I hope you guys are doing great. Todays another review of The Skin House product which is Marine Active Serum 🧚‍♀️~~💧What is it? Gel Moisturizing Serum contains hyaluronic acid, which moisturizes the skin and keeps the skin's moisture level constant throughout the day. Seawater and various algae extracts create an abundant moisturizing effect, while minerals and vitamins help the skin to become radiant and clean again. Contains ceramides that prevent water loss from the skin and help the skin stay moisturized deep inside for a long time.~~💧Key IngredientsIf you take a look at the ingredients, you'll notice its like long list. But the key ingredients to notice are, Seawater, Pearl Extract, Brown Algae (Ecklonia cava) Extract, Turmeric (Hizikia fusiforme) Extract, Green Algae (Codium tomentosum) Extract, Red Algae (Gelidium cartilagineum) Extract. And yes it contains alcohol.~~💧Texture and ScentA gel serum, lightweight with a mild scent like flowery scent. I use this after essence and use one pump of it, following with sunscreen as the last step (sometimes I skip my cream because i really feel moisturised when I use this serum)~~💧My experienceThe packaging is pretty and made from glass. The pump make it more hygienic as you no need to open the cap. I only use this one pump, because if I use 2 pumps it will be too heavy for my skin. Absorbs well, very easy to blend with my skin. I like soft skin feeling after use, it's moisturizing and makes my skin smooth and plumpy. I like this serum and did not cause any skin problem. I could skip my moisturizer when I feel I've reached optimal hydration 💧☀️ I can recommend this serum for you guys who have dry skin or dehydrated skin, it will be good for you. But all skin types can use this who needs a good moisturizing product which is worth for the price🌞~~💸Price: $26 / Rp. 368.862*Product is provided, but honest opinion from me 🧕
#theskinhouse_official
#coxir_official
#coxir
#sferangs
#kbeauty
#koreancosmetics
#clozetteid
+ View more details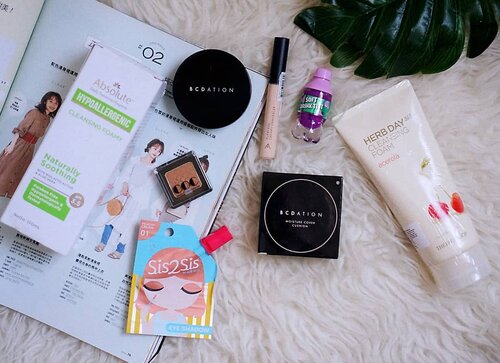 Hallo...
GIVEAWAY TIME!!
Selama bulan September ini, aku bakal ngadain giveaway setiap minggunya loch, dan untuk giveaway minggu pertama ini hadiahnya
🌸BB Cushion TonyMoly BCdation
🌸Etude House Soft Drink Tint
🌸Althea Flawless Creamy Concealer
🌸THEFACESHOP Herb day Cleansing Foam
🌸COC Eyeshadow
🌸Absolute Cleansing Foam
🌸Sis 2 Sis Eyeshadow
Caranya:
1.Follow Instagram @Shanty_huang.
2.Subsribe channel youtube, like dan comment
3.Repost Foto ini di instastory, atau di share
#ShantyhuangGiveaway
dan Tag aku ya.
4.Tag 3 teman kamu untuk join giveaway ini
5.Komen di Foto ini "siapa yang jadi motivasi kamu dan kenapa?"
5.Support dan Aktif di IG dan Youtube aku.6.Giveaway berlangsung 2 September - 8 September
Aku bakal pilih 1 pemenang berdasarkan jawaban dan keaktifan, dan Free Ongkir untuk hadiahnya.
#shantyhuang
#shantyhuanggiveaway
#giveawayindonesia
#giveawaymakeup
#giveaway
#makeupgratis
#purbasari
#beautyblogger
#clozetteid
#clozettedaily

+ View more details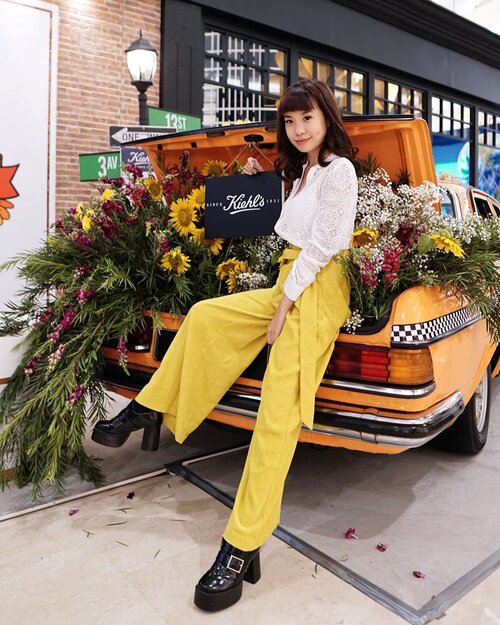 + View more details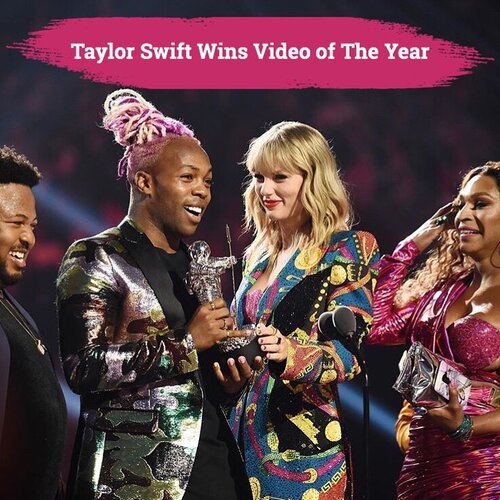 Ajang penghargaan musik MTV Video Music Awards 2019 baru saja berlangsung. Tahun ini, Taylor Swift dan Ariana Grande bersaing ketat karena sama-sama meraih nominasi terbanyak, yaitu untuk 10 kategori..Selain Taylor dan Ariana, Billie selisih dan Lil Nas X pun sama-sama mempunyai jumlah nominasi yang sama, 9 kategori..Berikut daftar pemenang MTV VMAs 2019:.Video of the year: Taylor Swift - You Need to Calm DownArtist of the year: Ariana GrandeSong of the year: Lil Nas X ft. Billy Ray Cyrus - Old Town RoadBest new artist: Billie EilishBest Collab: Shawn Mendes & Camilia Cabello - SenoritaPush artist of the year: Billie EilishBest pop: Jonas Brother - SuckerBest Hip Hop: Cardi B - MoneyBest R&B: Normani ft. 6lack - WavesBest K-Pop: BTS ft. Halsey - Boy With LuvBest Latin: ROSALIA & J Balvin ft. El GuinchoBest Dance: The Chainsmokers ft. Bebe Rexha - Call You MineBest Rock: Panic! At The Disco - High HopesVideo for good: Taylor Swift - You Need to Calm DownBest direction: Lil Nas X ft. Billy Ray Cyrus - Old Town RoadBest visual effect: Taylor Swift ft. Brendon Urie - ME!Best editing: Billie Eilish - Bad GuyBest art direction: Ariana Grande - 7 RingsBest Choreography: ROSALIA & J Balvin ft. El GuinchoBest cinematography: Shawn Mendes & Camilia Cabello - SenoritaSong of Summer: Ariana Grande & Social House - Boyfriend.📷 @vmas
#ClozetteID
#vmas
#mtv

+ View more details

loading ...
Back To Top