loading...
Search
1,206 RESULTS FOR IGDAILY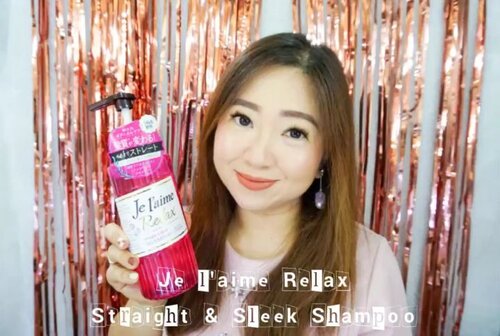 Shampoo kesayangan yang dari Jepang, sekarang sudah dijual di Watson Indonesia.
Formulanya nyaman banget untuk dipakai sehari-hari, harum, dan pastinya OK. Karena tidak mengandung sulphate, silicone, mineral oil, pewarna ataupun animal derived ingredients (jadi bisa dikatakan vegan-friendly). Selain produknya cantik, sekarang ada giveawanya juga, kamu bisa ikutan lho!
Caranya mudah: ➔ Upload video
#JeLaimeNoBadHairDay
versi kamu secara
menarik dengan produk shampoo Straight & Sleek (botol
warna Pink) atau shampoo Bounce & Airy (botol warna
Kuning) di Instagram Feed kamu. ➔ Sebutkan di video kalau kamu Squad Pink Shampoo Straight & Sleek atau Squad Kuning Shampoo Bounce and Airy ➔ Sebutkan di caption kalau produk ini bisa didapatkan di
Watsons. ➔ Tag dan tantang 3 orang teman untuk ikutan Giveaway ➔ Mention @kosecosmeportid dan cantumkan hashtag
#JeLaimeNoBadHairDay
#EverydayBeauty
➔ Instagram tidak di private.
Ada hadiah dari Kose Cosmeport dan hanya sampai 9 Oktober 2019 aja, buruuaann @christinaleae @kaniasafitrii @hanny.only ikutaann
#giveaway
#Clozetteid
#1minreview
#1minvideo
#BeautyVloggerIndonesia
#beauty
#bblogger
#Kose
#cantik
#shampooreview
#videooftheday
#igdaily
#contest
#igbeauty
#hello
#reviewshampoo
+ View more details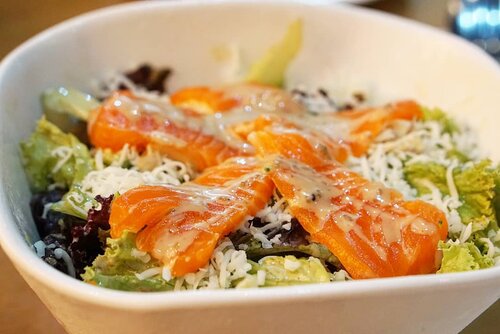 + View more details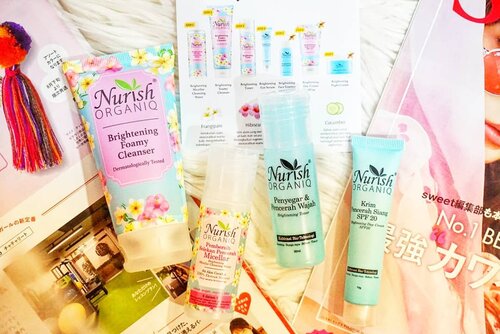 Hello lovelies,
Ini adalah produk-produk dari @nurishorganiq_id Brightening Series dengan Frangipani sebagai antioksidan alami yang mencerahkan warna kulit dan mengembalikan kelembapan. Hibiscus sebagai AHA alami, Bilberry yang mencegah pigmentasi serta mengurangi garis halus, dan Cucumber atau mentimun yang membersihkan pori, menghaluskan kulit dan mencegah pigmentasi.
Brightening Foamy Cleanser nya hadir dengan aroma lembut dan mudah dibusakan. Membersihkan kulit tanpa rasa kering, jadi bisa digunakan untuk sehari-hari. Kemasannya lucu dengan bunga-bunga yang cantik menggambarkan isi tube.
Brightening Micellar Cleansing Water pas banget buat dipakai di pagi hari atau sore/malam hari setelah makeup diangkat. Formulanya juga nyaman tapi bisa bersihkan dengan seksama, cobain deh pakai kapas, nanti terlihat semua debu dan kotoran lainnya. Aku juga suka aromanya.
Brightening Toner yang non comedogenic serta non SD-Alcohol, no sulphate, no paraben, no mineral oil, bikin skincare bisa diserap lebih baik. Aku masukkan juga dalam botol spray biar bisa dipakai kapanpun dan dimanapun. Kulit jadi lebih segar dan lembab.
Last but not least, tinggal di Jakarta gak mungkin bisa skip dari Brightening Day Cream yang mengandung SPF 20. Tanpa rasa lengket dan no white cast, aroma bunganya pas, dan menurut aku produk ini cocok buat kulit normal sampai berminyak.
Jadi berminat cobain semuanya, ada essence, eye serum dan night cream nya loh.
#RadiateYourTrueNature
#NurishOrganiqIDReview
#Clozetteid
#Clozetteidreview
#bblogger
#skincare
#review
#daycream
#beauty
#micellarwater
#cleanskin
#toner
#spf
#photooftheday
#ig
#igbeauty
#igdaily
#igers
+ View more details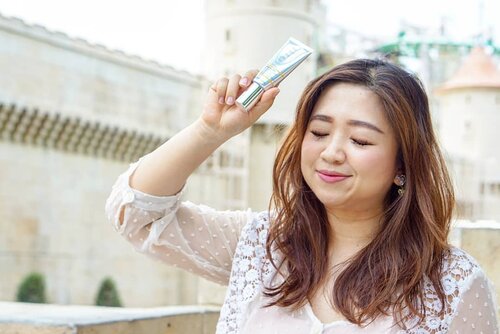 + View more details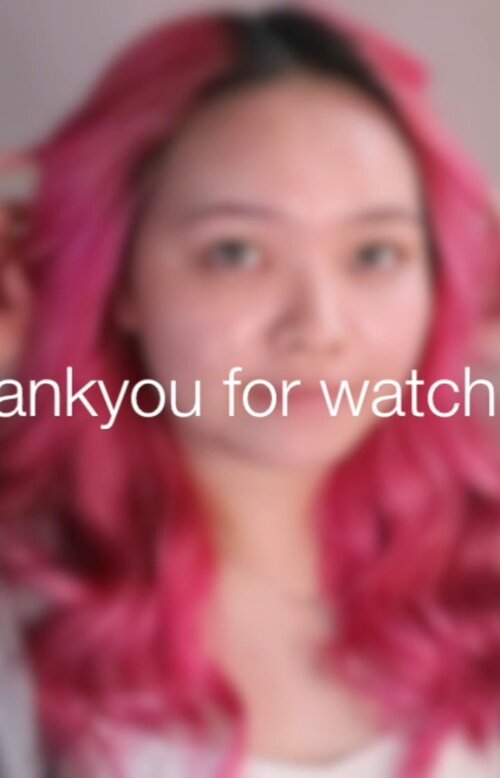 + View more details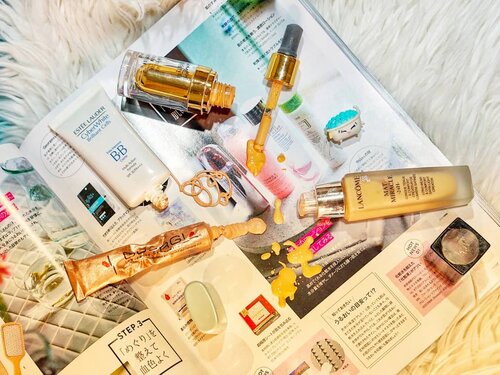 + View more details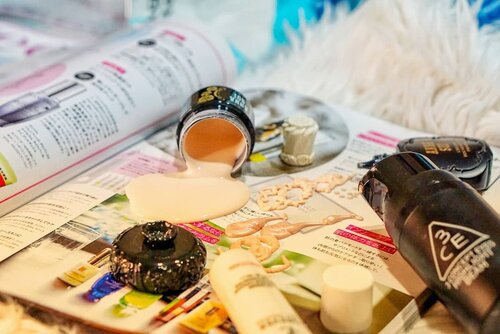 Primers... I used to skip this part, but over the years, primers has grown into me from aiding a proper base, like softer looking skin to dewy, hydrated, matte to even oh so glowing skin (in the recent trend). So far I love primers from Anna Sui (seen clearly in this photo), they are perfect in creating a dewy healthy looking skin with a perfect hint of glow.
YSL is suitable as a color corrector and 3CE is so gorgeous, the glowing pink pearls are a must have for special occassion .
#primer
#makeup
#makeupofteday
#makeuptexture
#photooftheday
#igers
#photography
#igdaily
#dewyskin
#Clozetteid
#kbbvmember
#love
+ View more details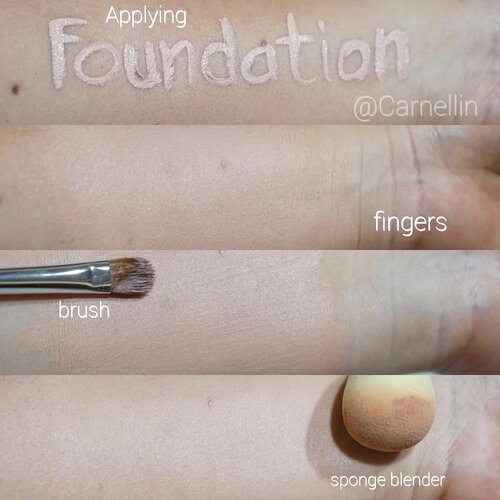 Applying Foundation 101.
Perbandingan 3 cara aplikasi foudie dengan,
✋jari tangan. Coverage yang dihasilkan biasanya medium, tergantung kekuatan dan kelembutan jari saat menyentuh permukaan kulit. Lalu kondisi jari yang hangat bisa "membantu melumerkan" foundation. Rata atau tidaknya pemakaian bisa dilatih setiap hari namun hati-hati dengan finger prints.
Cara ini paling praktis karena tool free. Pastikan tangan bersih ya sebelum mengaplikasikan makeup. 🖌 kuas makeup. Coverage nya bisa medium- maksimal, tergantung tekanan ke brush saat aplikasi dan kondisi brush. Pastikan kondisi brush selalu bersih agar tidak ada bakteri yang ditransfer ke kulit. Perhatikan tiap stroke agar tidak ada garis-garis halus di kulit, teknik aplikasi yang memutar atau berlawanan dengan rambut halus di wajah juga bisa digunakan. ☁️ sponge blender/beauty blender. Menghasilkan coverage paling halus, bisa di build up sampai medium. Gunakan saat lembab karena saat kering hasilnya akan terlalu kaku dan kurang rata. Kesan flawless dan effortless skin lebih mudaj didapat dengan teknik ini, namun jangan lupa perhatikan kondisi sponge harus dicuci bersih sebelum tiap penggunaan. Sponge blender juga memudahkan blending concealer, contour/highlight untuk kesan lebih alami dan tidak kaku.
So, which one is your favorite or your go to makeup applicator?
#tipsmakeup
#tips
#Clozetteid
#howto
#hello
#BeautyBloggerIndonesia
#morning
#igdaily
#igbeauty
#instaglam
#instagram
#instabeauty
#foundation
#foundation101
#makeupofteday
#makeup101
#makeupbrush
#photooftheday
#beautyblender
#makeuptool
#makeuptutorial
+ View more details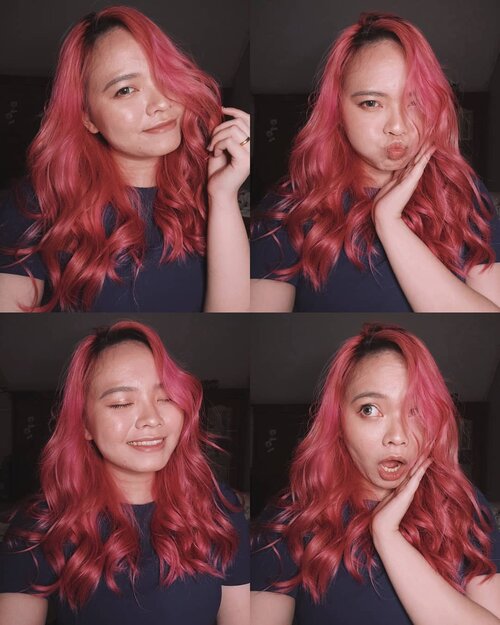 + View more details

loading ...
Back To Top