loading...
Search
50 RESULTS FOR INSOMMIAREVIEW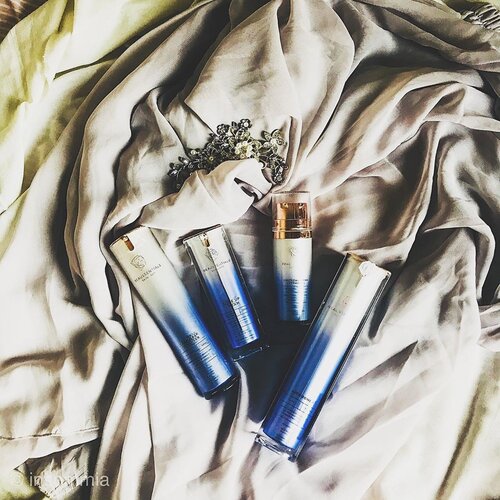 Salah satu brand lokal yang luxury secara packaging tentunya @beaussentials_id ! * Beberapa bulan lalu saat saya dapat paket ini dan inilah kesimpulannya ketika saya sudah menghabiskan semuanya: ✨ Face Toner: Termasuk ringan dan cukup melembapkan saat layering pertama. Terdapat wangi yang sebetulnya hampir enggak tercium. Buat saya, pakai kapas itu termasuk waste, sia sia, maka saya lebih suka menuangkan langsung ke tangan. Rating: 3/5 ✨Clay Mask Cleanser: Paling top di antara semua varian. Ada wangi kacang, dengan tekstur berwarna keabuan yang mirip dengan clay, tapi saat dicampur air, memiliki sedikit busa. Pas dipijit terasa lembut dan enak, afternya juga kulit terasa plump. Rating:4/5 ✨ Antiaging Cream: Buat penyuka kepraktisan dan mager, kamu bakal suka dengan konsep pump dari produk ini. Terdapat dua pump dalam satu botol sekaligus, satu bentuk gel dan satu bentuk krim. Saya enggak begitu yakin dengan efek antiaging-nya meski dibilang ini dari sarang burung walet, soalnya ada bahan antiaging yang lebih ngefek, contohnya kayak @skeyndor.id Power Retinol. Rating:2.75/5 ✨ Tone Up Cream: Mengandung titanium dioxide, maka ini lebih cocok dijadikan sebagai day cream. Titanium dioxide merupakan UV filter, meski karena teksturnya enakeun maka kekuatan SPF-nya pun disesuaikan, yaitu SPF 15. Kalau pernah nyimak story saya soal formulasi sunscreen pasti tahu ya betapa rumitnya membuat formula dengan UV filter yang enakeun dan gak greasy di kulit. Bisa mencerahkan kulit juga, namun saya sih pengen banget ini dijadiin sunscreen kalau bisa. Teksturnya tidak greasy dan mudah dibaurkan ke kulit, agak whitecast tapi tak mengapa, karena saya lebih mentingin tekstur. Rating:3/5Overall those are a nice to try products, terutama clay mask-nya memang sebagus itu ✌🏻. Kamu bisa mendapatkannya di @beaussentialsjakarta dan @keikoreinashop. Skyendor juga bisa dibeli di Keiko Reina Shop. Bisa nyoba sample juga loh yang disediakan dalam jumlah terbatas *PR sample for review
#insommiareview
#insommiaskinformation
#beaussentials
#skincarelovers
#skincareaddict
#skincareblogger
#skinhealth
#abcommunity
#skincarelokal
#idskincarecommunity
#clozetteid
+ View more details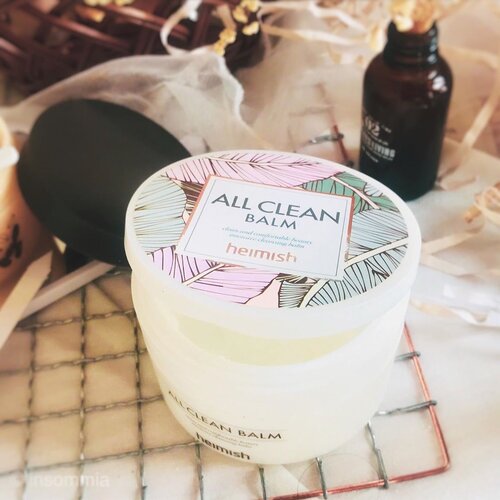 🧖🏻‍♀️ CLEANSING BALM Omong omong @heimish_cosmetic ini saya dapatkan dari
#boselpiji
@keranjangmica 🙇🏻‍♂️. Ini cleansing balm pertama saya dan saya cukup suka... sampai saya nyoba yang lain 😛Cleansing balm diperuntukkan manusia pemalas nan kikir karena ingin hemat kapas. Nah saya tuh termasuk homo sapiens kategori ini. Jadi hati saya sekarang cenderung menggunakan balmHeimish ini bentuknya kayak lilin, secara tekstur. Agak berat dan viskositasnya cukup tinggi. Ada sedikit wangi agak asing yang lilinable, yang awalnya agak mengganggu tapi lama kelamaan hilang. Nah, yang saya punya itu sebetulnya bentuk formula lama, karena setahu saya sih sekarang Heimish itu formulanya baru Bikin jerawatan gak sih? Bikin bruntusan gak sih? Cocok gak buat yang punya fungal acne? Sebetulnya website semacam COSDNA dan Skincarisma BUKAN PATOKAN untuk nyebut apakah produk ini bisa trigger jerawat, bruntusan, fungal acne dll. Bosen saya bilangin di dm bahwa dua website itu cuma sebagai REFERENSI bahwa bisa saja berpotensi comedogenic. Namun FDA sampai detik ini TIDAK PERNAH MENERBITKAN standar dalam penentuan comedogenic, jadi sungguh kalau ditanya begini saya juga enggak tahu jawabannya. Rumit. Tapi dengan tahu komposisinya, kamu bisa ngira ngira sendiri apakah kamu berani ambil risiko untuk nyoba atau enggak. Misal kamu tahu bahwa keberadaan essential oil pada produk ini bikin kulitmu nganu, ya jangan coba 💁🏼. Gak usah repot dan gak usah nangis kalo breakout, kan kamu yang ambil risikoKalau buat saya sih ini lumayan oke, bikin makeup saya lumer. Termasuk waterproof mascara yang kadang suka saya pakai kalau lagi gatel pengen centil. Secara harga dan berat, jelas ini termasuk cleansing balm affordable. Masalahnya hati saya ini mudah goyah kalau nemu yang lebih baik. Jadi cukuplah saya kasih rating 3.5/5Kamu bisa beli di online shop mana pun. Buat kamu tim cleansing balm, kira kira gimana pendapatmu terkait Heimish All Clean Balm*? *gifted
#insommiaskinformation
#insommiareview
#koreanskincare
#skincareroutine
#skincareobsessed
#clozetteid
#idskincarecommunity
#skincarecommunity
+ View more details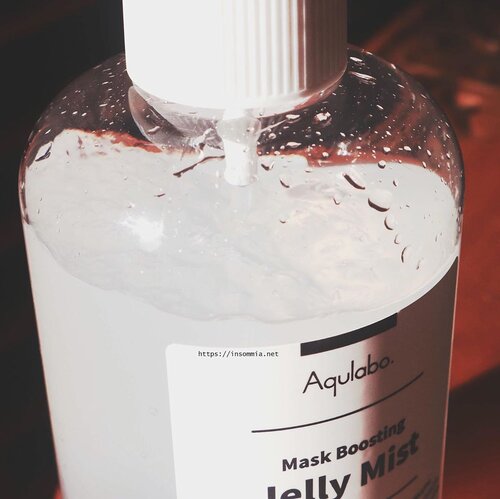 I'd written before my first impression about @aqulabo* and I have mixed feelings :..1) We have to throw a hat to marketing team... ini akan terdengar seperti sarkasme but I also praising them too 🤣🤣🤣 , karena mereka berhasil mendramatisasi produk ini menjadi sesuatu yang wow. Ini tentu penting mengingat kekuatan di industri kosmetik didominasi oleh kemampuan marketing dalam merangkai storytelling. Gak gini gak akan booming deh ini jelly mist, serius deh2) Tapi karena saya kelewat jujur sampai mungkin kata kata saya cukup pedas didengar, ini tuh biasa aja3) Saya lebih menyarankan kamu nyoba sheet masknya karena saya pikir ini sheet mask tengah tengah, lebih bagus dari Innisfree, tapi masih agak kurang hydrating kalo dibandingkan sama Klairs4) Gomisin N enggak akan kamu temukan dalam komposisinya (padahal dia ngusung ini), karena.....Daripada kepo, mending cus aja ke blog saya buat baca penjelasan jelly mist dan sheet masknya *gifted
#insommiaskinformation
#insommiareview
#julidinskincare
#skinblogger
#abccommunity
#clozetteid
#idskincarecommunity
+ View more details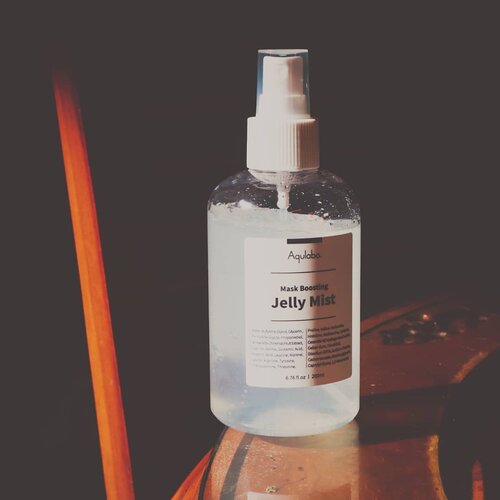 + View more details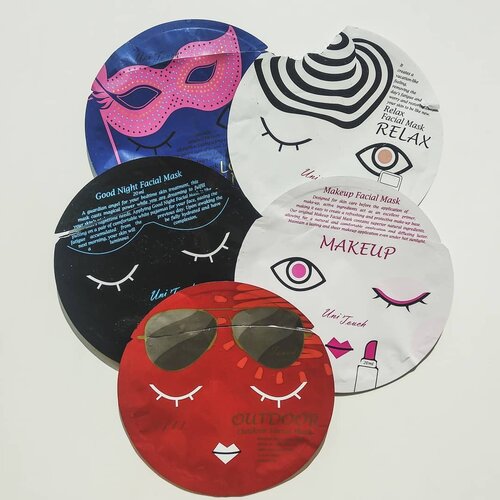 🤸 @unitouchindonesia MISS O SERIES*..Say hello to new luxury sheet masks from Taiwan that is launched today! Here's my two cents:.🤸 Good Night Mask: My favorite from all of the above! Perhaps because I rarely use black sheet mask, or it stick very well like another layer of my skin. It fit perfectly on my face! I don't have massage the leftover essence. After taking it off, you'll be very happy with your moist skin! Rating: 4/5.🤸 Long Night Mask: The fiber of this sheet mask is the thickest among all of them. There is a holder for the ear, so you could use it for long night without falling. I used it only about 30 minutes. I dislike it. The mask doesn't properly stick. The eyes are slightly pierced, while the mouth area is covering my lips. Rating: 3/5.🤸 Makeup Mask: Along with Relax, this is a sheet mask with a quite thin fibers. In accordance with its purpose, this mask is needed for giving enough moisture to my skin, so the makeup could sit perfectly on top of my face, without cracking and creasing! Rating: 3/5.🤸 Relax Mask: It used after you're tired all day long! The fiber is thin and sticks well so it could be used while resting. Rating: 3/5.🤸 Outdoor Mask: I don't understand the essence of distinguishing Relax and Outdoor Mask except for gimmicks. Well the fiber is thicker, the ingredient list is longer, but those could give the same effect after you are being exposed to UV light. So, meh, it is just the same. Rating: 3/5..INGREDIENT ANALYSIS:🤸 All if them contains essential oil and plants/flower extract, beware if you have any allergy .🤸Lactobacillus ferment doesn't trigger fungal acne.🤸 But only one sheet mask, Relax Facial Mask, which is quite safe to use if you have fungal acne .🤸 All of them are heavy with humectant. So if you're a lazybones, skip toner and essence if you're wearing Miss O Series, voila, you could directly use moisturizer/sunscreen! .*For review purpose
#unitouch
#unitouchindonesia
#sheetmask
#naturalskincare
#skincareregime
#skincareblogger
#rasiancommunity
#rasianbeauty
#sheetmask
#insommiareview
#clozetteid
+ View more details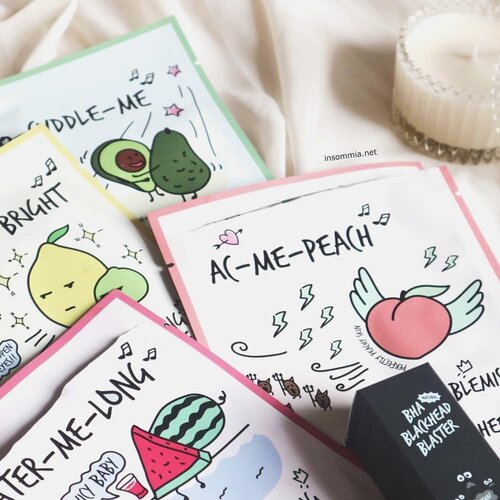 ✨ A'Bloom* Review
.
.
In the long run, I've tried A'Bloom, an in-house @altheakorea brand! They sent me sheet masks, an BHA stick, also meringue puffs to try! Here's the spoiler alert:
.
✨ You'll get what you paid for 👀, I'm not very fond of their sheet masks .
✨ If you are a newbie to chemical exfoliator, you might like or love this BHA stick, which I prefer to say, it doesn't contain BHA ingredient
.
✨ Meringue puffs are too cute I almost eat them 😝
.
.
*For review purpose
.
For more ingredient analysis or what else, click the link in my bio!
#AltheaAngels
#AltheaKorea
#AltheaAbloom
#koreabeauty
#kbeauty
#skincare
#abcommunity
#rasianbeauty
#insommiareview
#clozetteid
+ View more details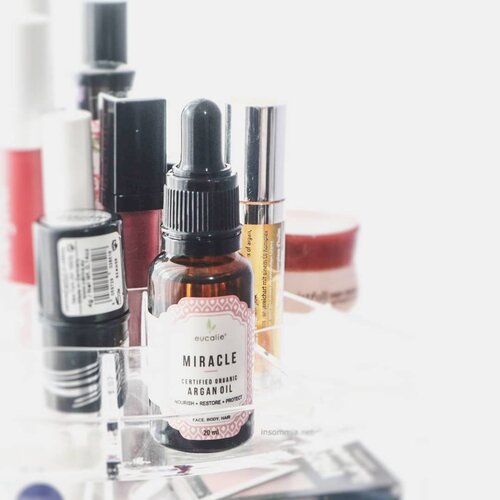 🐿️ FACE OIL
.
Setelah mencoba @eucalie_id Miracle Argan Oil *, beginilah yang saya rasakan: .
🐰 Ketika kulitmu breakout dan kemerahan, pakai argan oil yang ini enggak bikin makin parah. That's my case, bisa beda buat tiap orang
.
🐰 Buat kamu yang kulitnya kering, ini bagus! Kulit dehidrasi saya lumayan terbantu, bikin kulit kenyal dan glowy 😆😆😆
.
🐰 Tahukah kamu kalau ternyata ownernya itu chemist? Maka emang enggak main main sih, produk dari Eucalie ini sudah memakai sertifikat ECOCERT ♥️♥️♥️
.
🐰 Kalau kamu nyari produk indie lokal berkualitas, mainlah ke website mereka atau baca dulu review saya di link bio! Untuk ukuran lokal, ini masih terjangkau, lho! Biar memastikan kamu cocok atau enggak, baca aja review-nya *kekeuh 😂
#faceoil
#naturalskincare
#veganskincare
#ecocert
#skincarelokal
#skincareregime
#skincareblogger
#igbeautyblogger
#igbeauty
#skinhealth
#insommiareview
#idskincarecommunity
#clozetteid
+ View more details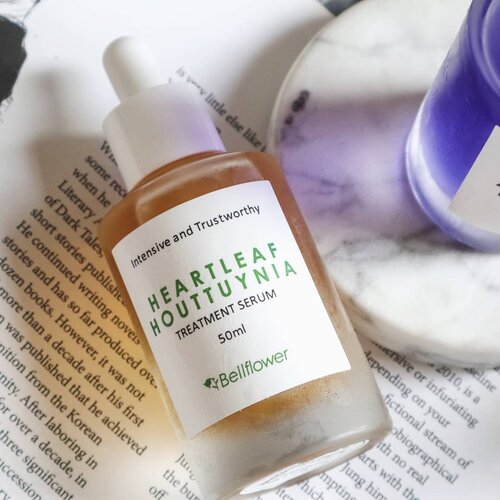 🌼 SERUMAfter one month of use, this is my impression to @bellflower_global Heartleaf Houttuynia * :.🌼 TEXTURE & DURABILITY .Has a runny watery texture, yellowish, with a little hint of natural fragrant herbs. PAO of this product is 12 M. Although there is no preservative, you don't need to store in the fridge; but because I have one, I also like it to use it when it is cool, I store all of them there. There is no particular sequence you need to obey in skincare routine steps; but usually I use it after toner.🌼 INGREDIENTS.The content of ingredient lists is quite minimalist. There is alcohol placed in 4th. Alcohol itself is a solvent that can give soothing sensation to the skin, even when I have taken from the fridge for a long time. There is rosemary leaf oil that might trigger allergy for some people. Rosemary itself is believed could be a cure for acne.🌼 WHAT I THINK.Claimed to be able to fight pimples, I do think it is more suitable to make reddish skin improved. Yes, centella asiatica is good for acne, but not to kill all at once. It is better to prevent P.acnes breeding in one or more place.Although it does not provide significant results for pimples, it is suitable if you have sensitive skin.RATING3/5.WHERE TO BUYFor about 175k, you could buy it @keranjangmica.*Gifted
#koreanskincareroutine
#skincareregime
#skincareblogger
#skintalk
#pimples
#acnetreatment
#oilyskin
#normalskin
#dryskin
#skincareaddict
#bellflower
#kbeauty
#abcommunity
#abbeatthealgorithm
#rasiancommunity
#rasianbeauty
#insommiareview
#idskincarecommunity
#clozetteid
+ View more details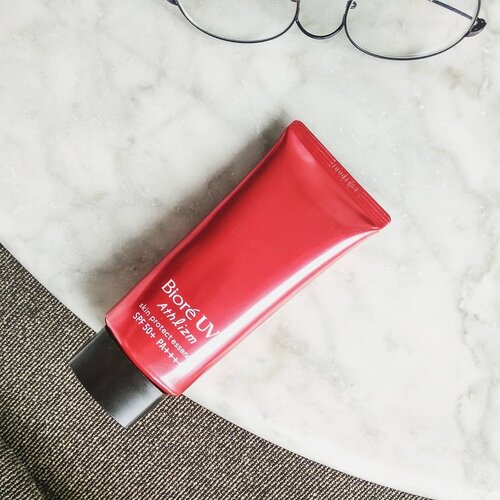 🌥️🌤️SUNSCREENFinally revealing the newest, strongest, and most long lasting UV protection in the Biore UV lineup! .TEXTUREI pick water based sunscreen (Biore UV Athlizm Skin Protect Milk is for normal-oily skin) because of my combination skin. Is has refreshing, similar like Biore UV Aqua Rich but different in color. This has a whiter shade.UV FILTERThere are four UV filters: Octinoxate, Uvinul T150, Uvinul A Plus, and Tinosorb S. All of them are my fave ♥️; all formulations are quite friendly for sensitive skin. The UV filters are similar to Biore Aqua Rich Watery Essence.DIFFERENCE🌤️ Alcohol is placed second, meanwhile in the 2017 version of Aqua Rich doesn't contain any.🌤️ Athlizm is designed for outdoor use in the summer. Its durability is certainky better than Aqua Rich. At the 6th hour, I barely notice oil secretion on my face! This proves that it used the latest technology so it is long lasting until the 8th hour. Also, Athlizm is super waterproof, with the estimate it can last up to 80 minutes..WHAT I THINK🌤️ This also claimed to be formulate to inhibit acne. Athlizm is more to my liking than Klairs Soft Airy UV Essence! ..PRICE🌤️ 1500 yen, cheaper! It cost about 295k for 50ml, if you are doing preorder at La Boum Shop (Shopee only) .RATING5/5
#japanskincare
#bioresunscreen
#sunscreen
#skincareblogger
#skincareregime
#rasiancommunity
#rasianbeauty
#skincareobsessed
#asianbeauty
#asianskincare
#abbeatthealgorithm
#skinhealth
#oilyskin
#insommiareview
#idskincarecommunity
#clozetteid
+ View more details

loading ...
Back To Top