loading...
Search
28 RESULTS FOR IUNIK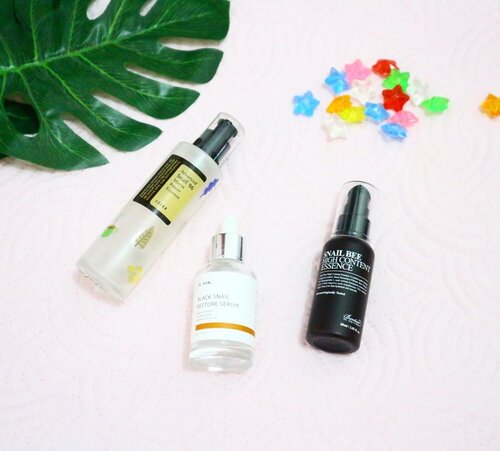 + View more details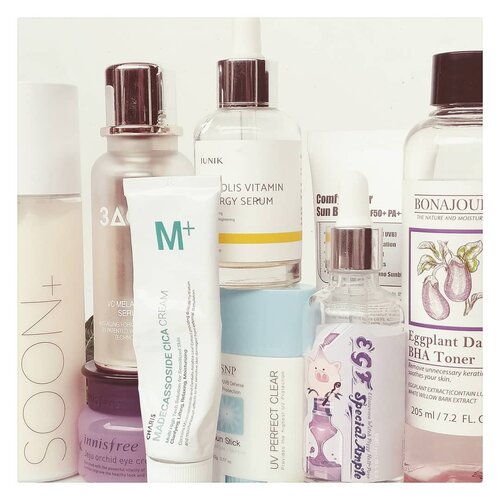 What's in
#indiraskincarediary
AM routine whole July 2019 :🍉
#bonajour
Eggplant Daily BHA Toner🍉
#3act
Vit. C Melatonin Serum🍉
#elizavecca
EGF Special Ample🍉
#iunik
Propolis Vitamin Synergy Serum🍉 Innisfree Jeju Orchid Eye Cream🍉
#soonplus
Balancing Emulsion or
#charis
Madecassoside Coca Cream🍉
#purito
Comfy Water Sun Block or
#snp
UV Perfect Clear Sun Stick ---Bulan Juli lalu aku males banget skincare-an di malam hari. Udah capek pulang kerja, begitu lihat kasur maunya tidur aja 😴. Yang aku lakukan cuma cuci muka, itu juga yang double cleansing bisa dihitung pakai jari. Ada pakai sheet mask sih di malam hari, tapi bisa juga dihitung pakai 1 tangan 🙃. Jadinya waktu pagi hari ditebus ga boleh skip pakai skincare--Produk yang dipakai selalu sama, kecuali di 2 step terakhir. Emulsion Soon+ dan sunscreenn Purito dipakai kalau gak pakai foundation setelahnya. Soalnya hasilnya semi matte, foundation yang aku pakai juga semi matte. Saat dipakai barengan gak lama mukaku jadi kering lagi.Jadi waktu pakai foundation aku pilih pelembap sama sunscreen yang hasilnya dewy, biar muka aku gak kering beberapa menit setelahnya dan gak ada dry patches yang tiba-tiba muncul. --Kalian gitu juga gak sih, nyesuain skincare yang dipakai kalau setelahnya pakai makeup? ---
#clozetteid

+ View more details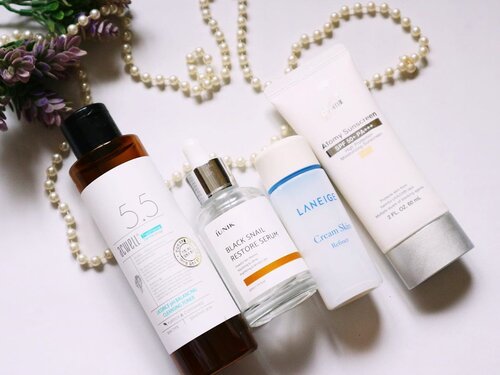 When it comes to cut down several step of morning skincare routine and choose the simple one, I put my hands on these babies. My dehydrated skin now like skincare that can be used for "layering" and doesn't feel heavy.
#Acwell
- Licorice PH Balancing toner🌵One of the hydrating toner that I like to use in the morning, and I use it with cotton pads. Even though the consistency is very water like, but it's really hydrating. I notice my skin is kinda bright and some of my acne scars fade after almost finished the whole bottle.
#iunik
Black Snail Restore Serum 🌵 this is such a light weight serum that I enjoyed using in the morning. Even sometimes when I use two layers of this, it still feel hydrate, yet light.
#laneige
Cream Skin Refiner 🌵Of of the unique moisturizer that have watery consistency. It might look so light weight, but it's actually kinda heavy products when it arrives on the skin. I put only two drops and that's enough.
#atomy
Moisturizing Sun Screen SPF 50+ PA+++ in shade beige🌵A tinted sun screen that's feel moisturizing 👌🏻 it doesn't create white cast, instead my skin looks brighter in healthy way. 📽 please watch this simple morning routine with korean skincare on my youtube channel. Link on bio. ......
#ellskincaregame
#skincareroutine
#skincarebloggers
#slaytheflatlay
#kbeauty
#kbeautyskincare
#idskincarecommunity
#theshonetinsiders
#clozetteid
#beautybloggers
#instabeautyblog
#abcommunity
#asianskincare
#skincarereviews
+ View more details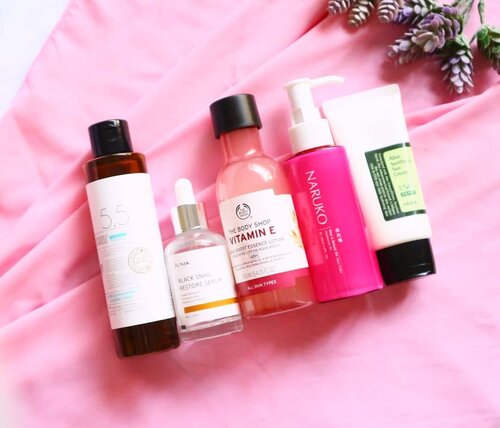 Meet my recent morning Bae ❤
Some weeks ago, I put morning cleanser as my first step but I ditched it again nowadays since in Ramadan I felt my skin will survive better without I have to wash it. In some days, my skin can't survive even though I've put gazillion skincare products and layering. it would still got itchy or red in the end of the day which is kinda annoying. Besides itchiness and redness, small bumps of acne and rough skin also indicate how dehydrated my skin was... 💦 Ah, I also feel that fasting makes my skin even more drier and dehydrated as I lack of water during the day...Do you feel the same? 💦 That's why even though you're fasting, water intake can't be forgotten. Don't forget to drink plenty of water at night. And in the day, spraying facial mist or putting more moiturizer can help the skin stay hydrated. 💦 Do you want to have a healthy skin?
No wonder, hydration is a key 🔑 🌱 Products: 🌻
#acwell
Licorice PH Balancing toner
🌻
#iunik
Black Snail Restore Serum
🌻
#thebodyshop
Vitamin E Aqua Boast Essence Lotion
🌻
#naruko
Rose & Botanic HA Aqua Qubic 🌻 Moisturizer EX
🌻
#cosrx
Aloe Shooting Sunscreen SPF 50++
.
.
.
.
.
.
.
#ellskincaregame
#abcommunity
#idskincarecommunity
#clozetteid
#skincareblogger
#skincareaddict
#asianbeauty
#clozetteid
#slaytheflatlays
#instabeauty
#influencer
#koreanskincare
#kbeauty
#glowingskin
+ View more details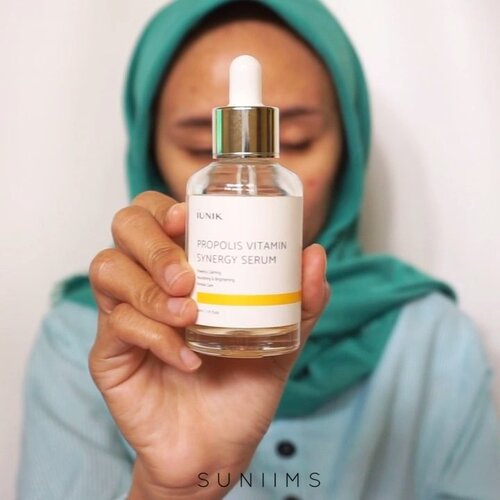 + View more details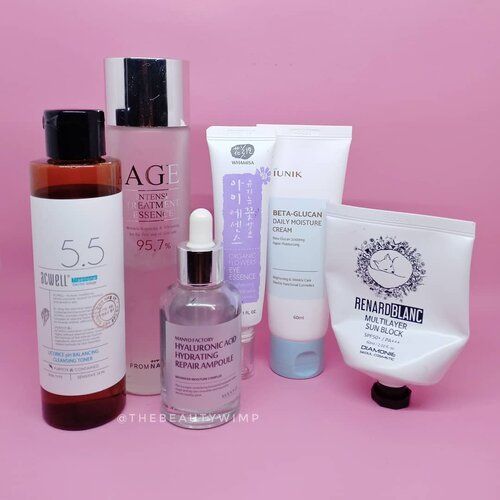 This AM's skincare routine..🌷 @acwell_official Licorice PH Balance Cleansing Toner (been liking it so far, i dig the smell. Racun dari para penghuni @idskincarecommunity.. ngerikkkk in a good way 💃).🌷 @fromnature_official AITE as First essence (im half way through this essence, kalo habis mau coba lain sih, feel free kalo nau ksh rekomen ya! Id be so thankful ).🌷@manyofactory_official HA Ampoule.🌷@whamisaskincare eye essence.🌷 @iunik_official Beta-Glucan Daily Moisture Cream ( gifted by @amadeaprstiwi langsung dicoba 🤭 suwunss De 💕).🌷@renardblanc_official sunscreen
+ View more details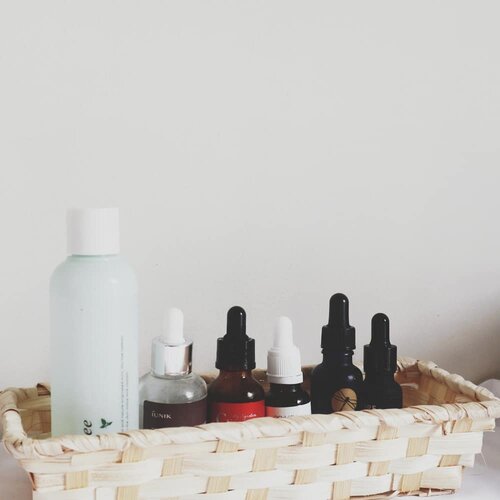 🌠One of my followers asking me about skincare routine and here it is! Let's discuss my usual in the morning and evening!
.
☀️ I don't have periodically strict schedule. I'll use different products everyday according to my liking. So I haven't have special routine. But there are some I love to use recently:.
.
🌠 @innisfreeofficial no-sebum toner, it has a botanical minty scent. It doesn't hydrate much but I think it is good for my dehydrated oily skin
.
☀️ @iunik_official beta glucan serum which I love so much more than
#klairs
rich moist soothing serum! It really hydrates my skin and because of the thin texture, I feel like it could "absorb" faster than @klairs.global
.
🌠 @tiam_global c source will be my fave vitamin C serum because it is an l-ascorbic acid! While it oxidizes faster if you don't wisely put in refrigerator or somewhere w/ cool temperature, but it is the best vitamin C according to several studies I've read so far
.
☀️ @elsheskin radiant serum, combines several vitamin C derivatives, gluthiatone, and also niacinamide to brighten your skin. It works like magic, seriously 😂
.
🌠 @bravuralondon n BHA 2%, doesn't make my skin purging at all. The best BHA I've tried! But if you have any recommendation cheaper, I'll buy your thought
.
☀️ @thebathbox pure squalane my holy grail! It is not a moisturizer or its substitute, but if I reluctant to put any skincare day or night, I'll just drop three dots to my face and voila, am done 😂
.
Did you spot one or two you like to try or add to your wishlist?
#innisfree
#iunik
#tiamcsource
#thebathbox
#elsheskin
#koreanskincareroutine
#koreaskincare
#skincarelokal
#skincarejourney
#skincareregime
#skinhealth
#veganskincare
#naturalskincare
#crueltyfreebeauty
#skincarebloggers
#igbeauty
#flatlaytoday
#clozetteid
+ View more details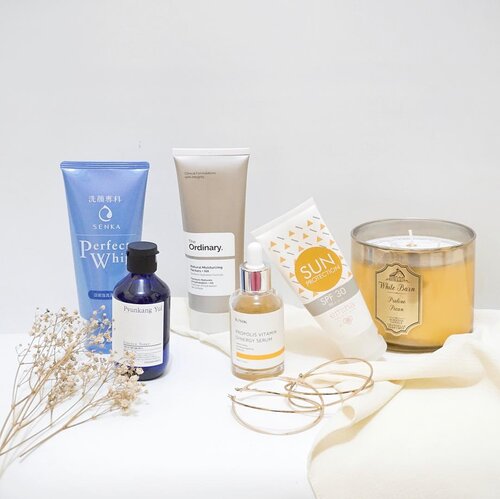 + View more details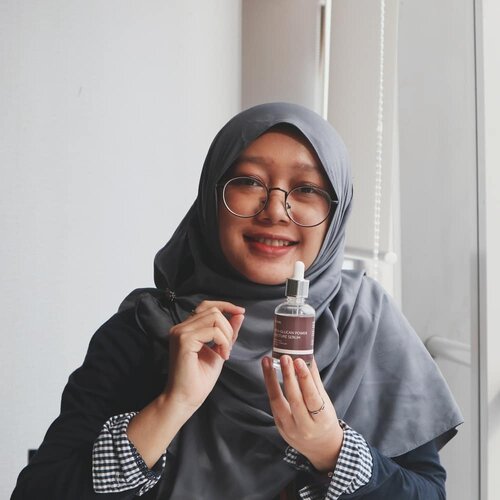 @iunik_official is one of indie brand comes from South Korea. The name stands for Ideal, Unique, Natural, Ingredients, Know-how. This Beta Glucan Power Moisture Serum claims:..🍄 Creates a moisturizing force field 🍄 Supports skin's moisture barrier, repairs and nourishes sensitivity and redness🍄 Suitable for all skin types, addresses: dryness, oiliness, sensitivity, uneven skin texture, fine lines and acne .The reality so far:..🍄 According to Journal of Drugs in Dermatology, studies assessing beta-glucan were uncontrolled with small sample sizes and short follow up. I can not say confidently beta-glucan has antiaging benefit because of its limitations for available data🍄 It contains 100% beta-glucan, a nice big molecule composed of many smaller sugar molecules (polysaccharide), Hyaluronic acid is also a polysaccharide. Some people said beta-glucan is better than HA, but I'm still can not find any supporting studies🍄 I think this serum is more convenient than Klairs Rich Moisr Serum. Klairs's texture is heavier, so it is like I'm wearing a mask. Iunik is light. If I have to choose, I'll repurchase Iunik🍄 I recommend
#iunik
Beta Glucan Power Moisture Serum if you have normal to dry skin, also dehydrated skin. Because it is extracted from oat, mushroom, and yeast, I don't know whether it is suitable for fungal acne .Overall rating: 4/5.Terjemahan lihat komentar 👇.
#koreanskincare
#skincareregime
#skincareobsessed
#koreanbeautyproduct
#abcommunity
#crueltyfreecosmetics
#skincare
#igbeautyblogger
#koreanbeauty
#dryskin
#dehydratedskin
#idskincarecommunity
#clozetteid
+ View more details

loading ...
Back To Top